With more and more consumers turning to online shopping, Shopee Sellers must have a strong digital presence and a streamlined e-commerce strategy.
One key aspect of that strategy is payment processing. With so many different payment options available, knowing which one is the best fit for your business can be tough. That's why we collated all our customers' possible questions concerning ShopeePay and tried our best to answer them in this comprehensive guide on ShopeePay for Shopee sellers.
As the Philippines continues to gain traction, many Filipinos are turning to safe and secure cashless payment options like ShopeePay. In fact, during the 11.11 Mega Pamasko Sale last November, Shopee saw a 2.5 times increase in first-time ShopeePay users, and over three times more orders were paid for using ShopeePay compared to a typical day. These impressive statistics highlight the growing popularity of ShopeePay as a payment option among Filipinos and the potential benefits it can offer to Shopee sellers looking to improve their payment processing capabilities.
So what exactly can ShopeePay offer to Shopee sellers? In this guide, we'll dive into the key features and benefits of the platform, as well as offer practical tips and advice for how to get started. Whether you're a new seller on Shopee or a seasoned pro, this guide will provide you with everything you need to know to use ShopeePay effectively.
But first, let's take a closer look at what ShopeePay is and how it works.
What is ShopeePay?
ShopeePay is an e-wallet platform that allows users to make payments quickly and securely through the Shopee app. It was launched in 2019 as part of Shopee's efforts to build a fully integrated ecosystem for e-commerce in Southeast Asia. The platform is designed to provide a seamless payment experience for buyers and sellers while offering a range of additional features and benefits.
As a Shopee seller, you can use ShopeePay to receive customer payments and pay for various expenses related to your business. ShopeePay can be linked directly to your Shopee seller account, making it easy to manage your finances and track your sales in one place.
If you want to know more about the E-wallet history, keep reading or click "What is ShopeePay for Shopee Sellers" to skip the next section.
What are E-Wallets: A quick history of e-wallets
A quick note: we might sometimes use "digital wallet," "e-wallet", and "mobile wallet" interchangeably throughout, although strictly speaking, a "digital wallet" or "e-wallet" can be accessed by any device, while a "mobile wallet" is accessible through a mobile device and a mobile app.
So to continue, the first online payment was made when a person bought a music CD from one of the first online marketplaces in 1994.
For mobile payments, it is said that the first mobile payment system was put into use in Helsinki, the capital of Finland, back in 1997. The digital payment was used for special Coca-Cola soda vending machines, which accepted text or SMS-based payment. The transaction amount is then included in the user's monthly mobile phone bill.
This early example showed consumers can now use mobile phones beyond calling and sending texts.
PayPal came in 1999 with its "electronic money transfer service", or online money transfer, which proved to be a hit, as it radically changed the way people look at how to send and receive money without going through the usual avenues.
In 2004, Alibaba, the Chinese technology and retail giant, came up with the "Alipay" mobile payment platform.
Kenya-based M-PESA is also worth mentioning after it launched its mobile banking solution, which is currently used by more than 50 million across Africa.
WeChat, launched in China in 2011, is touted to be a "super app," combining messaging and mobile payments, and is now used by more than 1 billion active users.
These relatively early solutions paved the way and are generally accepted as the precursors of current mobile payment systems in many countries across the globe.
E-wallets (separate and standalone apps) soon became very popular since these apps can run on almost any mobile device. E-wallets have become indispensable.
Online banking and digital wallets are intertwined because your digital wallet is an "extension" of your online bank account. In most cases, you must top up or load your digital wallet with money from your online bank account. You need to "link" your bank account with your digital wallet.
You can also physically "load" money into your digital wallet without going through online banking, through kiosks which are becoming increasingly common.
What is ShopeePay for Shopee Sellers?
As a Shopee seller, you're always looking for ways to make your business more efficient and convenient for your customers. One way to do this is by accepting payments through ShopeePay, Shopee's e-wallet service.
ShopeePay for Shopee Sellers is an electronic payment method exclusively designed for sellers on Shopee. With this digital wallet, you can easily accept buyer payments, monitor your earnings, and withdraw your money.
With ShopeePay, you no longer have to worry about handling cash or dealing with the hassle of bank transfers.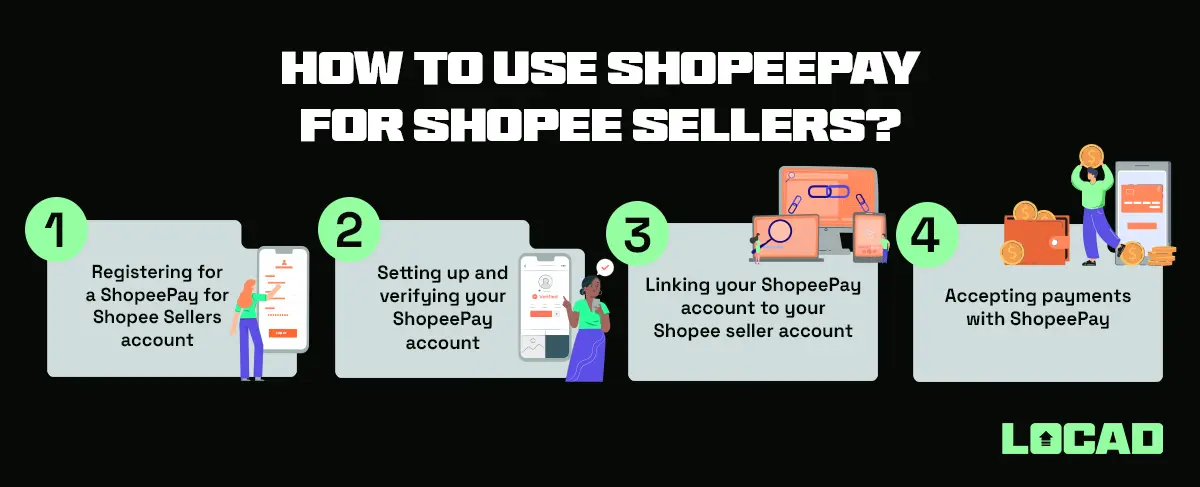 How to use ShopeePay for Shopee Sellers?
Using ShopeePay as a Shopee seller is easy. Here's how to get started:
Registering for a ShopeePay for Shopee Sellers account
The first step in using ShopeePay as a seller is registering for a ShopeePay for Shopee Sellers account. To do this, you must provide basic information about yourself and your business, including your name, address, and tax ID number.
Setting up and verifying your ShopeePay account
Once you've registered for a ShopeePay for Shopee Sellers account, you'll need to set up and verify your ShopeePay account. This involves providing additional information, such as your bank account and ID card information, to verify your identity.
Linking your ShopeePay account to your Shopee seller account
After you've set up and verified your ShopeePay account, you'll need to link it to your Shopee seller account. To do this, go to your seller account settings and select "Payment Settings." From there, select "ShopeePay" as your payment method and follow the on-screen instructions to link your ShopeePay account.
Accepting payments with ShopeePay
Once your ShopeePay account is linked to your Shopee seller account, you can start accepting payments with ShopeePay. When a buyer places an order on your Shopee store and selects ShopeePay as their payment method, it will be automatically transferred to your ShopeePay account. You can then transfer the funds to your bank account or use them to purchase within the Shopee app.
Lastly, ShopeePay for Shopee sellers is an excellent way to simplify the payment process for your customers and streamline your business operations. By following these simple steps, you can start using ShopeePay as a Shopee seller and enjoy the benefits of fast and secure payments.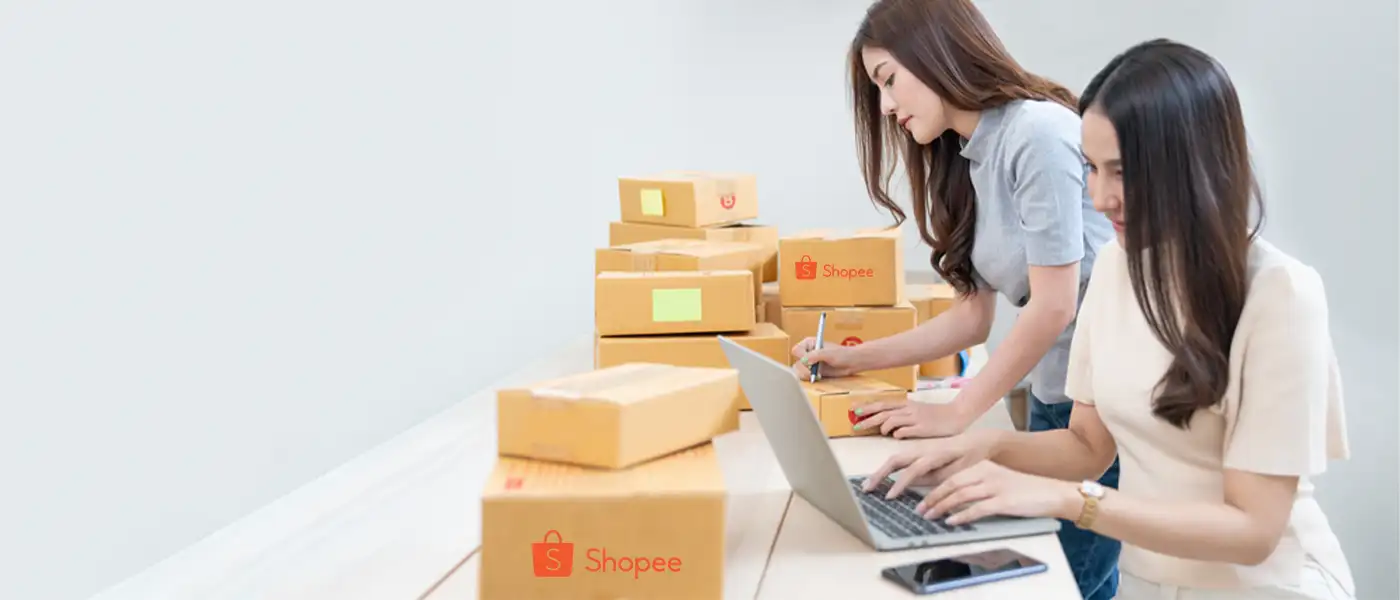 Learn how to ship to the Philippines as an international Shopee seller…
Features of ShopeePay for Shopee Sellers
ShopeePay for Shopee Sellers has several features that make it an attractive payment method for sellers and buyers. Let's take a closer look at some of these features:
Instant payment confirmation
With ShopeePay, sellers can enjoy instant payment confirmation, meaning you can get notified immediately when a buyer makes a payment. This is important for sellers who need to process orders quickly and efficiently. No more waiting for payment confirmations, which can take hours or even days with other payment methods.
Quick and easy refunds
Sometimes, buyers might need to return an item or cancel an order. With ShopeePay, sellers can process refunds quickly and easily. Refunds can be processed directly through the Shopee seller platform, and the funds will be returned to the buyer's ShopeePay account instantly.
Seamless integration with the Shopee seller platform
ShopeePay is seamlessly integrated with the Shopee seller platform, allowing sellers to manage their finances in a single dashboard. This integration makes it easy for sellers to keep track of their sales, earnings, and refunds in one place.
Competitive transaction fees
ShopeePay offers competitive transaction fees compared to other payment methods. The transaction fees are based on the order value, and the fees decrease as the order value increases. Sellers can save money on transaction fees, especially for high-value orders.
Secure and safe transactions
ShopeePay ensures that all transactions made by buyers and sellers are safe and secure. The platform uses multiple layers of security, including PIN and biometric authentication, to protect sensitive information and prevent unauthorised access.
Cashless transactions
ShopeePay allows sellers to receive payments from buyers without needing physical cash. This feature reduces the risks associated with carrying cash and promotes cashless transactions, which are becoming more popular and convenient for many consumers.
Expanded customer base
By accepting ShopeePay, sellers can expand their customer base to include users who prefer cashless payments.
With the increasing popularity of e-wallets and mobile payments, accepting ShopeePay can attract more buyers to the seller's store.
Rewards and benefits
ShopeePay also offers exclusive rewards and benefits to Shopee Sellers who use the platform. These benefits include cashback, discounts, and other promotional offers, which can help sellers save money and attract more customers.
Find out what sells well on Shopee Philippines through this list…
Benefits of using ShopeePay for Shopee Sellers
As an online seller, you understand the importance of providing customers with a seamless shopping experience. One key aspect of that experience is the payment process.
With ShopeePay, you can ensure your customers have a fast, secure, and convenient way to pay for their purchases.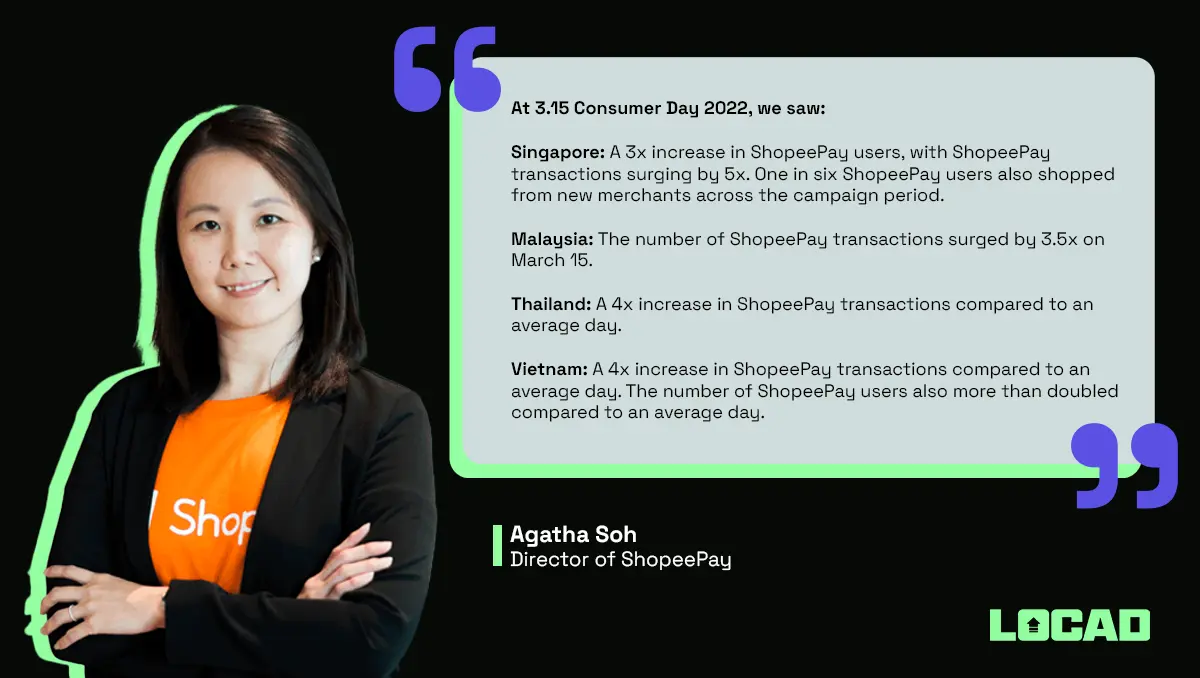 During a WARC report discussion with Agatha Soh, Director of ShopeePay, on how integrated ShopeePay can enhance a brand's e-commerce strategy and improve customer loyalty, Agatha Soh shared her insight. In response, she stated quote unquote:
At 3.15 Consumer Day 2022, we saw:
Singapore: A 3x increase in ShopeePay users, with ShopeePay transactions surging by 5x. One in six ShopeePay users also shopped from new merchants across the campaign period.
Malaysia: The number of ShopeePay transactions surged by 3.5x on March 15.
Thailand: A 4x increase in ShopeePay transactions compared to an average day.
Vietnam: A 4x increase in ShopeePay transactions compared to an average day. The number of ShopeePay users also more than doubled compared to an average day.
But that's not all – ShopeePay also offers a range of benefits for Shopee sellers. In this section, we'll look at some key advantages of using ShopeePay for your online business.
Access to exclusive promotions and deals
ShopeePay offers exclusive rewards and promotions to its users, including cashback and discounts on purchases. By using ShopeePay, sellers can take advantage of these exclusive rewards and promotions, which can help them save money on transaction fees and attract more buyers to their online store.
Additionally, by participating in these promotions, sellers can improve their visibility and attract new customers.
Increased customer trust and loyalty
ShopeePay is a trusted and reliable payment method that buyers on Shopee widely use. By offering ShopeePay as a payment option, sellers can increase customer trust and loyalty, leading to higher sales and repeat business.
ShopeePay also offers security features such as PIN and biometric authentication methods, reducing the risk of fraud and chargebacks and further strengthening buyers' trust.
Faster payouts and more efficient payment processing
Using ShopeePay allows sellers to receive payments instantly, eliminating waiting for funds to clear or manually verifying payments. This speeds up the payment process and reduces the risk of delayed or failed transactions, making it a more efficient payment method for sellers and buyers.
With faster and more efficient payment processing, sellers can manage their finances more effectively and improve their cash flow.
Additionally, faster payouts can help sellers build a positive reputation among buyers, as buyers are more likely to trust sellers who offer fast and reliable payment processing.
Improved cash flow management
ShopeePay offers sellers real-time payouts, which means sellers can access their earnings immediately after a transaction is completed. This improves cash flow management, as sellers no longer have to wait for payments to clear or manually transfer funds from their Shopee Wallet to their bank account.
With improved cash flow management, sellers can allocate their funds more effectively and make better business decisions.
Reduced risk of fraud and chargebacks
ShopeePay offers a secure and safe payment method for sellers, with features such as PIN and biometric authentication to protect against fraud and chargebacks. By using ShopeePay, sellers can reduce the risk of fraudulent transactions and chargebacks, which can be costly and time-consuming.
With a reduced risk of fraud and chargebacks, sellers can focus on growing their business without worrying about financial loss due to fraudulent activity.
Increased sales
ShopeePay can help increase sales by providing customers with a convenient and secure payment option.
By offering ShopeePay as a payment option, you can attract more customers and improve the overall shopping experience, which can help drive more sales for your business.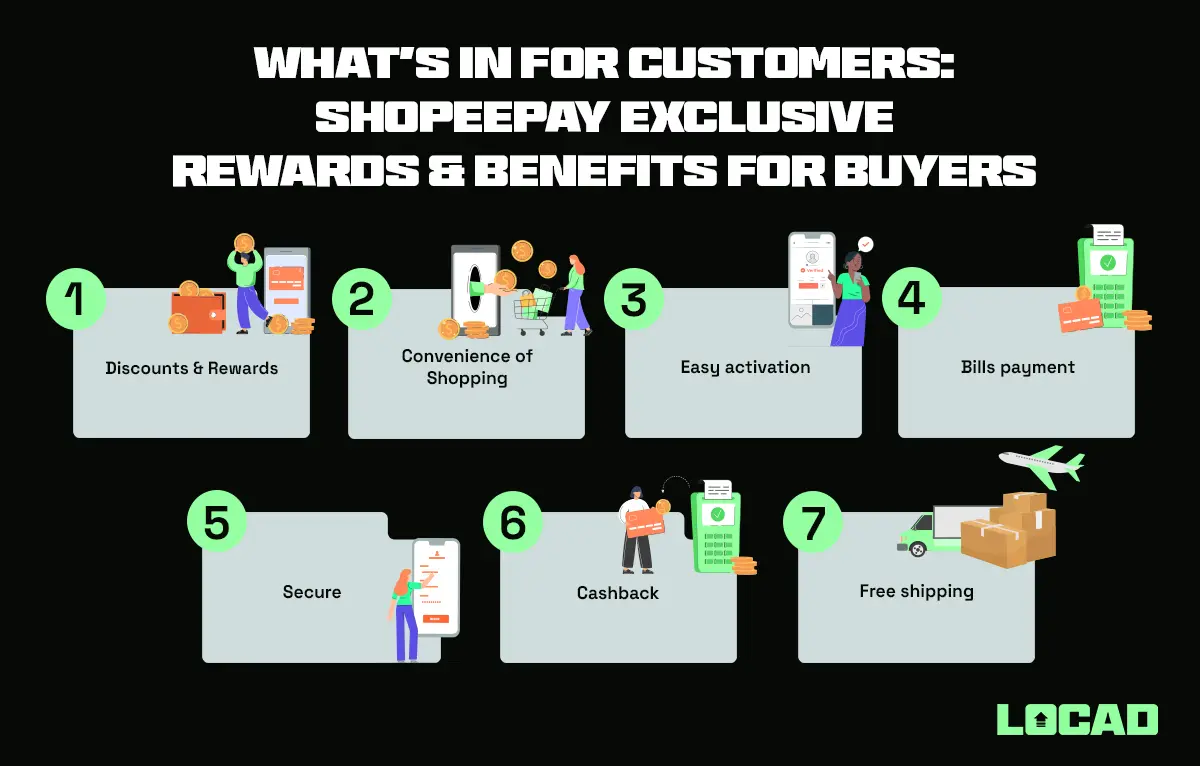 What's in for Customers: ShopeePay Exclusive Rewards & Benefits for Buyers
Shopee Pay is fairly new. Launched in 2019, it quickly gained a massive following, particularly in Southeast Asia. In fact, in Indonesia, as of 2023 ShopeePay is dominating the Indonesian digital wallet market by grabbing a sizable market share with other leading e-waller players.
In the Philippines, Shopee Pay also took off and became known as a convenient and secure digital wallet for many customers. Of course, Filipino customers can still use the wide array of digital payment schemes available, but Shopee Pay has unique advantages for buyers and merchants.
Let's look at the customer or buyer advantages of ShopeePay.
Discounts & Rewards
One of the best things about using ShopeePay is that you can enjoy exclusive discounts on a wide range of products and services. ShopeePay often collaborates with various merchants to provide discounts on purchases made through the platform.
Using ShopeePay, customers can avail of several reward schemes, such as its 'send money for free' feature. Using ShopeePay, customers can also buy what is believed to be the cheapest mobile phone loads and data, particularly during Shopee's monthly promos (for example, Shopee's 7-7 Midyear Sale).
And speaking of '7-7,' ShopeePay users were treated with a gamut of promos and "sweet" deals such as "bagsak presyo" and "P49" deals and below. Shipping discount vouchers, 10-percent off vouchers, and cashback was also given away.
Convenience of Shopping
As an integrated digital wallet, Shopee Pay allows online transactions such as buying mobile loads and bills payment. Offline transactions can also be conducted with merchants who accept payment via Shopee Pay. Further, receiving and sending money also becomes convenient with this digital wallet.
Here are a few reminders: ShopeePay lets you cash In or receive a balance of up to P50,000 for unverified accounts and up to P100,000 for verified accounts. You can use ShopeePay to pay for transactions of up to P100,000 if you have sufficient funds within your account. The minimum amount required for each ShopeePay transaction is P1.
Easy activation
The good thing about Shopee Pay is that it is easy to activate. All the necessary information is in-app. But to recap the steps: You can access ShopeePay directly from your Shopee App by selecting your ShopeePay balance on the Shopee App homepage. Alternatively, you can access it by going to the Me tab > ShopeePay and activating your ShopeePay account by accepting the terms and setting up your ShopeePay PIN. For a seamless ShopeePay experience, verifying your account and setting up an auto top-up of your balance is strongly recommended.
Bills payment
Shopee Pay also allows you to pay your bills. The good thing about using Shopee Pay for bills payment is that you can use cashback vouchers, and to sweeten the deal further, Shopee will also give you a cashback voucher for your bill payments.
Secure
ShopeePay is a secure platform that uses advanced security measures to protect your personal and financial information. You can use the platform with peace of mind knowing your data is safe.
Cashback
When you use ShopeePay to pay for your purchases, you can earn cashback on your transactions. This means you get a percentage of your spending back in the form of credits that you can use to make more purchases.
Free shipping
Some merchants on Shopee offer free shipping for orders paid using ShopeePay. This means you can save money on shipping fees when using the platform to pay for your purchases.
Upgrade your Shopee store's logistics with Locad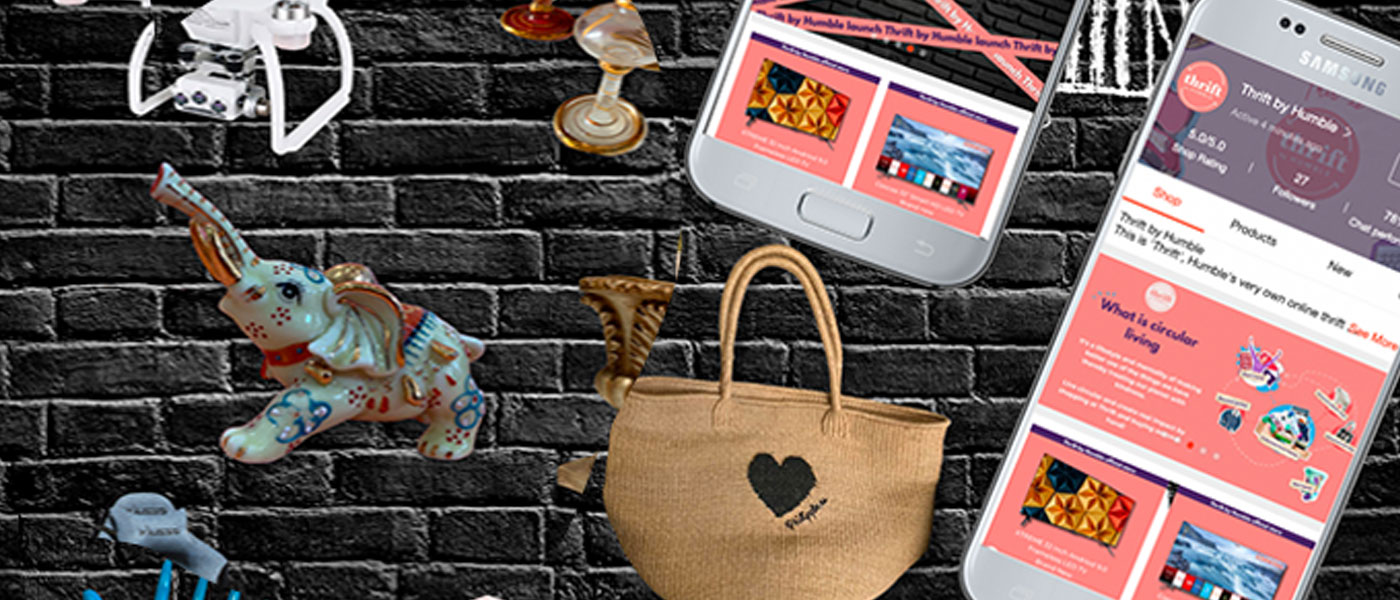 LOCAD's localized fulfillment and shipping solution helps social enterprise Humble Sustainability reduce carbon footprint, smoothen operations, and so much more….
Bonus: Tips for using ShopeePay for Shopee Sellers
ShopeePay is an essential tool for Shopee sellers to boost their sales and grow their business. Here are some tips on how to make the most out of ShopeePay:
Promote the use of ShopeePay for your customers
Encourage your customers to use ShopeePay for their transactions. Let them know about the benefits of using ShopeePay, such as instant payment confirmation, quick and easy refunds, and exclusive promotions and deals.
You can also offer discounts or freebies to customers who use ShopeePay for their purchases.
Offer incentives and rewards for using ShopeePay
You can offer additional rewards or incentives to encourage more customers to use ShopeePay. For example, you can give cashback or discounts to customers who use ShopeePay for their purchases. This can help increase customer loyalty and attract new buyers to your online store.
Monitor your ShopeePay transactions regularly
It's important to keep track of your ShopeePay transactions to ensure that all payments are processed correctly.
Regularly check your account balance and transaction history to make sure that there are no discrepancies or errors. This can help you avoid potential issues and ensure you receive your timely payments.
Keep your ShopeePay account secure
Security is a top priority for any online transaction. Keep your ShopeePay account secure by setting a strong password and enabling two-factor authentication.
Never share your login details with anyone; be vigilant for any suspicious activity on your account.
Take advantage of ShopeePay promotions
Shopee frequently offers promotions and discounts for ShopeePay users, including cashback, discounts, and freebies.
Keep an eye out for these promotions and take advantage of them to save money on your purchases and attract more buyers to your online store.
Wrapping Up
ShopeePay offers many benefits to Shopee sellers, including easy payment processing, secure transactions, and cashback incentives. However, to manage an e-commerce business effectively, sellers need to ensure their products are delivered to customers quickly and efficiently, which is where Locad comes in. As a logistics and fulfillment engine for e-commerce companies, Locad can help Shopee sellers streamline their supply chain management processes and improve their overall customer experience.
By leveraging the strengths of both ShopeePay and Locad, Shopee sellers can achieve long-term success in the competitive e-commerce landscape. ShopeePay provides a convenient payment processing system and financial management tools, while Locad offers efficient and cost-effective logistics and fulfillment services for Shopee Stores. By combining these services, Shopee sellers can focus on growing their business while ensuring their customers receive the best possible experience.
FAQs
What shipping carriers does TikTok Shop use?
How much does TikTok Shop charge for shipping?
TikTok Shop shipping fees vary depending on the weight and destination of the package. You can calculate the shipping fees by entering the package details in the shipping calculator provided during checkout.
Can I offer free shipping on my TikTok Shop products?
Yes, you can offer free shipping on your TikTok Shop products. However, you must factor the shipping cost into your product prices, as TikTok Shop does not cover the shipping cost.
How long does it take for my customers to receive their orders?
The delivery time for TikTok Shop orders depends on the shipping carrier, shipping method, and destination. Generally, orders are delivered within 3-7 business days after the order is shipped.
Can I track my TikTok Shop orders?
Yes, you can track your TikTok Shop orders using the tracking number provided by the shipping carrier. You can access the tracking information on the TikTok Shop website under the "My Orders" section.
Experience fulfillment by Locad today!