Locad's localized fulfillment and shipping solution helps social enterprise Humble Sustainability reduce carbon footprint, smoothen operations, and so much more.
Key Metrics
2-3 weeks before becoming a preferred seller on Shopee
2-day delivery window
100% reduction in carbon emissions
About Humble Sustainability
Founded by Josef and Niña – two individuals from different cultural backgrounds with a shared passion for sustainability – Humble is a circular economy startup. The genesis of Humble started with an idea centered on children's clothing. At the time, Niña (Chief Operating Officer) was surrounded by her mom's friends whose children were quickly growing out of their clothes. Without any space to store these unused garments, she found that these clothes were easily being thrown away.
With this insight and shared values, Niña and Josef ventured to create a solution that would make an impact and help clean the planet.
What Niña and Josef stand for, through Humble, is circular living. "Circular living is when the circular economy comes into touch with our day-to-day lives," Josef explained. While the idea of Humble started with children's clothing, it has quickly grown and expanded to all kinds of items. "We thought, 'Why can't we create this ecosystem, culture, and society where we can bring every single type of material item back into life and bring it to somewhere or someone where it has further use instead of going to a landfill?'" Josef recalled.
From there, the two have set out to declutter both homes and businesses by collecting things that people no longer need and recycling, reusing, and upcycling them into something that someone else can use.
Exploring e-commerce for the first time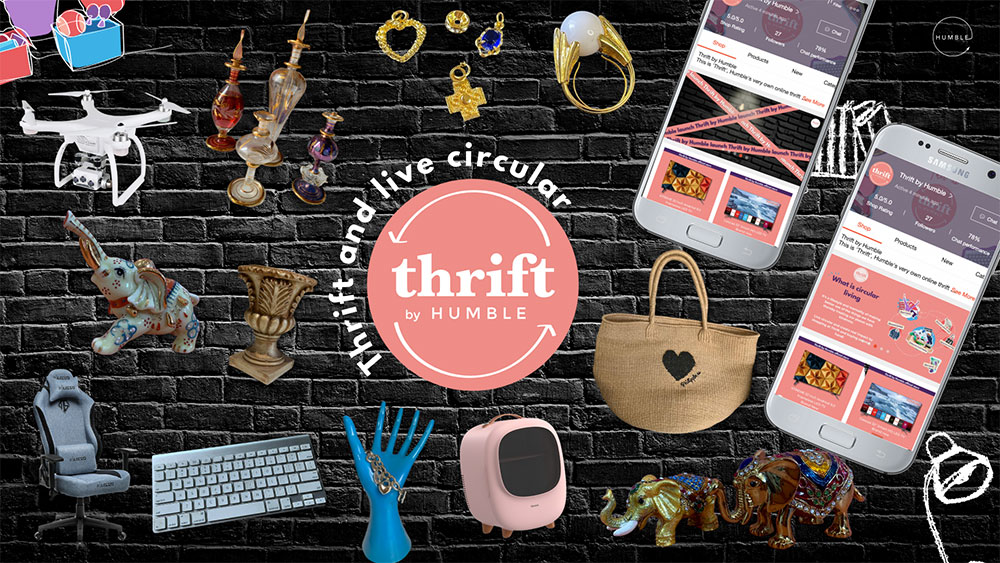 As the COVID-19 pandemic threw e-commerce into a sharp focus, the Philippine internet economy grew exponentially. "We realized e-commerce was something very interesting and we decided to learn everything from scratch–from customer service to digital marketing," explained Josef. The rise of e-commerce led the duo behind Humble to explore more digital and contactless ways to inspire people to live more sustainably. This is how and why they came up with Thrift, a digital thrift store available on Shopee, where they resell high-quality pre-loved and upcycled items sourced directly from their clients.
A large part of Humble relies on logistics and e-commerce. Even before Thrift was set up, Josef and Niña were already managing a logistics-centric system to be able to keep collecting used items from both businesses and consumers. But when they realized the different set of challenges posed by setting up a new selling platform on Shopee, they decided it was time to enlist the help of experts.
Becoming a preferred seller on Shopee through Locad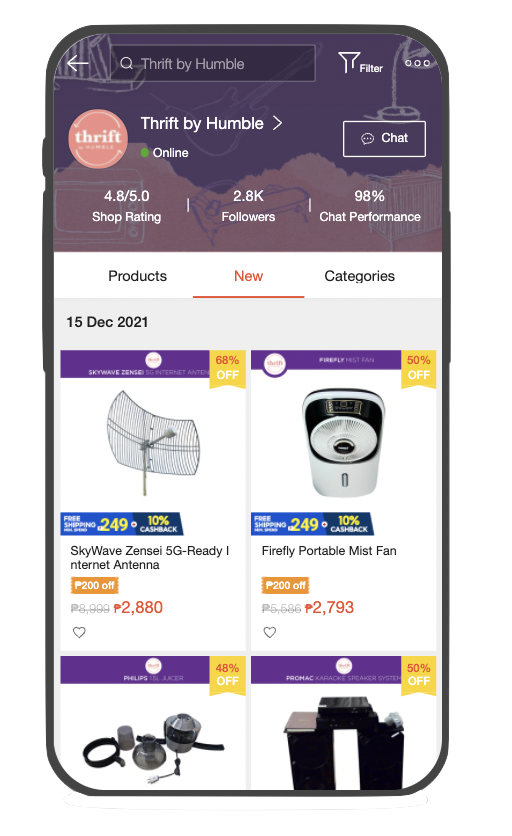 "It has been so seamless and so easy. We never hear anything – it's just fulfilled, it's perfect and it's done," Niña described Humble's relationship with Locad. She shared that the majority of their positive customer feedback underscores the quick two-day delivery experience, which is reflective of Locad's fulfillment services. "Because of Locad handling our fulfillment, we became a preferred seller on Shopee."
Josef added that apart from the commitment to seamless delivery, trust and transparency is what they appreciate most about working with Locad. He explained that the relationship is more personal than transactional, as he recalled a challenging time that was quickly resolved by the attentiveness and care of the customer service team.
"There was a time when we delivered stuff without the information [Locad] needed and instead of rejecting and returning it back to us, [Locad] really worked with us," Josef shared. "It does mean a lot to us that [Locad] has this kind of tailored approach and service that is very helpful and very personal."
Partnering with Locad to create a sustainable impact
For Josef and Niña, the decision to outsource fulfillment with Locad was born out of two reasons: 1) they didn't have a full-time logistics team, and 2) they wanted to reduce their carbon emission footprint as much as possible.
Committed to their core values of circular living, it remains most important that each and every process in their business is done as sustainably as possible. "Because [Locad] is able to deliver what we want without creating so much additional effort in learning and failure, we are reducing our carbon emissions that we would [produce] if we were to set up our own logistics chain," Josef explained.
For Humble, improving their sustainability through Locad also trickles down into the internal parts of their business.
"Locad maintains the sustainability of our business because they do something in a more cost-efficient way and as a result, they make us more financially stable," explained Josef.
 "One of the early conversations with Locad showed the shared passion for sustainability – how they can provide sustainable packaging and how else we can work together to do this better," Josef shared. Since they started working with Locad Josef and Niña are taking this conversation forward. "Together, Locad and Humble have a great opportunity to expand this impact further," he said. "There's a need to declutter warehouses, use sustainable packaging, and also help companies deal with returns and damaged items that would end up in the trash," he explained. "There's a bigger and deeper collaboration between Locad and Humble that could actually create a more positive and sustainable impact."
Experience fulfillment by Locad today!