Reading Time:
5
minutes
The last two years have seen a change in the retail business as the traditional method of shopping has given way to a different method. Filipinos have become more accustomed to buying items online rather than going to shops.
Despite the change, there has not been a let-up in the buying habits of Filipinos. The overall retail business in the country is seen to recover this year, according to a Fitch Solutions report. While e-commerce platforms were not mentioned as a contributing factor to the recovery, the correlation with online retail growth is just too obvious.
At length, Filipinos will still find shopping on online platforms, such as Shopee, extremely convenient. After 6 months, Shopee and its rivals have enjoyed huge gains in terms of the volume of items sold.
Why understanding top product categories are important
Not surprisingly, knowing what product categories can help both the seller and the buyer in many ways. For sellers, it's taking advantage of taking the trend. By realigning the product line, the seller can maximize profits from higher sales.
Meanwhile, buyers are usually made aware of the trends and would most likely follow others primarily because they feel that these products have certain quality. As they say, "if it's popular, it must be good." Some users would also like to check out new products that they may not have tried before. There's also a sort of FOMO (fear of missing out) effect.
Using an online data scraping tool and cross-referencing some e-commerce retail sources here are among the top items being sold on Shopee:
Fashion
Women's fashion is among the most purchased items on Shopee. As a result of the easing of lockdowns, women have started "refreshing" their cabinets with new clothes. Women's bags and accessories closely follow clothes. Shoes are also highly sought after. 
Men are also big buyers on Shopee with shirts, socks, and pants or trousers becoming trendy. Men's shoes and backpacks are also getting into the action.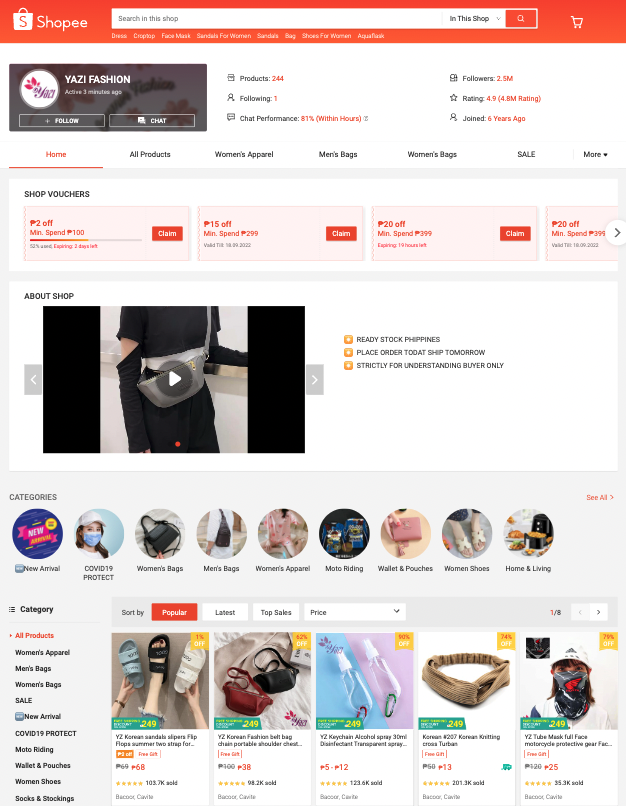 Health and beauty
While freedom of movement is now apparent in many establishments, facemasks are still a requirement. This is reflective of the popularity of this product on Shopee as it is still topping the list of most bought health-related items. Nevertheless, whitening soaps, toning lotions, and glutathione-based treatments are also popular.
Experience fulfillment by Locad today!
Home and living
It seems cleaning the home after a long lockdown is in order. Several items such as high-pressure washers, and door and window cleaning chemicals are popular in Shopee.
Not surprisingly, as companies still pursue a hybrid work process among their employees, buying office-based furniture like tables and chairs is also up on the list of most popular products.
Electronics
Electronics will always be top of the list of items bought on any platform, including Shopee. With several brands offering low-cost smartphone models (some going as low as PHP3,000 or about US$50) mobile phones fill up the need for Filipinos to connect to the Internet.
Do-it-yourself enthusiasts are also contributing to electronic sales on Shopee. Anything from drawing tables, electronic boards, and PC parts is highly sought after.
Interestingly, vape devices are also in demand on Shopee.
Children's items (including toys and school supplies)
DIY toys are all the rage especially as many parents were forced to use their imagination to play with their children almost full time during the two-year lockdowns.
The trend of items for DIY play seems to continue somewhat, with most items being school supplies, kids' education wall charts, plastic balls, and strings.
Seller and buyer relationship
Trends could change at a moment's notice especially now that the Philippines is reopening its domestic economy. This may mean an exciting time to be a seller or a buyer on Shopee.
However, always take caution when looking at trends on what to sell. If you're a seller, always pursue a sustainable business wherein the product you sell reflects your beliefs.
Meanwhile, as a buyer, always know and buy what you need rather than just pursuing what everyone buys. That way, you'll know your values as a consumer and be able to discern good products from the bad.