Hey, there. Take a wild guess on the most downloaded app of 2021?
It's TikTok, and there's no stopping its growth. TikTok generated an estimated $9.4 billion in revenue in 2022, a 100% increase year-on-year. By the end of 2022, 1.4 billion monthly active users in 2022 and is expected to reach 1.8 billion by the end of 2023.
TikTok has taken the world of social media by storm. One of the reasons is that it caters to people across all age groups. And also that it presents content in a refreshing format on a user-friendly interface.
And with their growth and expansion. In China, TikTok is accessed by over 780 million users daily.
TikTok started exploring ways to monetise its short-form video content platform. Over half of responding TikTok users – 58% shared they used the platform for shopping inspiration.
And that's where the idea of the TikTok Shop took life—allowing users to set up their e-commerce store on the platform and let customers make in-app purchases through it.
In August 2021, TikTok and Shopify announced TikTok Shop, a much-anticipated social commerce platform that would offer in-app shopping and faster product discovery.
In this article, we will provide a comprehensive guide to TikTok Shop for e-commerce business owners in Southeast Asia and Australian markets. We will cover everything from the features of TikTok Shop to the benefits and best practices for utilising the platform, to common mistakes to avoid, and even case studies of successful e-commerce businesses on TikTok Shop.
Whether you're just starting out or looking to take your e-commerce business to the next level, this guide will provide you with all the information you need to make the most of TikTok Shop in 2023 and beyond. So, let's dive in and explore the world of TikTok Shop for e-commerce business owners in Southeast Asia!
What is a TikTok Shop?
TikTok Shop is a social e-commerce solution that enables TikTok users to advertise and sell things on TikTok.
Like how Instagram allows users to purchase directly from some shops and companies on its platform, TikTok Shop uses the same principle.
Creators can add a shopping tab to their TikTok business accounts, thanks to TikTok Shopping.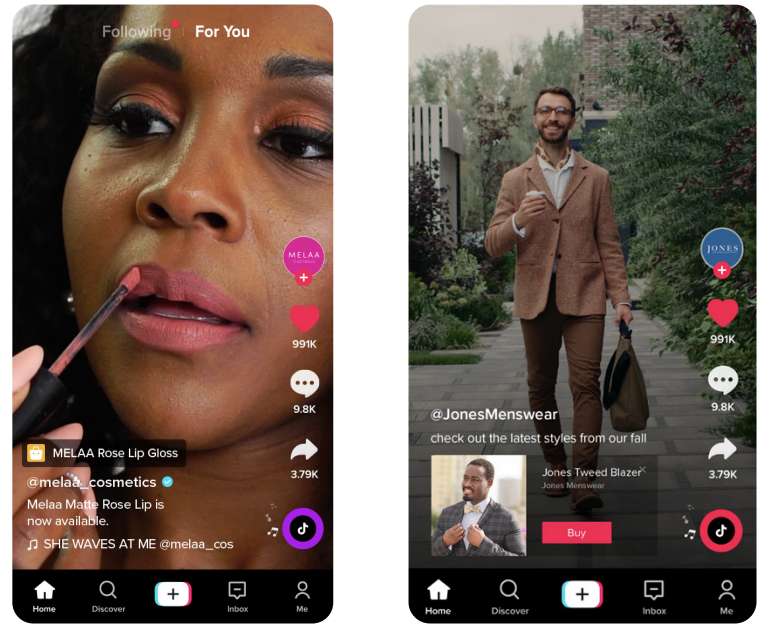 This way, other TikTok users can explore products without leaving the app and quickly get to the creators' web storefronts for checkout, thanks to the tab, which will draw things from their Shopify product catalogues.
Utilising specific product links, creators with TikTok stores will also be able to tag products in their original TikTok videos.
Who can use TikTok Shop?
At first, TikTok restricted TikTok Shop to specific Shopify-based retailers in the United States, the United Kingdom, Canada, Thailand, Malaysia, and Vietnam.
However, at the first TikTok World marketing event in September 2021, TikTok announced an expansion of the platform. It's available in most countries, and TikTok has created apps for businesses using other media besides Shopify. The company listed Prestashop, Base, Square, BigCommerce, OpenCart, Ecwid, Shopline, and Wix e-commerce as existing and upcoming integration partners. Any brand could arrange live shopping events and link video content to product pages.
With the help of content that feels honest and genuine, even brands and people who don't have a sizable TikTok following yet will be able to connect with new audiences.
Currently, TikTok Shop is available to any e-commerce business that meets the eligibility criteria set by TikTok. TikTok Shop is only available in select countries, including the United States, Canada, Europe, and some Southeast Asian countries, including Indonesia, Thailand, and Malaysia.
To be eligible for TikTok Shop, businesses must have a registered business account on TikTok and comply with TikTok's policies and guidelines. Additionally, businesses must have a physical product to sell, and the product must comply with TikTok's community guidelines and product policies.
It's worth noting that while TikTok Shop is available to many e-commerce businesses, it may not be the right fit for every business. Before setting up a storefront on TikTok, you must consider your business goals, target audience, and overall marketing strategy to determine if TikTok is the right platform for your brand.
Why should your e-commerce business be on TikTok?
Trust us when we tell you it's a chance you don't want to pass up. And the best part is it's free for all businesses and brands.
But let's first understand why TikTok is such an incredible marketing opportunity.
1. User count
With 142.2 million users in North America, TikTok announced in September 2021 that it had achieved one billion active users globally. It did so in just 4.9 years, making it not only a milestone that few other social networks have attained.
The numbers indeed speak for themselves regarding TikTok's explosive rise. Just 55 million people were using the platform at the beginning of January 2018. In other words, it managed to increase the number of users by over 18 times in 4 years.
2. Demographics
In 2022, 67% of TikTok users in the United States were 18 or 19 years old, a generation of heavy smartphone users constantly in touch with trending content. According to the most recent TikTok user data, 386.6 million users in the 18-24 worldwide account for 43.7% of all users.
Most millennials fall into the 25 to 34 age bracket, the second-largest age bracket for TikTok users. 282 million users of TikTok, or 31.9% of all users.
According to these TikTok user data, older demographics are less likely to be TikTok users.
Here is a breakdown of the age distribution of all TikTok users.
What are TikTok Shop features for E-commerce Businesses?
TikTok Shop is a platform that offers a range of features specifically designed to help e-commerce businesses in Southeast Asia expand their online presence and increase sales. Here are some of the key features of TikTok Shop:
Product Listings: TikTok Shop allows e-commerce businesses to create product listings that showcase their products to potential customers. These listings include product images, descriptions, pricing, and links to purchase.
Customisation Options: TikTok Shop offers a range of customisation options, allowing e-commerce businesses to create a unique brand identity on the platform. This includes customising your storefront, product listings, and profile picture.
Integration with Existing E-commerce Channels: TikTok Shop can seamlessly integrate with existing e-commerce channels, such as your website or other social media platforms. This allows you to enhance your overall online presence and reach a wider audience.
Algorithm: TikTok Shop uses a sophisticated algorithm to recommend products to potential customers based on their browsing and purchase history. This means e-commerce businesses can target their products more effectively to potential customers.
User Data: TikTok Shop collects user data, including browsing and purchase history, to provide e-commerce businesses with valuable insights into their target audience. This can help businesses create more targeted marketing campaigns and improve their overall customer experience.
By leveraging these features, your e-commerce business can increase its visibility and sales on TikTok Shop.
In the next section, we'll explore the step-by-step process of setting up a TikTok Shop for your e-commerce business.
There are some big no-no's when it comes to Tiktok Shop online selling, and we have compiled some of the…
How to set up TikTok Shopping?
Setting up TikTok Shopping for your e-commerce business is a simple process that can be completed in just a few steps. Here's how to get started:
1. For Shopify businesses
To begin setting up TikTok Shopping, you must have a TikTok for Business account.
a) You'll need to download the TikTok Shopify app if you run a Shopify business.
b) From Shopify, you can use the app to create video advertising, monitor outcomes, and manage your orders.
c) The Shopify app connects with TikTok For Business Ads Manager in addition to allowing you to manage your TikTok Shopping tab.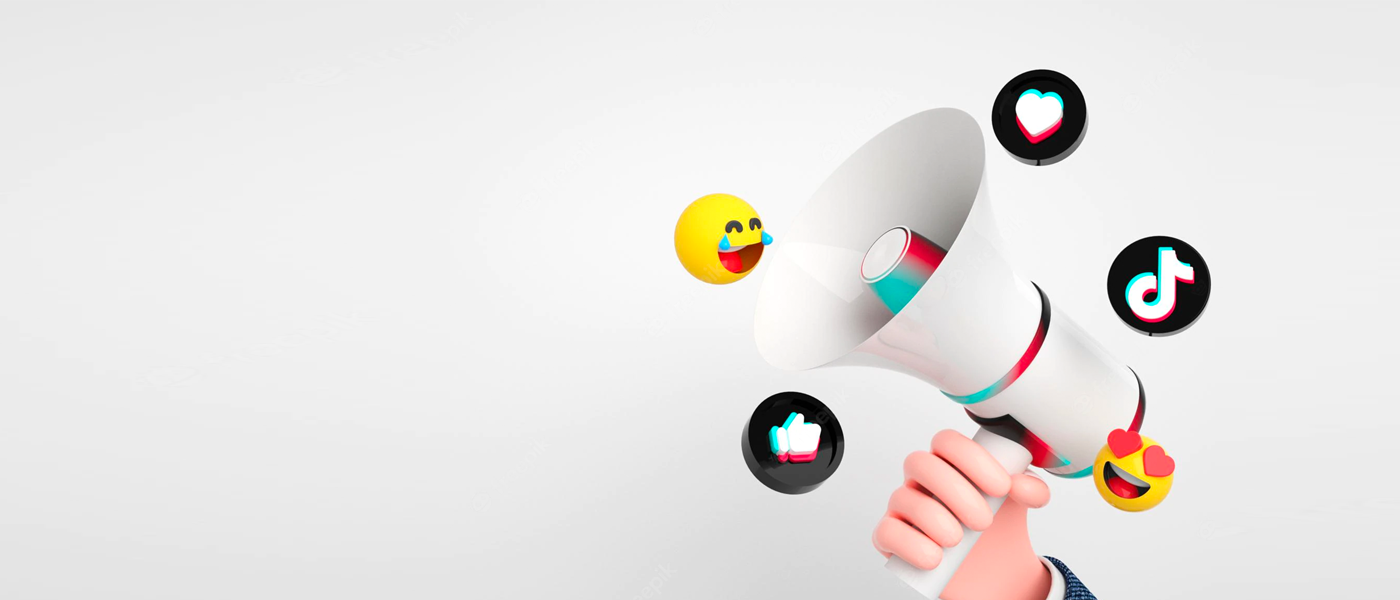 TikTok has quickly become one of the most popular social media platforms, with millions of users worldwide. It's not just…
2. For other businesses
For other store types, there are now apps.
a) You can download the TikTok for Business app if you have a BigCommerce store.
b) The TikTok Pixel is immediately installed on your storefront by this app so you can monitor the effectiveness of your marketing campaigns.
c) You can develop rich, dynamic adverts that show relevant ads to interested people by synchronising your BigCommerce catalogue to TikTok.
d) For a seamless checkout experience, add a Shopping tab to your profile page with product links that reroute to your BigCommerce store.
TikTok has revolutionized how we consume entertainment material on social media with its swipe-up video feature. But it's not just…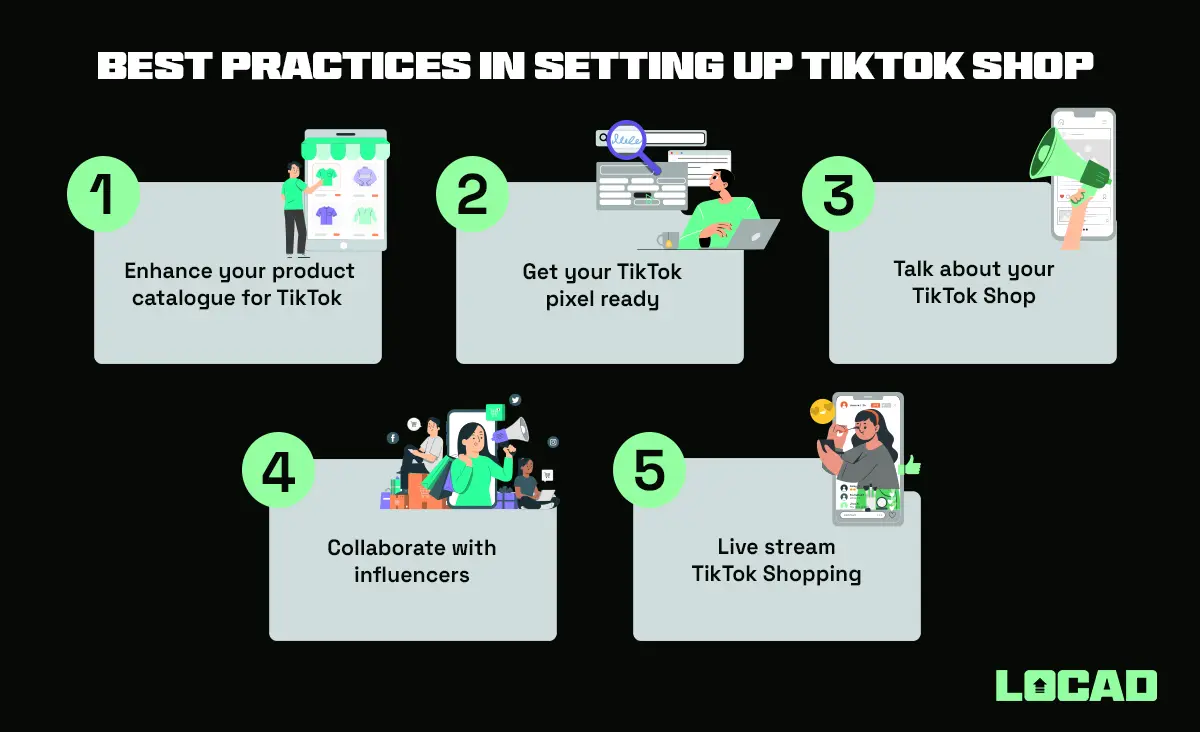 Best practices in setting up TikTok Shop
Once you can access TikTok Shopping, you can use these practices to boost sales on TikTok.
1. Enhance your product catalogue for TikTok
To sell on TikTok, ensure your account's shopping tab is tailored to draw customers since this will serve as your TikTok storefront.
Keep style and quality in mind while adding photographs. Your brand should be identifiable in your product photographs, and your TikTok brand presentation should be consistent (and, ideally, other platforms too).
Product titles should not exceed 34 characters and should contain the essential details. Longer descriptions are okay if they have as many specifics as possible, but they run the risk of getting cut off at the end. Please take note that links in TikTok product descriptions are not clickable.
2. Get your TikTok pixel ready
While selling on TikTok, success depends on tracking your goals and the behaviour of your target market. Therefore, ensure your TikTok pixel is configured to match your goals and objectives before investing in ads, content, and influencers.
After setting it up, test your pixel if you utilise Google Analytics (or any other data insights platform).
3. Talk about your TikTok Shop
Please don't wait for your fans and followers to find the shopping option on their own once you can access TikTok Shopping. Try to publicise it as much as possible and make a few TikToks to direct your audience on the proper path.
Regardless of your primary TikTok objectives, it makes sense to advertise your product catalogue on your account after you have a TikTok Shop. So, don't be afraid to highlight your products in your TikToks occasionally.
4. Collaborate with influencers
TikTok has been called a cultural phenomenon and is more than simply another social media platform.
You might be better off delegating artistic control to someone deeply familiar with the platform if you are unfamiliar with its distinctive trends, subcultures, and inside jokes. Especially when the stakes are high and you're marketing a product (a.k.a. Either you can earn a lot of money or the TikTok algorithm will ignore your stuff.).
An excellent method to engage and authentically reach new audiences is collaborating with TikTok influencers to advertise your products or services. Just make sure to seek out creators who genuinely understand your brand.
5. Live stream TikTok Shopping
TikTok has been experimenting with live streaming and how its users watch online entertainment and shop simultaneously. The current business model for TikTok is a proportion of the actual sales.
You can live stream an event after more than 1000 platform followers. Of course, popular influencers and major businesses have already partnered, and for some of the first events held in December 2021, notable brands went to international superstars.
A unique shopping event with "deals and special discounts by the beauty and tech brands, such Charlotte Tilbury, L'Oreal Paris, and NutriBullet," is how TikTok advertised OnTrend, for instance.
Now that you know the best practices for selling on TikTok, it's time to create some killer content.
Make Original Content for TikTok
TikTok can be used for promotion even if your brand isn't well-known.
Being genuine is important because most social media users lack access to pricey camera equipment or production budgets. They produce material on their phones and in their free time that is true to who they are.
Pets and kids are typically the two factors that cause TikTok content to go popular. The younger audience of the platform is more interested in watching lighthearted and fun videos featuring kids and animals.
Creating fresh, original content for TikTok doesn't have to be complicated. You only need to find and customise pre-existing material because the site is built around community interaction and hashtags. Joining existing trends by "Stitching" or "Dueting" popular videos will help you reach a wider audience.
As Tiktok Shop strives to create positive shopping experiences for its customers, sellers have to be mindful of these rules…
Tips to Optimize Your TikTok Shop
When selling products on TikTok, the trick is to get those who come to view your videos to make a purchase casually.
Here are some tips to optimise your TikTok Shop and drive more purchases:
1. Post genuine content that demonstrates your sense of humour
Posting short videos of actual customers using your product and assembling them into a montage will make it appear more genuine and motivate users to interact with your brand.
2. Make use of trends
The brands that take advantage of participating in popular trends—whether it's a popular dance or song that is trending throughout the world on TikTok—are the successful ones.
3. Provide full-screen focus to users (Vertical Video)
Unlike other social media apps like Youtube and Twitter, where you can turn your phone sideways, and the content still fits on the screen, TikTok's software is designed to display only vertical videos.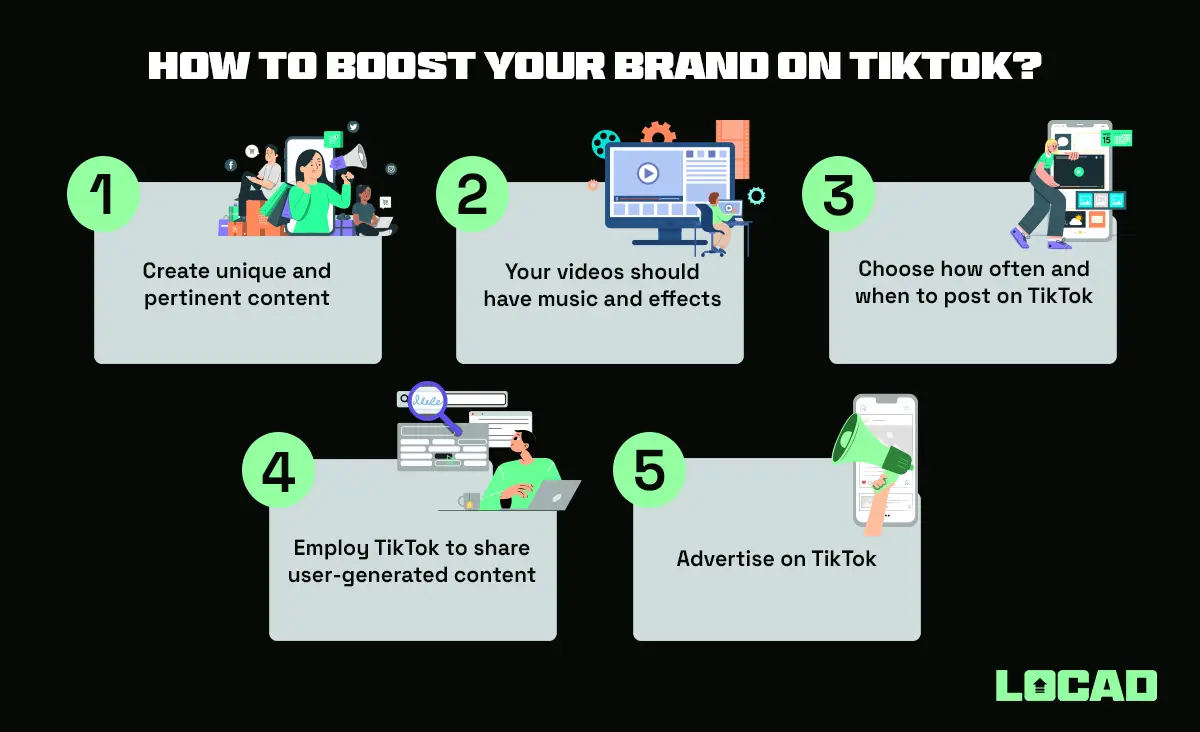 How to boost your brand on TikTok?
Being active on TikTok or any other social media platform is insufficient. It's how you take advantage of the app's creative tools and features to get your business noticed by millions of users worldwide.
Here are some ways to boost your brand on TikTok.
While some of these tips might be repetitive, it emphasises their significance.
Create unique and pertinent content
The platform's seemingly limitless supply of video material is the first thing you notice when you launch the app and scroll through the feed.
Your videos must be distinctive, captivating, and pertinent to your audience and brand to stand out in this sea of information.
Your videos should have music and effects
With the assistance of catchy, popular music and innovative effects, TikTok is about elevating your social videos to the next level.
Select Add Sound from the menu at the top of your recording screen to access a vast collection of audio clips organised into genres, trending, and suggested categories. You can add your favourite sounds to the Favorites tab.
Choose how often and when to post on TikTok
Paying close attention to your audience's usage patterns is one of the most crucial practices for any social media platform, not only TikTok. What hours do they sign on? When during the week do they most frequently use TikTok?
Employ TikTok to share user-generated content
Brands are known to love user-generated content (UGC). It's the simplest (and occasionally least expensive) method of obtaining and disseminating high-performing content for specific sectors, such as B2C.
UGC refers to content users produce for your brand. With permission, you are free to distribute or repost this content on your social media sites in various ways.
Advertise on TikTok
Even while TikTok does not emphasise monetisation much, businesses may still use the site to increase their following by running advertising seamlessly merging in with the other content.
Is TikTok the future of social commerce?
While e-commerce companies have long recognised the value of social media, shopping through social media has only been a recent addition.
The fact that Facebook did it first and was successful in doing so cemented its predominance.
But nowadays, from Pinterest to Snapchat, practically every significant social media platform has its own wholly integrated online store.
While Facebook and Instagram have received much attention, TikTok, a relative newcomer to social media, is now the topic of discussion. And that is because you need no particular number of followers to start your TikTok shop. It is a game-changer in social media because you don't even have to have a predefined engagement rate – you can open a TikTok business account and start selling your products.
The diverse age range on TikTok makes it the ideal platform to start your shop on.
What, then, is unique about TikTok Shop? Why is it being hailed as such a successful social commerce platform?
1. Visual experiences drive social media
Nowhere is this more apparent than on TikTok, which specialises in high-quality and varied short-form video material.
E-commerce companies that take advantage of this chance can develop sizable and active fan bases and develop a community around their products.
2. Age of TikTok audience
TikTok's audience is often younger than other social media platforms. It presents a chance for businesses looking to reach (and profit from) younger audiences, such as millennials and the first generation of Gen Z.
You can see why so many marketers are embracing TikTok as one of the best opportunities to reach young customers by contrasting it with Facebook's audience, which is more age-diverse but tends to be older.
3. Innovative shopping features
Due to various new shopping features, TikTok will soon become the next "major" social commerce platform.
Since its introduction, TikTok has experimented with letting users
Add e-commerce links to their bios,
Provided "Shop Now" buttons for firms' video commercials and
Unveiled the "Hashtag Challenge Plus" e-commerce tool, enabling users to shop for items using hashtags.
Here are a few real-time case studies to substantiate our reasons.
Guess has done an excellent job with its TikTok marketing from the beginning.
In their first post, they advertised the #InMyDenim campaign, where creators transitioned from worn-out, shabby garments into fashionable Guess clothing.
They used the song "I'm a mess" by Bebe Rexha as the background music for most user-generated content (UGC) to promote the challenge further and increase viewer involvement. Videos using the hashtag have received more than 53.5 million views, thanks to influencers like @ourfire and @jackjerry.
They then used #LoveGUESS as a follow-up to get an additional 24.1 million views. When finding the ideal influencers for their ads, Guess appears to be as adept as any other brand on TikTok.
Popular influencers @brentrivera and @mylifeaseva featured in their #LoveGUESS posts on their channel. Over a million people watched that video alone, and hundreds of comments mentioned how much their audience admired the influencers.
Kylie Cosmetics. which had 2.5 million followers, was one of the first brands to use the TikTok Shopping function when it was in its testing phase.
This brand, owned by celebrity star Kylie Jenner, sells high-end cosmetics and other items. One of the key factors contributing to Kylie Cosmetics' enormously lucrative success with TikTok Shopping is the brand's enormous popularity within the cosmetic industry.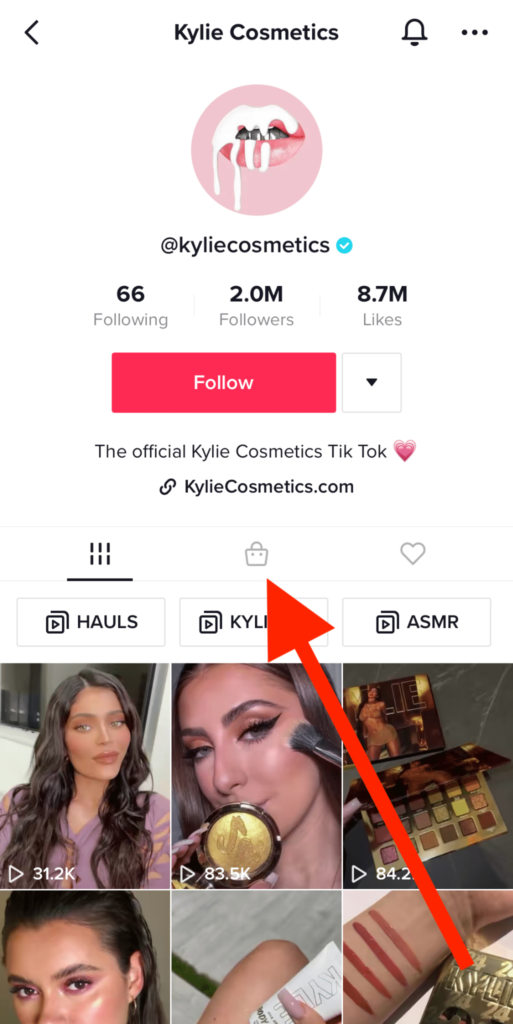 Additionally, TikTok's video content enabled the brand to showcase the product in much greater detail, which is unachievable with conventional advertising campaigns. Jenner is a trailblazer in many ways, so her decision to join TikTok Shopping has paved the way for many other beauty brands, large and small.
Why partnering with a logistics and fulfillment partner is important for your TikTok Shop?
Partnering with a logistics and fulfillment provider is crucial for e-commerce businesses leveraging TikTok Shop. Here's why:
Streamlined Fulfillment Process: A logistics and fulfillment provider can help streamline your order fulfillment process, ensuring that your customers receive their orders quickly and efficiently. This is especially important for businesses that experience a high volume of orders, as managing shipping and handling on your own can be challenging.
Integration with TikTok Shop: A logistics and fulfillment provider can also help you integrate your order management system with TikTok Shop, allowing you to automate your shipping and fulfillment process. This ensures that your customers receive real-time updates on their orders' status and that you can seamlessly manage your inventory and shipping processes.
Cost Savings: Partnering with a logistics and fulfillment provider can also help you save on costs associated with shipping and fulfillment. By leveraging their expertise and resources, you can reduce shipping costs and avoid costly mistakes when managing your fulfillment process.
Better Customer Experience: Finally, partnering with a logistics and fulfillment provider can help you provide a better customer experience overall. By ensuring that your customers receive their orders quickly and efficiently, you can build trust and loyalty and encourage repeat business.
At Locad, we specialise in providing logistics and fulfillment services for e-commerce businesses in Southeast Asia. Our state-of-the-art fulfillment centres, cutting-edge technology, and experienced team can help you streamline your order fulfillment process and improve your overall customer experience. By partnering with us, you can focus on growing your business and leave the logistics and fulfillment to us.
All You Need to Know About TikTok Shop for E-commerce in Southeast Asia
TikTok Shop is a feature of TikTok that allows e-commerce businesses to sell their products directly on the app.
To set up a storefront on TikTok Shop, e-commerce businesses need to create engaging content, set up a storefront, and partner with a logistics and fulfillment provider.
TikTok Shop features include product listings, checkout functionality, and the ability to share products with followers.
TikTok Shop can be a valuable tool for e-commerce businesses looking to expand their reach in the Southeast Asia market, but it's important to partner with a logistics and fulfillment provider to ensure a streamlined and efficient order fulfillment process.
Eligibility criteria for TikTok Shop include having a registered business account on TikTok, compliance with TikTok's policies and guidelines, and having a physical product to sell.
While TikTok Shop is available to many e-commerce businesses, it may not fit every brand. It's important to consider your business goals, target audience, and overall marketing strategy before deciding to set up a storefront on TikTok.
Conclusion
In conclusion, TikTok Shop is a powerful tool for e-commerce businesses looking to expand their reach in the Southeast Asia market. By creating engaging content, setting up your storefront, and partnering with a logistics and fulfillment provider, you can take advantage of TikTok's massive user base and drive sales for your business.
Remember to keep your storefront and product listings up to date and to engage with your followers to build a strong online community around your brand. With the right approach, TikTok Shop can be a valuable asset for your e-commerce business, helping you to connect with customers, drive sales, and grow your brand in the fast-paced world of online commerce.
At Locad, we're committed to helping e-commerce businesses succeed in Southeast Asia. Our advanced logistics and fulfillment solutions can help you streamline your operations, reduce costs, and deliver an exceptional customer experience. Contact us today to learn more about how we can help you take your business to the next level with TikTok Shop.
FAQ
1. Can I sell products on TikTok?
Yes, you can sell your products and services on TikTok. With the addition of millions of new users worldwide, you could increase your visibility as well.
2. How do I sell on the TikTok Shop?
To sell on the TikTok Shop, you will first need to set up a TikTok for Business Account. Then you can create videos to advertise your products, monitor outcomes, and manage your orders.
3. How do I add products to the TikTok Shop?
You can include product links in your videos once your store has been authorised for TikTok Shopping. You can tag your products in organic TikTok posts by using product links.
4. How do I start selling merch on TikTok?
You need at least 10,000 followers on TikTok to sell merchandise. Also, 100,000 views over the previous 30 days are required for your videos. Your account must follow the TikTok Community Guidelines and Terms of Service.
5. How do I link my shop to TikTok?
To link your shop to TikTok
1) Create or open your TikTok account.
2) Then click the "Profile" to section
3) Click "Manage Account."
4) Convert your account into a business account on TikTok.
5) Revisit the Profile Page.
6) Click "Edit Profile."
7) Fill out the TikTok box with your website link.
8) Select "Submit" from the menu.
6. How much does it cost to sell on TikTok?
The starting price for TikTok advertising is $0.50 per mile, or 1000 views, and $0.02 for each click.
Experience fulfillment by Locad today!