The growing e-commerce market in the Philippines is forecasted to reach $24 billion by 2025. There is no better time than now to start your online business. Shopee, one of the leading e-commerce websites in Southeast Asia, including the Philippines, is a great place to start. Shopee offers a beginner-friendly platform for online sellers. Whether you're new to online business or an experienced entrepreneur, you can easily set up your Shopee shop.
The best part is you can be based somewhere other than the Philippines to sell on Shopee. You can operate your business from anywhere worldwide and reach customers across the Philippines.
Setting up your shop on Shopee is easy, even for beginners. You only need a computer or smartphone, an internet connection, and your products to sell. Plus, with Shopee's user-friendly interface, you can manage your orders, track your sales, and communicate with customers effortlessly.
So, Here are the steps to how to be a Shopee seller in the Philippines. Let's begin!
Steps to set up your Shopee Seller Center in the Philippines
1. Create your account on shopee.com and click 'Sign Up.' Do that by using your mobile number or your existing Facebook, Google, or Apple account. Add and verify your phone number and email.
2. Log in to Seller Centre via seller.shopee.ph and select 'Shop Settings' to complete your shop profile.
Shopee seller requirements must have three main components:
1. Shopee Philippines Seller shop name
Choose a distinctive, memorable name that reflects your shop and products, while keeping with Shopee's Shop Naming Guidelines.
2. Images and Videos
Upload up to 5 images and videos to give your shop a strong brand identity.
3. Shop Description
Create a short, concise description to attract shoppers to your shop. You may include information such as your shop's history, type of products, or chat reply hours. Don't include personal information (email or phone numbers) or ask shoppers to conduct transactions outside of Shopee. Learn more about Creating your shop description.
Verifying your mobile number
Before adding your products, ensure you have a verified mobile number added to your account to avoid getting your products hidden from Shopee buyers.
1. Click on your account name, then click on 'My Account.'
2. Add your mobile number and click on 'Send Verification Code.' You will receive a six-digit verification code on the number you provided.
3. Enter the verification code then click 'Confirm.'
Setting up your pickup address as a Shopee Philippines Seller
1. Go to 'Seller Centre' and click on My Addresses.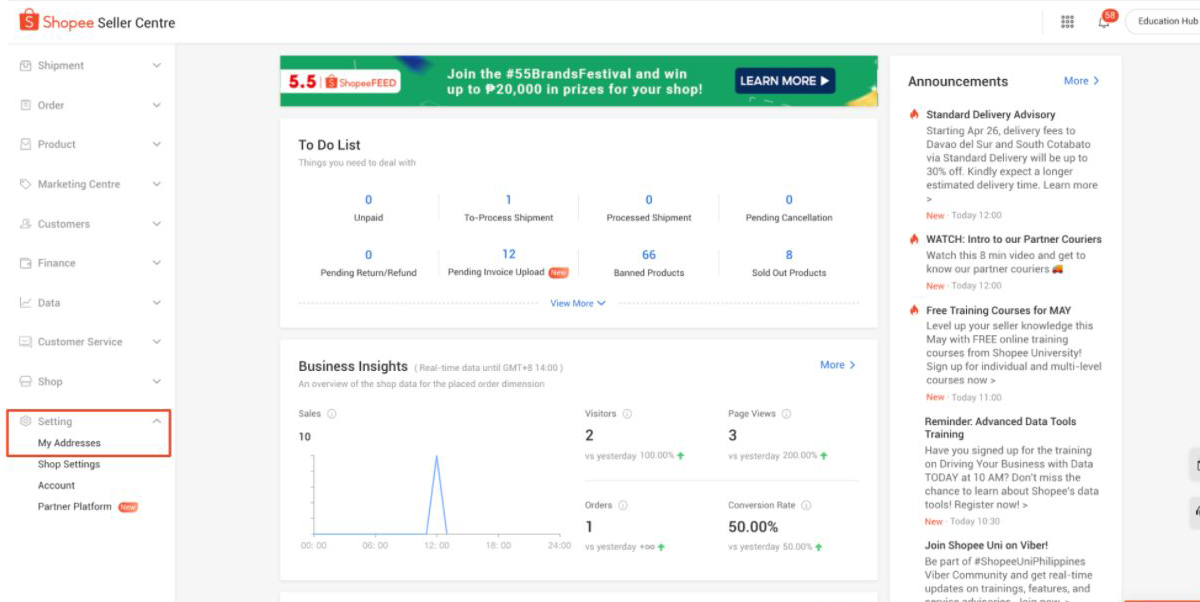 2. Click on 1) + Add a new address, 2) Fill up the contact and address details, and 3) Click on Set as Pickup Address.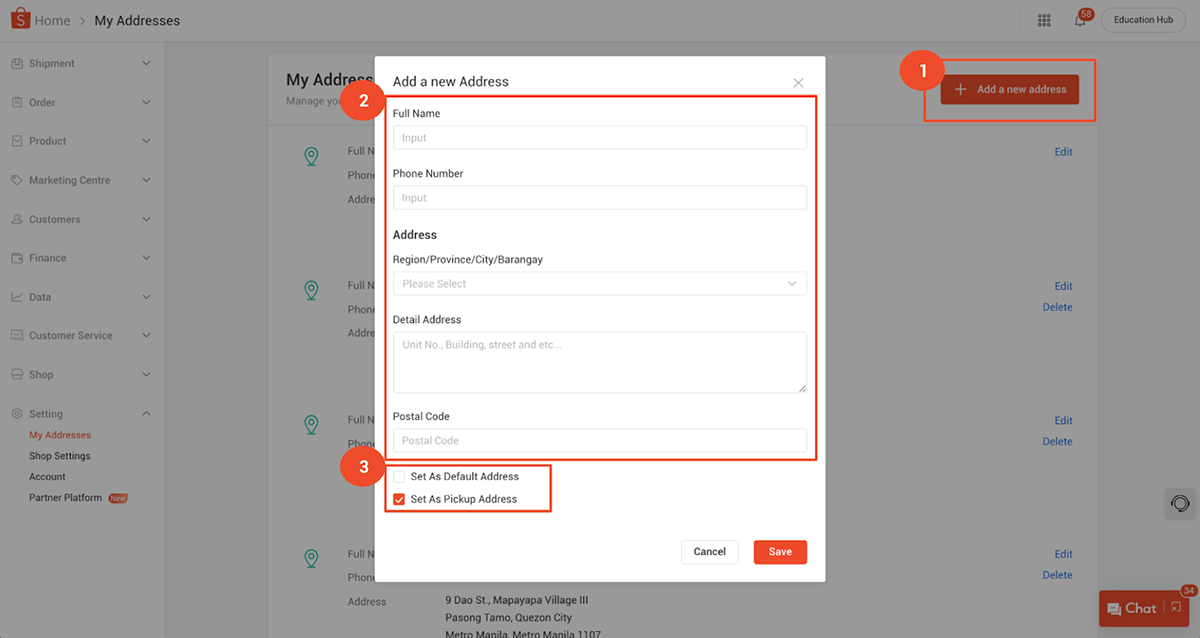 Creating your first listing as a Shopee Philippines Seller
Before this, review Shopee's Prohibited and Restricted Items Policy to ensure your product can be listed for sale, in accordance with Shopee's Terms and Conditions. Once done, start by following these:
1. Go to Shopee seller centre and select My Products.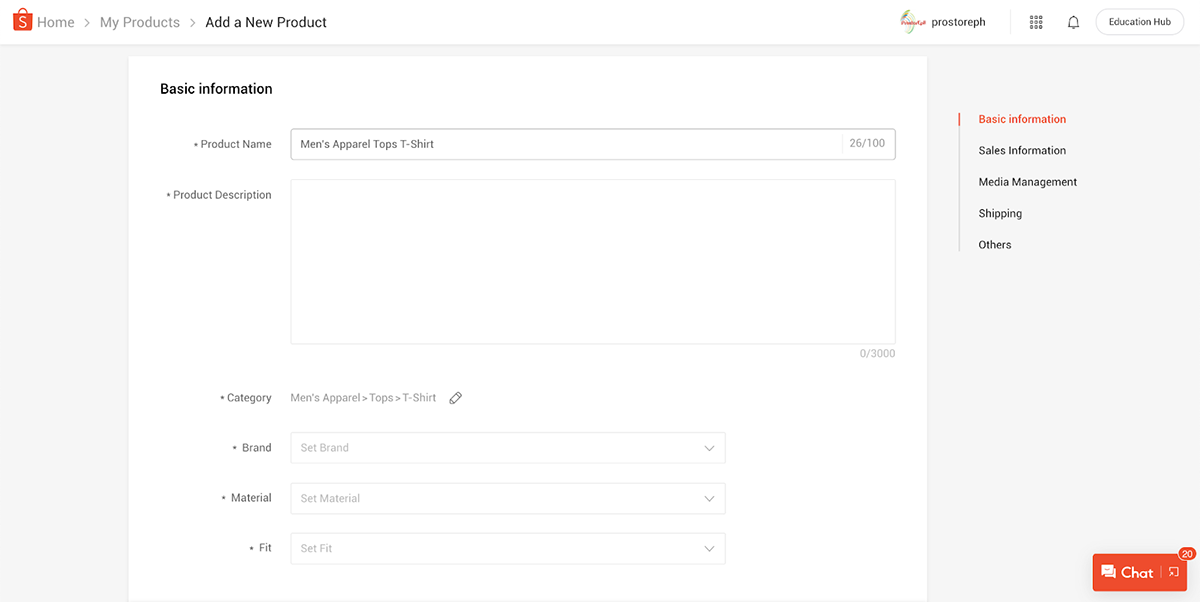 2. Click on + Add a New Product and fill up the product name, category, product attributes, and description.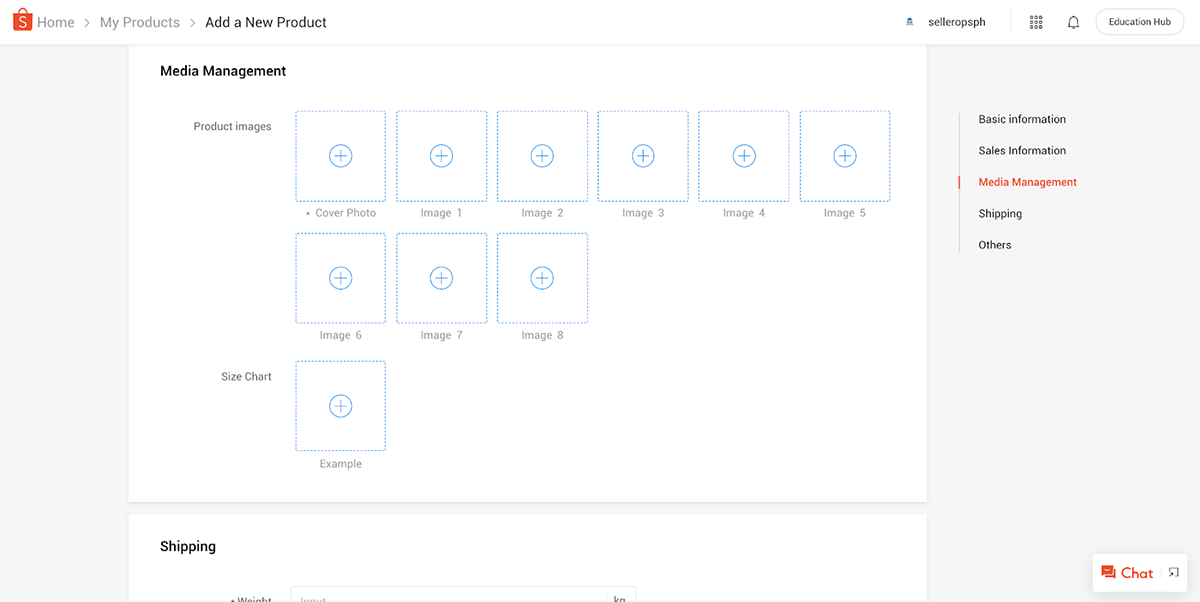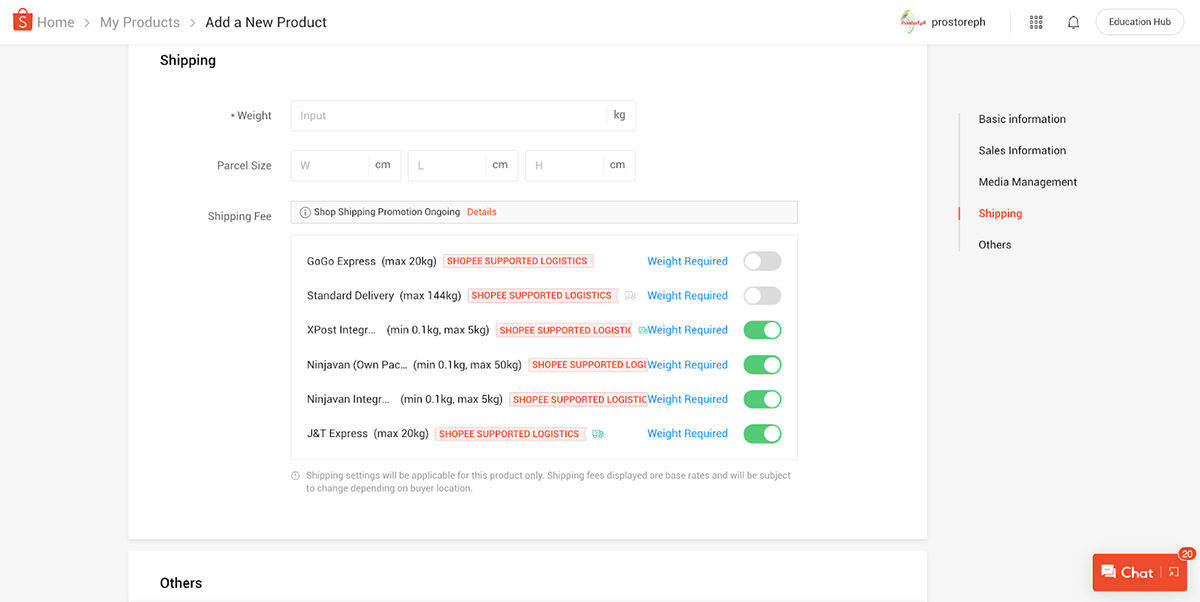 3. Upload high-resolution, professionally-taken photos of your product.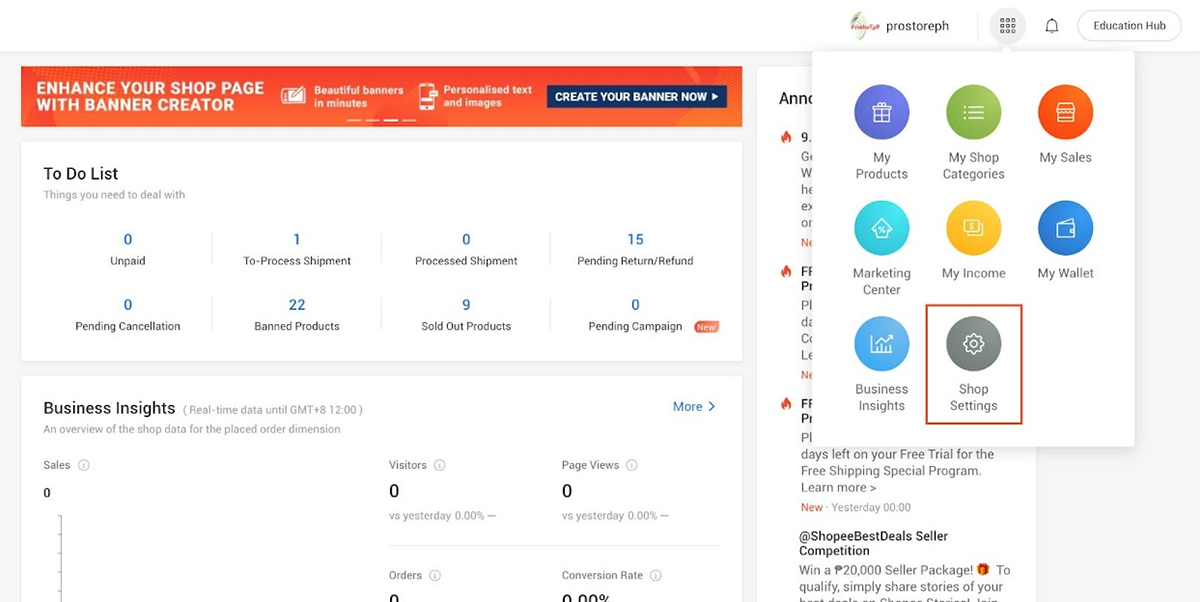 4. Select shipping settings such as weight and parcel size. Note that different shipping providers may have different shipping fees or restrictions on parcel size and weight.
Shipping out your first order as a Shopee Philippines Seller
Once you have received your first order, here's what you need to do:
1. In the Seller Centre, go to 'My Sales' and click on 'To Ship'
2. View orders that need to be shipped out in the 'To Ship' tab
3. Click on Ship to arrange for shipment (Make sure you arrange for shipment before the stated ship-by date)
4. Pack the order in accordance with Shopee's Order Packaging Guidelines and attach any required documentation such as the airway bill
5. Hand the order over to the logistics provider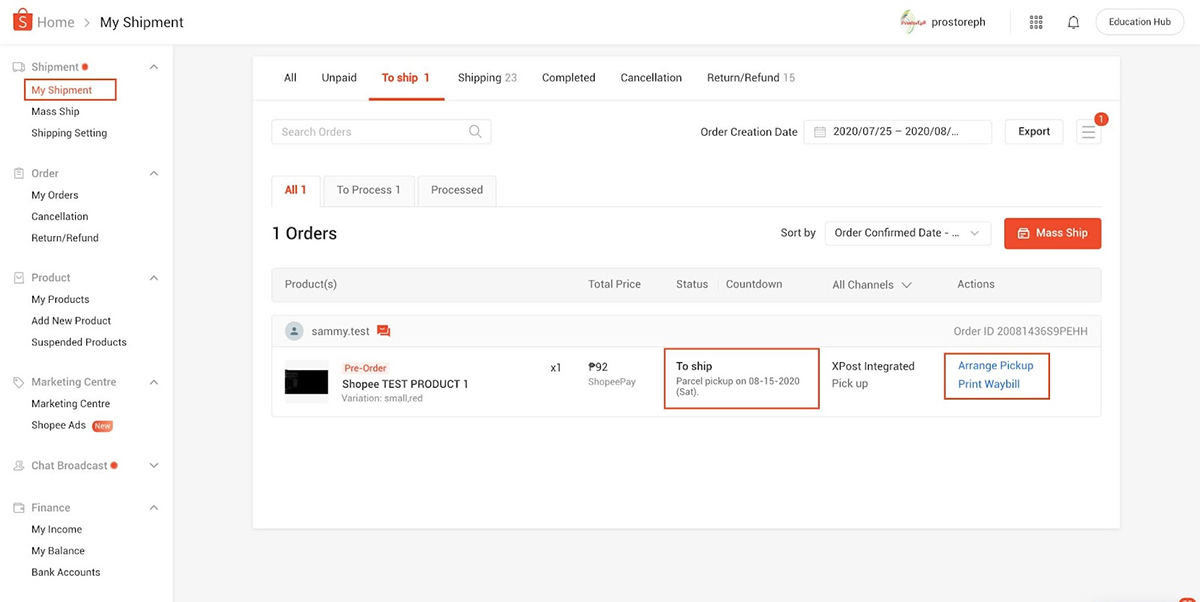 Delivering a great shopping experience as a Shopee Philippines Seller
To grow your Shopee Philippines Seller business, follow these best practices.
1. Fulfillment
Ship on time and avoid canceling orders to build customer trust and loyalty.
2. Listing
Build trust in your shop by uploading authentic products and providing accurate descriptions.
3. Customer Service
Use Shopee Chat to provide prompt, informative, and friendly replies to shopper queries and requests.
4. Marketing
Drive traffic to your shop and create a strong brand identity through Shopee's Marketing Centre.
5. Policies
Diving Deeper into the Shopee seller center login
Shopee's seller login portal provides a range of functions that allow online sellers to manage their shops, track sales, and communicate with customers. Some key functions on Shopee's seller login portal include adding products to your shop, managing inventory, processing orders, and tracking sales performance. Additionally, sellers can interact with customers by responding to queries, providing feedback, and handling returns and refunds.
If you want to sell on Shopee, you can sign up for a seller account and access the seller login portal through Shopee's official website. Once you have signed up, you can log in to the seller portal using your registered email and password. Shopee provides a detailed guide on how to use the seller login portal.
Breaking down Shopee Commission Fees
Shopee charges a commission and transaction fees for sellers who use their platform to sell their products. The commission fee is calculated based on the final cost of the goods paid by the buyer after any seller-sponsored discounts and vouchers are applied. Any discounts or vouchers the seller provides to their customers will be deducted from the item's total price before the commission fee is calculated. However, any discounts or vouchers provided by Shopee will not be deducted from the item's total price when calculating the commission fee.
Sellers need to be aware of the commission fee charged by Shopee, as it can affect the overall profitability of their business. This fee is deducted from the total amount paid by the buyer, and the remaining amount is then credited to the seller's account. Shopee charges this fee to the seller after every successful purchase.
Sellers need to consider the commission fee when pricing their products to ensure they can still profit while using Shopee as a selling platform. You can learn more about Shopee seller fees in the Philippines here
Conclusion
Tadah! If you have any more questions on being a Shopee Philippines seller, going straight to the source is of course what we recommend — so you can get a chance to reach 343 million monthly visitors on Southeast Asia's largest e-commerce platform, and maybe reach their customers in Taiwan, South Korea, India, Latin America, and Europe too!
Experience fulfillment by Locad today!