Reading Time:
9
minutes
More and more e-commerce companies, online retailers, and individual sellers are going into live selling as a way to enhance the shopping experience of online customers.
Live selling offers sellers or retailers a way to directly engage with many customers in real-time to show and demonstrate products. We can think of it as a show-and-tell where the seller talks about a particular item. The customers (or audience) in turn can interact through the comment box while viewing the live selling "show."
Since live selling involves people, it is worthy to note that successful live selling often depends on the interaction of the seller and customers. Of course, the items should also have great quality, so that the seller or e-commerce companies do not risk losing customers. Live selling aims to achieve the opposite: you want to gain more customers through live selling.
Live selling also appeals to a wide range of customers, although it is said that in terms of demographics, the younger sets ("Generation Z" and "millennials") are "first movers" and often make up the bulk of live-selling online consumers. However, the older generation, the "Gen X" and baby boomers, are also now getting the hang of buying through live selling.
In the Philippines, individual live selling is very popular on the Facebook platform. Apparel including sportswear, beauty products, and household items are often sold through live selling. Individual live sellers are often able to develop a loyal following, particularly if their products are of excellent quality.
This might not be unique to the Philippines, but live sellers have developed a marketing system to spur customers to purchase. The comment section of the Facebook Live page is often dominated by comments such as "mine" or "grab." "Mine" basically means you're reserving the product, and if no one "grabs" it, then you can expect that the item is already sold to you.
"Grab" means you pay a premium to be able to get the item, even if somebody also already posted a "mine" on the product. This competition or game-like element proved to be a very good hook for Filipino customers.
What is live selling?
A quick search of online references will show that live selling (or live commerce) is often defined as "online retailers (individuals) showcasing their products via a live stream on social media or streaming platforms" including the more popular platforms such as Facebook, TikTok, Instagram, YouTube, or Twitch.
When you do a live sell, you are using a platform and then live streaming the process. Social media platforms have recognized the market potential of this novel marketing method and thus have added features that can support live selling.
For example, on Facebook, live sellers can use Facebook Live. An e-commerce company can then promote the "event" (the live selling) through its Facebook page. Using Facebook Ads to promote the event is more advantageous.
Outside of Facebook Ads, live sellers can promote the event and post about it, conduct an email blast, send online invites, or spread the word via SMS or texting. It is also advisable that you promote your live stream after the live selling event. Live selling can be recorded, and it is a great way to get new customers.
Advantages of live selling
Navigating and scrutinizing products. Live selling often reduces the need for customers to read or navigate product descriptions, product features, etc. as the live seller can do all these. Customers can also get immediate feedback, inquire, or ask about the brand and other information.
The beauty of live selling is that customers (in a Facebook Live stream), for example, can also have a sense of "community" since they can discuss the products while the live selling is going on. This social element does not happen very often in actual physical stores unless you're out shopping with friends or family.
The audience also gets to see how the product or item looks in real-time. The audience sees an actual person looking at a product, and not just a photo that might be filtered or edited. The shopping experience can feel more "authentic." Live sellers often can demonstrate and explain the products in detail. A simple photo caption might not suffice for many buyers.
Easy digital marketing. For marketing, social medial platforms such as Facebook and Instagram often allow live sellers to provide direct links to the live stream and are thus able to maximize their reach to attract more viewers and hopefully generate more sales. Product tagging is also allowed, which can achieve the same goal: customers can go directly to the live selling with a simple click of the link.
From a marketing perspective, live selling is also less costly than a traditional advertisement. Sure, you might still need a huge boost from Facebook Ads, but if say you already have a substantial following and decided to sell via live selling, the audience is already there.
Effective video content for social media platforms. Live selling is technically video content. Fortunately for sellers, live video content is said to be six times more effective when it comes to "reach" compared to any other social media post.
Live selling, combined with digital marketing, has all the right "signals" or "points" that social media platforms are looking for. Live selling is often more effective than traditional ad campaigns because the social media platforms are also pushing these video content to as many potential customers as possible.
Live streams also present a level of authenticity to products and customers are more likely to buy from people they like. These live-selling videos also have three times longer average view times than prerecorded videos. Industry reports said the longer a video (live selling or live stream) can keep someone engaged, the more likely the customers will buy.
Building trust. Live selling can also build a lot of so-called "social proof." Customers often see comments, "shares," and "likes" which often build trust. Live selling also creates a sense of urgency. Live sellers can also infuse a "limited time offer" on products or products and this sense of urgency with a traditional social media post or advertisements often result in bigger sales conversions. Again, the concept of competition with other consumers often results in more sales.
Depending on the live seller, these videos are also entertaining, and often, consumers do not feel like products are being "pushed," and buying becomes fun as opposed to a stressful or anxiety-provoking experience.


Why go live?
There are supporting trends and industry reports showing that live selling has become a very important tool for both large e-commerce companies and small, individual sellers.
One industry report said live selling has grown by more than 75 percent since the start of COVID-19. This is due to a few major reasons including people spending longer hours on social media, more buying options (and more products) being sold on social media, and live selling as the most popular option.
Live selling can give an e-commerce company a major boost when it comes to social media. More exposure means the possibility of more sales and more profits.
However, live selling is not as easy as it may seem. E-commerce companies and individual sellers need to invest time and effort to create and sustain a very good live-selling strategy. Let's look at a few more tips on how to create your live-selling plan.
Find a platform. Finding a platform is very important when it comes to live selling. Although there are many popular platforms, e-commerce companies need to choose the platform that will have the most potential to zoom in on the target audience.
For instance, live-selling fashion wear for teens might be more effective if you do the live-selling via Instagram or TikTok. The younger set is also inclined to be on Twitch.
If you have a wide variety of products, using Facebook Live might be the best platform for you. There are a lot of Facebook groups that you can target, and as mentioned, Facebook Ads can boost your social media presence.
Nothing is stopping an e-commerce company from using multiple platforms, and the key is finding which will work for you and your brand.
Practice your live selling. After you've selected your platform, the next step is to be able to hone your live selling through practice. Practice is applicable for big e-commerce companies and individual sellers since both will use a person in front of the camera to do the sales pitch. You can practice ahead of time, use visual cues, teleprompters, cue cards, an assistant, etc. to make the live-selling more engaging and more informative for your audience. Prepare and organize your merchandise ahead of time.

Many individual sellers often do not need specialized applications or software tools when they do live selling, as the process is more or less clear-cut: A consumer buys an item, communicates with the seller via personal messaging, agrees on the payment method, and shipping arrangements, etc. However, e-commerce retailers can also use tools to automate the whole process — from selling, invoicing, mobile access, checkout, payment, shipping, etc.
Test your connection. There is nothing more frustrating than being disconnected from the Web while conducting a live sale. This might no longer be a problem in many markets or countries, but losing an internet connection can still be an issue. Having a reliable Internet connection (preferably a fiber connection) is key. However, having a mobile access backup, just in case, might also be needed.
Make it fun, fast, and exciting. Online consumers do not have the time nor the patience to sit through a dull live-selling session, so keeping the live selling fun and fast-paced can be advantageous. Remember that your audience can leave at any time and are not compelled to stay on the live stream, so having someone who can make the live-selling interesting and fast can be very helpful. A live seller that can engage with online customers is also preferred, although this can be tricky.
Now here's an important nugget of information: It is said that a live selling show for 10 minutes to 30 minutes is very effective. However, this is not set in stone, and some of the bigger companies often stream for an hour or more. It would depend on your audience, so the key is identifying what most of your customers want.
Have patience. Like most business tools, building a substantial audience via live selling is a gradual process, and thus, patience is also the key.
Know your audience, try to find out their preferences, create promos and "limited offer" schemes, interact, have live-selling constantly, etc., and have the patience to wait for results.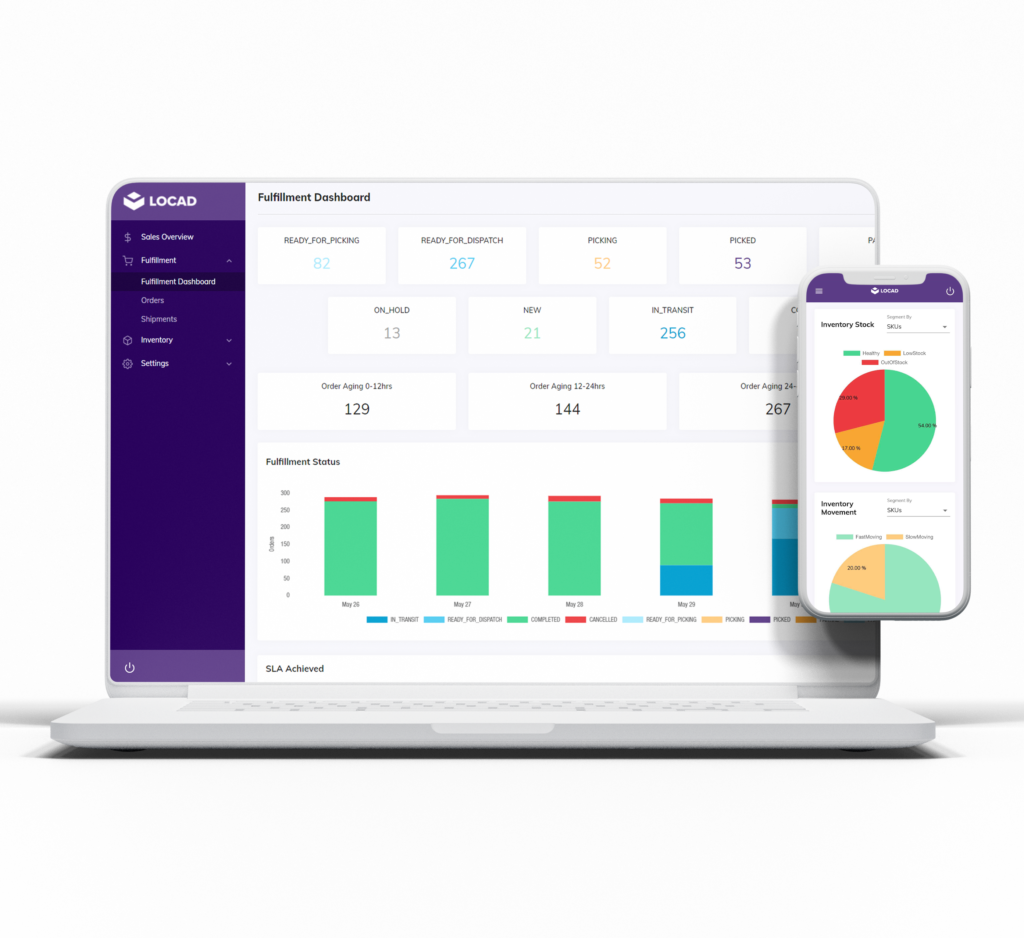 Experience fulfillment by LOCAD
Grow your business through LOCAD's simplified and automated fulfillment solution
Unlimited and scaleable warehousing
Pay only for what you store
No hidden fees or lock-in periods
Zero inbound costs
Wide integration with marketplaces
Automated logistics and delivery