LOCAD's fulfillment service helped hands-on brand owner Meryll Yan of Skinni Swim manage her multiple online stores through the LOCAD Control Tower even when she's not in the metro.
Key Metrics
LOCAD Control Tower makes managing multiple stores a breeze
Affordable shipping rates
Partnering with LOCAD allowed her to focus on brand marketing and growth
About SKINNI Swim
SKINNI Swim is a swimwear brand that represents a synergy of fashion and adventure, the life aquatic, form, and function—all centered around a celebration of womanhood. Embracing women everywhere, SKINNI Swim sells swimwear that is reversible, seamless, and UV-protected in silhouettes that flatter any size, age, and skin color.
After years in the publishing industry, Meryll left her post as a deputy magazine editor in 2013 and explored other careers in banking and journalism before she joined SM Retail – where she spearheaded the retail giant's first-ever body positivity campaign Dare to Denim which went viral in 2015.
Overwhelmed and pleasantly surprised with the campaign's performance and social engagement, Meryll set out to pursue her own brand that best represented what body positivity meant to her. "I wanted a brand that resonated with women and provided a safe space for women," she explained.
By 2017, Meryll – inspired by her adventures at the beach – had already been toying with the idea of starting a swimwear brand. "I fell in love with the beach because it was such a contrast to my urban world view," said the Hong Kong native. "I feel more comfortable in a bikini than in business attire," she shared.
While her background lies in fashion journalism, Meryll also has taken up the role of a creative designer for her brand. She goes beyond her love for the sea as she draws inspiration from marine life when she's designing one-of-a-kind prints that honor the Philippines' marine ecosystem – which she calls one of the most diverse in the world.
She described her SKINNI Swim's humble beginnings as a series of "thankfully fortunate events." During the early stages of building SKINNI, Meryll had developed prototypes and shared them with her close circle of friends to get their feedback. This tribe included Gery Penaso, the official makeup artist for Pia Wurtzbach at the time. And when Gery had the idea to lend the samples to the 2015 Miss U's summer-themed photoshoot, Meryll's life changed overnight.
"I woke up one morning and saw a post on Instagram—Queen P wearing SKINNI," she enthused.
"She wore all of the samples and posted it on her Instagram," she continued. "[The post] was even named as one of the best celebrity swimwear moments of 2017," With the social media spotlight on the mysterious swimwear brand on Pia Wurtzbach's post, Meryll had to advance her brand's launch.
While one social media post catapulted her brand into success, Meryll admitted that building her own business was not an easy feat. "I've had many sleepless nights having imposter syndrome and wondering if the brand was too ahead of its time," she shared. "But thankfully, it seemed like the Philippines was finally ready." Her brave decision to break away from the norms for her launch collection and opt for trailblazing models like a senior citizen woman (a model aged 70+), a trans woman, and a plus-sized woman did not only set her brand apart, but it also pioneered a new vision of body-positive swimwear in the Philippines.
Since its launch in 2017, SKINNI Swim has been a go-to swimwear brand in the Philippines known for its bikinis and one-pieces that flatter women of all sizes, ages, and skin tones.
Adjusting to the new realities in retail after COVID-19
"The pandemic was a huge curveball for us," said Meryll. With all the upheaval happening in the fashion and retail industries, the swimwear category has taken a massive hit. "The swimwear category is very much tied to tourism and tourism was put on hold," explained Meryll. "And one of the primary goals of the brand is to promote Philippine beaches and marine life."
"In 2020, I was really catatonic," she joked. SKINNI Swim, like many other affected local businesses, took a brief hiatus in 2020 to step back and regroup in its direction moving forward. "This year, the big difference is that we were able to launch our Lazada store which was a way of reawakening," said Meryll. And while local tourism hasn't fully recovered or restored in full force, the brand has seen a returning interest with more and more orders coming through their new Lazada store. "Every order means more to me now as compared to when I first started SKINNI," she shared.
A newly emerged pain point for Meryll is the difficulty of keeping up with the speed that is demanded of eCommerce. Before the pandemic, Meryll packed every single customer order on her own. "Our warehouse before was our apartment," she joked. "We converted our second bedroom into essentially a little warehouse." She recalled having to frequently go up to and down from her apartment to personally hand over orders to Grab or Lalamove riders for Metro Manila customers. But for her provincial customers from Cebu, Palawan, and Cagayan de Oro, orders warranted a face-to-face transaction at LBC.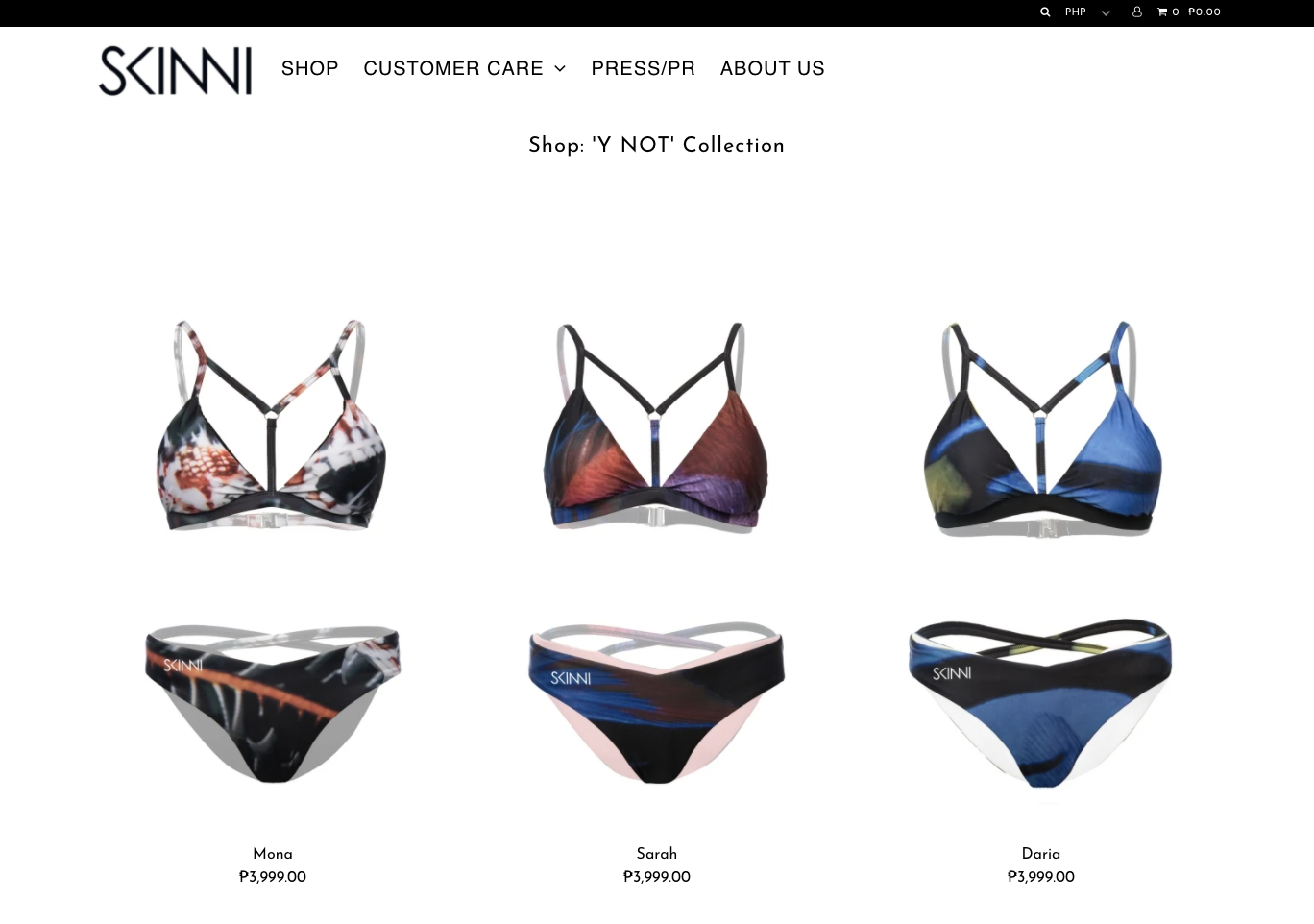 After four years of running SKINNI on her own and the new fast-paced setting of online retail, Meryll decided it was no longer sustainable to have to continuously reshuffle her day-to-day schedule in order to accommodate shipping out customer orders as fast as she can.
Trusting a fulfillment partner to look after her brand and business
"I like to joke that being a CEO means everything is your fault," Meryll shared playfully. "I'm very hands-on but eventually, I realized some things have to be handled by professionals."
"I've always wanted to have a partner for this vital part – it's the last leg, a lot of people say [logistics] is where brands or young entrepreneurs really falter," said Meryll. "This whole inventory management, fulfillment, warehousing warrants a different set of skills and to be honest, I'm more of a creative type of person who enjoys the marketing side of things," she admitted.
Meryll first looked into Hong Kong – where she's originally from – for a fulfillment partner. "Every local brand dreams of being able to export outside of the Philippines," she said. But when her preliminary discussion with Javier, Locad's Business Development Executive, revealed the opportunity to scale regionally with its distributed warehousing across Southeast Asia, Meryll had decided to explore the tech-driven fulfillment partner further.
"Apart from the very good rates, one key factor that convinced me was how Javier shared that the company has had experience dealing with clients who are particular with packaging and that gave us the confidence to trust in Locad," she looked back on her decision to choose Locad.
Before switching to fulfillment with Locad, Meryll underwent a time-consuming process of sending out a single order—from rummaging through her bedroom-turned-warehouse to packing each parcel to booking a third-party courier. "But now with Locad handling [fulfillment], it's a huge relief for me," she shared.
She also explained how enlisting the help of Locad's fulfillment services has allowed her to practice SKINNI Swim's core message of self-love. "One way to practice self-love is to entrust the parts of the business that you can entrust to professionals so you can have time for yourself so you are not 100% your business," she shared. "And that will allow you to have the time and energy to be a better daughter, son, mother, father, husband, or wife because you are not bogged down endlessly packing orders." 
For Meryll, she calls Locad her lifesaver. "The biggest benefit with Locad is that I get to be here," she gestured to her new home in Dumaguete. "[Locad] has even allowed me – on a personal level – to move from Manila to Dumaguete. I wouldn't have been able to do that without Locad," she shared.
"There's some anxiety when you're handing over your products or inventory to someone," she explained. "I consider SKINNI my baby and I feel very attached to it. I wouldn't have been able to make this big of a move to the province if I didn't have a partner like Locad," she continued. While she was busy handling moving her furniture and other belongings from the city to the province, Meryll was able to focus on prioritizing her big life change while Locad prioritized her business.
Returning to an entrepreneur state-of-mind
More than the end-to-end fulfillment solution and service, Meryll shared that Locad has opened her eyes to new and exciting opportunities in multi-channel eCommerce. "What's nice about Locad is that there's a way to centralize our Shopify store with our Lazada store so I don't have to look at two different platforms," she remarked on the integrated Locad Control Tower. "And that also encourages us to even try out other eCommerce platforms." Being a one-man team running a business, Meryll also considers consolidation and centralization of information as a big help to her decision-making.
She explained that the pandemic made her realize the true non-negotiables of life which are her health, her time, and her loved ones. "When you have a partner like Locad, you can allow yourself to be healthier, to rest a bit, and to have the energy to put back into the business," she shared. "You can imagine the peace of mind that it gives me to have Locad take care of the merchandise and fulfillment so we can focus on the things only we can do which is product development or marketing because those things can drastically affect the failure or success of any business," said Meryll.
"I ascribe to the philosophy that time is gold and while I could easily say that I could've done the fulfillment myself, that would mean time away from doing the things that I'm better at like marketing and creative side," said Meryll. "To be able to focus my time on those endeavors – because Locad frees me up to do so – is a huge return on investment (ROI) for me because it allows me to devote my efforts and energy on the tasks and projects that are related to the brand that only I can do."
"It's very rare to find a partner who is as proactive as Locad," said Meryll. "For a small-time entrepreneur and a female entrepreneur, [Locad] carries a whole slew of benefits. When you're a working mom or a busy wife juggling different things, it's great to have that essential part of your operations in the hands of experts."
She also credits her motivation to keep her business going to her relationship with Locad's Customer Success Manager Bertrand. "He prevents me from slacking off which is an unquantifiable benefit of having Locad as a partner," she shared. With a direct partner who coordinates upcoming flash sale events, finds ways to promote SKINNI Swim products online, and takes the initiative to ask about new products for inbounding, Meryll feels confident in the new business partner she had discovered in Locad.
"What Locad has helped me with is it has taken care of the present and the urgent so I can be forward-thinking again and for that, I am super grateful," said Meryll.
Experience fulfillment by Locad today!
Frequently Asked Questions
What are The Philippine's Double-Day Sales, and why are they significant for consumers?
The Philippine Double-Day Sales are highly anticipated shopping events, significant for consumers due to massive discounts and deals offered by retailers.
How do discounts and promotions influence consumer behavior during Double-Day Sales?
Discounts and promotions strongly influence consumer behavior during Double-Day Sales, often driving impulse purchases and increased shopping activity.
What are shoppers' most popular product categories during Double-Day Sales?
Shoppers during Double-Day Sales are drawn to various product categories, with electronics, fashion, and beauty products being the most popular.
How do consumers engage with brands and make purchase decisions during these sales events?
Consumers engage with brands through strategic marketing, social media, and email campaigns, impacting their purchase decisions during these sales events.
What challenges do e-commerce sellers face in meeting the demands of consumers during Double-Day Sales?
E-commerce sellers face increased demand, logistics issues, and fierce competition when meeting consumer demands during Double-Day Sales.