With health and nutrition becoming rising concerns and priorities in recent years, LOCAD supports supplement supplier MuscleU by providing faster shipping and affordable shipping across Australia which has resulted in 70% faster fulfillment.
Key Metrics
70% faster fulfillment
75% faster customer service response
Full expansion into the entire Australian market
Founded in 2012, MuscleU subscribes to a unique and non-traditional style of supplement lifestyle. Rather than focusing on getting its customers bigger, faster, and stronger solely in the gym, MuscleU sells supplements that strive to make its customers feel better every day and improve their overall daily quality of life. "Yes, the gym makes up a portion of a healthy lifestyle but a large majority of what makes up a healthy lifestyle is done outside of a gym," says Jordan Harrisson, the brand's CEO.
The online supplement store prides itself on delivering quality products that are true to their promise. Each and every brand or product iteration listed on their e-store has been tried and tested by their own members – allowing them to share first-hand information and knowledge on what they sell.
Another core belief of the brand is that supplements are designed to make up for what's lacking in your diet. By underscoring the importance of sustaining health beyond the four corners of a gym, MuscleU remains committed to providing supplements for everyday use. While they're based in Australia, MuscleU highlights their mission to make the best quality supplements more accessible by shipping worldwide. 
Making nationwide shipping more affordable
Before working with a fulfillment partner, MuscleU operations were being run by a one-man team from a storage warehouse in Queensland. "We thought it wasn't a practical way to let us grow," said Jordan. "E-commerce grew rapidly and we realized we weren't going to be able to maintain good service levels, fast tracking, fast fulfillment, and packaging as fast as possible if we ran that system."
With the exponential demand for a healthier lifestyle, MuscleU was determined to find the fastest and most affordable way to get their products to their customers' doors. However, Jordan and his team struggled to find a suitable logistics solutions provider that could provide both speed and affordability. But since enlisting the services of LOCAD, Jordan has gained access to LOCAD's efficient and interconnected network of logistics providers that could allow MuscleU to move a lot faster and at reasonable pricing, especially for small and medium-sized business.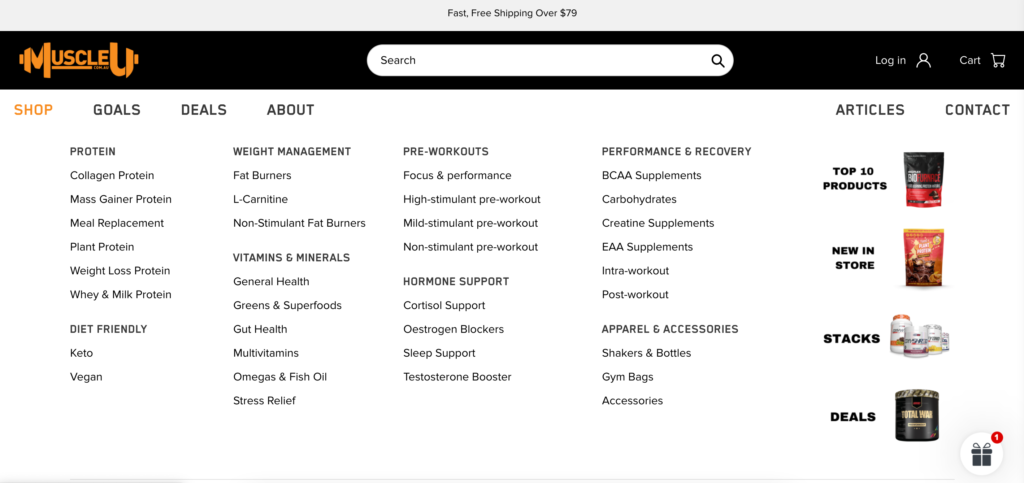 Another logistical challenge was their fulfillment reach. "When you're using your own one-man band, it's hard to make it affordable to ship to wider parts of Australia," said Jordan. Fully understanding this common fulfillment frustration hinged on expanding a business' customer base, LOCAD ensured that it could enable MuscleU to come through with their promise of accessibility to their customers. "By working with someone like LOCAD, their existing business relationships with shipping carriers make it affordable to push out our different brands to more customers and allow them the same access that our other customers had." Now, MuscleU is able to ship to customers in Western and Northern Australia, including cities like Perth and the island state of Tasmania.
Real-time transparency and tracking through tech
Jordan confessed to having initial concerns about transparency and tracking at the time when he was considering enlisting the services of a fulfillment partner. Not having any visibility on what's going on during the period between when an order is placed to when it arrives at a customer's door can be worrisome for many businesses, regardless of size. But with the LOCAD Dashboard, Jordan and his team ensured that they could stay up-to-date with the ins and outs of their warehouse operations.
He shared that his favorite parts about the LOCAD Dashboard are the easy functionality and the ability to see the end-to-end fulfillment process – from orders being placed on their Shopify website to when an order is completed.
Faster fulfillment and customer service as a competitive advantage
"One of the best ways of expanding is good reviews and good word-of-mouth about what your service provides," enthused Jordan. He explained that before working with LOCAD, it normally took somewhere between 4 to 5 hours before an order was picked, packed, and sent out to the customer.
While MuscleU just joined LOCAD in December of 2021, they have already experienced a significant increase in the speed at which orders are packed, fulfilled, and ready to ship to their clients which in turn, allows their parcels to be delivered faster. "Now with LOCAD, 95% of our shipments are shipped within 90 minutes," he shared.
He also cites the hands-on service of LOCAD's quality service team as a game-changer. "We noticed that with LOCAD, the speed of the customer service team has allowed us to be on top of more issues, much faster." He explained that the LOCAD representatives he liaises with are always on top of any issue and resolve any concerns in at most 3 to 4 hours. "That [has] been a huge change because what that allows us to do is get back to our clients faster and make sure that if there are any issues or concerns, we address them quick enough [so] that we don't lose that customer to a competitor."
Previous studies have shown that 70% of e-commerce customers purchase internationally. LOCAD understands how the fast and rising growth of e-Commerce now allows businesses of all sizes the opportunity to grow both locally and internationally. Now fulfilling and shipping in Australia, LOCAD now enables Australia-based businesses like MuscleU to start shipping their products faster to their customers and in more areas within the country.
Want to power up your e-commerce business with faster fulfillment like MuscleU? Experience hassle-free e-commerce fulfillment with LOCAD!
Experience fulfillment by Locad today!
Frequently Asked Questions
What are The Philippine's Double-Day Sales, and why are they significant for consumers?
The Philippine Double-Day Sales are highly anticipated shopping events, significant for consumers due to massive discounts and deals offered by retailers.
How do discounts and promotions influence consumer behavior during Double-Day Sales?
Discounts and promotions strongly influence consumer behavior during Double-Day Sales, often driving impulse purchases and increased shopping activity.
What are shoppers' most popular product categories during Double-Day Sales?
Shoppers during Double-Day Sales are drawn to various product categories, with electronics, fashion, and beauty products being the most popular.
How do consumers engage with brands and make purchase decisions during these sales events?
Consumers engage with brands through strategic marketing, social media, and email campaigns, impacting their purchase decisions during these sales events.
What challenges do e-commerce sellers face in meeting the demands of consumers during Double-Day Sales?
E-commerce sellers face increased demand, logistics issues, and fierce competition when meeting consumer demands during Double-Day Sales.