Perhaps you are a starting social media influencer, trying out the best products available in your region. Or you are an online seller, wondering how social media can help you boost your visibility and eventually your overall sales revenue. As the world of e-commerce continues to thrive and develop at many successive nodal points, we citizens of e-commerce must be updated with the newest developments and maximize them for the potential of our online business.
Meanwhile, building a store on WooCommerce or Shopify seems to be one of the best decisions you have made. But, to be honest, building a customer base might seem too hefty for you to handle. However, you might think, why not harness the power of social media to draw in your followers into actually buying your products in your Shopify or WooCommerce online store?
The great news is that our favorite short-form video social media platform, TikTok, is opening up new ways to sell and boost and establish your online store as a go-to marketplace for social media users. Wonders are waiting for you should you decide to use your TikTok account for your online store, and turn it into a TikTok for Business account.
TikTok for Business prides itself on leveling up the popular entertainment platform to what it calls "a shopping paradise for social media users." Whether we admit it or not, TikTok has rapidly changed how we approach and use social media. Not only is it here to say, but it is also bound to make some waves.
According to data presented by TikTok for Business, 53% of TikTok users agree that they use TikTok videos to recommend products to their friends or colleagues, and 58% of TikTok users watch content on the platform to learn about new products and brands. And a sizable 48% revealed they had bought a product they had discovered on TikTok. So these numbers signal the potential for TikTok to shape the landscape of e-commerce.
Small and localized online stores have also utilized TikTok Live to promote their products. These little nuggets of online selling wisdom had helped pave the way for big online selling platforms such as Shopify and WooCommerce to delve into the TikTok world. They offer TikTok shop owners platforms for online store promotion and TikTok integration to their built-in online stores.
Promotion
According to data from the analytics platform Triple Whale, spending on TikTok advertising among Shopify merchants has drastically increased in the first half of 2022. This stunning increase in the use of TikTok among Shopify sellers comes when digital advertising is experiencing some challenges, particularly some downsides in the more popular advertising platforms such as Facebook. This illustrates a shift toward newer platforms such as TikTok, which seems gradual but is rapidly catching on.
Analysts say that at the moment, Facebook maintains its dominance as a promotional platform for online stores, but TikTok is on the rise. Consistent with the data presented by TikTok Business, many TikTok users use the platform in their quest to discover new products they may need or just simply want. This has drawn considerable attention among users of the platform, with the #TikTokMadeMeBuyIt trend reaching more than 14.9 billion.
Of course, Shopify would jump in on the trend, opening up its TikTok channel in October 2020, allowing its online sellers to run TikTok ad campaigns through their Shopify dashboards. In August 2021, the Shopify-TikTok integration will reach another milestone when Shopify allows its sellers to sell products directly from their TikTok pages.
In May 2022, open-source online selling platform WooCommerce joined the buzz and opened up its integration platform with TikTok, citing the data on the effectiveness of TikTok ads or content in converting video views into actual sales. It really would make sense to offer integration options for TikTok sellers considering these strong argument points.
What's more exciting is the prospects that the new TikTok Live Subscription feature will offer and how our online selling platforms will adapt to the potential good business use of this feature. With Live Subscription, content creators will offer subscriber-only chat, creator-specific emojis, and badges.
Besides a solid income for content creators, some online sellers and buyers might find the feature useful if they plan to create a more exclusive online store experience, sell premium products, or just simply offer their subscribers more freebies and promotional prices or bundles that they get in exchange for the subscription.
Integration
When you are an online seller, you more or less want your online assets to be unified, streamline, and optimized. Frankly, when you are too focused on launching your business to greater heights, managing multiple channels at the same time can bog you down and distract you. The good news, though, is that many of the favorite and most trusted platforms that we use today are offering integration options. You just have to set them up and let them do the magic.
Currently available are integration options for Shopify and Amazon, Shopify and Youtube, and many more. But for this article's purpose, let us focus on two integrations — those of TikTok and Shopify and TikTok and WooCommerce. Through this guide, we will list down the features and benefits that you, as an online seller, will get once you integrate your platforms and give you a briefer on how to set up the integration process of your TikTok channel and your online store.
How to integrate Tiktok and Shopify
Shopify was quick to seize the initiative when it launched its TikTok Shopping channel. The feature, launched in August 2021, allows merchants and creators to bring organic product discovery and shopping tabs to TikTok profiles. These TikTok video placements will allow merchants and creators to link to Shopify stores for a smoother online shopping experience.
Shopify's TikTok Shopping offers important features such as the ability to add shopping tabs to the creator or merchant's TikTok profile. It also lets the Shopify online store owner sync their product catalog to a mini-storefront which links to the Shopify store inside the TikTok app itself. Pretty helpful if a user gets convinced to buy and wants to do it right away.
The TikTok-Shopify integration also offers the option to tag your TikTok videos with direct links to products that are cataloged in your online store. This offers the TikTok users a choice of whether to shop in the in-TikTok mini storefront or click the direct links to the seller's Shopify store.
Demonstrating the way TikTok influencers can utilize their short-form video profile for sales, Kylie Cosmetics, owned by celebrity Kylie Jenner, was launched alongside the initial offerings of TikTok Shopping.
TikTok Shopping is currently available in the United States, United Kingdom, and Canada. On the other hand, the TikTok-Shopify partnership allowing Shopify business owners to launch TikTok ad campaigns from their dashboard has been recently expanded to countries in Southeast Asia, including Singapore, Malaysia, Thailand, Indonesia, and Vietnam.
Steps to integrate
For TikTok shopping and launching TikTok ad campaigns, visit https://apps.shopify.com/TikTok and install the web-based app on your Shopify store. Installing the app will allow you to create video ads, track results and manage your orders on TikTok right from your Shopify account. The basic features that come with this integration include the following:
From Shopify, you can create a TikTok for Business account, set up a payment method, and go on with running your ads.
You can install TikTok Pixel, a tool you can use to track your performance and measure results. As soon as you integrate your Shopify and TikTok for Business accounts, you will gain easy access to your Pixel and the good thing is that there is no coding or developers required.
You can make use of the guided Campaign Creation Tool within Shopify to set up and track conversion campaigns on your TikTok shop.
TikTok on Shopify also allows you to adjust audience targeting based on demographics, location, and behavioral options. The breadth or definition of these targets can be suited to your liking.
The Video Generator Tool helps you promote your products in the form of TikTok-style videos in a few minutes. All you need to do is upload the photos and videos, and the trusty tool will do the rest.
The comprehensive campaign analytics will allow you to view your performance holistically, improve on strong points and fill in the gaps.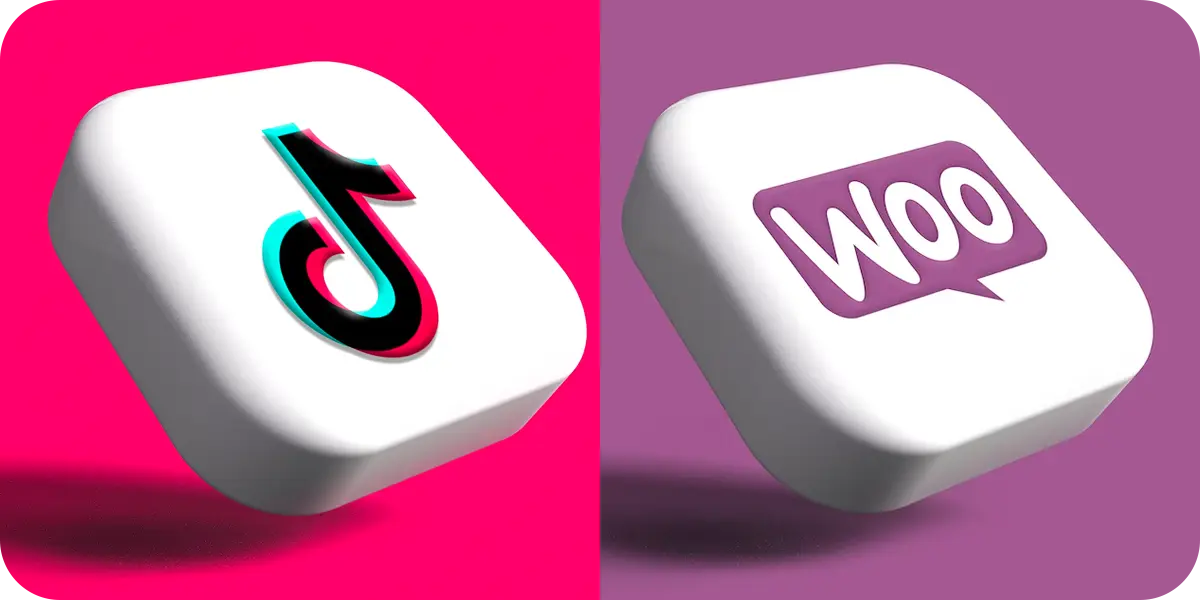 How to integrate Tiktok and Woocommerce
Similarly, the online selling platform WooCommerce offers a TikTok integration option which allows your online store to sell your products on the video platform with over a billion users worldwide. Much like Shopify's TikTok Shopping, TikTok for WooCommerce lets you sync your product catalog, install the TikTok pixel to monitor campaign performance, and set up ads for your product listings.
Once you have your TikTok for Business account, you can connect it to your WooCommerce store and your product listings will automatically be synced to your TikTok profile's storefront. Aside from the normal product list mirroring, TikTok for WooCommerce also allows you to do more sophisticated product presentations like Collection Ads and Dynamic Showcase Ads. This is a helpful way to draw more excitement from your followers and potential buyers.
TikTok for WooCommerce also includes an Advanced TikTok Pixel feature. This gives you the most advanced matching capabilities to optimize your ads to your actual target audience, and lets you make the most out of the efforts and money you put into your ad campaigns.
In your WooCommerce TikTok modules' campaign creation tool, you can easily set up TikTok Ads featuring the best of your products in just a few minutes. Another aspect you can look at once your TikTok-WooCommerce integration is successful is the TikTok Ads Manager where you can avail of other in-feed ad formats including Catalog-based Ad formats which let you use your product catalog for seamless product discovery on TikTok. Spark Ads, on the other hand, puts a creative ad display on your TikTok posts for more promotion. You can also use this option if you plan to collaborate with other creators on ads.
Steps to integrate
First off, you would need to download the TikTok for WooCommerce app and add it to your WooCommerce store. You may access the app here at this link: https://woocommerce.com/products/TikTok-for-woocommerce/. Then, select TikTok on the Marketing sidebar of your WooCommerce dashboard.
Just a note, you do not need an organic TikTok account to run the simpler features such as Collection Ads, but you might want to begin one and take care of it because WooCommerce is set to roll out more Shopping features soon. An organic TikTok account is required to access such features.
And if you need some extra help or you just want to ramp up your TikTok Ad campaign, WooCommerce has formed its team of TikTok Marketing Partners who can assist you in Campaign Management, Measurement, Creatives, Sound, and Effects. They're the TikTok experts and they will help you earn your niche in the platform. And WooCommerce assures us that the fees are well within the reasonable budget ranges.
Experience fulfillment by Locad today!
TikTok boosts your online store
There is no denying that TikTok has made its mark in online entertainment, and its effectiveness in online selling and promotion of products and stores is proving itself to be true as we go along. Although some sellers might think the platform is too risky to wade into, the staggering rate at which sellers utilize TikTok for promotion and an integrated online shopping experience shows that an increasing number of merchants are willing to take that risk.
With 48% of users joining in and declaring #TikTokMadeMeBuyIt, it may just take a short time before most social media users see TikTok as an established expert who can help them learn which products to buy. So, if you're going to ask us whether or not you should venture into TikTok campaigns for your online store – then we'll respond with a resounding yes! Take that leap, and see where it takes you.