Introduction
With ever-growing e-commerce industries and the rise in competition, southern states are emerging as huge hubs for international trading. Expanding overseas is a beginner's dream for many start-ups and budding businesses. Shipping is an important initial step for the same. However, shipping a package across the fine lines of international rules and regulations can be quite challenging and could impact your business's growth. The trick is to properly manage and regulate the layer of customs before shipping to a country.
As a founding member of the Association of Southeast Asian Nations, ASEAN for short, the Philippines is the third largest economy among other Southeast Asian nations, after Indonesia and Thailand. It is also the 12th largest economy in Asia and the 32nd largest by nominal GDP, as stated by the International Monetary Fund. It has a population of approximately 112.6 million and is a newly industrialized country.
Australia has the 10th largest e-commerce market in the world. If you're looking for investments and returns in stable e-commerce markets, Australia awaits you with a market value of $33.1 billion and an annual growth rate of 8.9% in 2021.
It offers you numerous opportunities, especially if you're from the Philippines, that promise success in commerce and trade.
Read along to know more about the Filipino trade market and its relationship with Australia.
Detailed Process involved in shipping from the Philippines To Australia
Geography of transit
Before exploring the Filipino-Australian trade market, the important thing is that the Philippines comprises 7000 islands that have scraped their way through many natural and political difficulties to industrialize their country and become a significant part of the global market.
The Philippines are separated from Australia by 4435 km by several seas and Indonesia and are 6 hours and 12 minutes away from Australia if traveling by air. Australia is widely known for its two-way goods and services trade with the Philippines, with a total value of $5.6 billion as of 2019 making them their 19th largest trading partner.
If you are looking to ship or export products to Australia from the Philippines, you'll surely be happy to know that as per the ASEAN-AANZFTA (Australia New Zealand Free Trade Agreement), 97% of Filipino products can be exported to Australia duty-free.
The pandemic has decreased the Filipino economy by a solid 9.6 percent as of 2020 but has grown significantly since then. Digitalization of the market and reduced effort necessities have set the Philippines e-commerce market to grow by an expected 37% by 2024.
Considering the export tariffs and shipping charges, you need to track 3PL companies and use their services accordingly to ship products to Australia. An essential requirement of international shipment from the Philippines must be picking the right shipping partner and choosing the right e-commerce logistic service company in Australia according to your business type and needs.
The Port of Manila is the largest port in the Philippines and sees the most trade among others, and companies use the Ninoy Aquino International Airport (MNL) for trade via air. You must also track proper packaging, labeling, and encoding for trackability before passing them on to the shipping courier.
The Philippines' Economic Zone Authority (PEZA) estimates that over 400 Special Economic Zones in operation throughout the country. To export out of the Philippines, businesses need to produce the HS (harmonized system) code assigned to each item to identify them as the type of product for tax calculation. In addition to the HS code, certain documents that need to be provided at the time of invoicing or in customs export declaration include:
An invoice
A packing list
Certificate of Origin
Exporting License
Bill of Lading
Customs Export Declaration
Apart from the mentioned requirements, other documents and sometimes government permission is needed based on the type of exports being performed. Products like endangered flora and fauna, rice, sugar and molasses, radioactive materials, fish and fish products, and animal and animal products need express government permission from concerned authorities to be eligible for export.
Because of the ASEAN-AANZFTA pact, the only tariff incurred while exporting is on logs, which are 20%.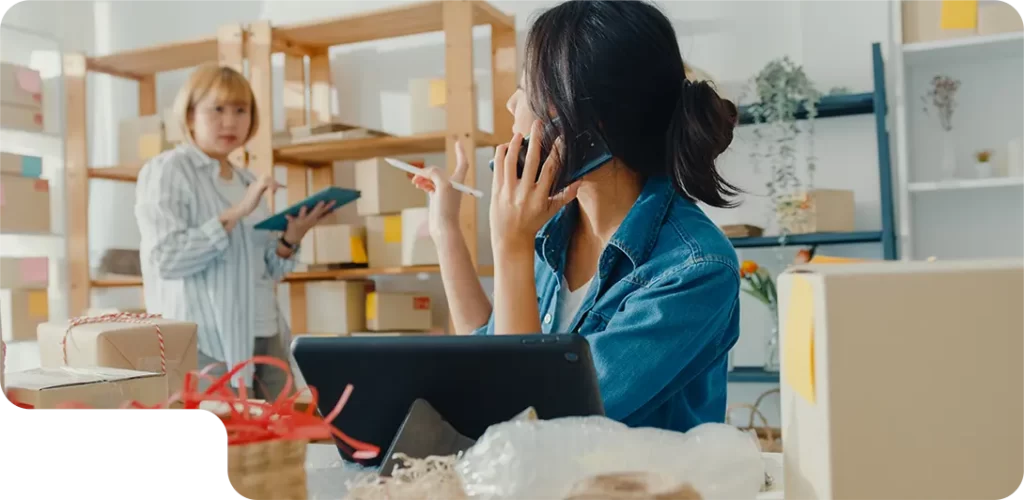 First Mile Shipping from the Philippines To Australia
In a general scenario, it's most effective if a package is shipped from the Philippines by using shipping services offered by the courier company after picking out the best carrier for the package being shipped. Regular shipping services are mostly cheaper due to their longer delivery times. But most courier services usually provide categorized and organized lists to choose from according to the services required thus giving the exporter a wide variety of options to choose from. Locad provides subscription plans for exporters that vary with the country of shipment. At a basic $177 per month, Filipino exporters can avail of services like free inbounding, 30-day free storage at first inbound, affordable storage rates, low-cost fulfillment rates, and even robust ticketing systems for customer support. Other than that, there are other subscription plans that provide enhanced fulfillment services in Australia upon availability. 
Filipino export processes adhere to standard logistic procedures while incorporating national export regulations and following them accordingly. Once proper national clearances are secured, appropriate customs and duties are applied to the package and sent for export.
One of the primary steps in first-mile shipping from the Philippines to Australia is analyzing Filipino import data, an important information resource that helps in the analysis of market trends and gives a definite histogram of the variation and quantities of products being sold in and out of the country. Exporters need to keep an eye out for the current product trends in international and local markets to determine the validity of their decisions.
In a global scenario, e-commerce markets are extremely competitive, and the competition rises phenomenally yearly. To stay ahead of the competition, you need to ensure that you are in total control of all your shipments overseas, keep track of every stage it goes through, and act according to customer recommendations and feedback.
Tracking a product until it is successfully delivered to the customer is crucial for a company's growth. The shipping tracking tool by Locad is one of the world's most advanced shipment management tools. With Locad's shipping-tracking tool, you can manage your shipment easily and have a premium experience with their shipping engine, which syncs your order details every 3 minutes and constantly keeps you updated with the latest details.
The Locad dashboard provides an easily accessible "Manage Shipment: tab giving us a detailed overview of the parcel or shipment and tracking it constantly. The Locad dashboard can help you manage all your shipping needs from a one-stop platform that is easily navigable and accessible and ranges from date and time management to management of shipment status.
The AI-integrated shipping engine can take up multiple shipments manually as well as via an efficient inventory management system, programmatic DOOH network, CMS, and even suggests affordable and quality carriers, shipment type-based packaging, pick-up, drop-off, weight, value, and efficient and safer payment methods based on each order. This saves a lot of time and gives you more time to focus exclusively on product development. But what about the retailers who like a more hands-on approach to shipment strategies? Locad also has an override feature that allows users to scrutinize and analyze various shipment carriers and choose according to their comfortability.
To avoid certain mishaps, we list some frequent mistakes that some companies make so that you don't make the same.
Defective Products: Due to heavy workloads, warehouse executives often pick defective products from shelves that are mostly subject to return orders.
Improper Packaging: Packaging is a crucial part of shipping products and ensures that the product is in the best condition when it reaches the customer. An improper or broken package can result in product damage and, by extension, damage company-customer relations in the long run.
Philippines Origin: Customs Clearance and Freight
In any international shipping system, customs is one of the most significant and essential steps in clearing a shipment and allowing it into the national market systems or allowing possession. It ensures national security by checking a product thoroughly for any object that can cause harm to the country or its citizens.
Usually, freight clearance takes some time, so we often hear, "My parcel is stuck in customs."
The customs in the Philippines are handled by the official customs department headed by the Bureau of Customs, under the National Finance Department. Customs clearance is overlooked alongside other regular activities by the department, like illegal trade prevention, trade facilitation, customs offices' direction, and checking for custom frauds.
The primary requirements for a successful customs clearance process are integrated with the product delivery system of most logistic systems. In particular, the Filipino export process has a significant customs clearance routine with several steps.
AWB Preparation: AWB or Air WayBill Preparation initiates the process by asking the user to fill out the shipment details, delivery address, package details, etc.
Commercial Invoice: Parallel to the AWB, the invoice consists of detailed and precise descriptions of the goods.
Export Packing List: A packing list should be produced that shows express product details about packaging, transport, and other criteria.

Illegal Products: Customs offices thoroughly check packages for illegal products, as deemed by the national concerned authorities.

Controlled or Regulated Products: Certain products are controlled by assigned government agencies that oversee their operation and transit processing. The shipment of said products can be cleared by respective government agencies only after issuing appropriate permits for export.

Export Conditions and Requirements: The export process issued by the mentioned government agencies is processed for a day, during which the product is kept on hold and waiting for due clearance.

CBW Shipments: Shipments from Customs Bonded Warehoused need to produce the following documents to be eligible for export.
Boatnote
Certificate of Identification
Loading export Declaration

FTZ Shipments: The Free Trade Zone shipments under the Philippine Economic Zone Authority (PEZA) need to sign and stamp the Automated Export Declaration System (AEDS) for an exit.

Return to Sender(RTS): If a shipment lacks required documents or information regarding shipping address and details, it is sent back to the shipping party for repreparation.
Since the Philippines is one of the largest island conglomerates in the world, international export is physically impossible through roadways. So the only freight services available are:
Sea Freight: The Port of Manila is the main port with the most shipping via sea. Although cheap and affordable despite having quality usage, it is a slow method and usually takes more time than most people like.
Air Freight: In a general scenario, air freight is the fastest method of international shipment and is considered a very reliable source of transportation.
Although the Philippines sees a trade surplus even after the post-pandemic dip in market stats, it is still built with underdeveloped infrastructure. World authorities like the UN have been trying to make it as better as possible each year, but the force of natural calamities takes them a step back whenever they try to take one forward. Almost 20 typhoons and constant rains from June to October each year delay shipments inconveniently.
Customs Clearance in Australia
Australian Customs Service and border force perform the primary customs clearance stages after products reach Australia. The Australian customs service is structured to prevent the movement of illegal or harmful goods across national borders, apply trade measures, and collect border-related duties.
The shipments arriving must produce certain documents against the goods being shipped to validate their origin and safety. As a part of the ASEAN-AANZFTA pact, almost 97% of goods from the Philippines can be imported into Australia totally duty-free. But if you are exporting goods to Australia, a qualified and licensed customs broker is always recommended to clear the goods.
Tips For Seamless Shipping From Philippines To Australia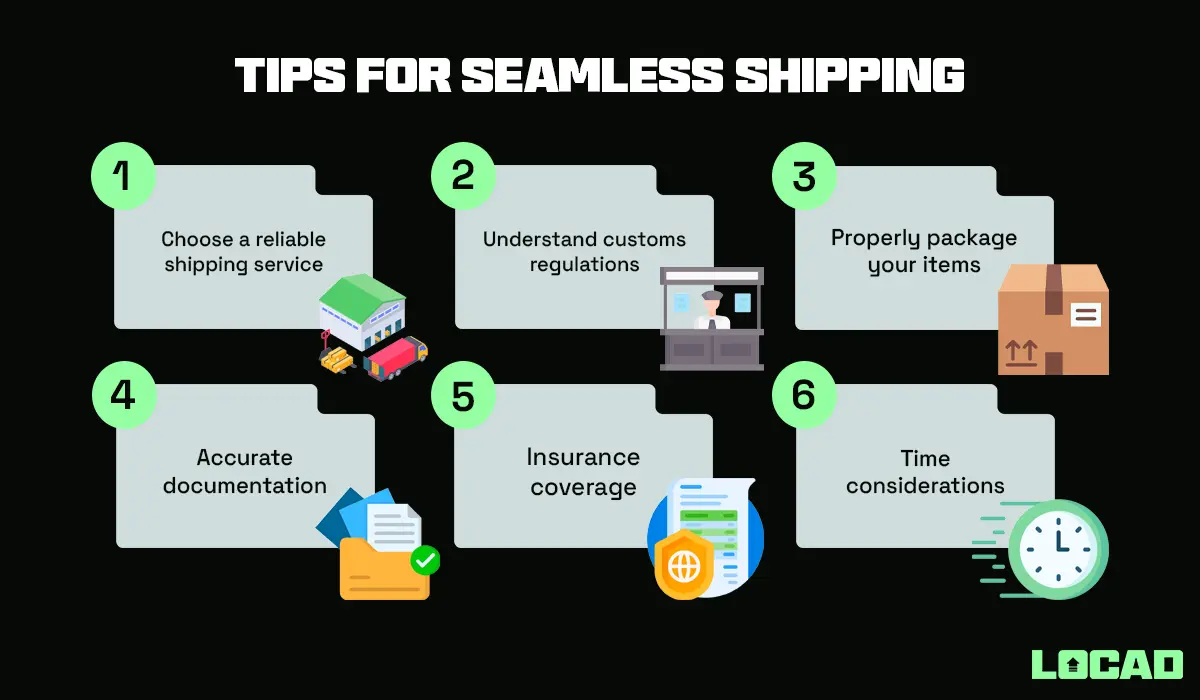 1. Choose a reliable shipping service
Research and select a reputable shipping company that has experience in handling international shipments between the Philippines and Australia. Look for a company that offers tracking services, insurance options, and has positive customer reviews.
2. Understand customs regulations
Familiarize yourself with the customs regulations and requirements of both the Philippines and Australia. This includes knowing any restricted or prohibited items, required documentation, and potential duties or taxes. Compliance with customs regulations will help avoid delays or issues at customs checkpoints.
3. Properly package your items
Use appropriate packaging materials and ensure that your items are securely packed to withstand the rigors of international shipping. Fragile items should be wrapped and cushioned adequately to prevent damage during transit.
4. Accurate documentation
Complete all required shipping documents accurately and legibly. This includes customs forms, invoices, and any other necessary paperwork. Provide detailed descriptions and values of the items being shipped to facilitate smooth customs clearance.
5. Insurance coverage
Consider obtaining insurance for your shipment to protect against loss or damage. Check with the shipping company for insurance options and coverage details.
6. Time considerations
Plan your shipping timeline carefully, taking into account factors such as transit time, customs clearance, and any potential delays. Allow for sufficient time to avoid any last-minute rush.
Distribution and Last Mile For International Shipping From the Philippines To Australia
Australia is one of the world's most economical countries, and the final stretch or the last mile of international shipping is critical and vital. The final part of a logistic process is the delivery of goods to the shipping address. Customer Satisfaction takes a key place in the development of any company that exports goods internationally and helps to make or break their future.
A proper and authenticated delivery service is one of the most important parts of the process.
For many budding businesses and online retailers, this part of e-commerce is vital as these processes can be complex, expensive, and time taking. You should keep a note of reducing costs, being efficient and structurally organized, and transparent.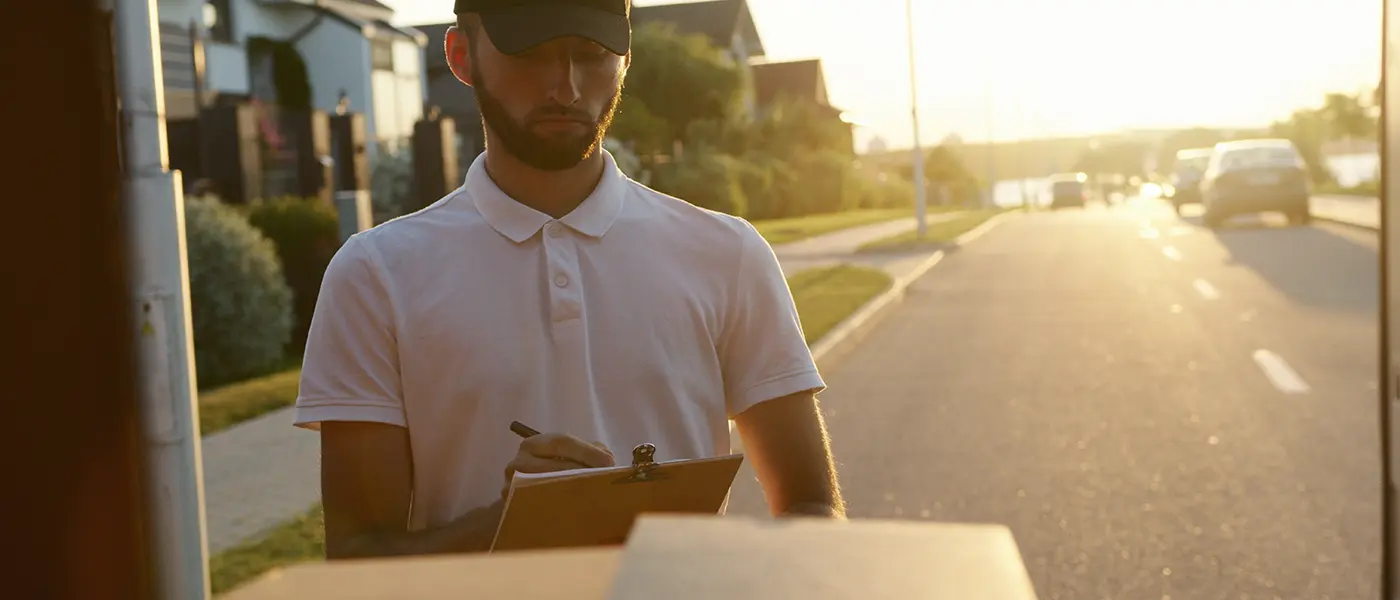 Looking for ways to ship e-commerce orders from the Philippines to other countries? Shipping packages across international borders has never…
Shipping From Philippines To Australia: Rates & Charges
The general formula to evaluate the rate of freight is:
Length (in cm) x height (in cm) x width (in cm)/ 5000 = volumetric weight in kgs rounded up to nearest 0.5kg
As the Philippines are a cluster of islands, air freight is the only option you can avail. However, air freight is often expensive but promises a premium delivery experience.
After due processing, goods go into Australian customs services for checking and admission into the country. Importing goods has different current tariffs as classified by the Australian border force.
As a company, the international export of goods is the most challenging yet trusted path to success. Apart from the fact that most companies are subject to many market risks due to international export while starting out, it is a reliable option. And to support these factors, the choice of logistics must be optimal. Logistic charges must be kept in mind, and the service provider must give you the most reliable solutions based on the product type and its specifics. Keep these in check, and you are good to go.
Conclusion
Shipping from the Philippines to Australia can be a smooth process if you follow the right steps. By choosing a reliable shipping service, understanding customs regulations, properly packaging your items, and considering insurance coverage, you can ensure a successful delivery. Take into account shipping timelines and costs, and be mindful of any restrictions or prohibited items. With proper planning and preparation, you can navigate the shipping process with ease and have your items reach Australia safely. For further shipping related queries, contact us at Locad!
FAQS
Can I ship from the Philippines to Australia?
Yes, you can ship from the Philippines to Australia.
How long does it take to ship from the Philippines to Australia?
The shipping time from the Philippines to Australia can vary depending on the shipping method and carrier, but it typically takes around 7 to 30 days.
How much does it cost to ship to Australia?
The cost of shipping to Australia from the Philippines depends on various factors such as the size and weight of the package, shipping method chosen, and any additional services required. It's best to check with shipping companies or use online calculators to get an accurate estimate.
Why is shipping from the Philippines so expensive?
Shipping from the Philippines to Australia can be expensive due to factors like distance, transportation costs, customs fees, and import duties imposed by both countries.
What can I send to Australia in a parcel?
You can send a wide range of items to Australia in a parcel, including clothing, accessories, electronics, books, toys, and non-perishable food items. However, it's important to be aware of any restrictions or prohibited items imposed by customs.
What is the best way to ship to Australia?
The best way to ship to Australia depends on your specific needs. Options include air freight, sea freight, or using a courier service. Consider factors like speed, cost, and the nature of the items being shipped to determine the most suitable method for your requirements.