Product packaging has gone a long way since the early days when its sole purpose was to protect a product while the item is in transit. With the rise of online retail, e-commerce packaging is a key aspect of any business.
When we think of product packaging, we often visualize brown boxes lined up in a warehouse assembly line, with a delivery truck at the end. The ubiquitous brown box is still used today, as well as "personalized" packaging, which is quite similar to gift-wrapping.
However, product packaging has gone a long way and has evolved with the emergence of e-commerce. Protection still comes first, but marketing and branding have also become very important when it comes to product packaging.
E-commerce packaging of products
E-commerce companies now make use of clever product packaging not only to protect the product but to create brand awareness and improve customer experience. Product packaging, as far as entrepreneurship goes, has become a powerful marketing tool, and no e-commerce entrepreneur worth his (or her) salt does not recognize the value that product packaging can bring.
E-commerce, simplified as the buying and selling of goods and services online, is unlike a physical store where customers can touch and feel an item before deciding to make a purchase.
Online buying is the opposite: customers have to wait until the item arrives before he/she can touch and feel it. This gave rise to the "unboxing" phenomenon, which, if done properly, heightens the customer experience and anticipation to offset the lack of physical "touchpoints" that a retail store or a brick-and-mortar establishment can provide.
For e-commerce companies, that "touchpoint" is the time that the customer receives the much-awaited item which has functional and cleverly-branded packaging.
8 types of product packaging
In this article, we take a look at 8 e-commerce product packaging techniques or strategies and how these packaging techniques can help an e-commerce company thrive.
Boxes
The trusty box (cardboard box) remains the most widely-used packaging type preferred by both large and small companies. Although the box primarily provides protection, putting in nifty personalization techniques such notes, colors, and different styles, can still make the ordinary box a branding and marketing tool.
These boxes are sturdy and durable, and can often accommodate heavier items. Added with fillers (such as Styrofoam or bubble wraps), these boxes can withstand the rigors of transporting (or shipping) until they reach the destination. You may notice that the edges of these boxes (especially those coming from abroad) can also take the abuse of being handled and tossed around.
Mailers/paper board
The mailer is another ubiquitous form of product packaging designed for small, flat, and items. The slim profile of the mailer is ideal for hand-held items such as electronic gadgets, books, jewelry, etc. The mailer is also easily customized and can be reinforced with a variety of materials such as bubble wrap, pads, or other cushioning.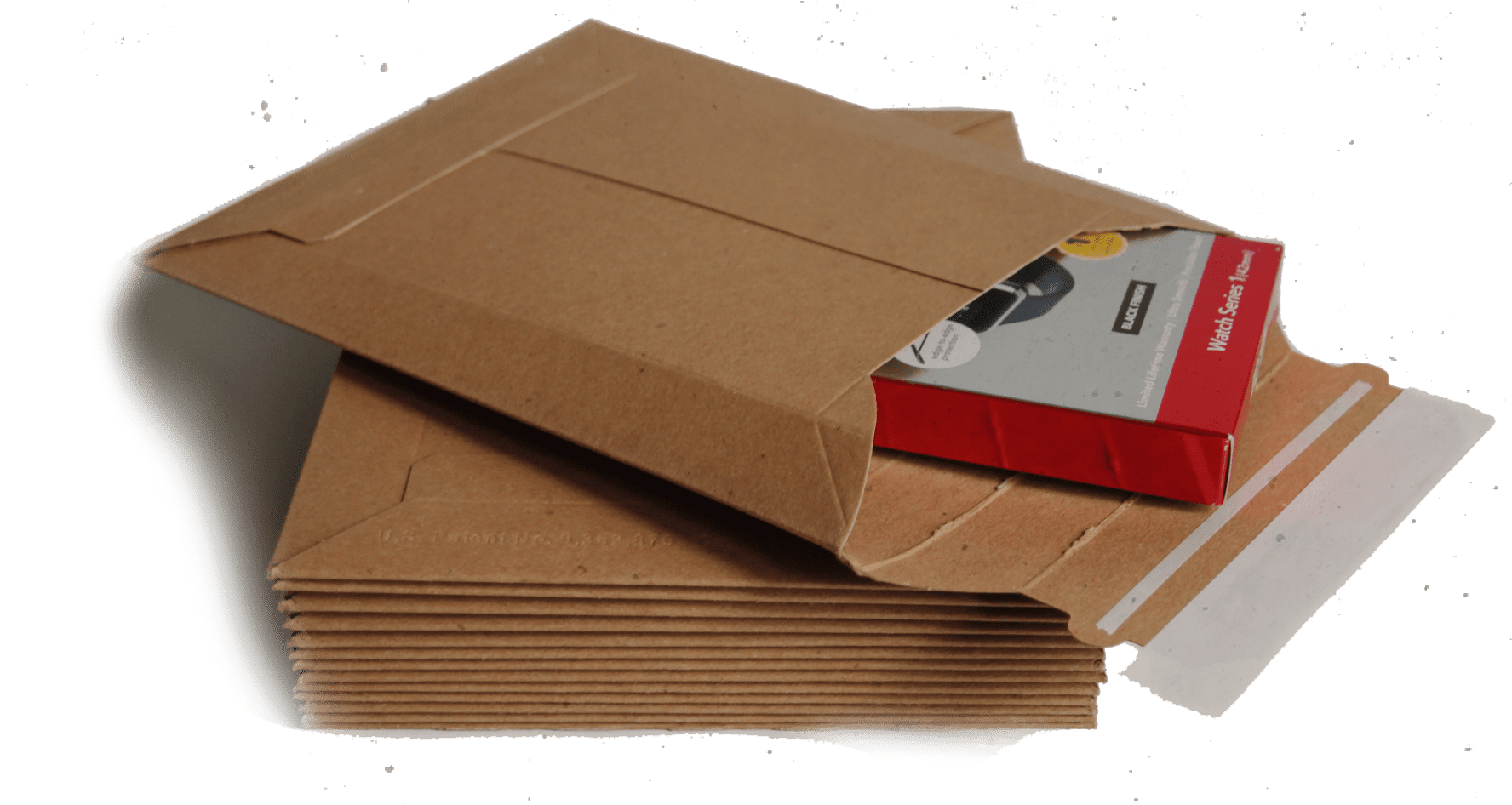 Mailers can be also be lined with chipboard, to make them much more sturdy. Paper board is most often the common material for mailers, but plastic mailers (or poly mailers) have been gaining popularity.
Biodegradables
Strictly speaking, biodegradable packaging means the materials used for a box, mailer, cardboard, paper bags, etc., are made from organic materials that can decompose on their own. Eco-friendly materials are often used for specialty products. Recycled paper is the most common biodegradable packaging material. Boxes with biodegradable materials can hold their own when it comes to durability and strength. The upside of biodegradables is that they can reduce waste, but the downside is that they are relatively more expensive than traditional packaging solutions.
Envelopes
Envelopes are still being used, particularly for light, but not fragile items, such as letters, documents, contracts, and other items. In most cases, the envelope is encased in a zipper-lock plastic bag for protection. Courier companies often use them for other items such as keys, small books, personal items, etc.
Experience fulfillment by Locad today!
Bags/paper bags
Paper bags are often used as gift wraps. These highly-decorative product packaging can be customized for any season or occasion. Small items, such as apparel, small stuff toys, etc. can be placed in a paper bag.

Paper bags are also often associated with recycling. E-commerce companies often use recycled paper bags as a way to reduce waste and cut costs. Paper bags are also a great way to market an e-commerce company's brand, through logos, tag lines, etc. Inexpensive paper bags can be produced in bulk, and companies need not worry about polluting the environment.
Custom packaging
Almost all types of product packaging can be customized. However, e-commerce companies often take the extra step of producing one-of-a-kind packaging, say a box, that can show a customer that he or she is valued.
Often, custom boxes are created to make sure the customer has a unique unboxing experience. Custom boxes are also very powerful branding tools.
An example would be products from technology giant Apple. Just seeing that white and gray box with that iconic logo heightens the anticipation for many customers about unboxing an Apple product.
Options are only limited by the imagination, and e-commerce companies know this, which is why they spend a lot of thought on designing that perfect customized box.
Plastic boxes
Plastic boxes or containers may not be popular with everyone, particularly those who are conscious about the environment. However, these plastic containers still serve a purpose. They are sturdy, yet flexible. They come in multiple sizes and are very light.

The good news about plastic packaging is that many e-commerce companies now use biodegradable plastic containers for small items. Perhaps the most popular use of small, biodegradable plastic containers is for food products. The plastic container is ideal for food, and unlike paper-based packaging, customers need not worry about spilled food or leaks.
Fillers
Fillers are meant to give another layer of cushion in boxes, bags, etc. Fillers can be tissue paper, styrofoam balls, air-filled pillows, wood fibers, and bubble wraps. However, e-commerce companies often use bubble wrap, a widely-used filler, for packaging. The items are simply wrapped in a bubble wrap bag, taped, and then shipped. The lure of this type of packaging is its simplicity. However, customizing bubble wrap packaging has limitations. Most often e-commerce firms simply place a sticker on the bubble wrap packaging.
Wrapping it Up
If we can wrap this up (pun intended), product packaging is very important in entrepreneurship, particularly e-commerce. Protection of products is still the priority, but in the world of online selling and buying, brand awareness and marketing are equally important.
The cost of packaging is also an important consideration, but making your brand stand out, through thoughtful and eye-catching product packaging will surely pay off in the long run.
For many e-commerce companies, the only way a customer will order again or come back to the e-commerce website is to click "buy" to make the customer experience memorable. The proper e-commerce product packaging will go a long way in realizing this goal.