Expedited shipping proves its worth by drastically reducing the time a package takes to reach its target destination. Compared to standard shipping, it comes at a higher price and is typically the courier companies' fastest service. The following article provides an overview of expedited shipping, its comparison to a few other shipping services, how it benefits e-commerce online stores.
What is Expedited Shipping?
Expedited shipping is a popular delivery option that guarantees faster shipping speeds as compared to the standard shipping options. To meet expedited shipping demands, trucks with expedited goods usually travel from order pickup to the destination with no stops in between. The expedited shipping meaning varies based on the carrier companies that handle shipping and delivery. However, it usually falls between 2-day shipping and overnight shipping.
Let's understand what expedited shipping is with an example. Suppose Courier Company A refers to expedited shipping as same-day delivery, whereas Courier Company B refers to expedited shipping as 2-day delivery. The concept of expedited delivery falls between the range of same-day to a three-day delivery period.
You should be familiar with the following factors to predict expedited shipping's precise duration:
The shipping carrier being used
The logistics network of the e-commerce store
The source and destination of the shipment package
How Fast is Expedited Shipping?
Now that you know what expedited shipping means, the next important thing to understand is the time it takes. Generally, logistics costs and delivery methods differ based on the margins, e-commerce fulfillment strategy, and how you handle customer locations, logistics, and more. As mentioned above, expedited shipping timelines vary on a case to case basis.That is, online store's expedited shipping timeline may not be the standard for another.
To understand how long expedited shipping takes, you should compare it with other shipping services. The following sections describe the comparison of expedited services with other shipping services.
Expedited Shipping Vs. Standard Shipping
Usually, standard delivery services are the cheapest option for both online stores and their customers. Based on the carrier used and the fulfillment provider, the standard shipping in the APAC countries takes 6-10 business days. It is the time between when the order is dispatched to the time it reaches the customer's doorstep.
When you compare expedited shipping vs standard, the duration is an essential factor to consider. Certain shipping companies offer two-day delivery as their standard, whereas others clarify that standard delivery means customers have to wait a bit to receive their order. Generally, stores in the latter category provide an expedited delivery alternative, like next-day or 2-day delivery, for customers who want their orders sooner.
Most retailers factor the shipping time based on when the order gets shipped instead of when it's placed. For example, if an order is placed with 2-day shipping criteria, those two days don't compulsorily include order processing time. Especially, if the 2-day shipping period falls on holidays or weekends, shipping time can be longer.
Certain courier companies consider 2-day delivery standard but others may take as long as 7-8 days for the standard delivery. Usually, an e-commerce store that takes up to 7 days to fulfill the standard delivery option provides the expedited shipping option. They allow customers to choose the expedited shipping either for same-day or next-day delivery.
Expedited Shipping Services Vs. Express Shipping
Based on the retailer and carriers used, express shipping and expedited shipping can have various meanings or are occasionally used interchangeably. When both these shipping options are provided, the express shipping is faster i.e. the shipping completes either the next day or within 2 days. On the other hand, expedited shipping simply means 'faster than the standard shipping'.
If an e-commerce store provides express and expedited shipping options, then choose express shipping since it is faster and completes the delivery either the next day or in 2 days.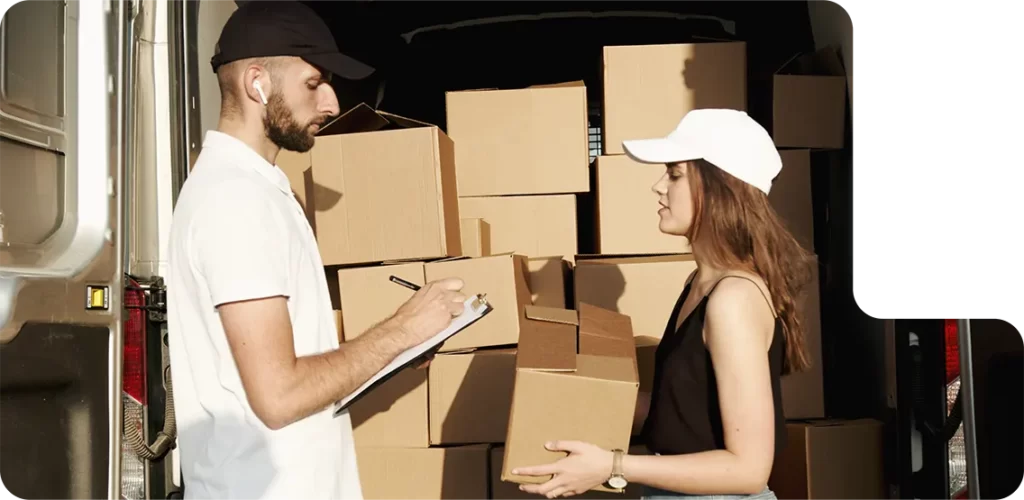 Why Should Online Stores Offer Expedited Delivery?
The following points justify why online stores and e-commerce stores must provide expedited delivery.
1. Reduce cart abandonment
Underwhelming delivery options can lead to higher cart abandonment. Whenever your customers are at the check out page, they expect various shipping options (including fast and affordable options).
The cost-effective expedited delivery option can help reduce shopping cart abandonment and boost conversions for your online store.
2. Meet customer expectations around ship time
Many online shoppers prioritize shipping services that offer convenient delivery options. Present-day customers anticipate quick, cost-effective shipping while shopping online. A shorter time frame for shipping and deliver can help improve the trust between customers and the e-commerce business. If large-scale e-commerce companies provide free shipping or two-day shipping options but don't offer expedited delivery options then it can negatively affect their conversion rates.
3. Build customer loyalty
The typical e-commerce store makes 43% of its revenue from repeat purchases. Customers satisfied with the fast delivery are like to purchase from that e-commerce store again. 76% of respondents in a survey mentioned that unexpected delivery experiences would influence their decisions to order from an online store again. Moreover, negative reviews based on shipping charges or transit times are likely to discourage potential buyers. So, to create a sense of reliability among customers, it is imperative to fulfill their fast delivery requirements.
Times Expedited Shipping Comes in Handy
Expedited shipping assists customers in various scenarios. For example, if you want to transport one of the following products, it's recommended to go for expedited shipping though you don't need them immediately.
Perishable Food
To ship foods, frozen products, and other perishable goods to a specific destination without damage, they should stay in a temperature-controlled environment. To prevent long-term damage and expiry, it is recommended to ship perishable goods through the fastest, most cost-effective method.
Fragile Items
Shipping is a safe method for delivering all types of products, especially fragile goods that are highly prone to damage. Therefore, when fragile goods stay in the mail for an extended period, the chances of getting damaged are high. This makes expedited shipping a viable solution if you want to deliver any product via mail. Because the process is quick yet cost-effective, it will prevent fragile goods from staying in docs or processing units for a longer time and decreases the risk of breakage significantly.
Expensive Items
Usually, shipping services don't lose a package. However, if you want to transport a valuable and expensive product, you might need to ensure the delivery process is swift as possible. The delivery period can be reduced by half through expedited shipping while maintaining affordability. Consequently, it will decrease the risk of theft, and misplaced orders associated with the delivery.
You Have a Time Limit
Expedited shipping promises fast delivery and less time in transit. It is well-known for being a time-saver. If your business can invest in faster shipping options, then you can attract customers as many would like to opt for expedited shipping service for a shorter delivery window. The low expedited shipping time ultimately helps you get more sales and thus, increases your profit.
You must choose expedited shipping if you want your package to reach ahead of a particular time limit. It ensures on-time shipping, unlike standard shipping, which may take too long.
Is Expedited Shipping Worth It?
The chief reason for using expedited shipping is to deliver the order faster. Time is a crucial consideration. Because this service offers ample benefits, there are various reasons why customers and the supply chain choose it.
For casual online shoppers, quick delivery is not a priority. Hence, expedited shipping is not worth the extra cost. But when you factor in the type of product purchased and customer needs, paying the extra money for faster shipping is worthwhile. Check out the merits of this service.
1. To save time
The expensive price of expedited shipping is justifiable considering the fast delivery time it offers.
Expedited shipping's key purpose is to save transit time. For many shoppers expecting fast delivery of their order, paying the extra cost is not an issue. Hence, expedited shipping is worthwhile if delivery time is more significant than money.
2. To ship perishable items
Perishable items like frozen food, baked items, and other food need fast shipping. If you sell frozen food or bakery items, expedited shipping service ensures that your product stays relatively shorter in order processing and shipment stages and reaches the customers faster without impacting its overall shelf life.
3. To win (or retain) customers
If most of your customers demand fast delivery, you must make expedited shipping a standard delivery option. Otherwise, you may lose valuable customers who want quick deliveries. So, to fulfill customers' demands and convert them into repeat customers, it is essential to provide expedited shipping service.
4. To increase profits
The ability to provide quick delivery will satisfy customers' demands and therefore, they may repeatedly order from your store. Consequently, it increases your sales and thus your profit. Expedited shipping assists more customers in buying products due to fast shipping.
5. To reduce damage
Expedited shipping services are quick because they flow directly from the shipper to the receiver. There is minimal package handling involved, so the risk of products experiencing damage or breakage during transit is minimal.
6. Save on storage
Fast shipping means the items spend less time in inventory. So, you may end up clearing your inventory faster. This minimizes the time a product spends in your warehouse resulting in efficient usage of storage space leading to better warehouse management practices.
How to Offer Expedited Shipping Without Affecting Your Bottom Line?
Although expedited shipping can be expensive, there are ways to keep shipping quick and cost-effective.
1. Distributed inventory
One way to offer expediates shipping is by distributing inventory to ship from multiple fulfillment centers. By reducing the distance a package needs to travel and using shipping zones, shipping will be faster and more cost-effective. It is possible to quickly reach more customers with ground shipping by distributing inventory to multiple fulfillment centers located closely to your customers.
If more customers benefit from expedited ground shipping, it reduces abandoned carts. If there are more fulfillment centers, you can enable expedited shipping service to more shipping destinations. So, when more customers benefit can get their orders delivered faster, the higher the conversion on your online store will be. Ultimately, this will increase your business profit.
Let's better understand it with an example. Suppose all your products are stored in Thailand, but many of your orders come from North Asia (Russian Far East). In this case, the shipping time and expenses will be higher. To sell your products, it will be helpful if a fulfillment center is located in North Asia. Consequently, shipping would be efficient and cost-effective for customers.
In most cases, people abandon their carts if they find higher shipping costs. So, if you aim to send quickly, it is recommended to use multiple fulfillment centers. You can use various ground shipping methods to keep the cost associated with shipping affordable. As a result, the low shipping costs will let customers appreciate your effort in delivering their orders faster.
2. Require a minimum spend
You can offer expedited shipping while being profitable by considering a minimum spend threshold. This is chiefly helpful if you want to provide free expedited delivery. A customer's money should be higher than the average order value (AOV) to benefit from expedited shipping. Thus, requiring a minimum spend to be eligible for free expedited shipping also increases the AOV of sales.
To determine how much is expedited shipping, i.e. how much you should expend to provide free expedited shipping, you have to consider the product types you sell and the locations they are shipped to. Typically, you need to provide free expedited shipping for customers who would order higher than what your average customer spends.
Let's better understand it with an example, suppose your average order amounts to $100. For that, you must set your minimum spending threshold for the free expedited shipping to be higher than that i.e. $125 or $150. As a result, customers who require expedited shipping will add more products to their cart and thus increase the average cart value on your online store.
It is essential to note that the minimum spending thresholds can assist store owners in increasing their average order value and thus help their business to flourish.
3. Outsource order fulfillment to a 3PL
Outsourcing fulfillment and shipping to a 3PL allows e-commerce businesses to benefit from shipping options, discounts, and technology not accessible to those providing fulfillment in-house. A reliable third-party logistics provider (3PL) can help e-commerce merchants fulfill customer expectations in the context of expedited orders and develop their business.
Outsourcing some tasks can save money and receive discounts on services. This way, it can assist your business in growing.
A 3PL provider can help ship products to your customers more rapidly. So, it increases the odds of receiving orders sooner. Furthermore, third-party fulfillment services can collaborate with e-commerce platforms to streamline the order and delivery procedure.
For orders with an expedited shipping option enabled, the 3PL fulfillment software automatically prioritizes and bypasses standard shipping. Subsequently, the corresponding fulfillment team dedicates its full efforts to shipping the order efficiently and quickly.
Many reliable 3PL providers integrate their technology with leading e-commerce platforms like BigCommerce, Shopify, and WooCommerce. The connection between their e-commerce store to these advanced technologies helps merchants automatically push the orders to the respective fulfillment center for picking, packing, and shipment.
To streamline and speed up the shipping process, merchants can distribute their inventory to multiple fulfillment centers (offered by your 3PL provider) located closest to their customers. This helps them reduce shipping expenses and speed up the shipping window.
Conclusion
Expedited shipping service delivers your package to customers faster than the standard delivery time. The reliable, cost-effective expedited shipping service lures customers to place orders repeatedly and drives more sales. The qualities like fast shipping time, reliability, customer satisfaction, and decent product quality justify its high price.
FAQs
Is expedited shipping worth the added cost?
If you want freight delivered within a strict deadline then expedited shipping is worth the added cost. Irrespective of order size, all shipments can be expedited to meet the urgency.
The following examples prove that expedited shipping is worth the added cost:
When customers require products that demand well-timed inventory replenishment
When a medical facility requires emergency tools and supplies
In all the above examples, the added cost benefits include speed, reduced handling, excellent security of your goods, and real-time delivery updates.
What are the logistics involved in expedited shipping?
Typically, expedited shipping incorporates only one mode of transportation and this shortens transit times. The expedited shipping tracking helps you track the shipment at any specific time. It offers you peace of mind and makes sure the urgent shipment is being tracked accurately. Freight companies assist in all stages of the logistics of shipping. You can use online quoting tools that offer you updated freight shipping rates from a wide range of carriers with various service levels.
When should you not offer expedited shipping?
Although expedited shipping offers tons of benefits, in certain scenarios, it can prove to be disadvantageous. In the following cases, you should not offer expedited shipping.
If the order value is less than the average order value, the cost of product delivery will be more than the product itself.
If your delivery location is very far and there is no neighboring warehouse to assure a two-day delivery.
Fragile products or products requiring a custom touch can take longer to deliver than other items. In these situations, expedited shipping is not suitable.
During inventory restocking, long holidays, or other emergencies when you can't assure prioritized deliveries, providing expedited delivery and not fulfilling it can disappoint customers.
Does expedited shipping include weekends?
Certain expedited shipping services include weekends. For example, certain service providers offer various expedited delivery options, even on weekends while some do not.
Is expedited shipping guaranteed?
Generally, expedited shipments don't include automatic additional services. Shipping companies deliver expedited shipments at a faster rate. Hence, the delivery date is no longer a guarantee than it would be with regular shipping. Several carriers do provide guaranteed expedited shipping services as a value-added in addition to basic expedited shipping. Moreover, working with a reliable shipping company can enhance the odds of your shipment getting delivered within the deadline.
How Can Businesses Keep Expedited Shipping Costs Low?
The following ways help businesses keep expedited shipping costs low.
i. Research on various couriers
Analyze which couriers provide the cheapest rates for packages you typically send. Ascertain that you shop frequently to ensure that you still get the best deal.
ii. Charging customers extra cost
You must not pay for the expedited shipping yourself. Occasionally, it's a good idea to offer standard shipping for free. However, try including a minimum cart spend cut off or a premium fee in case customers want to opt for fast delivery.
iii. Flat rate service
Many couriers provide a flat rate service that allows you to mail items at a fixed rate irrespective of the zone. Especially when sending items across long distances, the flat rate service offers you the best deal.
What Is Domestic Expedited Shipping?
Domestic expedited shipping refers to the process of shipping goods in the same country. Typically, it is used for items intended for urgent delivery or time-sensitive items. When choosing domestic expedited shipping, you should consider the price, speed of delivery, and weight and size limits. Most carrier companies provide multiple service levels for this service. Therefore, you can easily pick the best option fulfilling your needs.