Boost Your Online Store: Use Locad's Shopify App & Team Up with Singapore's Best Fulfillment Service!
Seamless Shopify Compatibility
Same-Day Picking & Packing
Running a Shopify store means selling great products quickly and getting them to customers. Bringing shoppers to your online store is one part; sending them their orders quickly and safely is just as important. To get customers back, their delivery needs to be smooth. As online shopping in Singapore keeps growing, sending orders out quickly is vital. A delay can make a customer's shopping experience less fun. Fast and smooth order fulfillment is what your Shopify store needs. 
Singaporean shoppers expect high quality in their e-commerce experiences. Recent studies have highlighted that Singaporeans get overall satisfaction with speedy delivery services. But, as the wait extends, their enthusiasm declines.
Meet Locad - Singapore's Go-To Shopify Fulfillment Partner
Locad aids e-commerce businesses on Shopify to do more. We've got options for both new and big Shopify sellers. We take care of the delivery so you can focus on selling top Shopify items and crafting compelling Shopee listings and deals. 
Team up with Locad to get top Shopify services in Singapore. Make the most of Singapore's booming online market. With Locad, your Shopify buyers will always love shopping.
Locad + Shopify Scale your e-commerce business with Shopify Install now Locad is the smartest way...
Strategies for Shopify Growth Through Efficient Logistics
Navigating the extensive e-commerce world, especially on platforms like Shopify, can be daunting. Balancing order surges with enticing promotions can stretch sellers. Yet, integrating a dedicated logistics engine for your Shopify store system like Locad can redefine this scenario. Systems like ours optimize order management, bridging multiple platforms for smoother transitions. Locad equips sellers with an encompassing inventory perspective across platforms, facilitating prompt stock adjustments and efficient market response.
Additionally, as the e-commerce model pivots towards expedited deliveries, having a robust logistics backbone becomes invaluable. Brands can now slash delivery durations from several weeks to mere hours. Logistics systems like ours further their reach with real-time tracking – a boon for international shipments, negating worries about misplaced items. But beyond immediate advantages, logistics platforms grant sellers crucial market perspectives, aiding in honing strategies on platforms like Shopify.
Does Your Shopify Store Face These Challenges in Singapore?
Competing for Storage Space
The rise of Shopify shops in Singapore has grown fast. With more shops, there's a bigger need for places to keep stock. Ensure you have enough space for your Shopify items, especially during big sales.
Handling Demand Surges
Significant sale events can bring lots of orders Events like Double Day Sales bring a lot of buyers to your online shop. Having everything in order during these busy times in Singapore needs a good 3PL partner.
Ensuring Shopify Inventory Precision
Keeping track of your items is key to maintaining a good name on Shopify. It's essential to avoid running out of stock during big sales and to avoid having too much stock and the costs that come with it.
Mastering Shopify's Last-Mile Delivery
Delivering items in Singapore, from busy areas to quiet places, needs a top delivery solution to ensure customers are happy.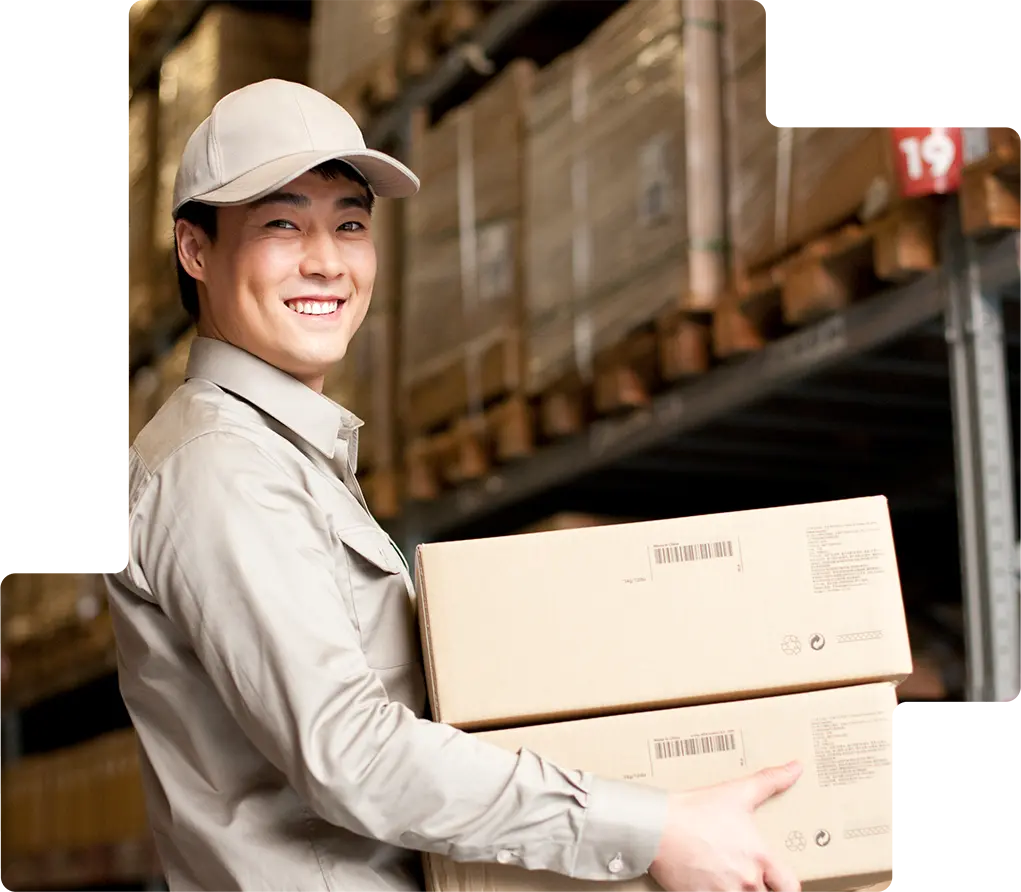 Give Locad a Try - We Can Help With These Problems
Shopify shops in Singapore have special problems. It can be a lot to handle, whether finding space, dealing with many orders, keeping track of stock, or sending items. 
Smart Use of Space
Our clever and well-planned storage strategies ensure your items are safe and easy to get to.
Ready for Big Sales
Whether it's a typical day or a big sale day in Singapore, Locad is ready for any surge of orders your online store may receive.
Keep Track of Your Stock
Our high-tech and efficient Locad Control Tower keeps track of your items, avoiding having too many or too few.
Delivery Everywhere in Singapore
We deliver all over Singapore, making sure your Shopify orders get there on time, whether it's a city or a far-off place.
Why Choose Locad for Your Shopify Store Fulfillment in Singapore?
At Locad, we get that each Shopify shop is different. Each has its problems and ways to grow. Our special fulfillment services, made just for you, mean you're always one step ahead of other shops. Our new solutions make your work smoother, giving you an edge in a busy market. 
Think of Locad not just as a partner. We're on your team for Shopify growth, always working with your goals and dreams. Let us handle the fulfillment and shipping while you focus on growing your Shopify shop and building good customer relationships.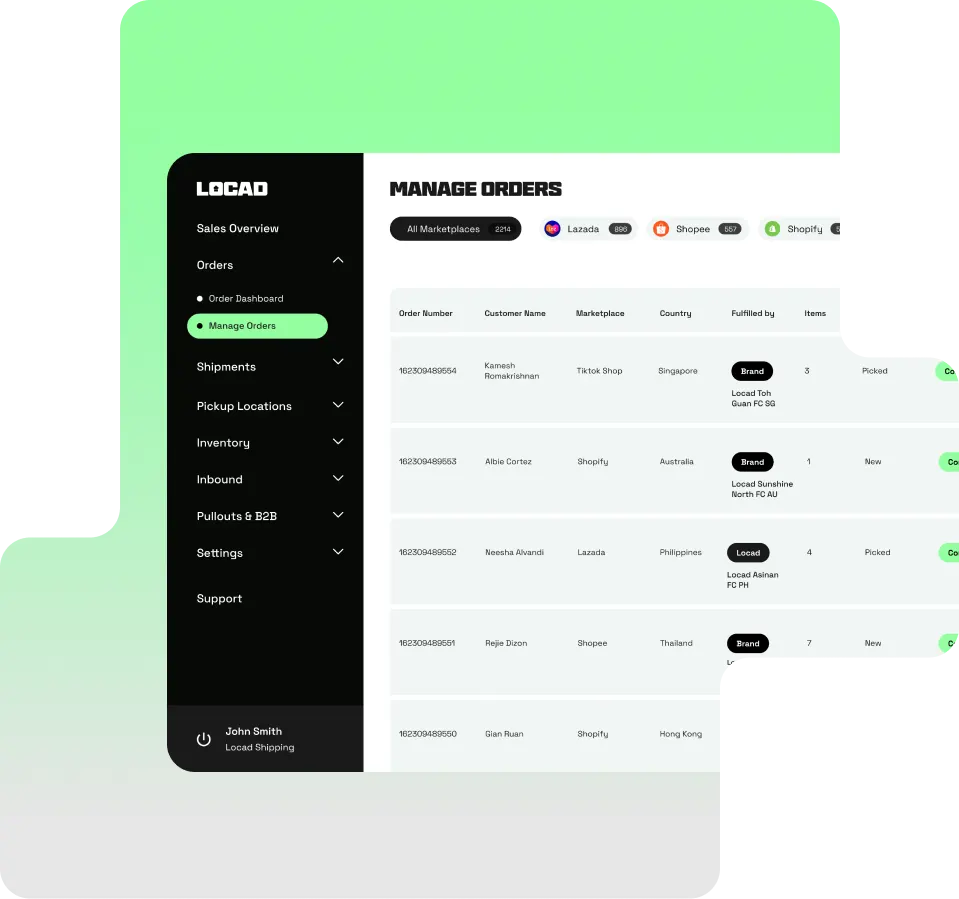 How Integrating a Logistics Engine Like Locad Benefits Shopify Sellers Beyond Streamlining Operations
In today's competitive e-commerce arena, efficient operations aren't enough for Shopify merchants in Singapore. Partnering with a sophisticated logistics solution like Locad offers multifaceted advantages:
Improved Customer Experience: Swift and reliable deliveries enhance customer satisfaction. Favorable delivery experiences yield repeat business, glowing reviews, and referrals – vital for brand standing on platforms like Shopify.
Locad isn't just about logistics. We offer insights by analyzing order patterns, delivery metrics, and regional preferences, enabling sellers to tweak promotional strategies, pricing schemes, and inventory decisions.
Cost Efficiency: Beyond the obvious savings from streamlined logistics, Locad's flexible storage and shipping options can provide substantial financial benefits. Leveraging Locad's resources, merchants can refine inventory storage, minimizing costs and preventing overstocking or inventory shortfalls.
Potential for International Growth: With a system like Locad, expansion means more than orders and new markets. Locad's international reach enables Shopify merchants to venture into global markets without the complexities of individual regional shipping norms.
Focus on Main Activities: With Locad managing logistics, Shopify merchants can divert their attention toward business growth. Rather than dealing with logistic complexities, they can center on product innovation, promotional initiatives, and other primary business activities.
Implementing a logistics solution like Locad empowers Shopify merchants to evolve from mere online retailers to comprehensive global brands with a solid operational foundation and a dedication to pleasing customers.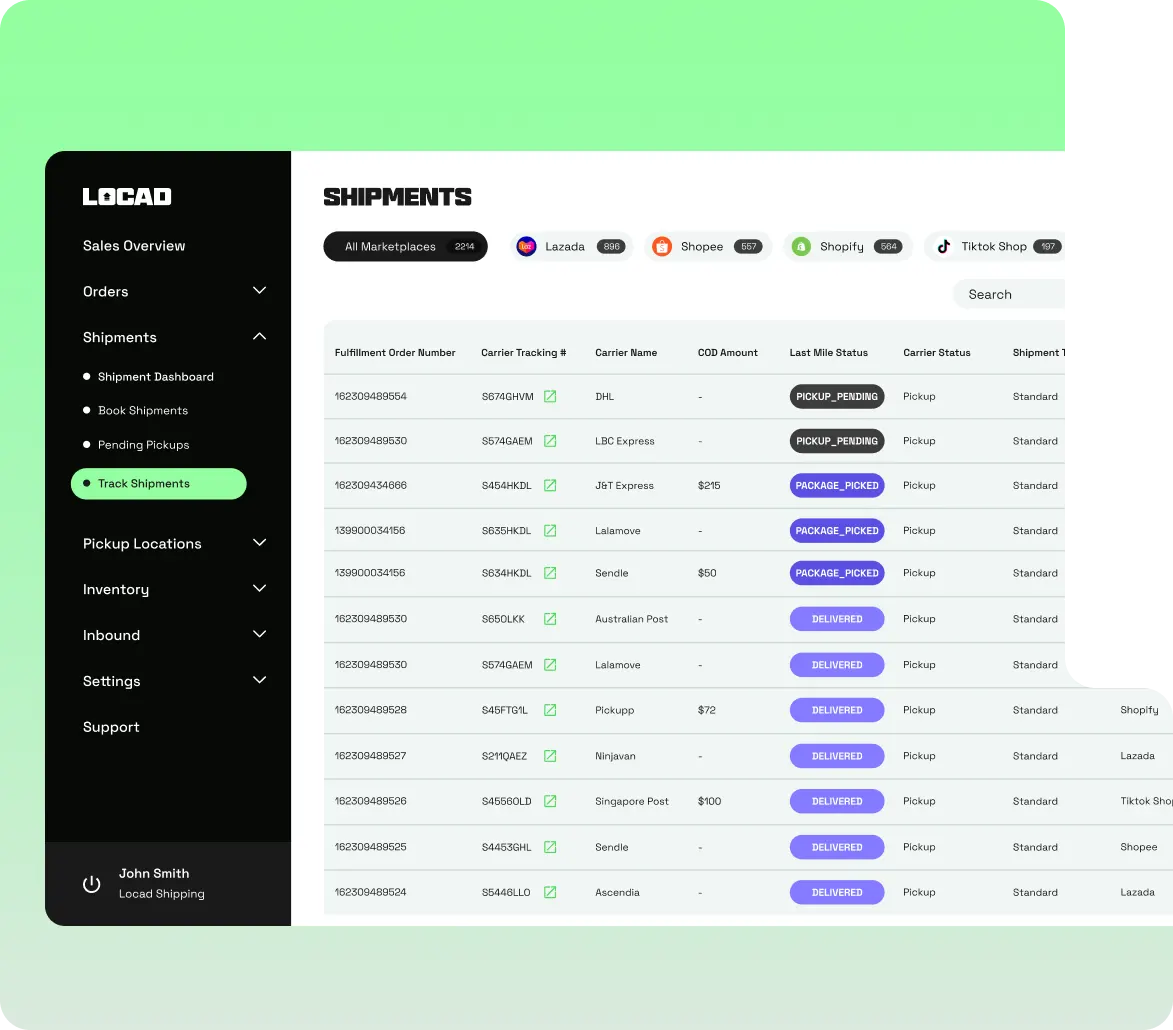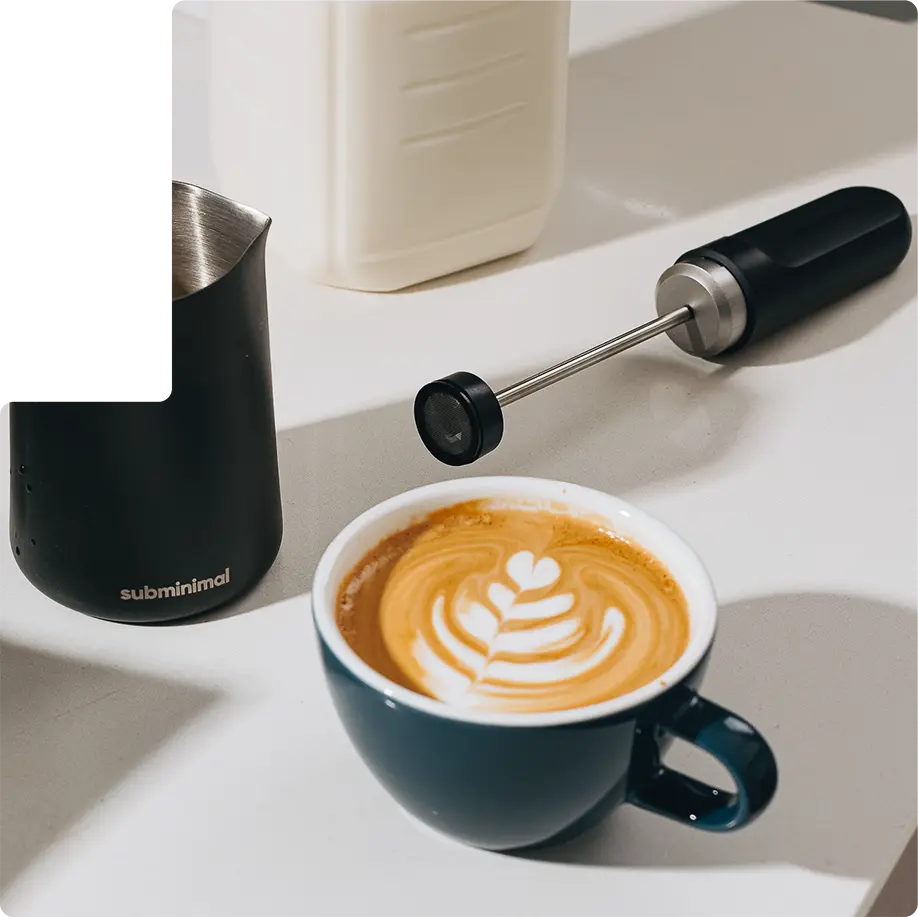 Subminimal partnered with Locad to increase the speed of deliveries in Singapore by 150%
Dominic Symons says, "Outsourcing logistics to a 3PL (Locad) – to me, that's a given. In the same way that I would manufacture with only qualified factories. There is a need for speed, and that's super important." 
Why Entrust Locad with Your Shopify Fulfillment Needs in Singapore?
Maximize Time and Resources on Shopify
The Shopify landscape in Singapore is ever-changing. Delegate your fulfillment tasks to Locad and rediscover precious time to perfect your Shopify strategies.
Seamless Growth on Shopify
As your Shopify enterprise grows in Singapore, fulfillment tasks escalate. With Locad's expertise in Shopify solutions, scaling up is a breeze.
Consistently Delight Your Customers on Shopify
Your Shopify clients in Singapore expect top-notch service. With Locad's premier fulfillment solutions, we guarantee punctual deliveries every time.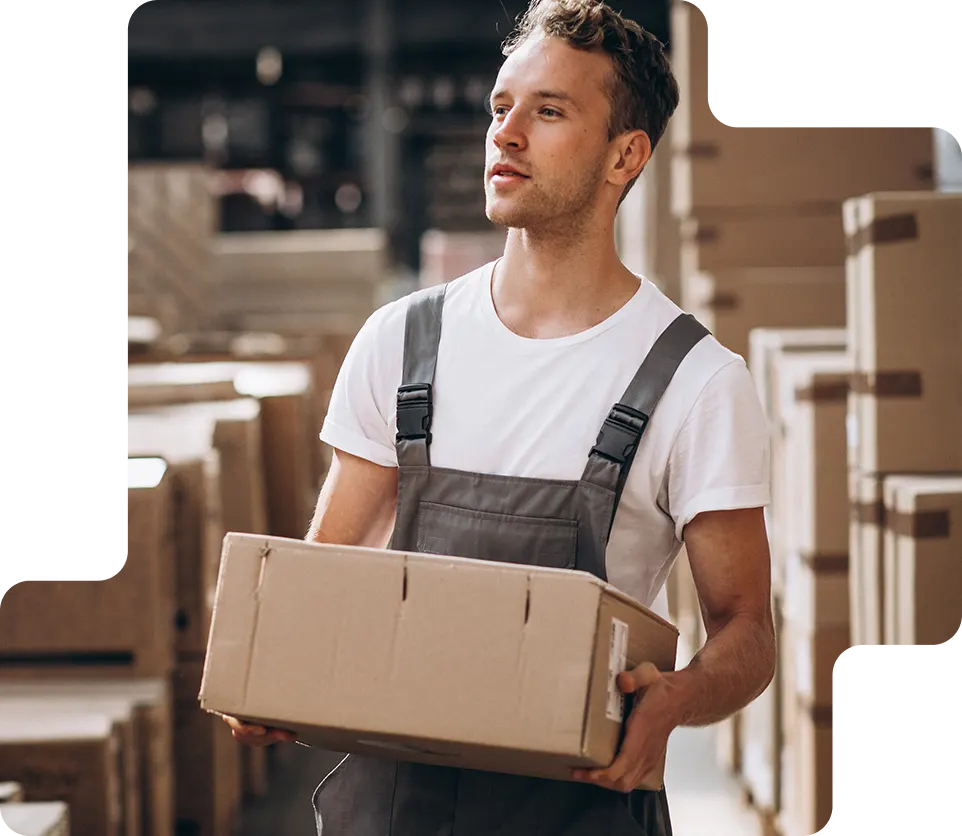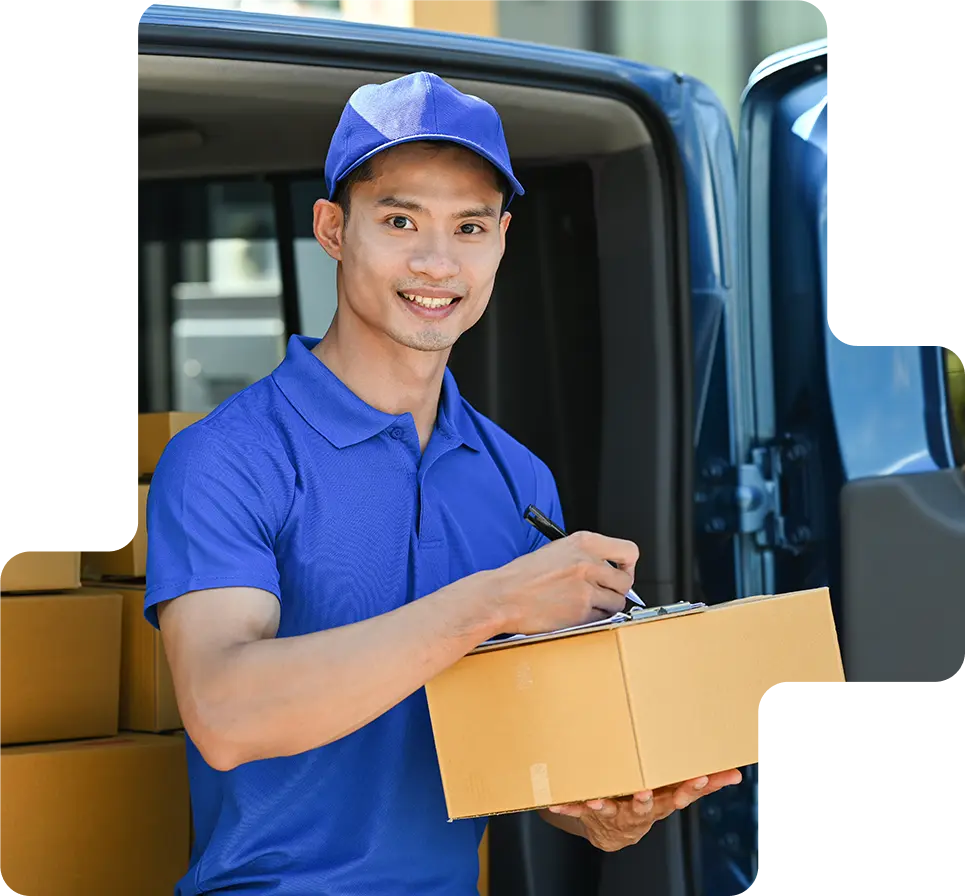 Access Locad Today - The Best Shopify Fulfillment Solution in Singapore
If you're targeting smooth distribution across Singapore, Locad is your answer – the top choice for Shopify order fulfillment in the city-state. Here's what Locad offers to enhance your Shopify presence in Singapore:
Best E-commerce Knowledge: Locad's stature in e-commerce and Shopify solutions is unmatched in Singapore and the broader Asia-Pacific region.
Adaptable for Every Merchant: Whether you're new to Shopify or a seasoned player, our versatile services, storage solutions, and shipping rates cater to all.
Technological Superiority: Our cutting-edge warehouses and logistics centers guarantee a seamless selling experience, especially on Shopify.
Swift Deliveries Across Singapore: Our vast network promises just that for Shopify merchants seeking quick island-wide deliveries.
Choosing Locad as your Shopify fulfillment partner in Singapore is your ticket to thriving in the market.
Shopify Merchants, Soar with Locad!
Embrace Locad as your trusted Shopify fulfillment provider in Singapore. Let us manage the logistics so you can focus on enhancing your Shopify offerings and growing your business.
Mastering Shopify in Singapore: Reigning in the E-commerce Landscape
Singapore's thriving digital arena beckons, and you can stand out with the right Shopify logistics partner. Trusted by many Shopify retailers and diverse businesses, Locad furnishes you with the tools and expertise to enhance your online presence and ascend to greater heights. Uncover the Locad advantage and secure your prime position in Shopify and Singapore's expansive e-commerce domain.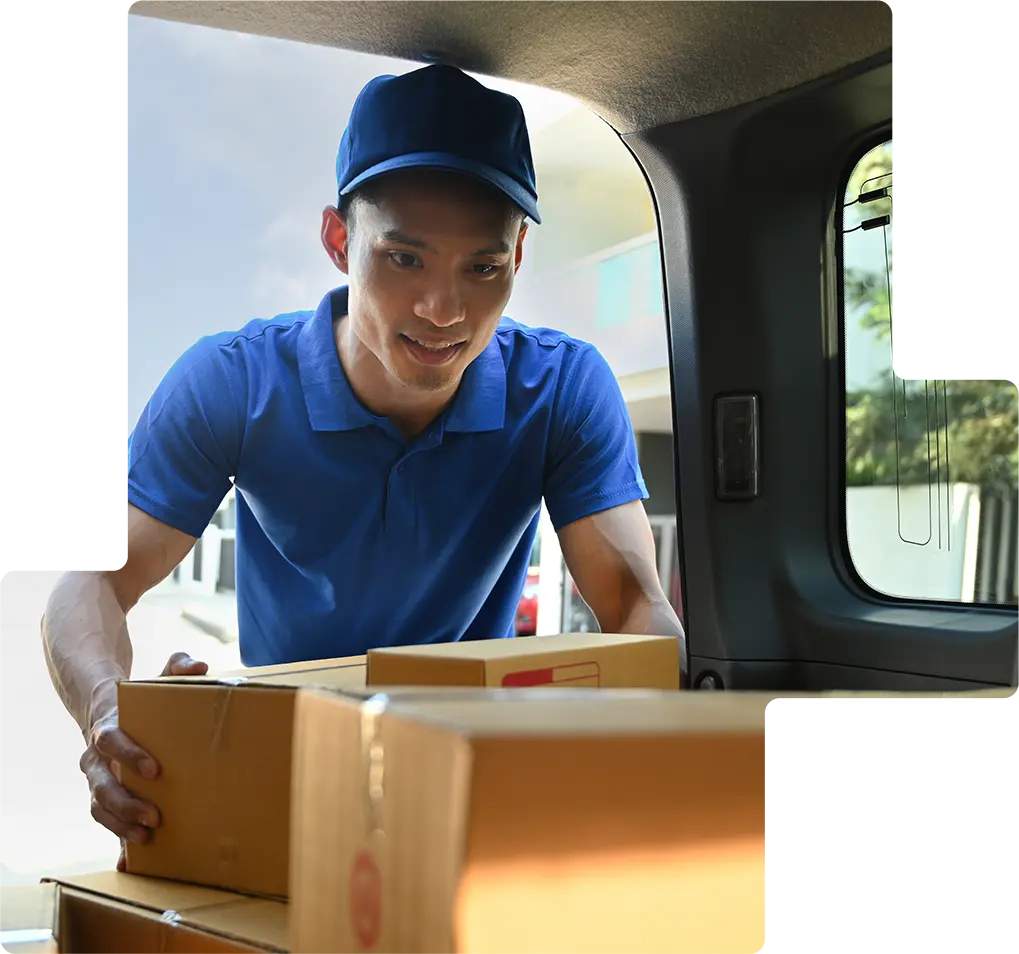 Achieve Unmatched Success with Locad!
Singapore's Premier Shopify Fulfillment Solution is Now Within Your Reach.
Amidst Singapore's rapidly advancing e-commerce spectrum, platforms like Shopify necessitate visionary strategies. Locad delivers agile, flexible, and economically efficient solutions for Shopify logistics in Singapore, guiding your brand toward unparalleled triumphs. Place your logistical complexities in Locad's capable hands and enjoy a seamless operational transition. Delight in our top-tier order processing expertise and watch your brand climb in the Singaporean market. 
Choose Locad for All Your Shopify Fulfillment Needs in Singapore
Dive deep into the realms of e-commerce with the Locad Control Tower for Shopify fulfillment in the Philippines:
Live Inventory Monitoring: Track inventory levels in real-time, tailored for Shopify's bustling market.
In-depth Analytical Insights: Custom-made data insights to empower you to make strategic decisions for your Shopify platform.
Flawless SKU Management: Assured smooth processes for selecting, packaging, and shipping Shopify products.
With Locad by your side, you're not just choosing an order fulfillment partner; you're choosing to dominate on platforms like Shopify in  Singapore.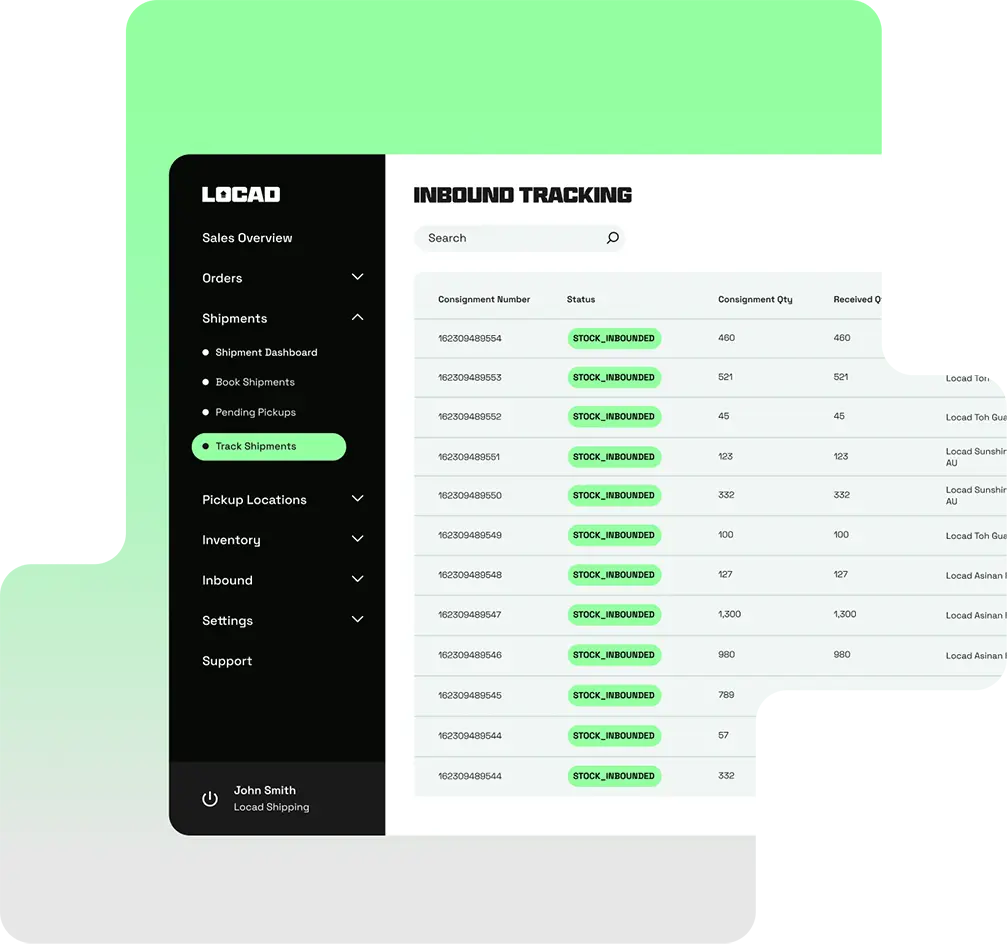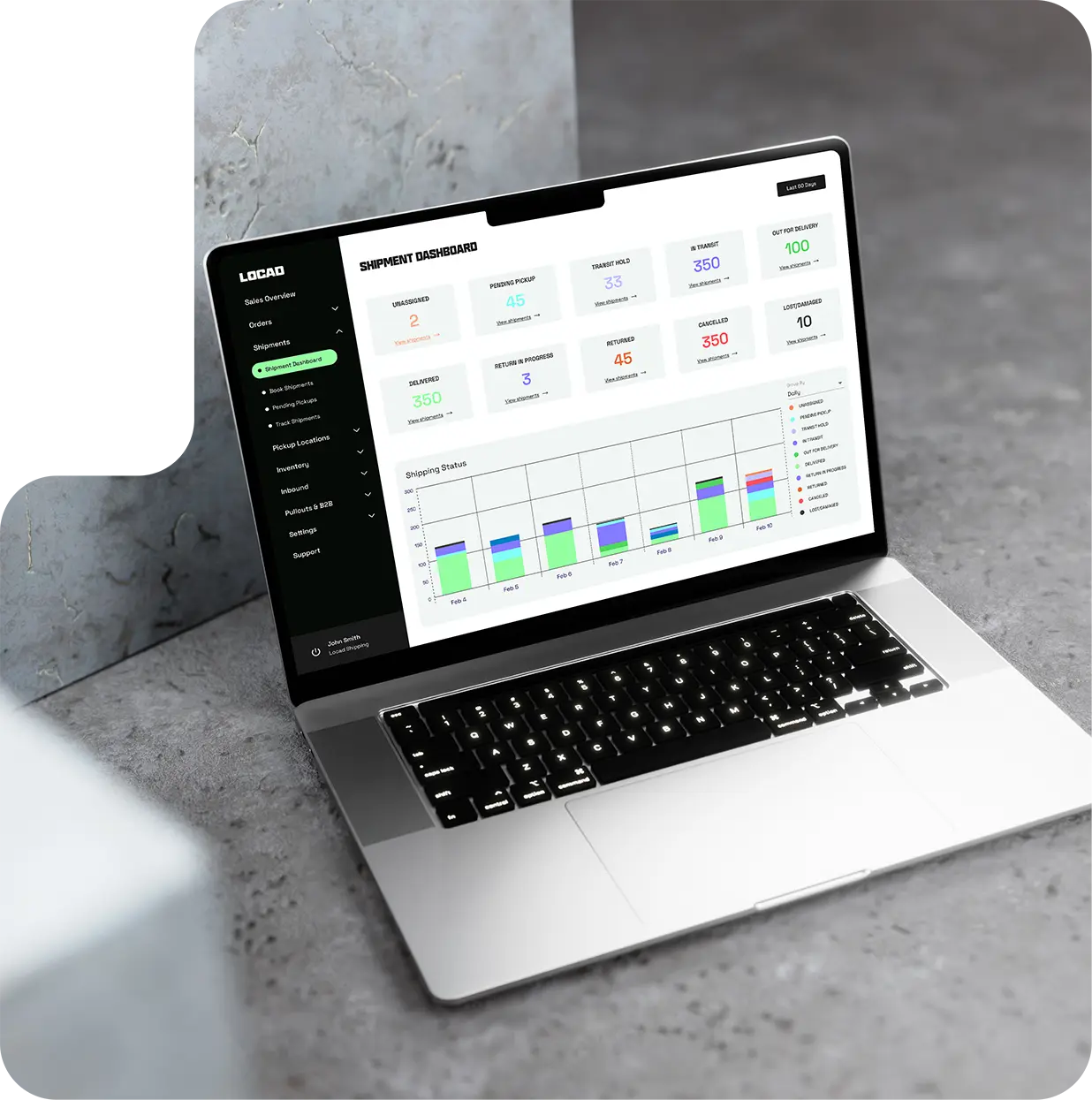 Leverage Multi-Channel Order Fulfillment for Elevated
Whether you're trading on Shopify,
Lazada
,
Shopee
, or any other platform, Locad stands with you. Our pride lies in our seamless integration capabilities, letting you diversify and achieve:
Efficient inventory and order management across various platforms
Unified and automated logistical operations, conserving time and assets
Access to critical data insights to enhance your sales blueprints
Guarantee a consistent customer experience across all channels.
Streamlined business operations, facilitating focus on growth and outreach.
Navigate the nuances of Locad's all-encompassing e-commerce logistics and witness your Shopify brand thrive in Singapore's competitive marketplace.
Embark on an Exceptional Growth Journey with Locad's Shopify Solutions in Singapore
Locad remains committed to its promise – of providing a streamlined experience tailored to every client. We are passionate about demystifying processes for our Singaporean clientele. Our elite services cater to various products across diverse channels, automating fundamental tasks from selection to shipping. Highlights of our offerings:
Integrated Warehouse Management: A holistic perspective on your entire stockpile.
Live Order Monitoring: Stay abreast of every facet of your order's progress.
An Elite Team at Your Service: Professionals who pledge to handle each product with utmost precision.
Bespoke Packaging Solutions: Caters to your distinct brand aesthetics and needs.
In e-commerce, Locad consistently raises the benchmark, excelling in punctuality and logistical expertise. Our proactive methodology in return management ensures your peace of mind, enabling focus on expansive growth.
Unlock the Prime Benefits of Locad's Shopify Logistics for your Singaporean E-Commerce Business:
The Top Shopify Fulfillment Service in Singapore is Just a Click Away!
Locad is here to elevate your e-commerce business, combining unparalleled expertise with an outstanding customer experience. Thinking of stepping up your logistics game? Join forces with Locad, the go-to choice for Shopify logistics in Singapore. 
Take your business to the next level with Locad. Experience our premier Shopify logistics service in Singapore and watch your digital business touch new milestones.
| | |
| --- | --- |
| Can Locad handle fulfillment and shipping only for specific SKU's in my marketplace? | |
| Does Locad fulfill perishables? | |
| Does Locad support Cold Storage for my products? | |
| Can I ship my products internationally with Locad | |
| Does Locad fulfill items of all sizes? | |
| Does Locad offer custom packaging options | |
| Does Locad support Shopify, WooCommerce, Lazada, Shopee, Zalora and Tiktok ? | |
| Can Locad handle pre-orders for Shopify? | |
| Does Locad conduct stock takes/cycle counts? | |
| Can I visit Locad's 3PL warehouse to check my products? | |
| Does Locad fulfill both retail store and e-commerce deliveries? | |
| Does Locad have returns/reverse logistics services? | |
| Does Locad have Bubble Wrap packaging? | |
| Does Locad provide standard packaging materials for free? | |
| Does the Locad perform address verification? | |
| Does Locad integrate with Return-Key for e-commerce | |
| Can I recall or change the address on a package that shipped? | |
| Does Locad allow seperate packaging of SKU's? | |
| Can Locad help me manage inventory across multiple channels? | |
| Will Locad carriers provide tracking information? | |
| Does Locad resolve a Stock/Inventory mismatch? | |
| Can Locad help me with data on the sellable stock for a particular product available on various marketplaces? | |
| Can I set buffer stock on Locad for a particular product? | |
| Does Locad's system let me view just my recent orders? | |
| Does the Locad OMS fetch the order summary for "in-process" orders? | |
| Does Locad provide Tax related information for my orders? | |
| Can I generate an order airway bill in the Locad system? | |