Managing distribution involves managing the movement of goods. The goods movement can be either from a wholesaler to a retailer or from a retailer to end-users. Distribution management aims to keep things organized and ensure customer satisfaction. In the following article, you will get familiar with the meaning of distribution management, its importance, its challenges, affecting factors, channels of distribution, benefits of distribution network, benefits of distribution management strategy, and more.
1. What Is Distribution Management?
Distribution management is tracking the movement of goods from manufacturer to end customer. It entails various processes and undertakings like inventory, packaging, supply chain, distribution warehousing, and logistics.
For both wholesalers and distributors, distribution management holds great significance. The profit rate of businesses relies on the speed at which they can supply goods to customers. Their earnings are directly proportional to their sales. An effective distribution management system keeps the business competitive and ensures customer satisfaction.
In other words, distribution management oversees the supply chain for an organization. Its typical path can flow like goods delivery from suppliers and vendors to the manufacturer to the point of sale. Companies must adopt a distribution management strategy to ensure commercial success and prevalence in the market.
2. Understanding Distribution Management
Without distribution management, a company can't effectively turn visitors into customers and run cost-effectively. Its successful implementation demands the practical management of the whole distribution process. Effectively managing the distribution process is even more crucial for a giant corporation or a company with more supply points.
Generally, modern distribution management encompasses not only the movement of products from the manufacturer to the point of sale. It also entails collecting and sharing pertinent information that can be useful to recognize critical opportunities for development. The majority of growing companies now employ distribution systems to attain market intelligence. This ultimately assists in evaluating their place in the competition.
3. Distribution vs. Logistics
| | | |
| --- | --- | --- |
| Parameters of Comparison | Distribution | Logistics |
| Meaning | Distribution refers to a management system in logistics that focuses on order fulfillment across the distribution channels. In a distribution channel, products and services move through the chain of entities and agents. This movement is from the supplier to the end consumers. | Logistics is the exhaustive planning and practices implemented for the successful supply of goods. |
| Activities and Processes | Distribution involves processes and activities like commercial or consumer packaging, order shipping, and order fulfillment. It mainly relates to sales or commercial distribution. | Logistics involves processes and activities like supply management, security, bulk and shipping packaging, fleet management, temperature controls, delivery routing, warehousing, and shipment tracking. Logistics can be considered as physical distribution. |
| Examples | Wholesalers, retailers, e-commerce websites, and 3rd party or independent distributors | Inbound logistics, outbound logistics, reverse logistics, third-party logistics, and fourth-party logistics. |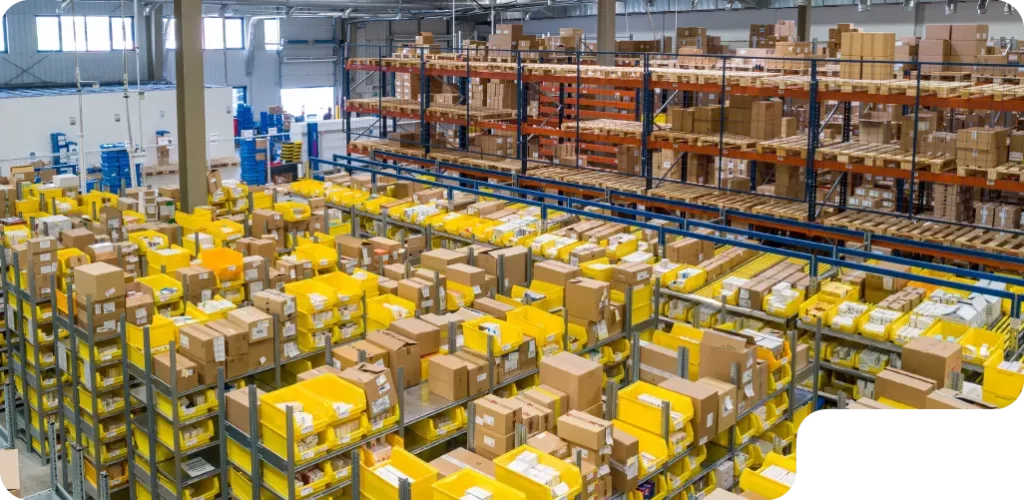 4. Why Is Distribution Management Important?
Distribution management is inevitable for organizing all aspects engaged in conveying goods to the purchaser in stipulated time and with minimal waste. So, it directly influences profits. This is why an organisation must efficiently use the distribution management system, dealer distribution management system, and the top distribution ERP to run its business flawlessly. The proper use of this system will facilitate a business with all the benefits of distribution management.
Distribution management aims to ensure the active movement of inventory across the supply chain. Its efficient implementation leads to high-profit margins and quick brand growth.
Optimal distribution management guarantees that
Inventory are efficiently distributed to reach customers swiftly and most efficiently.
There is adequate inventory to fulfil demand as well as optimise storage costs.
Business owners know how to make improvements and reasonable decisions.
We can understand the importance of distribution management with an example. Suppose an organisation overspends storage, it might have accumulated excessive deadstock. On the other hand, if an organisation does not quickly replenish inventory, it can lead to stockouts, lost sales, and backorders.
5. Distribution management channels
Managing the physical distribution of inventory is a critical element of supply chain management. To understand distribution logistics, it is imperative to understand various distribution channels and how inventory passes through the supply chain.  Let's go through the details of distribution management channels:
i. Retailer
A retailer can directly work with a manufacturer, supplier, or wholesaler. Usually, significant retailers distribute products from various suppliers through different sales channels to successfully reach their customers.
For example, Walmart buys from various brands that provide a wide range of products. Subsequently, Walmart sells it online or in its onsite locations.
ii. Wholesaler
Wholesalers provide raw materials or finished goods in wholesale (bulk) at a low price. These goods can be sold to manufacturers, retailers, or distributors. The key benefits of this distribution management channel include saving money, diversification, brand creation and propagation, and building a supply network.
Usually, wholesalers distribute the raw materials being used to manufacture a finished product. Grocery stores, marts, and shopping malls are examples of wholesalers. They don't manufacture any products, but they include a label of their store line for self-branding.
iii. Distributor
Distributors are the intermediaries between the manufacturer and the retailer or wholesaler. Whenever manufacturers intend to boost their regional distribution, they validate distributors to sell their products. Remember that they only validate distributors knowledgeable about the local market.
Frequently, distributors also provide logistical and storage support in their particular locations. An example of this can be car brands that distribute the newest car models to dealerships over multiple regions so that cars can be locally sold to the end-user.
Another example of a distributor is a sugar refiner who works as a distributor to sell sugar to a sugar wholesaler.
iv. E-commerce
E-commerce facilitates the success of direct-to-consumer (DTC) brands in today's era. These brands directly deliver products to end-users. Online retailers function with suppliers and manufacturers to order and store inventory in an e-commerce warehouse.
After the inventory is obtained and orders are registered online, the items are directly picked, packed, and shipped from the business. So, e-commerce fulfillment removes the middleman from the distribution process. As a result, it guarantees quick delivery, reasonable prices, and improved customer service.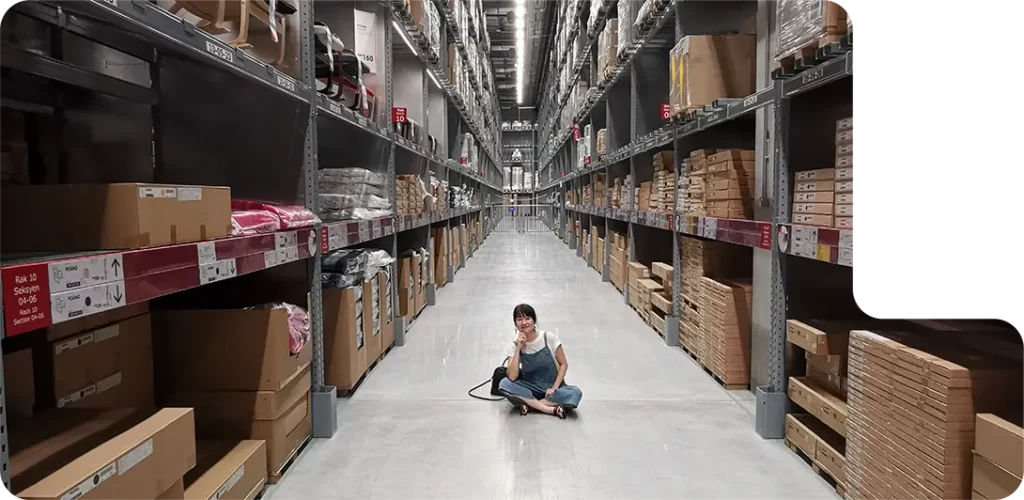 6. What Is a Distribution Network, and What Are its Benefits?
A distribution network represents the movement of goods from a supplier/producer to an end consumer. The key components of this network are warehouses, storage facilities, and transportation systems. All these components ensure flawless movement of goods till they reach the end customers. Using a retail network or direct sales ensures that the consumer receives the product from the supplier/manufacturer.
The size and structure of distribution networks vary based on the size of a business. Usually, companies like Apple own sophisticated distribution networks, logistics, and transportation systems.
Several factors help define the structure of a distribution network. These factors are customer experience, end customers' product demands, product availability, product assortment, response time, and product returnability. 
Two types of distribution that a manufacturer can choose from are direct distribution and indirect distribution. Direct distribution refers to the direct sale from the company to the end customer. On the other hand, indirect distribution focuses on deploying or connecting to a prevailing distribution network. Warehousing is one of the key components of an indirect distribution network.
Benefits of a Distribution Network
At first, joining a distribution network may seem complex, but it's false. The cloud-based logistics management systems let you generate a set of optimised logistics services to fulfil your customers' needs.
Here are the benefits of using an existing distribution network or deploying a new one:
i. Cost-effective
Setting up a new distribution network can be expensive for certain manufacturers and businesses. The use of an existing distribution network facilitates convenience and quick operations. Moreover, it extends the reach for products geographically. Hence, it eliminates challenges and costs linked with human resources, time, and capital.
ii. Broader customer reach
A well-organized distribution network provides a more extensive customer reach. The reason is it can improve the speed at which products get customers and explore opportunities to spread across other geographic regions.
iii. Other benefits
Enhanced customer satisfaction and feedback
Quick growth
In-depth knowledge of customer and product priorities
Improved transparency and collaboration
Efficient marketing
7. Advantages of a Distribution Management Strategy
1. Quick fulfillment of orders
When your business is in the initial stage, the in-house fulfillment might be controllable because of the small volumes of orders.
Two components that can speed up the fulfilment process:
It is recommended to split inventory through multiple fulfillment centers located closer to your customers. This way, you will depend less on a single warehouse for order fulfillment. Consequently, you can optimize shipping by decreasing costs and decreasing transit times.
The use of technology can automate order processing and helps warehouse pickers conveniently and timely trace items in the warehouse. Consequently, it improves the fulfillment process. Using a proper tech stack can improve inventory visibility throughout your distribution network. Hence, you will better handle unforeseen situations and can make informed decisions.
2. Fulfills customer expectations consistently
With a distribution management system in place, you will not find hassles when conveying the goods from the manufacturer to end customers. This system guarantees that orders are delivered promptly and at a reasonable cost.
It also guarantees the SKUs' availability for every sale in the channel of distribution as per the customers' demand. It simultaneously keeps order fulfilment costs low so that the retailer may drive the savings to their customers.
3. Evaluates distribution management data
A proper system is inevitable to gather and evaluate the data of the supply chain. Without it, it is impossible to optimise a distribution network. With the optimization of warehouse distribution, inventory turnover rate, and the amount of inventory on the SKU level presently available at each location, you can determine how to distribute products and optimise inventory through your network optimally.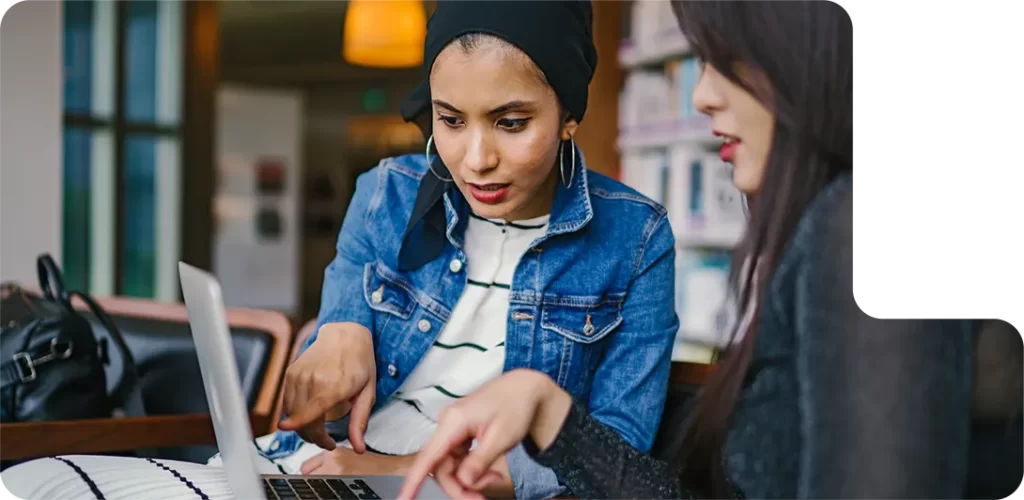 4. Boosts profit margins
Proper perceptibility into operations can considerably decrease operational expenses and save on cost. This perceptibility helps you optimize your distribution channel strategy. Using more locations for inventory storage can assist you in saving on shipping costs and meeting customer expectations flawlessly.
5. Quick delivery options
An effective distribution channel strategy helps you to provide more significant shipping incentives to your customers. You can store inventory nearer to your customers' location to reduce shipping expenses and speed up transit times. As a result, you can satisfy customers with reduced shipping time or free shipping with an obligatory minimum cart value.

6. Proportional to market seasonality
Seasonality plays a key role in the distribution, based on the type of products to sell. A seasonal brand can supply products suitable for a specific period, season, or occasion. For example, a brand can increase the supply of raincoats during monsoon.
Effective distribution management supports seasonal brands because it helps collect past sales data. Also, it helps determine the amount of inventory to hold at a particular period (also known as demand forecasting).
Apart from these, here are some more benefits of distribution management strategy
It keeps every aspect of distribution organized.
In the absence of an effective distribution management strategy, retailers will be compelled to retain the stock in their locations. This idea is not recommended, specifically if the seller has insufficient storage space.
A distribution management system streamlines the process for its consumers. It lets them visit one location for a wide range of products. Without this system, consumers will have to visit multiple locations to receive what they require.
An effective distribution channel strategy eliminates the chances of errors in the delivery and reduces delivery time.
8. Distribution Management Challenges
Various disruptions can give rise to distribution management challenges. Let's look at the details of these challenges:
Natural disruptions
Examples of natural disruptions giving rise to distribution management challenges are abnormal weather events, shortage of raw material due to bad crops, pest damages, pandemics, and epidemics.
Human disruptions
Examples of human disruptions are wars, strokes, riots, and protests.
Economic disruptions
Depressions, recessions, abrupt decline or rise in customer or market demands, payment issues, changes in fees or compliance prices, and modifications in currency exchange values are examples of economic disruptions.
Transportation disruptions
The relevant examples are transported vehicle disorder, accidents and maintenance downtimes, delayed flights, and obstructive or new transportation guidelines.
Product disruptions
The relevant examples are packaging issues, product recalls, and quality control issues.
Buyer disruptions
Their examples are order deviations, changes in shipment address, and product returns.
Here are a few other causes of distribution management challenges:
Supply chain deficits
Manufacturing delays or raw material shortages can create huge disruptions in a supply chain. One of the best ways to combat them is collaborating with multiple manufacturing options or suppliers.
Shipment delays or concerns
In the pandemic, several significant carriers struggled to provide more than usual volume of packages timely. The delays or issues in shipping can happen at any time. So, it is recommended to spread out your carrier partners and function with a combination of regional and major carriers. Following this approach gives more shipping options and removes shipping delays.
9. Factors That Influence Distribution Management
Distribution management is crucial in the business cycle for wholesalers and distributors. The speed and efficiency at which a company can sell and distribute products influence the company's sales and profitability. The planning and process of distribution should consider the below factors.
i. Shipping optimization
We can understand the influence of Shipping optimization on distribution management with an example. Suppose a company finds it more cost-efficient to ship together entire goods approaching one destination (like in a single truckload) rather than creating multiple, small-capacity shipments to that destination.
Perishable goods must be efficiently shipped because any losses via spoilage will negatively affect profits.
ii. Buyers' demands
All through the year, buyers have varied demand levels for the goods. For instance, the festive season will notice a rise in consumers purchasing all types of products. Thus, companies should plan to deal with increased orders, purchases, and deliveries.
iii. Shipping delays
They are created by vehicle accidents or collapses, airport delays, or delays due to abnormal weather events.
iv. Changes in government regulations
Prospective changes in government regulations about shipping or transportation are other factors that distribution management teams need to deal with.
v. Other factors
Apart from these, there are various other factors influencing efficient distribution. They are listed below.
a) Unit perishability – For perishable items, the loss should be prevented as soon as possible.
b) Buyer requirements – Buyer requirements may change, for example, modifications in manufacturer's or retailer's just-in-time inventory demands.
c) Buyer purchasing habits – The rise and fall in buyers' purchasing habits can affect distribution patterns. Hence, they diverge distribution needs.
d) Product mix forecasting – The optimal product mixes differ based on seasons, weather conditions, and other factors.
e) Product recalls or packaging issues- Buyers can disrupt the efficient flow of distribution with activities like changes to orders or the address for goods' delivery.
f) Inefficient truckload optimization – Not using logistics and fleet management software will make it unclear whether each truck is loaded to its total capacity or not. So, it becomes challenging to route them to the most efficient track.
Owing to these factors influencing distribution management, managers should make not only efficient distribution plans but also make various contingency plans to deal with potential issues in the distribution process.
10. Distribution Management as a Marketing Function
The basic concept of distribution management as a marketing function is the management of distribution takes place in a system that also incorporates the below aspects.
a) Product: Products are not always physical objects. They can be information, idea, or music.
b) Price: It denotes the value of a service or good for both the buyer and seller. It can incorporate physical and immaterial factors like discounts, list price, funding, and expected response from competitors and customers.
c) Promotion: Any communication channel a seller uses to notify, encourage, and/or recall buyers and would-be buyers regarding the seller's goods, services, ideas, and influence on society.
d) Placement: It implies the process that ensures guaranteed availability and visibility of products to business users or customers in either the target channels or the place where they choose to buy.
Distribution Management as a marketing function emphasizes selling products while guaranteeing enough stocks in the channels, handling promotion in those channels, and their diverse requirements. Also, it ensures a supply chain is efficient enough that distribution expenses are within a limit to let a product be sold at a reasonable price. Hence, it supports your marketing tactic and maximizes profit.
11. Distribution Management Strategies
Three key distribution management strategies are
i. Mass Strategy
It targets distributing products to the mass market. For example, products can be delivered to those centres that sell to general customers anywhere.
ii. Selective Strategy
It targets to distribute to a specific group of sellers. For example, this strategy can deliver goods to specific types of retail sectors or manufacturers like hair salons, pharmacies, and department stores.
iii. Exclusive Strategy
This strategy targets distributing products to a very limited group. An example can be the manufacturers of Toyota Motors' vehicles that sell only to authorised Toyota Motors dealerships.
Conclusion
With effective distribution management in place, customers' expectations are fulfilled flawlessly. It guarantees safe delivery of goods from manufacturer to the point of sale. It oversees the whole supply chain for an organisation. Further, it ensures timely delivery of goods, broadens customer reach, and increases the brand's profit margins.
FAQs
What are the 4 channels of distribution?
The four channels of distribution channels are -direct selling, dual distribution, reverse logistics channels, and selling through intermediaries. All these channels involve institutions aiming to manage the physical exchange and transaction.
What are the activities of distribution management?
Distribution management involves the movement of the finished goods from a supplier or manufacturer to the specific end-user. The activities involved are inventory management, warehousing, packing, shipping, and delivery.
A distributor is an intermediary body between a product manufacturer and other bodies in the supply chain or channel of distribution. Other bodies can be retailers, system integrators (SI), or value-added resellers (VAR). In other words, the distributor is an entity that supplies products to retailers and other organisations that directly sell goods to consumers.
Distributors usually adopt a more practical approach in instructing resellers about the latest products via activities like road shows, pre-sales training, and demos for the sake of vendors.
An example of a distributor wholesale can be a local vegetable market vendor that supplies vegetables to restaurants, hotels, and event management firms.
What do customers want from a distribution system?
Customers want proper fulfillment of their expectations from a distribution system. Customers purchase products depending on factors like the products' quality, availability in the market, and price. They want all these expectations to be fulfilled.
If a product is not easily accessible in the market, customers will choose lower quality products from your competitors. So, along with maintaining the outstanding quality of products, you must also make sure your customers can conveniently find your product.
5.  How will you distribute your product to your customer?
Distribution is the practice of conveying products to customers. Three key methods to distribute your product to customers are Direct Sales channels, Retail networks, and the Internet.
Direct Sales Channel –It is an effective approach to distribution if you manage a small number of customers or are willing to sell to customers in your local region only.
Retail Network –This method involves marketing your product via an existing regional/national network of retailers.
Marketing your products through an existing regional or national network of retailers allows you to encompass a wider market. It is possible to indirectly market your products by partnering with wholesalers who will buy products in bulk from a manufacturer and then distribute them to other retailers/resellers/industrial distributors.
Internet –You can set up a website to reach customers across the world.