The Philippines is one of Southeast Asia's most promising countries in terms of economic growth in the e-commerce market. It has a large population. And a large percentage of that population makes up more than 44 million internet users across the country. Even though the numbers are not staggeringly high, like China, India, and the USA, the country still ranks within the first 20 on the list of internet users per country.
The citizens of the Philippines have gotten used to the comfort of online shopping due to the pandemic that struck us at the start of the decade. This means there is a lot of scope in the Philippines' e-commerce market. Many companies are dipping their toes into the promising e-commerce scene of the country. However, e-commerce Philippines, like every other venture in this world, comes with its own troubles.
As a business owner, you might also want to expand your boundaries in this constantly growing economy. More and more e-commerce companies are succeeding in the country, but it doesn't come without cons. In this article, we will talk about some of the challenges you might face while expanding into the e-commerce market of the Philippines.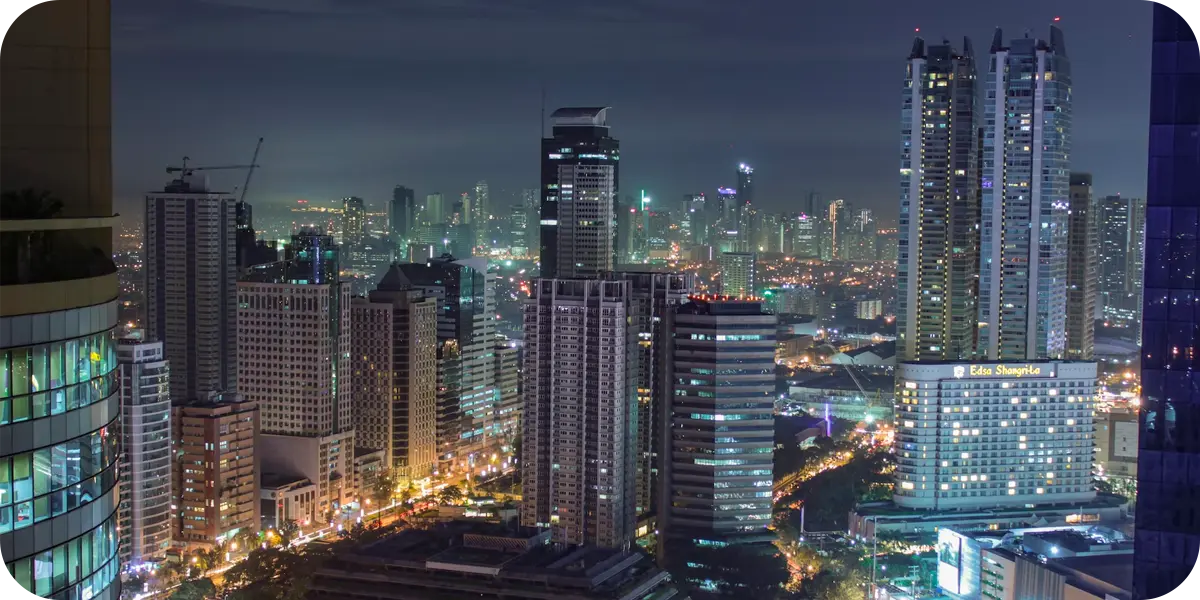 Economic Environment in the Philippines
The economy of the Philippines has always been a robust one. The growth of the economy has also been fast. From 2000-2009, the growth rate had an average of 4.5%, which increased to 6.4% between 2010-2019. The population of this country has an abundance of youth, a rising middle class, and rapid urbanization, due to which the economy is dynamic and growing at a steady pace. It is also predicted that the country will significantly drop in poverty if things continue to go well.
Unfortunately, like many other countries, the Philippines also lost some of its economic footings when the pandemic struck. There was a pandemic-influenced recession of 9.5% that hit the country in the year 2020. It was hard for businesses, especially new ones, to survive there. Investment growth and consumption took a hit as lower-income families were severely affected by the global phenomenon. The Tourism sector completely crumbled due to international travel restrictions. So we can easily say that the time of the worldwide pandemic hit the economy of the Philippines hard.
Fortunately, since people were confined within their homes due to restrictions and COVID-19, more and more people sought to meet their daily needs through online stores. The e-commerce market went strong even in a weak economy as people were forced to study and work from home and had to deliver their products to their doorstep.

Thankfully, in the year 2021, the growth rate of the Philippine economy was 5.7%, which was more than the government predicted 5-5.5% growth. We can say that the country is getting back on its feet in terms of the economy, and many international companies are looking to get into the Philippines' promising economy. If you want to expand your customer base and be a part of this flourishing economy, you should contact locals who can help grow your business in the country.
Market Entry and Getting Help
Getting entry into any new market can be pretty hard, especially in another country. The Philippines is one of the developing countries in the world and has its problems regarding the government, law, and judiciary system that sometimes negatively impacts new businesses seeking entry into the e-commerce market.
There are a lot of procedures to complete if you want to conduct business in the Philippines. These procedures take more than a month to complete and can be arduous. It is also important to remember that the country is currently struggling with corruption issues, which can pose a problem for a new business. There is also VAT or Value Added Tax of 12% applied on all sale of goods, including the import of goods, which can be a problem for smaller businesses.
The Philippine government has also implemented limited foreign ownership policies restricting foreign companies from owning certain businesses. You can find details about these restrictions in the Investment Climate Statement of the Philippines. There are also some professions where the government does not allow foreign participants.
Another problem you might face is a slow internet connection. Filipinos pay almost the same as Americans for the internet but have only a fraction of the speed. This can cause delays in an e-commerce business entirely depending on the internet. There are also some cybersecurity issues in the country that can be harmful.
But one of the main things you can do to get yourself out of this kerfuffle is to seek local help. These local business experts and partners know the Philippine economy inside out and can help you set up your business. Try to find trusted partners. The best way for you is to partner up with some reliable Filipino e-commerce platforms and sell your products to Filipino customers. They will have some registration fee and take a percentage of your sales.

Still, you can be relieved that your products will be in good hands and reach the customers on time, especially with platforms like Lazada, which offers fulfillment and shipment to their clients. And even though you cannot do anything about the subpar internet speed in the country, you can hire cybersecurity experts to ensure that your system is safe and the customer details are secure.
Trading Across Borders
No matter which country you want to expand into, especially in the Southeast Asian region, you will first encounter some common problems. In the Philippines, you will have to pay VAT, and you might also have to lower the prices of some products if you want to compete against existing businesses. It takes a long time for people to trust a new company when it just comes into play. You need to keep customer ratings at the top because even a handful of bad reviews can ruin your business's reputation in a new country.
If you partner with an e-commerce platform and sell your products there, you will still need inventory space, fulfillment, and shipment partners who can properly fulfill the orders and deliver the packages on time to your customers. Setting up a whole new supply chain in a new country is not cheap, and you might have to pay hefty bills to set up all the new pieces of equipment. You also have to hire competent workers to work in the regional centers. You will need to keep accurate records of everything in case of any emergency on foreign soil.
Thankfully, however, the situation in the country is developing. The Philippines is already out of the rut they entered during the pandemic, and their economy is improving rapidly. In a few years, e-commerce will probably be the most successful business channel in the country. Hopefully, the situation with the government restrictions and judiciary system will also improve with time.
But as far as customers are concerned, they can help you spread your business in the country. You have to ensure that your products and services make the customers happy. Faster delivery, undamaged products, and good return policies are some of the services you can improve upon to make your customers happy. You can also overcome the cultural issue over time by hiring more locals and giving a homely feel to your business. Customers are the number one priority in any e-commerce business, and they are the ones that need to be happy with your products in order for your business to succeed in any country.
Variable Weather
The Asia-Pacific region is known for its unpredictable and volatile weather. This can cause a lot of problems, especially during shipment. Sometimes, international flights are delayed or canceled due to bad weather. Even the ports can be out of service if there are storms. Even heavy rain can cause problems while delivering products to customers.
This is not something you can do anything about since nobody can control the weather. But you can offer your customers extra discounts and deals to keep them interested in your business if you fail to make the delivery on time. You can also extend the delivery time by a day or two if you think it can be delayed by bad weather.
Experience fulfillment by Locad today!
Transportation
Transportation may pose a challenge if you try to extend your business into the Philippines. As a developing country in Southeast Asia, the Philippines does not enjoy some of the amenities readily available in developed countries. This lack of infrastructural development can pose an issue in the path of business. Especially while dealing with slow internet and transportation. The slow internet can reduce the speed of your operations and cause long-term problems. On the other hand, transportation can become an imminent problem very quickly as the shipment is vital to any business.
The Philippines, like most Southeast Asian countries, has a large population. This means that many areas are extremely congested and can pose a problem during shipment and delivery. If your products are shipped from another country, then the overcrowded nature of the country's international airports can also prove to be a problem for your business.

You will have to devise creative solutions to deal with these problems. It is essential to understand that these problems are long-term, so you will have to find a way around and continue your business. Hopefully, with the pandemic receding, the country will quickly get back on its feet, and the overcrowding problem will slowly subside as well.
In the meantime, you can hire trustworthy shipping partners who will make sure to deliver your products to customers on time. They can cost a little more to begin with, but it is all an investment. Your ultimate business costs will be less if you deal with fewer returns and customer complaints.
How Locad Can Help You Start Your E-Commerce Business in the Philippines
Locad is an international shipping engine that can help you get your e-commerce business started in the Philippines. The Locad shipping engine can ship your products across the Asia-Pacific region and globally so that you can reach more customers quickly. You can partner with reputed shipping carriers who can ship your products locally or globally as per your demands. The Locad shipping engine also has much cheaper rates than the standard shipping methods, reducing your shipping costs by up to 50%. You can also avoid the hassle of booking different careers through different platforms. With the help of Locad, you can book all the trusted carriers via one platform- the Locad shipping engine.
Conclusion
Now that we have discussed some of the problems you can face while setting up a new e-commerce business in the Philippines, let us talk about the pros of doing so. The economy of this country is on the rise and offers a promising future to any business trying to expand themselves into the country. E-commerce has a bright future in the Philippines, and you will also be wise to invest in it. Many larger companies are getting their hands in the e-commerce market of the Philippines, and it is also time for you to try.