According to a Forbes article, it costs five times more to acquire new customers than it does to retain the current ones. And in another article, they state that existing customers are 50% more likely to try new products from your business and spend 31% more than your new customers might.
Customer loyalty thus becomes an important aspect of the e-commerce business operation. YOu can encourage your customers to return and do more business with you through a customer loyalty program.
In this guide, we go through the concept of customer loyalty and its benefits. Furthermore, we will look into customer loyalty programs, their types, and some examples.
What is customer loyalty?
First things first, let us define customer loyalty. Customer loyalty is a customer's eagerness to return to shop from your business, repeatedly. This happens when the customer has a delightful experience with a brand.
You should promote customer loyalty because they can help in the growth of your business faster than your marketing and sales team. There are other benefits to ensuring customer loyalty.
The Benefits of Customer Loyalty in e-commerce
Not only is customer loyalty important to generate sales and because the effort to retain a customer is less than acquiring a new one, according to Paul Farris (author of "Marketing Metrics"), a repeat customer has a 60-70% chance of converting. Moreover, new customers are harder to convince and convert as they have little to no experience with your brand.
To make new, potential customers aware of your business and brand, you will need to strategize and spend money on their journey through the sales funnel for them to finally purchase your product. But your existing customers, who've already purchased from your brand and are aware of your business, will want to purchase from you. Thus, more revisiting customers means less time and money you'll have to spend on conversion tactics.
Additionally, customer loyalty has one more benefit beyond the advantage of repeat business; loyal customers will spend more with your business and will also tell their connections about your business, thus encouraging word-of-mouth marketing. And since their word-of-mouth becomes a trustworthy review, their connections are also likely to purchase from your brand.
Thus, customer loyalty is vital to any business.
Now, if you are looking to make more profits for your e-commerce business, then you should consider drafting and implementing an e-commerce customer loyalty program.
What is a customer loyalty program you may wonder; it is a marketing strategy that is developed by e-commerce businesses to reward their customers. Often memberships are required and they can be either paid or free. And once customers join as members, they are provided with special discounts and rewards for being loyal customers, buying products, and engaging with the business.
These loyalty programs are tried and tested as a marketing strategy and the results are positive. They ensure:
An increase in the customer lifetime value and repeat purchases
Word-of-mouth advertising
A boost in revenue
Differentiation of the brand from its competitors
Customer loyalty
Customer Appreciation
Improved customer retention
A good customer loyalty program encourages and rewards repeat businesses. And it is exclusive to a brand- you can offer discounts, points, free shipping, and special deals for members only to keep your customers excited about your brand and the products.
Why should you implement an e-commerce loyalty program?
As mentioned above, loyalty programs are a powerful marketing strategy. And according to Bolt, 83% of online shoppers are a part of at least one loyalty program.
Let's look into why should you implement a loyalty program for your e-commerce business.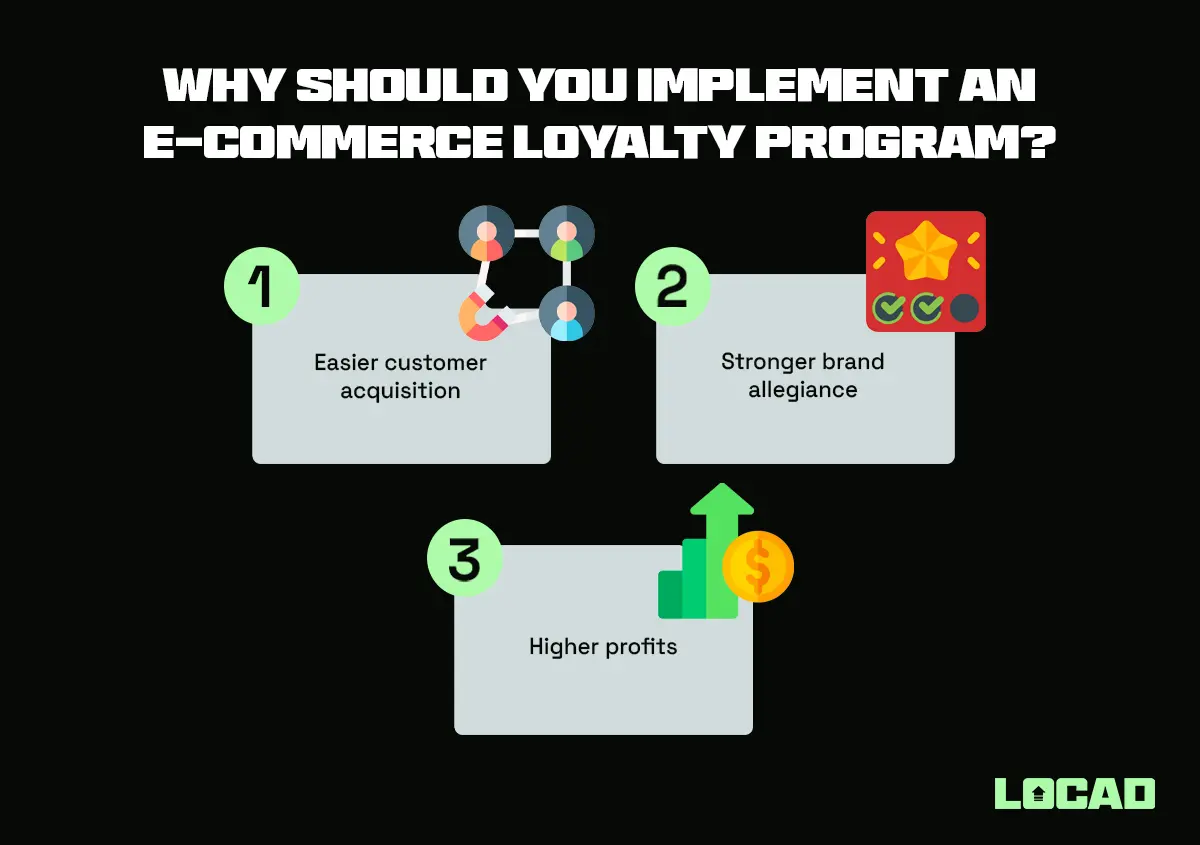 Easier customer acquisition
Merchants invite the customers to join their loyalty programs by providing irresistible incentives. For instance, the customer may get free shipping on the current purchase or a cashback reward for spending a specific amount or more in a timeframe.
These offers can help customers commit to a purchase as they will push them over the fence of indecisiveness. Such offers encourage the customers to complete their purchases and sign up for the loyalty program.
Stronger brand allegiance
A customer loyalty program ensures reciprocity in your relationships with your customers. Your program and subsequent rewards offer your customers a special and delightful experience and in turn, they reward you with their loyalty.
It is vital to have a customer base that is so fiercely loyal that they'd never consider purchasing from another merchant. They'd trust your store and your products and would come to your if they need anything to purchase.
But this doesn't happen on its own, you need to cultivate such a strong brand allegiance through a customer loyalty program.
Higher profits
The above-mentioned statistics from Forbes and Bolt highlight Consider why loyal customers buy and spend more with your business than an average customer.
And your e-commerce customer loyalty program is only going to help you boost the positive results- increase conversion rates, drive sales and boost revenue. By ensuring customer loyalty, you are boosting the frequency of purchases, thus raising the value of each purchase.
What types of e-commerce loyalty programs are there?
There are four types of customer loyalty programs that work for e-commerce businesses:
Points programs
Paid programs
Tiered loyalty programs
Universal loyalty programs
Points programs
Points programs are essentially a points-based reward system where a customer upon purchasing anything from a business receives a point. And Starbucks is an epitome of this type. They reward customers with stars upon purchasing their order using their app.
And as soon as customers accumulate stars, they reach different tiers and can redeem valuable items. For instance, the first tier allows you to exchange your stars, and cash them in for a drip coffee. The second tier will get the customer a vanilla latte, etc.
How did Starbucks perfect its rewards program? Firstly, they let the member pay and redeem via their app, thus banking on convenience. And this is backed by a study by Loyalty Lion, where it is highlighted that 57% of customers would interact with loyalty programs through their mobile devices. Furthermore, Starbuck makes the rewards system and their relationship with the customer a bit more personalized. For example, they offer free drinks to members on their birthdays.
This points program is a game where the customer levels up by completing tasks to get those rewarding points. For instance, these days points are given for sharing or following on social media, subscribing to the business' newsletter, etc. This encourages the repetitive behavior of the customer to help them earn points.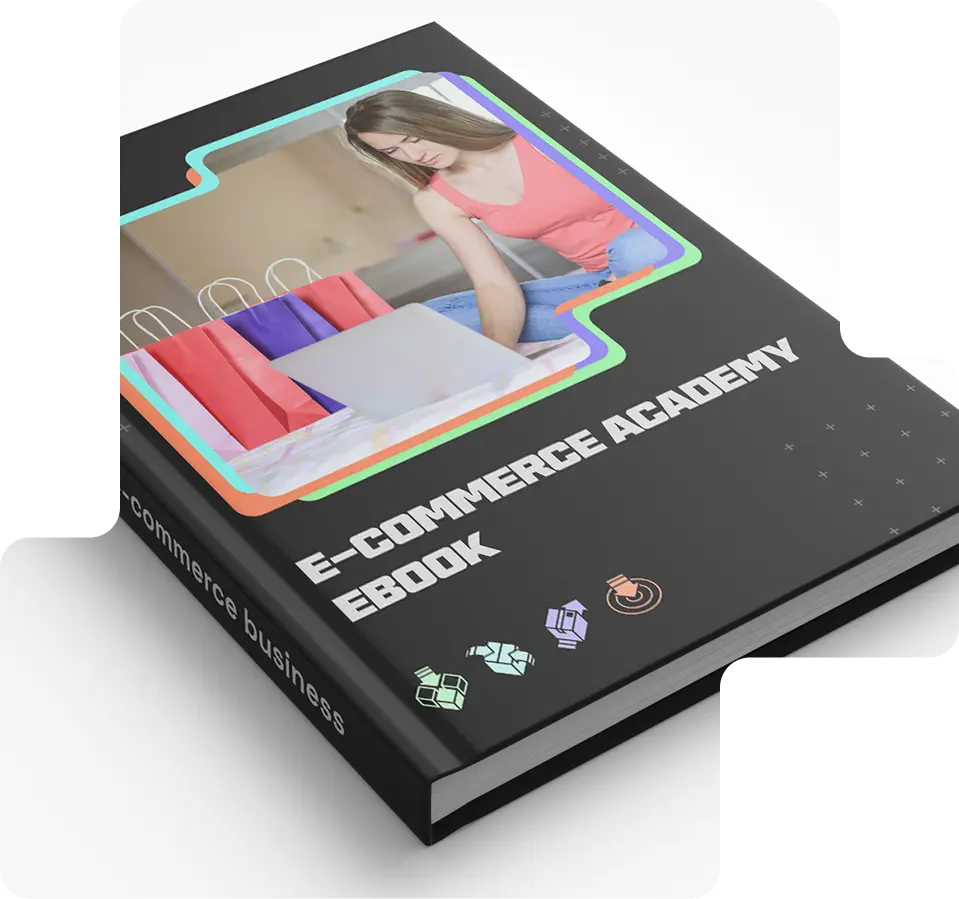 In a hurry? Don't worry, we got you covered. Download the ebook version of this page and read it anytime!
Paid programs
Paid programs can be accessed by customers if they pay for a membership. Here, customers would generally pay a yearly fee to get exclusive member privileges.
Barnes & Noble has perfected this type of program. To avail of privileges, the customers of this famous bookstore franchise should pay an annual fee of $25 to become VIP members. Since the brand is recognizable and preferred by many, its program is highly effective and has an interesting customer base. And the paid program provides these customers with exclusive benefits. Here, Barnes & Noble offers:
40% off hardcover bestsellers in store
Special birthday offers
Early access and discount
Free shipping
Tiered loyalty programs
A tiered loyalty program provides your customer the chance to progressively reach higher levels and at each level, the benefits and privileges get better.
An example of this kind of program would be the loyalty program offered by Sephora. In the US alone, they have over 17 million members, and the loyalty program is responsible for 80% of their overall sales.
What makes this work so well is the customer-centric approach that Sephora takes- it encourages engagement and loyalty. And by having tiered levels of members, where unique perks and benefits are attached to each tier, has the members aspiring for something. And according to Loyalty Lion, 74% of Sephora's customers are motivated to be loyal because they feel that they're working toward a great reward.
Furthermore, in addition to gifts, Sephora also holds member-only events in which the customers can make the most of exclusive discounts across the site and this happens a couple of times per year. This incentivizes shoppers to spend more throughout the year to reach a higher tier and be rewarded by getting a larger discount for future beauty hauls.
Universal loyalty programs
A new take on the standard loyalty program is the Universal loyalty program. And they often traditional perks such as:
Members-only discounts
Free shipping
Discounts for every order
And a great example of this type of loyalty program is Amazon Prime. With free two-day shipping and discounts for all purchases under the loyal program, it has increased the customer's standards for a loyalty program benefits and perks for every order.
For an annual fee, Amazon Prime members get efficient and reliable offers on every product imaginable. This incentive itself is enough for customers to sign-up as members.
Effective e-commerce customer loyalty strategies
Listed below are some effective strategies for e-commerce customer loyalty programs:
Prioritize customer service
You should invest in customer service and prioritize providing satisfactory (or even delightful) customer experiences.
Never underestimate the power of customer engagement and interaction with your business. Help Scout research suggests that more than 50% of customers state that they will not do business with a merchant after a singular bad experience.
It may be difficult to completely eradicate negative customer experiences and encounters. However, you prioritizing customer service as a point of intervention can help fix issues that may have arisen due to customer dissatisfaction.
Offer personalized content and product recommendations
When you offer personalized experiences, you show your customers that your brand is relevant to them. Thus, it makes people want to pay more attention to those brands that provide them with personalized content and products.
A study by Oracle highlights how customers are willing to pay a premium if the brand provided them with personalized services and more than 50% of customers are willing to give personal information, such as names and email ids, in exchange for personalized content.
Thus, strategize a way to offer product recommendations based on the information you gather about your customer such as their preferences, their previous orders, etc. Utilize this information to offer them content and free resources (like videos and blogs) to show that you prioritize them.
Provide exclusive perks like discounts and free shipping
By providing your customers exclusive perks like discount codes and free shipping vouchers, you can encourage the customers to return and purchase from you over and over again. This increased your average order value.
But do not give away these perks on a whim, have a strategy for it. Your customers should feel excited about the perks and should engage with your business in some way to be rewarded with those perks. If you get them the perks regularly then it will no longer be an element of surprise or will no longer have that anticipatory effect. To counter these, you can provide your customers with such perks a few times a year.
Give them exclusive looks into your business
Give an exclusive sneak-peak into your business as people enjoy knowing the brand beyond their products and services. You can show off different sides of your e-commerce business and brand in a way that highlights that you aren't only chasing sales and profits.
Here, come up with a great content marketing strategy and give value to your customer- you can showcase the day-to-day operations of your business, the people that ensure smooth operations, and educational content regarding your business/industry.
Develop an irresistible customer loyalty program
You can strategize and develop an irresistible customer loyalty program to kickstart customer loyalty. This will encourage new customers to visit your store again now that you have introduced them to a perk or reward they can work towards.
For instance, you can implement a point-based reward system where your customer can earn some points from each purchase that they use later.
Set up a retargeting ad campaign
By setting up a retargeting ad campaign you can simply nudge those customers, who browse through your site and spend time looking at a few products, on social media and other platforms.
This nudge will simply help check on those who have not checked out their items from your store or were simply procrastinating on them.
Through this method of advertisement, you provide personalized content and campaign because you know through their activity on your site that they are interested in your products.
Follow them up with abandoned cart emails
Current reports estimate that the average cart abandonment rate for e-commerce stores is up to 79%.
While there can be several reasons why a user chooses to abandon a cart — from losing interest in the products or even simply forgetting to check out — it doesn't hurt to remind them of what they'd been about the purchase.
A gentle reminder email can be a great way to show customers that you don't want them to miss out on a great product they were thinking of purchasing.
Offer multiple channels for communication
When you provide your customers with different options to get in touch with your business, you make it easier for them to send queries or feedback. And by making a point to be available via email, phone, social media, or live chat customer service, you give them exceptional customer service and it will increase customer loyalty.
6 e-commerce Customer Loyalty Metrics To Track
Here are 6 essential e-commerce customer loyalty metrics you need to track:
Repeat Customer Rate
Repeat customer rate is a simple metric that represents the number of repeat customers divided by your total customer count.
For retailers that experience a high purchase frequency for instance ones that sell clothes or food, the repeat rate accounts for ⅓, ¼, or even ⅕ of purchases over time.
Although repeat purchases will not always reflect customer loyalty, loyalty can grow over time as customers continue to return. And one of the easiest ways you can improve this rate is by implementing a customer loyalty program.
Customer Retention Rate
Customer retention rate tracks how long a customer remains as your customer. And with a successful loyalty program, the rate should increase over time. According to The Loyalty Effect, at least a 5% increase in customer retention can turn over a 25%-100% increase in profits for your business.
Ecommerce Churn Rate
The e-commerce churn rate is a metric that tracks when customers move on from your company and negative churn, therefore, measures the customer doing the opposite like upgrading their plans or purchasing additional services.
It is an important metric to track if you have a loyalty program, especially of the tiered loyalty program kind.
Customer Lifetime Value (CLV)
The customer lifetime value is a crucial metric to track as it presents the value of a long-term customer-business relationship. It is tied directly to the business's bottom line thus making CLV an important metric for markets and customer service teams as it will aid them in quantifying the value of the organization's efforts towards customer experience.
Net Promoter Score
Net promoter score is used across various businesses to indicate to the marketing and customer service teams about their performance on strategy, customer service, and satisfaction. One of its key characteristics is that more people know that having a good net promoter score is based on having your customers answer simple questions like "how likely are you to recommend our brand to your connections" and track their responses to understand if they are likely to be loyal towards your business.
Loyalty Program Metrics
Loyalty program metrics can help in rewarding your customers in the best way possible because when you track these metrics you are understanding the effectiveness and the strength of your loyalty program and check how many people are using it. This will help you improve your loyalty program.
These are the following loyalty program metrics you should be tracking:
This represents the number of customers who have signed up for your loyalty program, against the total number of customers.
This rate is measured by the number of redeemed rewards divided by the total number of rewards issued. It measures the success rate of the rewards program.
This measures the total actively participating customers in the loyalty program, against all the customers. 
Tools to help drive Customer Loyalty
Customer loyalty involves a combination of tools and a customer-centric approach. Choose the tools that align with your e-commerce business's needs and objectives, and consistently engage and delight your customers to build lasting loyalty.
Loyalty and Rewards Programs:
Smile.io: Create a customizable loyalty program with points, referrals, and VIP tiers.
LoyaltyLion: Build engaging loyalty programs with personalized rewards and customer insights.
Yotpo: Loyalty & Referrals: Combine loyalty programs with user-generated content and referral campaigns.
Customer Support and Feedback:
Zendesk: Provide seamless customer support through various channels like chat, email, and social media.
HelpScout: Deliver personalized customer experiences and gather feedback to improve services.
Email Marketing and Automation:
Klaviyo: Send targeted emails, automate campaigns, and segment customers based on behavior.
Mailchimp: Create personalized email marketing campaigns and analyze customer engagement.
CRM and Customer Data Management:
HubSpot: Manage customer interactions, track sales, and build personalized experiences.
Zoho CRM: Organize customer data and automate sales and marketing processes.
Customer Feedback and Surveys:
SurveyMonkey: Gather customer feedback through surveys to identify areas for improvement.
Typeform: Create interactive and engaging surveys to collect valuable insights.
Referral Marketing:
ReferralCandy: Create automated referral programs to encourage customers to refer others.
Mention Me: Run refer-a-friend campaigns to drive new customers and reward advocates.
Conclusion
Ensuring customer loyalty will boost your e-commerce success and the longevity of your business by increasing the conversion rates and sales, and generating revenue.
And one of the best ways to build customer loyalty is by developing and implementing a customer loyalty program. It will show your efforts to show your customers that you do indeed put them first and in turn, they will show their loyalty to you among all the competitors in the market. It will drive traffic, have a returning customer base, drive conversion, and will decrease the chances of cart abandonments.
We hope that this guide has helped you learn about the basics of customer loyalty and customer loyalty programs. With this ultimate guide, boost your e-commerce business and take it to the next level, with a trail of happy customers following you.