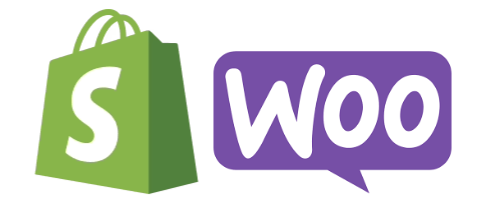 When it comes to building an online store, you have a lot of options. There are plenty of e-commerce platforms out there, and each has its strengths and weaknesses.
But with all of the choices, how do you know which e-commerce platform is right for you?
In this article, we'll look at two popular e-commerce platforms: WooCommerce and Shopify. We'll compare their features, costs, scalability, performance, and much more to help you choose the best option to host your online store.
But first, here's an overview of WooCommerce vs. Shopify
WooCommerce vs. Shopify: An Overview
It is a common practice for e-commerce businesses to use either WooCommerce or Shopify in their online stores. There are many reasons why this is done, but most of them have to do with the fact that both platforms offer a wide range of features that can be useful for different types of businesses.
WooCommerce
According to statistics, WooCommerce is the most used module on the internet, accounting for 29% of all online shops with a 67% usage distribution rate. WooCommerce is presently utilized by 3,317,205 active websites.
It works out of the box with no setup fees and can be used by anyone who wants to start an online store. You can also use any theme or plugin in WordPress' repository or hire a developer to build one specifically for your store.
| | |
| --- | --- |
| Pros | Cons |
| Hundreds of themes and plugins to pick from. | Knowledge of online development is required. |
| Highly adaptable | Plugins and hosting are required and can be costly. |
| Better SEO performance than Shopify. | Routine maintenance is required. |
Shopify
Shopify is used by about 427,676 websites, while Shopify Plus is used by over 5,300 enterprises. Shopify serves 600,000 businesses in 175 countries, according to recent data.
Shopify is a hosted e-commerce platform that offers free and paid plans depending on your needs. It has more than 500 features and integrations, including payment gateways, shipping options, and marketing tools.
There are no upfront fees or long-term contracts required. Plus, they offer 24/7 support along with various integrations (including Google Analytics).
| | |
| --- | --- |
| Pros | Cons |
| Customer and sales support are available 24 hours a day, seven days a week. | Shopify charges a percentage commission for all transactions made on your site. |
| Many apps can be automatically integrated. | Higher initial costs. |
| Comes with excellent hosting software. | SEO rankings are inferior by comparison. |
Great! Now that we've seen an overview of WooCommerce vs. Shopify, let's get into how you can choose an e-commerce platform that's right for you!
How to Choose an E-commerce Platform?
Choosing a platform for your e-commerce store can be a difficult process. There are many platforms to choose from, each with its strengths and weaknesses.
But don't worry! We're here to discuss the key steps to finding the right e-commerce platform for you.
We'll also touch on some of the most important factors when choosing an e-commerce platform – including marketing elements, extensions, user-friendliness, shipping methods, and more!
1. Marketing Elements
E-commerce platforms like Shopify and WooCommerce also offer a variety of marketing elements you can use to help your store stand out from the competition and improve your customer experience. You can use these features to build trust with customers, increase sales, and get more visibility for your store.
Shopify allows you to sell across several channels. Just some of these sales channels include Facebook, Amazon, eBay, and Pinterest.
For $79, you can connect your WooCommerce store to Amazon, eBay, and Instagram, but you can also advertise on Facebook for free.
2. Extensions
One of the biggest differences between Shopify and WooCommerce is the number of extensions.
Shopify has a huge selection of extensions (or apps), which allows you to customize your store.
However, while WooCommerce only has a small fraction of the apps that Shopify has, it does have more than enough for most businesses.
Alt text – Shopify App Store
One thing to keep in mind when choosing an e-commerce platform is that both platforms are constantly adding new extensions and apps.
3. User-Friendliness
When it comes to choosing an e-commerce platform, before you think about how you can get sales on shopify or woocomerce, you need to consider user-friendliness which is one of the most important success factors. It's always better to have a more intuitive interface that makes your life easier as a store owner.
You must be free to customize your store and make it yours. You should be able to choose from various templates, themes, and mobile apps — all with different functionality.
This means that it should be easy for you to manage all aspects of your business and make changes at any time – from creating new products and managing inventory and reports to adding extensions and plugins, accepting payments, and much more!
4. Shipping Methods
You want your customers to be able to order from you wherever they are, so you must offer a wide range of shipping options.
Some platforms will include this as part of their package, while others platforms have add-ons that make shipping possible. If you need help configuring shipping settings on your website, talk with the platform provider before signing up.
Both Shopify and WooCommerce allow you to provide free shipping and sell abroad. However, Shopify goes above and beyond by working with DHL, LBC,J&T, Lalamove, Entrego, XDE, Ninjavan and more. This saves you the time and trouble of choosing your carrier.
5. Customer Service
It doesn't matter how great your product is if none of your customers can buy it!
In case of hiccups, you need an e-commerce platform that offers 24/7 support when something goes wrong with payments or orders to come through incorrectly.
For this reason, you need an e-commerce platform with knowledgeable customer service representatives who can answer any question about their eCommerce software – whether technical or otherwise – effectively and efficiently.
6. Store Design
The platform you choose will be your store's foundation and help determine how you present your products to customers.
If it looks like a professional store, it will be easier for shoppers to trust that they're purchasing an established brand.
To ensure that your site looks great, find out if any templates or themes are available for customization. Some platforms offer thousands of options – so many that it can be overwhelming!
As you consider which platform to use, think about the following:
How easy is it for you to learn?
How much does it cost? (Some platforms charge based on the number of products you add or how often you update them.)
Can customers purchase directly from your site, or do they have to go through a third party?
Remember: less is more when building a site that represents your brand well and sells products efficiently.
Now that we've covered how to choose an e-commerce platform for your business, let's compare WooCommerce with Shopify!
WooCommerce vs. Shopify: Comparison
In this section, we'll compare their features, costs, scalability, and performance to help you choose the best option for your business.
1. Costs
Shopify costs $29/month for the Shopify Basic plan and $79/month for the Shopify Advanced plan (which includes things like abandoned cart recovery emails). The Shopify Plus plans start at $2000/month, which includes a dedicated sales rep, enterprise-level features, and 24/7 support.
WooCommerce is a free e-commerce platform with some paid extensions available.
Both platforms offer various pricing plans depending on the features and services. If you want to try before you buy, Shopify has a 14-day free trial that allows you to test your store before committing to it.
2. Payment Options
The first thing to know about the payment options for WooCommerce and Shopify is that they're both excellent. Both platforms also offer a variety of payment processors so that you can accept payments from customers worldwide.
They're so similar that it's hard to say which platform has the upper hand here. Both platforms offer a variety of reliable payment gateways, meaning you can accept payments from Visa, MasterCard, American Express, and other major credit cards.
They even accept all debit cards from major banks, PayPal (the most popular online payment system in the world), Stripe, Braintree, Authorize.net, Dwolla, and Bank transfer.
3. Dropshipping
Both WooCommerce and Shopify can be used to dropship.
However, there is a dedicated dropshipping app to help you on Shopify that lets you connect with multiple drop shippers and create your catalog of products.
You'll also have access to a wide variety of pre-made templates (including ones designed specifically for dropshipping), which is another advantage over WooCommerce.
This makes sense for drop shippers if you intend to use Shopify over WooCommerce for this reason alone.
4. Ease of Use and Design
WooCommerce and Shopify have similar options and features, which makes them great for e-commerce businesses that want to make their customizations or integrations.
The learning curve for both platforms isn't steep, but if you're looking for something simple, then Shopify might be better suited to your needs.
It's also helpful if you have no coding experience since it requires less technical knowledge than WooCommerce.
WooCommerce is a more complex platform, so it's not as simple. It requires more technical knowledge and isn't as intuitive. The learning curve is steeper than Shopify and has fewer pre-built features that could make it easier for you to set up your store quickly.
5. Scalability and Performance
When it comes to scalability and performance, WooCommerce is a free, open-source platform. Shopify is a paid platform that offers more features than WooCommerce.
WooCommerce has more customization options than Shopify and can be installed on any hosting service, while Shopify requires you to use their servers. However, Shopify is easier to use than WooCommerce because it has built-in features such as product pages and payment gateways (PayPal or Stripe).
6. Support
While both platforms offer email tickets and docs as options for getting help from their customer success teams, many small businesses find these channels lacking in responsiveness and knowledgeability compared to live chat or phone calls.
Shopify offers 24/7 live chat and phone support by default with their basic plan – something that isn't included in WooCommerce's plans at all (but can be added on).
Marketing Tools To Help Your E-Commerce Store Stand Out
As an e-commerce business owner, you need the right marketing tools to reach your target audience, promote your products, and drive sales. Here is a list of some of the best marketing tools for e-commerce businesses in 2023, along with how they can benefit you:
By using these marketing tools, e-commerce business owners can improve their marketing campaigns, reach more customers, and increase sales.
Conclusion
As you can see, there are many things to consider when choosing an eCommerce platform. It's essential to pick a system that will give your company the tools it needs to grow and succeed in today's competitive marketplace.
It all depends on what your e-commerce goals, and whether or not you need specific features like dropshipping.
In general, if you're in the early stages of building an online store that requires minimal customization but needs to be functional immediately, then WooCommerce would probably be a better option than Shopify.
If you want more flexibility with pricing options like subscriptions or variable products, we recommend going with Shopify instead!
About the author
Preethy Ann Kochummen is a digital strategist and marketer, mother, public speaker and mentor. A diverse career journey of 20+ years, rich in learning, has kept Preethy Ann motivated and hungry. She is always interested in meeting new challenges with wisdom and positivity. In her current role, she is scaling marketing to drive and grow the business on par with the best examples. She has diverse interests and it keeps her inspired and raring to go – from theatre to personal finance, content strategy to martech, digital marketing to artificial intelligence and so on.