Reading Time:
6
minutes
For many companies across the globe, the functions of warehousing have become critical when it comes to logistics and the whole supply chain.
Warehousing is often defined as the storing, handling, managing, processing, and distribution of goods in a facility or a warehouse.
Warehousing plays a key role in logistics which involves the management of goods from point of origin to the consumer; and the supply chain, defined as the whole network or the interactions between a company and suppliers to produce and distribute a specific product.
We often think of a warehouse as a facility for the storage of goods, but today, warehouses perform many different functions.
A warehouse is often defined based on its function. Different types of warehouses might also have overlapping functions. For instance, a public warehousing facility might also serve as a storage warehousing location. Some warehouses can have a wide range of functions, while others are designed for a specific task.
In this article, we take a look at 7 key functions and types of warehousing.
7 Types of Warehousing and Their Key Functions
1. Public Warehousing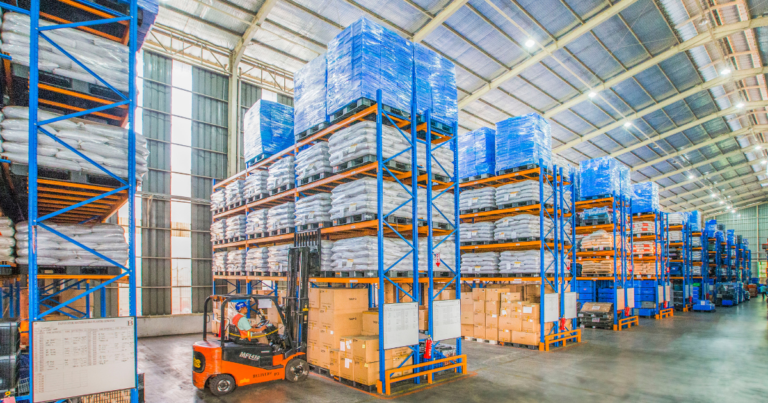 In public warehousing, the warehouses can be owned by the government or non-government agencies. These facilities are often rented out and used for storing goods.
Small businesses and start-ups can rent out a public warehouse. In most cases, public warehouses are used when a small business has an overflow of inventory that needs to be stored somewhere outside the business premises. For a small business, public warehouses are an excellent option, because they are not very expensive and are easily accessible. Aside from storage, public warehousing also offers protection for the stored goods.
In some cases, small storage units (which can also be considered public warehouses) are rented out by individuals to store their personal belongings.
2. Private Warehousing
In private warehousing, warehouses are often owned by large retail businesses, wholesalers, manufacturing firms, and large distributors. Logistics companies and online sellers, particularly the big ones, often have their privately-owned warehouses used for the storage of inventory.
Private warehousing is also defined as "proprietary warehousing." In most cases, private warehouses have the latest warehousing technologies because big companies often invest substantially to make sure that the private warehouse is consistent with their specifications.
Private warehousing is also seen as a long-term investment for large companies, and in most cases, the investment pays off in the long run. Maintaining private warehouses also allow companies to have a physical presence in an important market or region.
3. Storage Warehousing
As mentioned, this type of warehousing is perhaps the most common, when it comes to function. The storage warehouse serves primarily to keep goods and products. Most often, these goods and products need to be stored for a period of time. Companies often used storage facilities for goods and products that are not needed immediately. Aside from goods and products, storage warehouses are also used to store unused company equipment.
4. Climate Controlled or Cold Warehousing
The climate-controlled warehouse serves a very specific function. It can be used to store goods and products that require a specific temperature range. These goods and products are most often perishables such as fresh fruits, flowers, vegetables, and meats, among many others.
Climate-controlled warehousing also has the necessary technology to control humidity. The climate-controlled warehouse can also provide sub-zero storage for frozen goods.
5. Government Warehousing
Government warehousing involves the deposit or temporary storage of imported goods. These goods are often subject to government taxes or duties that are strictly implemented by the government. Government warehousing also involves the inspection and assessment of imported goods by government inspectors.
In many countries, government warehouses are also used to store seized smuggled goods, or goods that have been misdeclared.
In the Philippines, we can think of the warehouses used by the Bureau of Customs as government warehouses. However, government warehouses can also be used by private entities, provided these entities secure the necessary government license or permit.
Government warehousing thus plays a major role in inter-country trade or inter-regional (or cross-border) commerce, making sure of the smooth flow of goods.
6. Distribution Warehousing or Distribution Centers
Another type of warehousing is distribution warehousing or warehouses that are often used for the distribution of goods and products. These facilities often use huge floor space, and are designed to accommodate huge quantities of goods that are considered "fast-moving."
Distribution warehousing also means large quantities of goods from multiple suppliers and distributors are quickly processed for fast transfer to customers. This type of warehousing makes sure that logistics companies can store and distribute large quantities of goods in the shortest possible time.
Like climate-controlled warehousing, distribution warehousing often employs the latest technologies such as robotics, and computer-based control systems, among others. Distribution warehouses are also found near transportation hubs or ports, to further facilitate the movement of goods.
7. Consolidated or Coop Warehousing
Some warehouses gather or "consolidate" different goods and products from different sources or companies, and process these goods and products for distribution. These consolidated or cooperative warehouses function very much like distribution warehouses, but with a very distinct difference: the consolidated goods and products are often bound for a single location or destination. Consolidated warehouses can accommodate both large companies and smaller businesses.
One key advantage of this type of warehousing is that it is inexpensive, particularly for small companies or startups.
A cooperative warehouse meanwhile is owned by a specific group or an organization. Cooperative warehousing serves the need of the members of the specific group or cooperative. For example, a group of wine-makers can use the cooperative as a way to store their produce, along with other members. Like the consolidated warehouse, cooperative warehouses also offer substantially lower costs for members.
In essence, consolidated and cooperative warehouses make it easier for small companies or small groups to participate in the supply chain.
Warehousing is important for a business to run smoothly and serves a key role in logistics and the supply chain.
Aside from the type of warehousing and key functions that we listed, it is worth noting that today's warehouses are getting "smarter."
Some even consider "smart warehousing" as a different type of warehousing altogether. The key feature of smart warehousing is that it uses automation on a much bigger scale than the usual automation found in today's warehouses. The smart warehouse emphasizes minimal manual supervision, in the hopes of lessening human errors.
Smart warehouses often offer automation from the sorting, branding, packaging, etc. of goods to the actual delivery to the customer. The latest in computer technology, such as artificial intelligence, is also used in the warehousing process.