LOCAD's end-to-end fulfillment solution enabled KJM Cosmetics to reach customers nationwide at low shipping rates which helped increase their conversion rates and direct-to-customer sales volume.
Key Metrics
100% increase in D2C sales volume since Locad
30% increase in conversion rate on Shopee with Locad
2x increase in conversion rate on Lazada with Locad
70% savings in shipping fees with Locad
About KJM Cosmetics
KJM COSMETICS® is a local indie beauty brand based in the Philippines that is widely known for developing high-quality beauty products that are affordable, approachable, and accessible. With beauty products made from top-tier and natural ingredients, KJM Cosmetics fulfills its advocacy of sustaining clean cosmetics.
"The story behind KJM starts with my sister's love for makeup," shared Janine, Director of IT Operations. She explained the origin story of their timeless best-seller CHEEK. LIP, which now comes in 10 shades. "Some time in 2015, she wanted to buy one of those cheek + lip tints from Korea but they were more on the expensive side since they were imported. So that's when she decided to create her own."
Established and built in 2015, KJMCOSMETICS® aims to make beauty feel effortless for everyone. "Our products are on the more affordable side, compared to other cosmetics brands," said Janine. Each and every product is conceptualized with an ardent love for makeup in mind, and a vision to highlight Pinay beauty by heart. Made to match every Pinay skin tone and skin concerns, KJM CHEEK. LIP. is the brand's breakthrough product that embodied the much-coveted "no make-up, make-up look" and is now well-loved and adored by every Filipina locally and across the globe.
The battle against expensive shipping fees
"Since we're based in Davao, shipping fees are a big problem for us considering most of our customers are from Luzon," Janine explained. The logistical challenges of shipping from Davao to cities in Luzon hindered their ability to provide better service to 80-85% of their customer base. "Before Locad, our conversation rate was really low – we would get a lot of visitors on our online stores and many would add to cart but they do not proceed to checkout because of the shipping fee."
Similar to the trend observed by KJM Cosmetics, a study conducted by Forbes reveals that limited and lackluster shipping options are the top reason consumers abandon their carts.
"When we were fulfilling orders from Davao, our customers were charged Php130 for shipping." With the brand's products ranging from Php129-Php333, the expensive shipping fees triggered their customers to second-guess pushing through with their order. This caused the brand to lose out on a lot of potential D2C conversions and in turn, they relied mostly on resellers and distributors—accounting for 70% of their sales before the pandemic.
Searching for the right fulfillment partner
"It was important to partner up with a fulfillment provider that allows us to manage and keep track of operations as convenient as possible," said Janine.
Being based in Davao, an area that's significantly far from where her customers are, the ability to easily and seamlessly monitor the status of their orders was crucial in their search for a fulfillment partner.
With expensive shipping fees being their brand's core problem in D2C conversions and sales, Janine was searching for a partner that could match their needs for affordable shipping. "We also looked for a fulfillment provider that is economical for our business," she said. "There were some providers that we just cannot afford and others that were [fairly priced] but lacked important features such as inventory management."
"Other providers do not have an all-in-one dashboard for managing inventory and fulfillment," she explained. And with the inclusion of the Locad Control Tower – an all-in-one integrated dashboard for real-time analytics – Janine and her team became more convinced that they had found the right fulfillment partner for them.
"Locad is flexible and we like that we can now manage all of our store operations in just a single dashboard," said Janine.
Optimizing nationwide fulfillment and distribution
Start date with Locad: 3/11/2021
Since working with Locad, Janine considers her problem with shipping fees solved as they moved a large majority of their stocks and inventories in a Locad warehouse in Metro Manila—where most of their customers are. "Once we partnered with Locad, customers can avail of shipping at only Php40 and we could also cut down on costs for internal manpower to handle fulfillment." Accessing preferential rates through fulfillment with Locad allowed Janine and her team to cut down shipping costs by 70%.
The Davao-based cosmetics brand benefited from being within a closer proximity to their customers in more ways than one. Not only were they able to lower their shipping fees but they were also able to provide faster shipping, which positively impacted the customer service they are able to offer to their target market. By optimizing the distributed fulfillment network that Locad had in place, KJM Cosmetics was able to make itself more accessible to a wider reach in Luzon, Philippines where their demand is the strongest.
Having found a solution that addresses the concerns of their online customers, KJM Cosmetics experienced a drastic change in the way they do business as they became more D2C-centric. The balance shifted as their sales became mostly fueled by direct-to-consumer purchases—a complete turnaround from before the pandemic.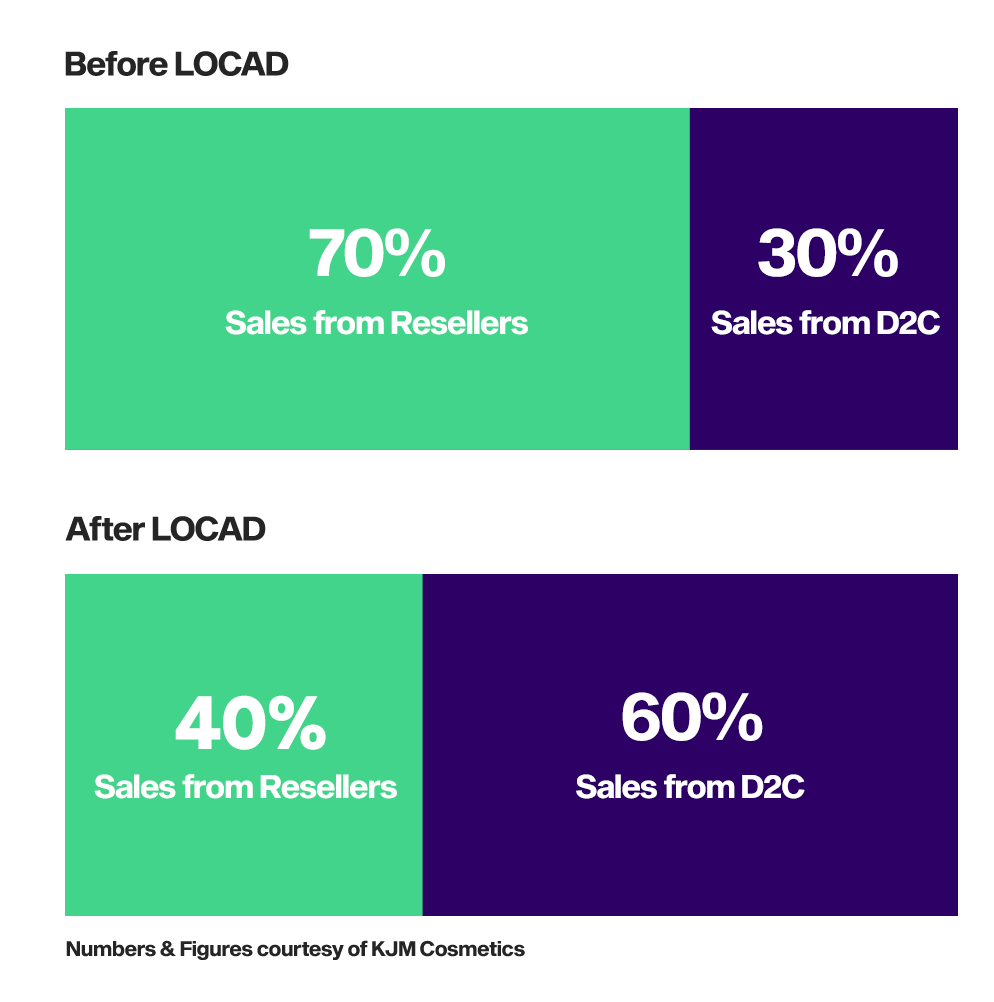 As a way to expand its e-commerce reach, the brand has also set up storefronts in popular marketplaces Shopee and Lazada. "Since we switched to Locad, our sales have increased and more importantly, so have our conversion rates even on both Shopee and Lazada," said Janine. On Lazada, she witnessed their conversion rate double while there was a 30% increase on Shopee due to the lower shipping fees and shorter delivery lead times.
Apart from the end-to-end fulfillment services, Locad also provides KJM Cosmetics with the advanced tools to track their logistics operations both on a macro and micro level. With the Locad Control Tower, Janine is also able to conveniently monitor and see an overview of their business across all storefronts. She shared that she finds the dashboard useful and user-friendly, especially when it comes to tracking their inventory levels.
"Since partnering with LOCAD, our business could focus less on the fulfillment process and more on other aspects. As a result, there is an increase in our sales and conversion rate right away," said Janine.
She also attributed this significant e-commerce growth to her dynamic relationship with LOCAD's Customer Success Managers Bertrand and Nina. "When we have concerns, [Bertrand and Nina] get it settled right away. They put in the extra mile to address our concerns and that has also helped us grow faster with Locad," Janine shared.
Experience fulfillment by Locad today!
Frequently Asked Questions
What are The Philippine's Double-Day Sales, and why are they significant for consumers?
The Philippine Double-Day Sales are highly anticipated shopping events, significant for consumers due to massive discounts and deals offered by retailers.
How do discounts and promotions influence consumer behavior during Double-Day Sales?
Discounts and promotions strongly influence consumer behavior during Double-Day Sales, often driving impulse purchases and increased shopping activity.
What are shoppers' most popular product categories during Double-Day Sales?
Shoppers during Double-Day Sales are drawn to various product categories, with electronics, fashion, and beauty products being the most popular.
How do consumers engage with brands and make purchase decisions during these sales events?
Consumers engage with brands through strategic marketing, social media, and email campaigns, impacting their purchase decisions during these sales events.
What challenges do e-commerce sellers face in meeting the demands of consumers during Double-Day Sales?
E-commerce sellers face increased demand, logistics issues, and fierce competition when meeting consumer demands during Double-Day Sales.