Reading Time:
4
minutes
Lazada – Southeast Asia's e-Commerce giant – has become a top marketplace, which is why many are looking for ways how to join the growing platform by fulfilling the Lazada seller requirements. From electronics and automotive accessories to groceries and home & living goods, its extensive range of product categories allowed anyone – able and willing – to become a seller and start selling anything under the sun.
What sets Lazada apart is its ability to provide sellers a seamless transaction by handling the nitty-gritty parts of a customer purchase such as shipping methods, payment portals, returns, and more. Through this all-in-one platform, sellers can stay focused on listing more products, growing their business, and providing great customer service.
To make the marketplace more user-friendly, Lazada made itself available on desktop and mobile, and tablet/iPad apps. Beyond its traditional marketplace, Lazada made LazMall – a sub-marketplace under Lazada for strictly authenticated products – an optional platform for sellers, businesses, and brands to use.
There are many benefits to becoming a Lazada Seller. Lazada's audience boasts 600 million people around Southeast Asia with over 41 million monthly visits–figures that continue to grow exponentially by the day. And the best part? Signing up to become a seller couldn't be easier. And you can do it on your own remotely–no need for any face-to-face appointments whatsoever. Here's an easy-to-follow guide to know the Lazada Seller requirements!
Steps to fulfill the Lazada Seller Requirements
Register for an account
First things first, you'll have to register for a seller account (separate from your own account that you use to buy on Lazada!) which you can do by clicking "Sell on Lazada" on the top-right header of the official Lazada website. This is where you choose between an individual seller account (for when you are running a small business on your own) and a corporate seller account (for when you have a registered business or company). After you make your selection, you can fill out the necessary account details and review the final contract.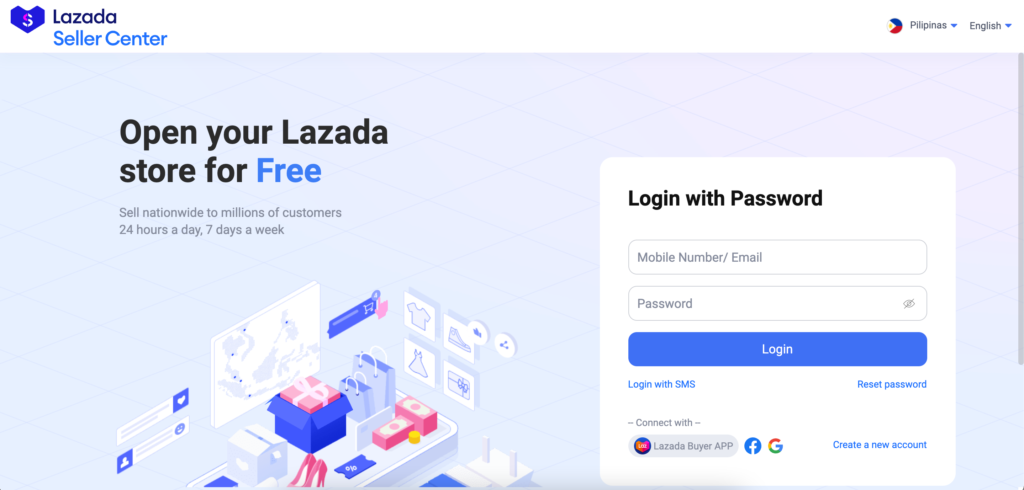 Make sure to fill out both details needed on the Seller Account and Business Information!
Verify your identity
In order to verify your official seller status and start listing products, individual sellers must upload a copy of a valid government-issued ID which may include TIN, Driver's License, SSS ID, or Passport.
Show valid bank information
To make sure you get your payouts as smoothly and easily as possible, fill out the Bank Account portion of your profile. Remember: your account name must match the name indicated on the government-issued ID! If the name appearing on the bank account differs from the ID uploaded, Lazada may withhold any payouts and request further verification.
Experience fulfillment by Locad today!
Attend online micro-seller training
To equip you with all the knowledge you need to keep your Lazada store running smoothly, Lazada invites every new seller to complete the pre-membership education (PMES) training which is usually scheduled on Tuesdays and Wednesdays. These educational sessions are part of the requirements of the Online Micro Sellers Marketing Cooperative and were designed to help you better manage your Lazada store!
If your schedule is tight and being a business owner is making you busier than expected, don't worry! You have one (1) year after signing up as a seller to finish this training!
Fill out the membership form and pay the fees!
Remember to complete the Online Micro Sellers Marketing Cooperative membership form within one (1) month of signing up as a seller! If you don't submit on time, Lazada will deactivate your store and your listings will no longer be publicly available.
The filled out membership form must be submitted together with the following requirements:
Proof of Filipino Citizenship (You can submit Valid ID with indicated citizenship, birth certificate, marriage certificate, baptismal certificate)
Individual tax identification number (TIN)
Personal photo (ID-type)
The membership fee and the initial capital share (part of your member ownership and capital contribution to the Cooperative) is only Php200 combined and it's automatically deducted from the first payout.
You're good to go – start listing your items and selling your products!
Now you're all set and fulfilled the Lazada seller requirements! You can go ahead and start listing your products on your store page, start promoting your products, and get ready to fulfill orders!