The Shopee 8.8 Sale, an eagerly anticipated annual event in the e-commerce industry, is a game-changing shopping extravaganza on the Shopee platform. In the third quarter of 2022 alone, over 2 billion orders were processed on the platform, with a significant number of them coming from the singles day sales. It offers an unprecedented opportunity for business owners to tap into a vast pool of online shoppers and boost sales.
This article explores the trends and shopper behaviour during the sale and presents key learnings, expert tips, and effective marketing tactics for Shopee sellers, all meticulously researched and concisely. Get ready to unlock the potential of the Shopee 8.8 Sale and take your business to new heights.
Understanding Shopee 8.8 Sale
Over the years, the Shopee 8.8 Sale has garnered immense popularity among consumers, becoming one of the most eagerly anticipated shopping events. It has substantially influenced the e-commerce landscape, setting new benchmarks for sales volumes, user engagement, and customer satisfaction.
The event's impact extends beyond the Shopee platform, as other e-commerce players have taken note of its success and introduced similar large-scale sales events. This includes platforms like Lazada.
Some of the key features and highlights of this sale include: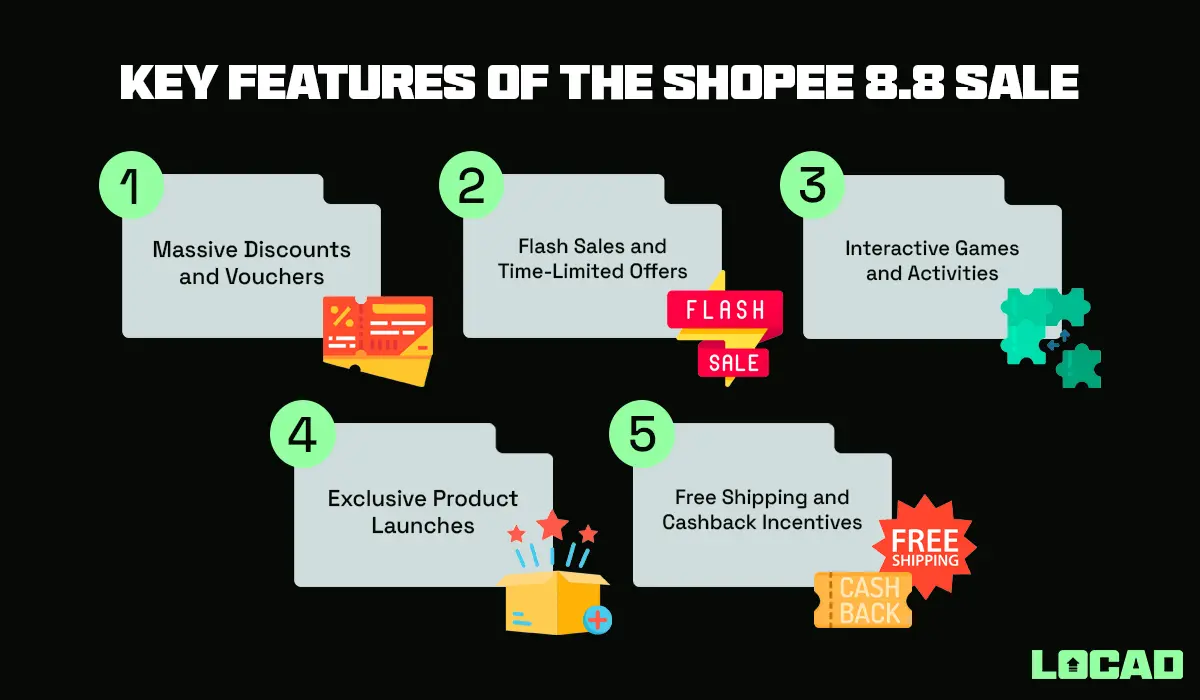 Massive Discounts and Vouchers: Shopee offers jaw-dropping discounts, special deals, and vouchers across various product categories during the sale, encouraging a surge in purchasing activity.
Flash Sales and Time-Limited Offers: Time-sensitive promotions, such as flash sales, create a sense of urgency among shoppers, driving them to make quick purchase decisions.
Interactive Games and Activities: Shopee incorporates engaging games and activities like "Shake and Win" to enhance the shopping experience and entice further participation.
Exclusive Product Launches: The sale often features exclusive product launches, allowing brands to introduce new offerings and attract considerable attention from eager shoppers.
Free Shipping and Cashback Incentives: Attractive free shipping options and cashback incentives incentivise customers to make repeat purchases and increase their basket size.
How Shopee 8.8 Sale Benefits E-commerce Business Owners
The Shopee 8.8 sales are when business owners need to lean into their marketing and ensure their stocks are in. But why exactly? Read along as we list the benefits of the 8.8 sale for e-commerce business owners.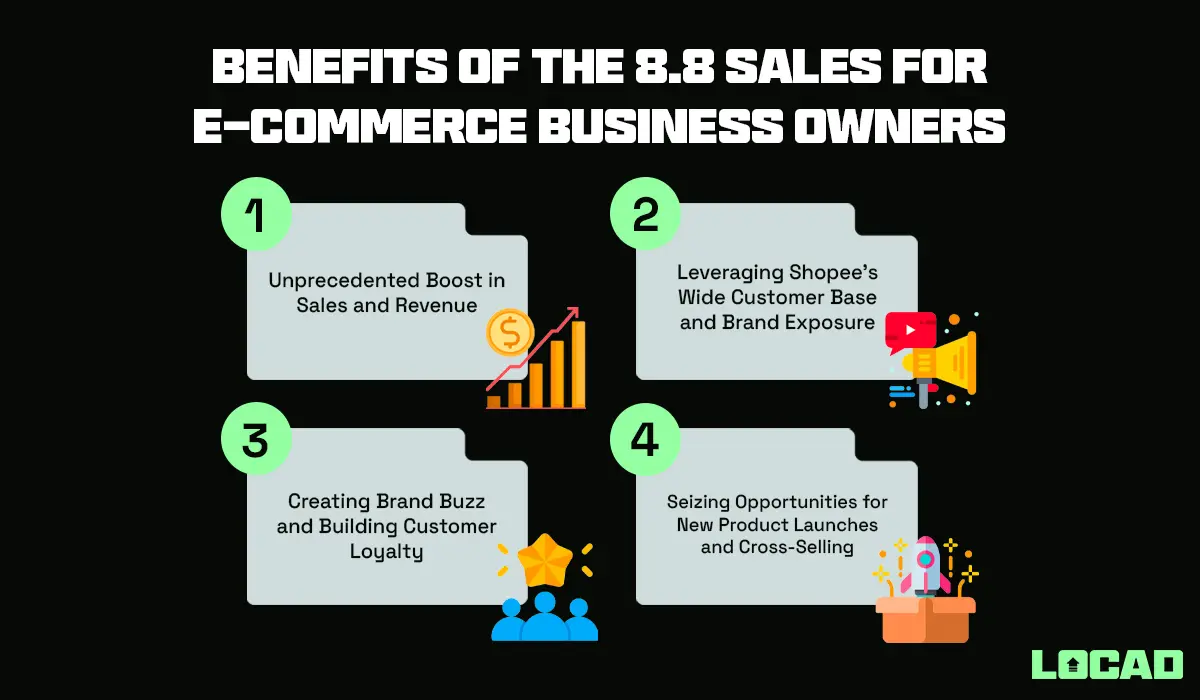 Unprecedented Boost in Sales and Revenue
The Shopee 8.8 Sale offers business owners a remarkable opportunity to experience a surge in sales and revenue. The event attracts millions of active users and shoppers, substantially increasing transaction volumes for participating sellers. The massive discounts, time-limited offers, and interactive games drive consumer interest and encourage higher spending, making it a prime time for businesses to maximise their profits and achieve significant revenue growth.
Leveraging Shopee's Wide Customer Base and Brand Exposure
With Shopee boasting an extensive customer base across Southeast Asia and Taiwan, the 8.8 Sale offers business owners unparalleled access to a vast pool of potential customers. Participating in the event enables sellers to showcase their products to a diverse audience, expanding their reach far beyond what they might achieve during regular days. This heightened brand exposure fosters brand recognition and can lead to increased customer acquisition even after the sale ends.
Creating Brand Buzz and Building Customer Loyalty
The 8.8 Sale generates a sense of excitement and anticipation among shoppers, with its reputation for offering exclusive deals and one-of-a-kind promotions. Savvy businesses capitalise on this buzz by running engaging marketing campaigns that captivate their target audience and resonate with potential buyers. By providing exceptional customer service and delivering on the promised value during the sale, businesses can build customer trust and loyalty, ensuring repeat purchases long after the event concludes.
Seizing Opportunities for New Product Launches and Cross-Selling
For businesses looking to launch new products or introduce product variants, the Shopee 8.8 Sale presents an ideal platform to make a splash in the market. With a captive audience eagerly seeking great deals, businesses can strategically time their product launches during the sale to garner maximum attention and sales. Additionally, cross-selling complementary products becomes more effective during the event, as shoppers are open to exploring different offers and bundling options.
Experience fulfillment by Locad today!
Preparing for Shopee 8.8 Sale Success
A well-executed fulfillment strategy is essential to capitalise on the immense opportunities presented by the Shopee 8.8 Sale. By mastering the fulfillment process, sellers can provide a seamless shopping experience to buyers, leading to increased customer satisfaction, repeat purchases, and long-term success on the Shopee platform. Here are some ways businesses can hit these targets.
Building a Robust Inventory and Fulfillment Strategy
One of the key elements to ensure success during the Shopee 8.8 Sale is having a well-prepared and sufficient inventory. Anticipating the surge in demand, business owners must assess their past sales data, identify popular products, and stock up accordingly. Collaborating closely with suppliers and logistics partners like Locad can streamline the fulfillment process and reduce the risk of stockouts. Implementing an efficient inventory management system helps maintain accurate stock levels and reduces the chances of overselling, ensuring a seamless customer experience.
Optimising Product Listings and Images for Maximum Visibility
In the highly competitive landscape of the Shopee 8.8 Sale, standing out from the crowd is crucial. To maximise product visibility and appeal to potential buyers, sellers should optimise their product listings and images. This involves crafting compelling and keyword-rich product titles, informative descriptions, and relevant tags to enhance searchability. High-quality images that showcase products from different angles and highlight key features can significantly influence purchasing decisions. Additionally, sellers should utilise Shopee's product attributes to categorise further and refine their offerings, making it easier for customers to find what they need.
Pricing Strategies: Flash Sales, Bundle Offers, and Discounts
Pricing is a powerful tool that can entice shoppers and boost sales during the 8.8 Sale. Flash sales and limited-time offers with highly discounted prices create a sense of urgency and encourage immediate purchases. Bundling related products at a discounted price can attract customers looking for value and convenience. By strategically offering discounts on high-demand items or setting attractive tiered discounts based on the number of items purchased, sellers can incentivise larger basket sizes. Utilising Shopee's built-in promotional tools, such as vouchers and coins cashback, can further sweeten the deal and attract more buyers.
Effective Marketing Strategies for Shopee 8.8 Sale
Effective and early marketing is the cornerstone of any successful 8.8 sale day. However, small businesses find it difficult to implement certain strategies owing to restraints on resources. Hence, here is a list of marketing strategies that are simpler to implement and require only pre-planning and implementation.
Create Attention-Grabbing Promotional Campaigns: Design compelling marketing campaigns that resonate with your target audience. Utilise vibrant visuals, catchy slogans, and enticing call-to-action to pique shoppers' interest and drive engagement. Emphasise exclusive deals and limited-time offers to create a sense of urgency, encouraging immediate purchase decisions.
Leverage Shopee's In-App Advertising and Sponsored Promotions: Amplify your brand's reach by utilising Shopee's in-app advertising and sponsored promotions. Target specific customer segments based on demographics, interests, and shopping behaviour to ensure your promotions reach the right audience. Sponsored product placements on the homepage and search results enhance product visibility, increasing the likelihood of conversions.
Harness the Power of Social Media and Influencer Collaborations: Leverage social media platforms to generate buzz around your Shopee 8.8 Sale offers. Engage followers with teaser posts, countdowns, and interactive contests. Collaborate with influencers who align with your brand to reach a wider audience and build credibility. User-generated content and influencer endorsements add authenticity to your marketing efforts.
Implement Email Marketing and Retargeting Campaigns: Create targeted email campaigns to nurture leads and remind previous customers about the upcoming sale. Personalise messages based on past shopping behaviour to increase relevance. Implement retargeting ads to re-engage users who showed interest in your products but didn't complete the purchase. Utilise compelling incentives to entice them back and convert.
Expert Tips for Maximizing Shopee 8.8 Sale Impact
Handling the influx of shoppers during the Shopee 8.8 Sale requires careful planning and preparation. Consider enforcing these best practices to efficiently manage high traffic and order volumes while providing exceptional service to your customers.
Optimise website and app performance to handle increased traffic.
Prepare customer service teams to manage inquiries promptly.
Consider employing chatbots to assist with basic queries.
Collaborate closely with reliable logistics partners for timely delivery.
Set realistic delivery estimates and implement order tracking to manage customer expectations.
Wrapping It Up
The Shopee 8.8 sale has dramatically transformed how Southeast Asian people shop online. From heavy discounts to the introduction of new products, it is the one place to be. However, fulfilment can often become a roadblock in experiencing a successful 8.8 sale day. Employing a 3PL service can be the difference between complete customer satisfaction and the lack of repeat orders.
If you wish to fall into the former category, consider collaborating with a third-party logistics service such as Locad. This can ensure that you have an accurate estimate of your stocks, a whole lot of expert help, and a reliable shipping carrier – all updated on a comprehensive dashboard.
Sign up today and experience fulfilment like never before!