Cash is being swapped out for digital money and wallets are now upgraded to e-wallets. Payment methods all across the globe are shifting towards online payment transactions. It is estimated that from 2020 through 2025, the online payment transaction value is likely to grow by more than 15%.
As the world grows to adopt the cashless method of payment, payment services are keeping up with the advancements and enabling cashless payment. A payment gateway, for e-commerce businesses, helps in simplifying this digital payment method and expediting payments that help customers and businesses alike.
Payment gateways are a service that processes credit card payments for traditional brick-and-mortar stores as well as e-commerce business sites. They are essentially the heavy cash registers you see at the convenience stores and grocery marts but online. And just like that cash register, it should be secure and efficient.
And before you select a payment gateway for your e-commerce business site, it is imperative to under the basics, how a payment getaway functions, and how to find the right one for you from the options available.
What is a payment gateway?
Let us first understand what a payment gateway is. Technology solutions that help the merchants receive their payments from their customers are known as payment gateways. And these are usually third-party payment processors that can be used for transactions in physical stores as well as e-commerce businesses. Some of the popular and widely used payment gateways include Amazon Pay, PayPal, GooglePay, and 2Checkout.
Payment gateway services are essential for taking care of online credit card payments. It is equivalent to a Point of Service device where the primary role is to ensure a transaction between the customers and the businesses. Without the approval of the payment gateway, the transaction will not process and you won't get your money.
Here, the payment process analyzes the transaction data and the payment gateways confirm the transaction of the funds from the buyers to the merchants.
When a potential customer visits your e-commerce site, they are searching for a couple of things- the product, a good deal on that product, satisfactory customer service, and a simple and secure payment process. Therefore, ensuring a payment gateway that will make the customer feel secure and efficient will have a positive impact on them and make them trust you for future purchases.
Why do e-commerce businesses require a payment gateway?
Payment gateway solutions are the digital equivalent of the credit card processing machines you see in the stores. Thus, in the e-commerce business world, the payment gateway system is of significance.
There are various payment gateway solutions available in the market. However, when choosing an option, it is crucial to focus on whether it provides consistency when it comes to transactions, is efficient, works in tangent with the quality and strategy principles of the business, and is secure against payment processing frauds.
Transactions over a payment gateway system are presented as "card-not-present" transactions where the merchant has the credit card information entered by the client but not the credit card itself.
Payment gateways will provide the customers with valuable tools and it will limit the opportunities for fraud. These gateway fraud detection tools include:
Geolocation
AVS check
Computer fingerprint innovation
Delivery address confirmation
Identity morphing verification
How Does Payment Gateway Work?
Essentially, a payment gateway is the main cog in the machine that is the payment processing system, during in-store payment or when making an online purchase.
Within this transaction, the front-end system collects, transfers, and authorizes the information filled by the customer to the merchant's bank in real-time, and then the back-end process completes the transaction by transferring the funds to the merchant's account. We'll look at this in detail, in the next section.
There are mainly three types of payment gateways and you should be aware of this information.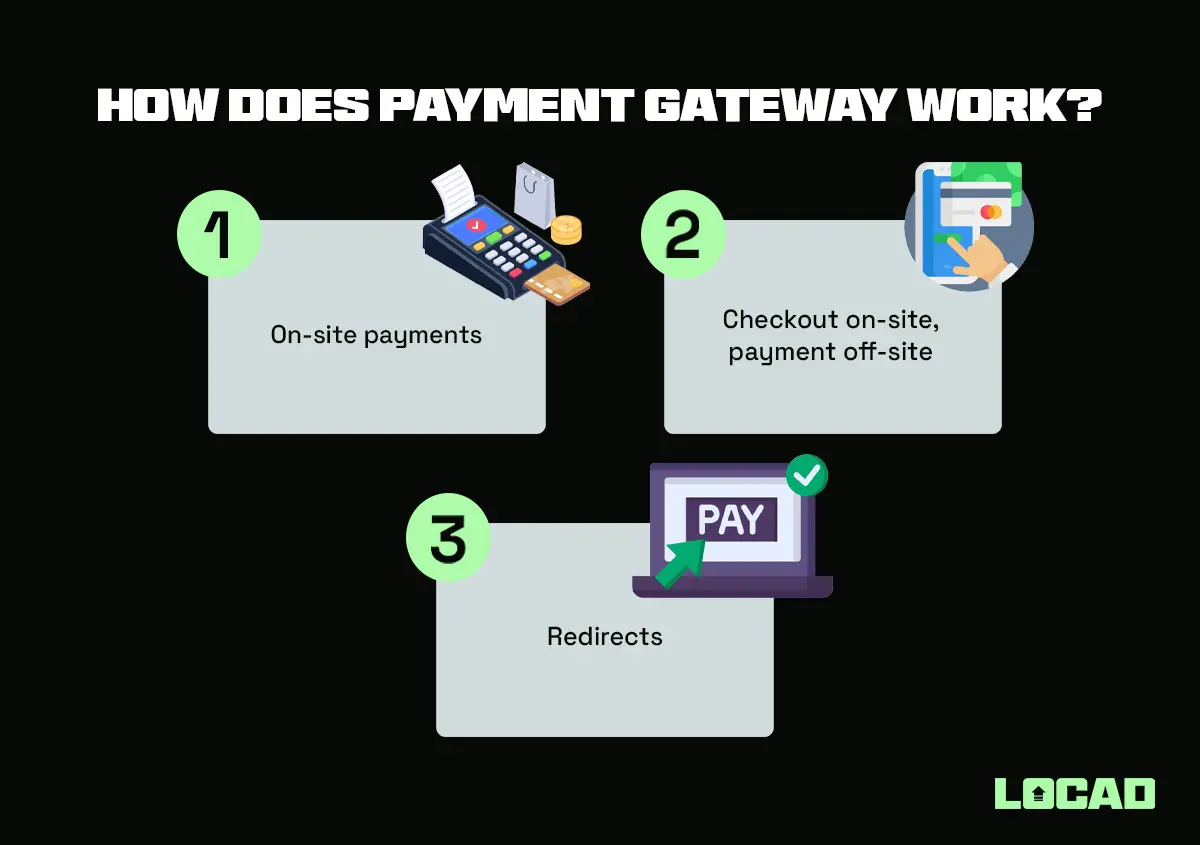 On-site payments
These are used by large-scale businesses so that the payments are handled by their own server ensuring the checkout experience and the payment process flows through their system. This is advantageous as it allows more control to be exercised over the process and responsibilities aren't divided.

When you are handling payments on-site, every variable is valuable in the equation and any changes, minute or big, can have a drastic result in the bottom line of the shopping experience and this rings true for a retailer with high sales volume.
Checkout on-site, payment off-site
In this method, the process begins with the front-end checkout operating on your site and the back-end of the gateway ensure the payment process.
This method helps in simplifying the payment process on the front end while providing security on the back end. This does have a downside though and that is you won't be in control of the entire user experience provided by the payment gateways. And if you choose this type of payment gate, you have to ensure that you are confident in its security.
Redirects
When you want to include a variety of payment methods, like allowing the use of PayPal and the gateway takes the customer to the PayPal payment page to complete the transaction then it is known as redirect.
Redirect gateway can be used by small businesses to include the convenience and security of a larger platform and it is advantageous in the form of simplicity for retail. However, it does leave the merchant with less control and is an additional step for the customers.
How do customers pay through Payment Gateway?
The buyer finalizes the order and enters card details
Once the customers are done adding their items to the cart and are ready to checkout, the payment gateway comes into the picture. When moving to finalize their order and go to the payment page, they will be required to fill in their card details and other vital information.
The payment gateway sends a request to the bank/credit card company
Now that the customer has added all the required information, they will press the pay button and then the gateway utilized the information, sending the customers to the processing part of the operation.
The bank/credit card company authorizes the transaction
Here, two processes happen. One, the details provided by the customers are verified and ensure that the customers have enough funds to complete the transaction. And two, the information is passed on to their issuing bank to initiate the transaction.
Funds are deposited into the merchant's account
Once the bank approves and initiates the transaction, the money moves into the merchant's bank account.
And both the customer and the merchant receive respective notifications regarding debit and credit.
It can either be a couple of seconds or a week for the money to be transferred to the merchant's account. It happens often that the payment gateways may hold the payment for a period of time to maintain a margin for fraud. Or unforeseeable technical or financial errors can cause delays in the transactions.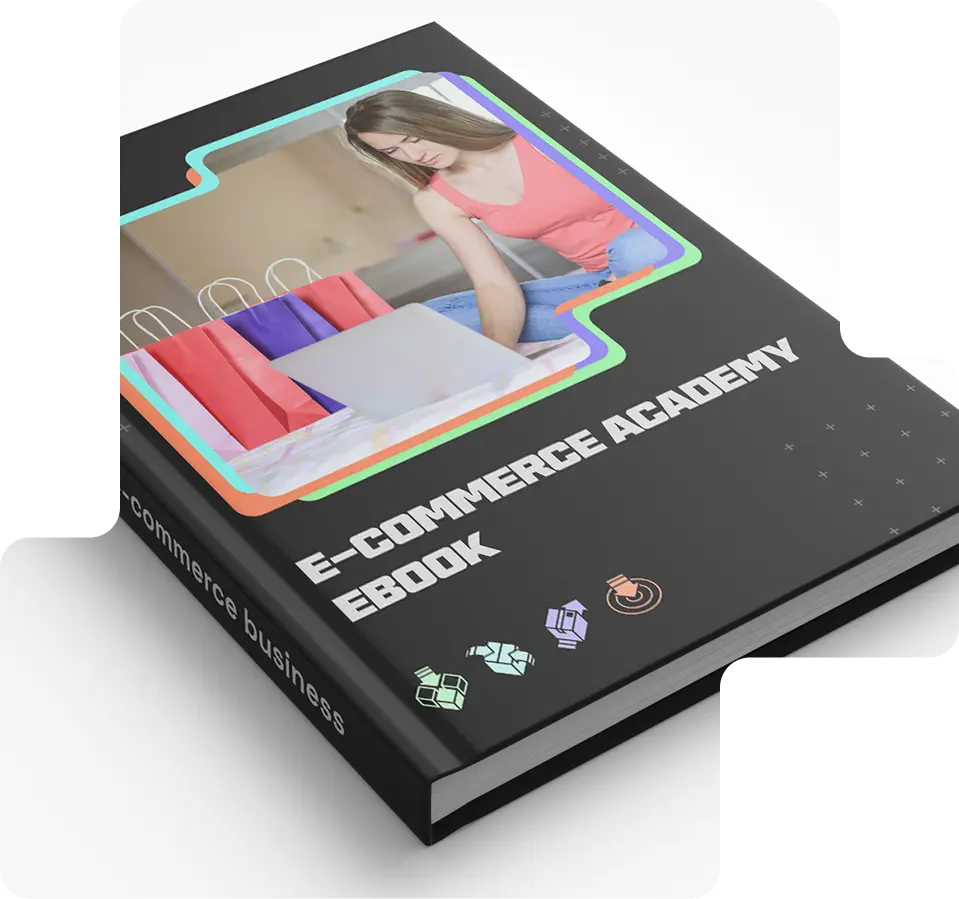 In a hurry? Don't worry, we got you covered. Download the ebook version of this page and read it anytime!
What Factors Should You Consider When Choosing a Payment Gateway?
There are various payment gateway solutions and softwares available in the market and they serve different purposes. You have to choose one that fits your business best and can serve your e-commerce site most securely and efficiently.
Here are some factors you need to consider when selecting your payment gateway:
Ease of payment
Convenience should be one of the primary characteristics of a good payment gateway. Ease of payment should not be even up for negotiation because if this factor is not considered and checkout payments become a difficult task for your customer, your sales will decrease and your rate of cart abandonment will shoot up.
Payout times
Once the transaction is complete, the payment gateway will take some time to send the money from the customer's bank account to the merchant's, and the timeframes for each one varies. Thus, you should research and analyze the payout time before your add the payment gateway system to your site.
Fee
Since there are various payment gateway solutions on the market, they will vary in the pricing model. For you to integrate the payment gateways to your e-commerce site, you will have to pay for it.
Thus, compare the fees and their structure with other payment gateways, ultimately choosing one that fits your business and your budget.
Transactions in several currencies
If you want your business to cater to customers from all around the world, then you should ensure that the payment gateway solutions you are considering have the means to complete transactions in various currencies.
You can either integrate a platform that offers clients to pay in their local currency or can provide options that are widely used in different countries, like Amazon Pay or Google Pay.
Payment Gateways Limitations
As we discussed, Payment gateway solutions available in the market are not the same. And when selecting a system, you should be aware of the limitations presented by it (most of them are inherent to the very infrastructure of the payment gateway).
Consider the following limitation before finalizing your choice:
Gateways rarely accept all types of cards/payments
Various payment gateway system providers state in their advertisements the universality of their gateway solution but often it is not the case. They do not highlight that there might be certain limitations to accepting payments from specific processing portals or card providers.
Thus, before choosing your payment gateway, ensure to see if they provide what your customers will need and use, and what are the limitations of the solutions regarding that.
International shoppers may not have a payment option
Again, if you are looking to cater to an international audience, you need to ensure that your payment gateway solution can help with that.
Additionally, international audiences and customers can be subjected to higher prices. It happens so often that on top of the fixed charge of international commerce transaction fees, some payment gateways may charge more for cross-border transactions.
Thus, ensure that your payment gateway system accommodates international transactions and the prices are fair and just.
Security flaws
As the world moves to the digital realm, security is a major concern. And according to TechRepublic, around ⅔ of consumers are likely to stop shopping with a retailer that was previously a victim of a security breach.
Even when you are selecting a high-quality payment gateway that ensures heightened security, you should be aware of specific vulnerabilities:
Although you may have control over the security of the transaction, you can not control who has access to your customer's mobile device.
Although TLS encryption provides the payment gateway to confidentially process data like card information and bank details, the data in the server is at risk.
Malware, that can read passwords and breach data security, can fool many by sending an "authentic" (apparent) transaction through secure payment gateways that turns out to be a fraud.
Why You Should Stack Payment Gateways
By stacking payment gateways, you can reduce (or even eliminate) these weaknesses and limitations discussed above.
You can stack payment gateways by using multiple gateways on your e-commerce site and maximize the options presented to your customer in time for purchase.
There are various benefits when you stack payment gateways:
Making it easier for your customer
Using a stack of payment gateway provides your customer with a choice. You let them choose what they want and when they want it. Your current payment gateway allows transactions from Mastercard and Visa but what if the customer uses an alternative like American Express?
When you present more card options to your customers when it comes to payment transactions and gateways, you give the customer satisfaction in terms of convenience of payment at the checkout.
Give everyone a second option
Now eWallets and alternative payment options like Apple Pay, Google Pay, and Amazon Pay, have made it easier to make payments and complete transactions without a credit card. And customers now do prefer this method to make their online purchases.
Thus, as an e-commerce business, you should provide payment gateways to accommodate these options and ensure that the payments made through these channels are secure.
The Top Payment Gateways in Southeast Asia
There are various payment gateway options in the Southeast Asian market and many of them provide the same services to merchants and customers. Although they might look the same in terms of providing offers like card processing, online banking, or COD, there are also differences that you should research. Essentially, the difference lies in the focus of what your business needs.
Although Southeast Asia as a continent is made up of 11 countries, the ones that are predicted to succeed in the e-commerce business sector are Singapore, Philippines, Thailand, Malaysia, Indonesia, and Vietnam, and there are several factors for their growth including an increasing number of mobile phone users and internet users.

Every region and country has a list of the best payment gateways in terms of what they majorly use. And listed below are top payment gateway solutions in Southeast Asia that you can also integrate with your e-commerce business platform:
Singapore: eNets
Philippines: Paynamics, Dragonpay, PesoPay
Thailand: 2C2P, Omise, Paysbuy
Malaysia: iPay88, MOLPay
Indonesia: Midtrans, Doku, Faspay
Vietnam: VTCPay, NganLuong 
Here are some payment gateways that are famous and widely used in Southeast Asia
Stripe: Stripe is a popular payment gateway used by businesses in Singapore, offering various payment options and seamless integration capabilities.
PayPal: PayPal is widely used for online transactions in Singapore and offers a trusted and secure payment solution.
Dragonpay: Dragonpay is a well-known payment gateway in the Philippines, providing various payment options including online banking, over-the-counter cash payments, and mobile payments.
PayMaya: PayMaya is a widely used mobile wallet in the Philippines, allowing users to make online and offline payments.
2C2P: 2C2P is a leading payment gateway in Thailand, supporting various payment methods and catering to businesses in the region.
DOKU: DOKU is a prominent payment gateway in Indonesia, offering various local payment methods and serving businesses across the country.
Braintree: Braintree, a PayPal service, is popular in Australia and offers a secure payment gateway with various payment options.
iPay88: iPay88 is a prominent payment gateway that operates in Southeast Asia. It is one of the leading payment service providers in the region, offering secure and reliable online payment solutions for e-commerce businesses.
Conclusion
The achievement and success of your e-commerce business depend on your choice of a convenient and secure payment gateway.
It is vital to know what to search for and what characteristics of payment gateway you need for your business. And then you should select an appropriate and leading payment gateway depending on your findings.
We hope that this guide has provided you with information regarding payment gateways and their functions, and how to choose the right one for your business requirements.