Shopping experiences today have transitioned into the digital space. A number of e-commerce businesses are trying their best to offer online shoppers an experience that's closer to the brick-and-mortar experience. For instance, Uber provides car travel services that don't require the customer to physically haul a taxi and GrubHub or UberEats takes care of your food cravings by providing top-notch food delivery services. Thus, the e-commerce space is witnessing an influx of businesses along with traditional players exploring this channel instead of investing in more offline retail stores.
Are you planning to start your e-commerce business? If yes, a website is a critical asset that can really help in establishing your online presence. It also helps you cater to your target audience, to give them a satisfying shopping experience.
For your e-commerce business to succeed, your e-commerce website needs to be engaging. The website should be engaging enough to convert your visitor's attention to revenue, thus driving your success and growth.
Your e-commerce website needs to be inviting and present an exceptional user experience for shoppers to revisit your store and turn into repeat customers.
Before we dive deep into ensuring the customer experience, let us first cover the basics.
What is an E-commerce Website?
Today, e-commerce has been weaved into our everyday life. Our food, clothes, books, furniture, online classes, music, and other services can now be bought from the comfort of our homes.
Like a traditional brick-and-mortar store, an e-commerce website sells products, goods, services, and digital products but on the internet. Through an e-commerce website, the seller can process orders, accept payments, analyze logistics, manage delivery and shipping, and also provide customer service.
Presently, e-commerce shopping has rapidly grown (and is predicted to grow exponentially) thanks to smartphones which allow consumers to shop from any part of the globe.
E-commerce websites allow business owners and customers to sell and buy from one another, similar to a physical retail store. The difference being e-commerce transactions happen over the internet.
There are various types of e-commerce sites, just like there are various types of brick-and-mortar stores, catering to different forms of business.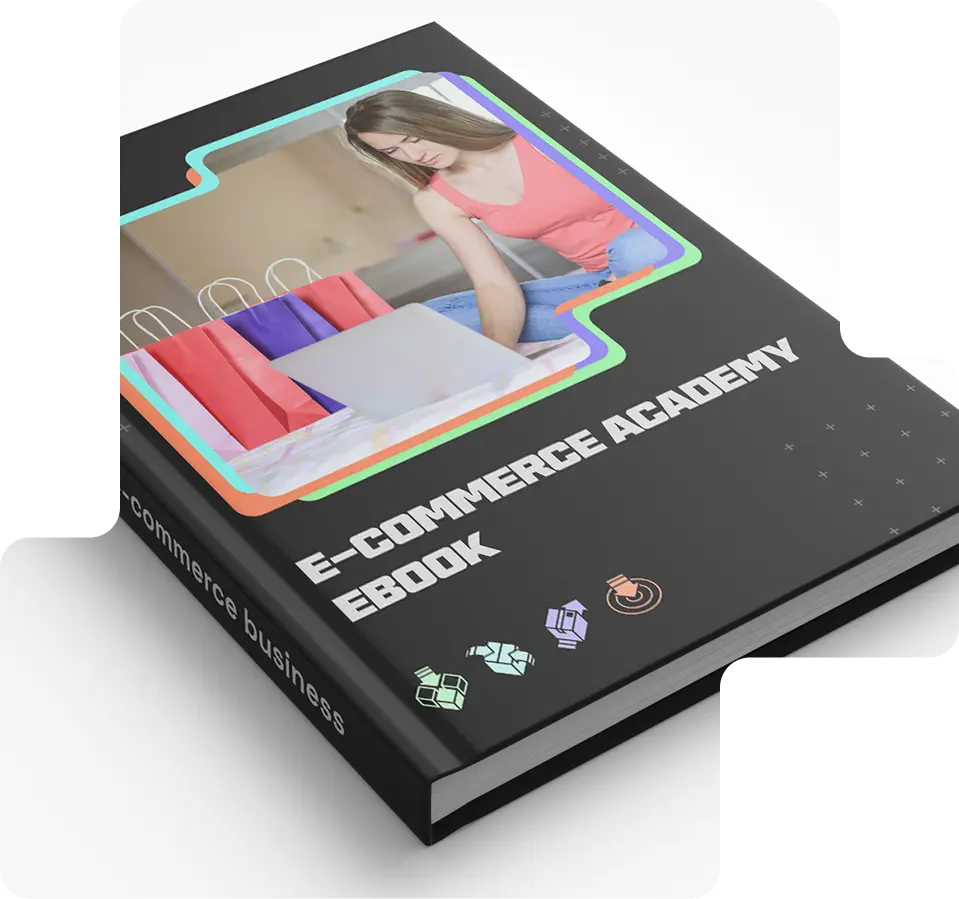 In a hurry? Don't worry, we got you covered. Download the ebook version of this page and read it anytime!
Types of e-commerce sites:
Direct-to-customer (D2C)
The common kind of e-commerce business is a B2C site where goods and services are exchanged between the seller and the customer directly. An example of this site would be similar to a consumer buying athleisure from a popular company site like the Nike website.
Business-to-business (B2B)
A B2B e-commerce business allows for the exchange of services between two businesses. For instance, an online store that delivers products in custom packaging. The purchased goods are then further used by another business to produce the final product that will be sold to the end customer.
For example, organizations can purchase employee welcome kits and promotional gift boxes from a site. The company then adds its own branding and distributes it to its employees.
Customer-to-customer (C2C)
A marketplace is a great example of this type of e-commerce business. Here, the customer exchanges their purchased goods with another customer. These goods can either be brand new or may be used and functional condition. Craigslist and eBay are popular examples of this type of e-commerce business. In such an e-commerce website model, customers list goods that they own (to be sold at a reasonable amount) which can be bought by others. It can either be on a barter basis or through monetary payment.
This model has also entered into the social media space as it has people interacting with each other on a regular basis, providing an opportunity to create an e-commerce section. For instance, Facebook now has its own marketplace.
Customer-to-business (C2B)
On a C2B e-commerce site, individuals offer services or products to the business. Freelancing falls under this type of business. Even influencer marketing is a Customer-to-business type. Here, one party provides their services in return for a fee. The service could range from content writing, marketing assistance, or building a project for a business entity.
Business-to-administration (B2A)
In the Business-to-administration model, a business sells its product to an organization or a public institution. An example of this would be a software company providing its software solutions and public access to government services.
Customer-to-administration (C2A)
This is quite similar to the B2A business type. However, the difference here is that the customer provides goods/ services to the public administration or government. An example of this would be paying a mall parking ticket.
Products that can be sold via e-commerce Business
The digital aspect of an e-commerce business allows the seller to provide the market with a wide range of products, some of which can not be easily accessible when shopping in a brick-and-mortar store.
Physical products and goods
Clothing, furniture, home supplies, food, and groceries are products that can be sold online. The process is similar to the experience of shopping at a physical retail store- the products are stored in an inventory, they are attractively displayed to the customers, details of the products are mentioned and the customer will take them to the payment counter and purchase the product. This entire circuit is translated to the e-commerce business design, the difference being that this shopping can be done from the comfort of your home and payment can be made digitally.
Furthermore, this digitization allows the customer to purchase from locations inaccessible to them, helping break the geographical barriers that exist with brick-and-mortar stores.
Physical space can also hinder the business model and sales, for instance, providing a wide variety of goods can be limited due to the area provided for the store.
Services
E-commerce businesses are very popular in the services sector as well. Nowadays, people can purchase consultations, courses, and maintenance services from businesses online.
For instance, certain businesses provide services to customers directly via online methods. A customer can now book a hair appointment at home where the hairdresser will visit your home for hair-related services. Or you can book a consultation for your e-commerce business.
You can also learn to code with services like this. Slowly, even the education industry is moving to adopt this style of home tutoring.
Exclusively digital products
Due to the digital space being a market and an industry itself, there are certain goods and services that you can only opt for via digital methods. Music, podcasts, e-books with exclusive excerpts, software, and online courses from esteemed universities are becoming popular and are substituting the physical entities of the same.
Kindle unlimited by Amazon is a great example of this type of product.
Now that we have looked at what is an e-commerce website, what types of businesses you can start, and what kind of products you can offer, let us examine what are the essentials of building
a successful e-commerce website.
Essentials for an e-commerce Website
Presently, building e-commerce platforms is economical and easy, allowing the business owner to create a completely customized website that is specific to the business and its niche. Many platforms for e-commerce businesses provide elements that are necessary for payments, marketing, and shipping on an 'activate the plug-in' basis, so even if you are not well-versed in coding, you can still set up a professional website.
Here are 5 steps to building a successful e-commerce website:
Choosing your name and purchasing your domain
Your web address/URL or your domain is the identity of your website; people will search for your business through this web address. This is commonly known as the "home" of your business on the world wide web.

It is essential to choose a good domain name as it is closely tied to your brand and can ensure success. Keep your domain name connected to what you sell. This is crucial for SEO. When you use descriptive keywords and phrases in your web address/domain name, the customers will know what your business is about and it will also help in the search ranking of your business, driving more potential customers to your website.
An example of this could be Nike- its URL is simple, just www.nike.com. Nike as a brand is widely known for various goods and services. It caters to both physical goods like shoes, dry-fit t-shirts, caps, etc., and virtual content like the Nike running app, the blog section that equips the visitor with knowledge about the brand and everything related to the brand.
Another example is that the Mattel shop is simply known as shop.mattel.com.
Mattel as a company provides toys for kids, is again well-known. The URL for their shopping site is simple and to the point.
These companies have maintained their brand name in the URL when it comes to their domain name.

Once you gather a few good ideas for your domain name, you can purchase them from a domain registrar like BlueHost or GoDaddy. You just need to go to their websites and enter your chosen domain name, it will help check the availability of the domain name. If your specific option has already been taken, then it will also suggest alternatives. For instance, if .com is taken, it will suggest .co or .net. Although it is good to have a .com domain as it is common, a .co or .net can also be used as alternatives.

Your domain name can cost between $12 to $25 (USD) per year, depending on the services and add-ons you choose. There are also options available where you can use your e-commerce website platform which also includes a free domain with your purchase. This allows us to segue into the next topic i.e picking your e-commerce platform.

Picking your e-commerce Platform
Your choice of platform is where your site "lives" on the internet and there is a variety of options to choose from- free platforms with limited features, free store on WordPress, adding on services as per requirement, or dedicated e-commerce platforms. You can also choose to add e-commerce features to website builders.
Here are some of the e-commerce platforms you can consider for your online business.
Shopify is a dedicated e-commerce platform that is widely used by startups and drop-shippers. They provide a full-featured website with exceptional built-in functions like secured payments, shipping labels, email marketing, and sales support. Shopify plans start at $29 per month.
They also provide a free trial, so you can test-drive your tasks before your final decision.

Wix and Squarespace are popular website builders that offer e-commerce functions. You can transform your website into an e-commerce website by simply moving to the available e-commerce plans.
These websites offer a wide range of beautiful and easy-to-use website templates and are very popular among those who are starting an e-commerce business as a DIY and side gig.
We have already mentioned WordPress as a viable option. WordPress drives over half of the world's e-commerce websites, thanks to its vast customization options and low cost. Moreover, there are various free plug-ins available that can transform your WordPress website into a smooth e-commerce website. Some of the plug-ins you can use are WooCommerce and BigCommerce.
Various free e-commerce website platforms can help sell a few products online without upfront costs. Freewebstore is an option on which you can create a free online store.
Planning and building your e-commerce website

You need a brand logo and brand image to start your website and to create your brand identity. e-commerce platforms, now, provide services to create a simple logo or you can use a third-party platform like Canva or Adobe Illustrator.

Also, you need to have a checklist of data that needs to go up on your website and this will include:
Product Photos: Remember, the customers will be purchasing your products based on your photographs. Therefore, ensure you provide various angles of your product with great clarity.
Product videos: Product videos will help your customers to understand the way your product will work or can be used. This imitates them having a hands-on experience to understand its functionality.
Clear product descriptions: Your product descriptions should be mentioned in detail. It should mention the size, weight, and materials used to create the products.
Using keywords in product titles and descriptions will help tremendously with SEO ranking.
Additional product details: You must provide details about options for your product like the color, size, etc.
SKUs for Products: You have to ensure and check your internal stock-keeping units (SKUs) and the manufacturer's code since some buyers will look for the product using the product code.
Pricing: Your e-commerce platform can give your single-item pricing or group pricing options including sales and discount pricing.
Item size and weight: Many e-commerce platforms, when printing shipping costs and labels, use item size and weight. It helps in the automation of your shipping process.
Setting up payment, shipping, and tax
This depends on the e-commerce platforms. Platforms like BigCommerce and Shopify provide solutions for built-in payment processes, tax calculations, and shipping label printing.
Payment Processing and Tax Setup

These e-commerce websites cover the payment processes through plug-and-play integration with payment services like PayPal. All you need to do is set up your account and sync it with your website.

Following the set-up of your payment processor, you will also have to configure sales tax rates that will be collected from the customers. These platforms will also support sales tax collection and apply them to the items and orders. The tax rates will depend on the business, the location, and the sales volume.

Shipping

Your shipping software should be integrated with your e-commerce platform to help your streamline the ordering process. This helps in selecting and pipelining the carrier and shipping methods, printing labels, and providing updates to the customers.
Testing your e-commerce website

Before launching your e-commerce website, the last step should be processing a few orders. This will help you examine the user experience and understand if there are any updates or changes needed to be made to the website to ensure smooth operations.
Now that we have gone through the process of setting up your e-commerce website, let's examine some vital website pages. To ensure a smooth customer experience, you must have these pages on your e-commerce website.
Must-Have E-commerce Website Pages
Homepage
The homepage is the most important page. It is where the brand makes its first impression and it should educate shoppers, appear inviting and persuade them to navigate your e-commerce website.
It is an important page because this page includes the brand imagery, the featured products or categories, and any ongoing promotions and campaigns.
Best practices for your e-commerce home page:
Include a search bar on the home page: This lets your customers directly enter products that they are looking for. It also helps you track their search queries to optimize the content on your site.
Include brand imagery: Your brand imagery is a reflection of the business, the products and its value. A visual representation on the homepage serves as a great introduction as well as help the customers to get familiar with your brand visually.
This is the landing page for categories of your products. It serves as a bridge between your homepage and product pages. The category page helps you offer shoppers a seamless transition from the homepage to a narrowed down category that advances their buying experience.
Best practices for your e-commerce category page:

Include proper navigation bar: Since there can be multiple categories, navigating through them can prove to be a task. For instance, if you are selling women's clothing then your category could be bottom wear, where the category could be divided into jeans, trousers, shorts, skirts, etc.
Offer differentiators: When you have multiple products and categories listed, use a combination of images, different font styles and font colors to guide your shoppers better. This also helps if you provide different types of products or similar products from different brands.
The product page offers the details and view of an individual product.
The product page is very important as it conveys the value of the product with the help of product images and videos along with manufacturing and pricing details. It helps increase conversions with the all-important "buy now" and "add to cart" call-to-action buttons.
Best practices for e-commerce product pages:
Include related products: Include links to related products that will encourage customers to add more products to their carts.
Include a review section: Add customer reviews to provide shoppers with unedited testimonials that gives a glimpse of how good the product is. These testimonials will increase the trust factor and leave a lasting impression that moves shoppers closer to making that purchase.
Include social media links: Redirecting them from your website to your social media can motivate customers to follow you and boost your online presence. Furthermore, it can motivate them to share your product or your brand with their network, participating in word-of-mouth marketing.
Any e-commerce website must have a Create Account/ Login feature to facilitate a seamless shopping experience for repeat customers.
This is the page where the customer can save their wishlist, order history, payment information, and more. With a customer profile, you can also offer customers special access to your deals and rewards system.
Best practices for login/create account e-commerce page:

Present as a drop-down menu: Present the create account/ login feature in the drop drown menu of the homepage. This ensures that it doesn't take away from the experience your customer is having on the existing webpage.
Provide additional sign-in/login-in options: Giving your customers the option to either sign in using their email details or through social media accounts will speed up the signup process and motivate them to create an account with you.
This ensures that they don't have to remember their login credentials or manually enter the information each time they visit your e-commerce store.
Your shopping cart page is where your shoppers add everything that they would like to buy on your e-commerce store and proceed to check out.
It is important to allow the customer to make changes flexibly, for instance in the quantity, wanting to remove or move the product to a wishlist, etc.
Best practices for the e-commerce cart page:

Display estimated shipping cost: Shipping costs may differ from zipcode to zipcode (if you aren't providing free shipping), then display it here so that you don't catch your customers off-guard at the checkout page. This helps prevent cart abandonment.

Provide a slot for promo code: A slot to enter a promo code before the checkout process will give your customers a proper overview of the prices before their purchase.
Present related products: This is another place where you can recommend products related to the ones added to the cart. Your customers are likely to purchase these recommended products if they are relevant and add value.
A Mini cart may not technically be a page but is more of a window. It lets shoppers add items to a card without interrupting the shopping experience. Unlike the shopping cart, the mini cart window appears on the side pane of an e-commerce website and lets shoppers know the number of items currently added to the cart.
Best practices for a mini cart:
Opt for a slide-in or drop-down: This window can either be a drop-down or a slide-in, giving your customers a peek into what was added to the cart. It can also provide the subtotal to let customers plan their shopping expenses better.
Offer add-ons: Like the shopping cart, the mini cart window can also display related products to encourage customers to add more products while they are exploring your e-commerce site. To top it, you can display eligible offers, and available discounts to make the shopping experience more appealing.
Checkout Flow Pages
The next set of e-commerce site pages is known as the Checkout Flow. This section of your e-commerce website transitions from the shopping experience to the purchase experience. Optimizing these sets of pages can help you create an appealing experience and increase the value of the cart that goes to checkout.
After reviewing the cart, the next page can simply be a prompt to let the user sign up for an account with your website. Once a shopper becomes a registered user, they can save their profile information on your site. This gives them access to exclusive promotions, order history to track their purchases and most importantly helps them raise refund requests if they want to return or exchange products purchased from your e-commerce store.
An ideal login experience also ensures that customers are eligible for a quicker checkout experience the next time they wish to shop.
Best practices for log-in/guest checkout page:
Provide access to certain rewards: A marketing tactic, you can attract customers to sign-up with an exclusive first-time sign-up reward.
Provide guest checkout as an option: Customers should be given the option of checking out as a guest if they do not want to create an account. Having a guest checkout option gives them the space to continue with the purchase by entering the necessary information required to process their orders. Guest checkout ensures that your shoppers are not compelled to register with your site in order to purchase from your online store.
The shipping page is where the shipping address and billing address need to be filled in by the customer. It collects vital information that has direct implications for the order fulfillment process. The shipping address is where the order is supposed to be delivered while the billing address is the address linked to the customer who is making the payment. You need to ensure that the shipping page on your e-commerce site accommodates both addresses.
Best practices for an e-commerce shipping page:

Enable smart form filling: This one is a no-brainer. Having auto-complete on your checkout page ensures that your shoppers can key in their pre-saved addresses without any hassles.

Include a checkbox: Have a small checkbox after the shipping address form for customers to confirm if the shipping and billing address are the same. This speeds up the process by ensuring that customers don't have to type in the same address over and over again.
This payment page of your website is where customers can opt for their preferred method of payment, key in their payment information, and confirm the order. For e-commerce stores to gain a strong foothold among different demographics, always include different types of popular payment methods like cards, e-wallets, and cardless payments.
It is an important page as it collects sensitive payment-specific information pertaining to your customers.
Best practices for an e-commerce shipping page:

Include space for Promotions: In the payments page, enable customers to opt for gifting, trade in their earned reward points, or enter a promo code.

Support popular currencies: If you are catering to a global customer base, it is important to help customers view the total cost in their regional currency. This lets them understand how they will be charged without being taken for a surprise after the payment is made.
A order review page lets customers verify their order after they enter their billing information. It lets them confirm if the cart contains everything that they wanted to buy and if they are happy to proceed with the payment.
It also helps customers confirm whether the shipping info, payment method, taxes, and shipping method that they chose are accurate.
Best Practices for the Order Review Page:
Make it easier to skim: While the page helps customers review their order, payment, and shipping-related information, it is essential to display crucial information without overwhelming the customer. Structure the page in a way that it's easier for customers to skim through without having to hunt down information.
Place a proper call to action: Add a clear call to action button after the breakdown of the payment to help users confirm their order and proceed with the payment. This ensures that the customer isn't under the impression that the order has been processed.
The order confirmation page is where you acknowledge the acceptance of the order and provide customers with a summary of the order details. While most e-commerce sites include a basic "Thank You" message, these order confirmation pages can play a vital role in the purchase experience.
Best Practices for the Order Confirmation Page:

Include "Next Steps": Now that the payment is confirmed and you will begin processing the order, let the customers know what happens next. Will they receive an email? Who should they reach out to if they have questions? These are some of the frequently asked questions you can address on the page.
Encourage sign-ups: A good marketing practice for this page is that you can have guests subscribe to your newsletter, claim a promotional offer or register an account with you in case they opted for a guest checkout.
The next set of e-commerce site pages is known as Account Pages. It lets you gather inputs like what your customers are viewing, the devices they use to access your site and what products they've added to their wishlist. And by optimizing your account pages, you can offer customers a personalized and highly targeted shopping experience.
The orders/ order history page lists all the orders that were made on the e-commerce store. It helps them acquire all the information pertaining to the order such as the order status, date of purchase, items purchased, mode of payment, and more.

In addition, it also lets the customer know the orders that are currently being processed.
It is an important page because it acts as a reference page for the customers in case they want to repurchase any product or get an idea of the products they've purchased from you previously.
Best practices for this e-commerce page:
Provide the "buy again" option: A "buy again" or "order again" button will trigger a quick purchase action and add the items of the order directly to the cart. This way, your customers can repeat a purchase without having to go through the whole sales funnel.
Collect customer feedback: Increase touch points where customers can rate and review products they purchased from you. Enable customers to share their feedback on their experience with products on the order history page.
When you click on an order in the order history page, it expands to give you the individual order view page. This page contains detailed information of a specific order.
Best practices for the individual order view page
Include the order and tracking number: If the order is currently being processed, include information like the order number and other tracking information here. For orders that have been delivered, the order number and tracking information can help customers in raising return or exchange requests.

Include customer care services: In case the customer has to contact your business for some order-related inquiry, including the customer care information on this page makes it easy for customers to contact you without having to search elsewhere.
The payment setting page is important because it contains payment-related information on file. This helps customers speed up the checkout process without having to key in their payment information over and over again.
This section of the account settings helps customers list out multiple payment types, update information and assign a preferred payment method for their future orders.
Best practices for the payment settings page
Use visual cues for differentiation: If your customer has multiple payment methods on file, use icons or payment type information for easy identification. This way customers can easily switch between multiple payment methods for their e-commerce transactions.
Show payment method status: Sometimes a shopping experience is disrupted when the card on file has expired or the digital wallet linked to the account is low on balance. To avoid such situations, display inline tip content that tells your customer that a card they have on file is expiring soon or that they need to recharge their digital wallet.
For customers who ship orders to multiple location, the address tab is pretty convenient during online shopping. This page allows the customer to add new shipping addresses, edit or, delete previously saved ones.

Best practices for the saved addresses page:
Offer flexibility: With address formats differing from region to region, mark only the essential fields as required for an address. This lets you cater to customers across different regions easily.
Require address confirmation: To reduce the number of complexities for your shipping/third-party logistics provider, you can require customers to confirm their address in order to save it. Offer both automatic and manual address confirmation to reduce instances of undelivered orders and increase your fulfillment rates.
Footer Pages
The next set of e-commerce site pages that should be on your website go on the footer section of your website's homepage. Pages here usually carry process information and are intended to offer additional information or guide potential shoppers and customers.
Email and SMS marketing are ways for shoppers and customers to stay connected with their favorite e-commerce websites. As an e-commerce business, you need to find new ways to reach potential shoppers, draw one-time customers back to your website, and drive revenue.
Having an email/SMS sign-up page helps you stay connected with leads and customers. It also lets you send timely information, promotions, and sale announcements to drive more traffic to your e-commerce store.
Best practices for the email and SMS sign-up page:
Offer exclusive incentives for signing up: Think of it as a way to welcome customers into your exclusive campaign. Having an incentive gives opportunities like a discount of one-time free shipping for shoppers to come back to your store and place more orders.
Describe what people can expect when they sign up: In today's age of marketing, it is important to lay out exactly what you intend to send your leads and customers when they sign up for email/ SMS alerts. You must also offer them a way to unsubscribe from these alerts if what you offer is no longer relevant to your customers.
The returns page is an integral part of your e-commerce website experience. Shoppers who land on your website for the first time are essentially taking a chance when they buy from your site. Having a well-structured returns page helps them decide if they should continue forward in their shopping journey.
Best practices for the returns page:
Information, Inclusive and Intuitive: Ensure that your returns page has all the information a customer needs to initiate a return request. The page should also be simple to understand and must cover all possible returns scenarios.
Instant connection: Include a FAQ section that goes over all possible doubts a customer may have while initiating the return. Offer a call-to-action button that instantly enables your customers to connect with your support team if they have any specific questions about the returns process.
While the shipping policy page may not be the one driving a lot of traffic, not having one on your website may cost your e-commerce business. A clear shipping page offers all the information your customers need to know about your shipping policies, the different types of shipping you offer, and their costs. For e-commerce businesses that operate in different regions, it is important to provide details about your international shipping policies too.
Best practices for the shipping policy page:
Structure your shipping policies clearly: Whether you choose long paragraphs or have FAQs, ensure that your shipping policy is easy to read, offer proper navigation for customers, and let them access information that they want.
Transparent timeline: One of the important goals of your shipping policy is to help customers differentiate between the shipping services you offer. Ensure that you offer enough information about order processing timelines, the time that each shipping method requires, how long average international shipping takes, and more.
Your help/contact us page lists the different ways for customers to connect with your customer support team. The best help and contact us page should offer enough information for customers to troubleshoot the most common issues themselves before they reach out to your team.
Best practices for the contact us page:
Be transparent with timings: Ensure that you let customers know when your team will be around to connect with them. In case a customer reaches out to you during off hours, include lead capture to collect their contact information and get back to them at the earliest.
Segment your support: Not all customers may require the same help. Ensure that you group frequent issues into categories on your support page to prevent customers from sifting through a lot of information.
The terms and conditions page lays down the rules of use that your customers need to follow while interacting with your website. The terms and conditions page minimizes disputes and helps protect your e-commerce website from legal issues.
Best practices for the terms and conditions page:
Protect your website and business: Include information that prevents customers from abusing your website by clearly drafting the repercussions of what such actions may invite. This helps you control buyer actions by terminating accounts of potential scammers.
Establish trust and accessibility: Ensure that your website is accessible to all by clearly including transparent site usage terms. This allows for more customers to trust your business and rule out any misunderstandings.
Additional pages you can add:
Based on your e-commerce business model, you may require additional pages such as:
Store Locator:
Store Details Page
About us
Blog/ Resources
Store Locator and store details page are vital only if your online e-commerce store is an extension of your brick-and-mortar store. For instance, Barnes and Noble have brick-and-mortar stores, so they have a section to help visitors with relevant information.
The about us page lets you tell your story to your customer. It helps you forge a personal bond with shoppers by conveying the mission of your business, your core values, and the impact you look to create with this business.
Blogs and resources can again be used to create organic SEO for your site, however, it should be relevant to your business. For example, as an e-commerce website, you can use the blog section to talk about upcoming events, collaboration announcements, and more. This lets you create organic content you can share with your subscribers too.
Resources to help your E-commerce Website
Here are some go-to resources to draw design inspiration, innovative ideas, and best practices to help you create a visually appealing and user-friendly e-commerce website.
Conclusion
An e-commerce website opens up a swift and hassle-free shopping experience. They can view your catalog, add items to their cart and proceed to checkout. While the process may appear simple, there's a lot that goes into ensuring that your shoppers enjoy a straightforward shopping journey. One small bump in their experience and you may never see them returning to your site.
Ensure that each page that's on your site serves its purpose and that every element on a page has a function to fulfill. In the end, all of these pages, elements, and functions serve one goal – guiding your customer further down the buying journey.