Introduction:
The growth of e-Commerce and its impact on the shipping industry
Importance of meeting customer expectations, fast, reliable delivery
A world without trade is unimaginable, these days. E-commerce has evolved and changed dramatically over time. It has changed how we shop, live, work, and do business. With the recent epidemic, we depend on a one-stop shop for almost everything, including basic and important items.
During the epidemic, groups of people initially unused to online shopping also started using e-commerce to fulfill their daily needs. This trend continues to grow and companies are exploring the benefits it offers. With this segment Global trade deals grew to $26.7 trillion in 2019, four times the previous year, according to the United Nations. This trend has continued ever since and consumers are realizing the convenience of online shopping and home delivery. For small and medium-sized companies, e-commerce offers access to global inquiries, a wider customer reach and the opportunity to grow and become extremely profitable – but only if they are suitable to create an effective delivery method.
Orders must be ready, accurate and delivered without problems. Merchants also choose an e-commerce aggregator with delivery partners in their business ecosystem or create their online channels, meaning they must implement their delivery mechanisms. Nowadays, we cannot imagine a world without trade.
Emerging Trends in E-commerce Shipping:
Same-day and next-day delivery services
Drones and autonomous vehicles in-last mile delivery
Eco-friendly packaging solutions
The rise of e-commerce has changed the retail landscape and revolutionized how consumers shop. With just a few clicks, guests can browse, select and order products from the comfort of their own homes, leading to a proliferation of online products. Nevertheless, this change in consumer behavior has also significantly impacted delivery reliability.
Same-Day Delivery:
Indeed, same-day shipping can significantly reduce the delivery time compared to retailers who delay shipping orders. Imagine getting your hands on that eagerly anticipated product a day or two earlier! However, same-day delivery takes things to a whole new level by ensuring that your order arrives at your doorstep on the very same day it was placed. Now that's convenience at its finest!
Eco-Friendly Packaging:
In today's environmentally-conscious world, businesses increasingly recognize the importance of sustainable practices, and packaging is no exception. As you strive to find the perfect packaging solution for your products, it becomes crucial to consider various factors such as cost, materials, and size.
But there's one element that should never be overlooked – the environmental impact. eco-friendly packaging materials have become one of the latest trends in the industry. By choosing these sustainable alternatives, you contribute to reducing waste and enhance your brand image as a responsible business that prioritizes the well-being of our planet.
Challenges of Last Mile Delivery:
The final stage of the delivery process, the last-mile delivery poses unique challenges for retail delivery. As private deliveries to residential regions increase, delivery companies must navigate congested routes, manage complex addresses, and manage time-sensitive deliveries. This has fuelled engagement with innovative products such as delivery drones, self-driving vehicles, and crowdsourced delivery models.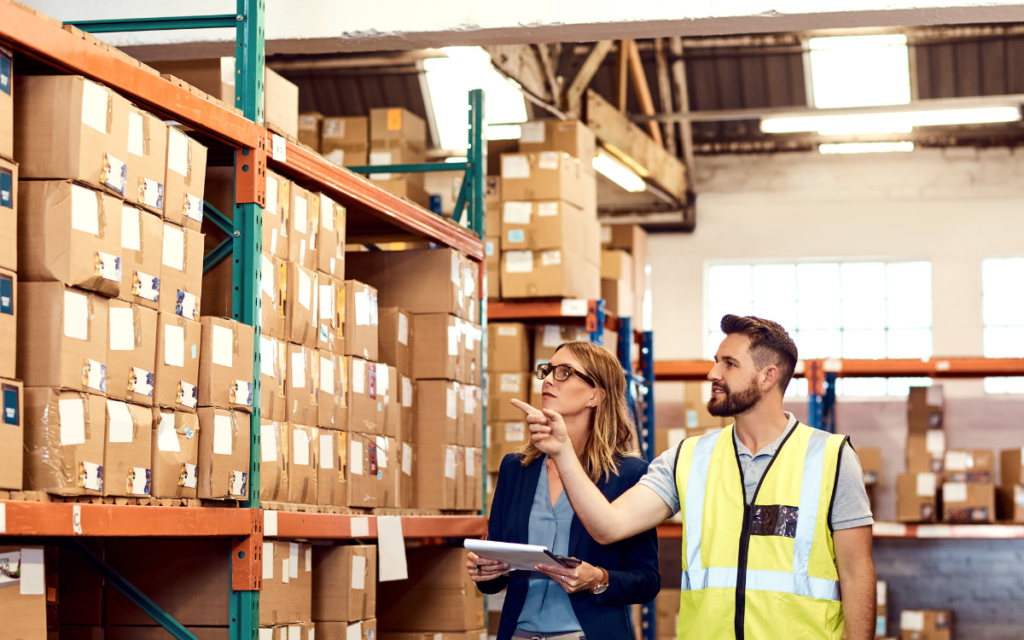 Innovations Powered by Technology:
Artificial Intelligence (AI) and Big Data Analytics to improve supply chain efficiency
Blockchain Technology enables transparent tracking capabilities
As the epidemic forces people to stay inside, e-commerce companies have had to adapt their strategies and leave clients with more freedom to search and order products and tools to help them make the right choice when shopping. Several original niche features are now hard-pressed into the e-commerce van. Some of the simplest and most important of these tools are:
Augment Reality:
As stores closed, guests demanded a chance to get a feel for the product before hitting the buy or purchase button, and that's where A.R. came to play. Although augmented reality is not fully tangible, it provides a fairly accurate visual representation of the product you ordered without going to the store in person.
Chatbots:
Not going to physical stores also means you are not apt to meet or interact with store employees to inquire about products. To overcome this, several e-commerce platforms have developed chatbots to assist visitors in their shopping experience and answer any questions. They are friendly, intuitive and can greatly simplify your buying process. The use and adoption of chatbots in companies have grown and will likely continue to grow.
Alternative Payment Methods:
Another consequence of the epidemic was the shift to a digital payment ecosystem and the decline of cash-based savings, in a historically cash-dependent society like India. Guests now can choose between several different payment methods: card, internet banking, UPI and BNPL (more on that later). It allows customers to use any payment system they think is available, so running out of cash is never a problem while shopping.
Blockchain and Metaverse:
Blockchain is becoming the next big thing in the world of e-commerce. The transactions are said to be endless – cryptocurrencies, NFTs and perhaps most notably the Metaverse. It is narrowness on the brink of breakout that has the potential to change the world as we see it, or so many people claim. But whether it's hype or truly significant, its impact is undeniable. It will change the way many people shop, if not beyond. Two important drivers essentially drive this revolution:
Non-Fungible Tokens (NFTs):
Well-known brands like Gucci and Coca-Cola have moved into the NFT space, selling virtually rooted merchandise and collectables. Gaming platforms have been around for a long time with exclusive skins and character outfits, and with blockchain, they're ready to go even deeper.
Decentralization and Web 3.0:
Blockchain also paves the way for decentralization and eliminates monopolistic realities, allowing the delineation of peer-to-peer platforms to emerge, more apathetic Internet or Web 3.0. These P2P transactions are becoming popular, and more and more blockchain-based gambling is emerging. It is really exciting to see how persistence will grow shortly and the new opportunities it will open up.
Buy-Now-Pay-Later (BNPL):
Buy-Now-Pay-Later (BNPL) is one of the newest and most widely used non-refundable payment methods that have emerged recently. As the name suggests, it allows you to buy and pay for products later. Many platforms like Simpl and Uni make the whole process easy and accessible. BNPL schemes outperform conventional credit cards or EMI schemes because BNPL is usually interest-free and easier to set up. It also offers a wide range of options, from annual payments to one-time payments at the end of the month. This gives consumers a lot of freedom and rigidity.
Digitization and Internet of Things (IoT):
The Internet of Things (IoT) has been nothing short of a boon for logistics and e-commerce due diligence as it has significantly reduced individual workloads and helped automate many initially slavish and time-consuming processes. It also helps identify patterns and build algorithms to better serve guests like- displaying products and Ads as per customers' browser history, conducting surveys to identify customer preferences, automation processes of pushing Ads and promotions to Internet Users and Automation in factories and Warehouses.
The Role of fulfillment Centres & Micro-fulfillment Strategies:
Centralized fulfillment centers enabling efficient order processing
Local micro-fulfillment centers improving speed-to-market
Running an online store may not be the most exciting part of running a business, but it is an essential part of success and growth. Your product can be number one in maintenance and your website can be hassle-free, allowing your guests to slide smoothly into checkout. However, if e-commerce fulfillment does not go well, your e-commerce business may lose all offers.
Order fulfillment is an integral part of your e-commerce business as it involves several processes that ensure the smooth delivery of products to guests. Generally, these processes include removing the product from the shelves, picking and packing orders, shipping methods and other logistics.
Implementing an online store is the cornerstone of your operation. Understanding the processes involved will help you manage and run your e-commerce business better. Although you don't necessarily need to outsource store fulfillment, it will expand your business, make it more flexible and save you from free and harmful expenses. The E-commerce fulfillment process has 4 main components:
Reverse Logistics and Return Processing:
Returns are inevitable and cannot be avoided, so ease of return is important for buyers and return registration is a key feature in online store fulfillment. Efficient and fast return processes quickly return the money to your customer and put the returned product back on the shelf so that it is ready for sale again. This is an important feature that drives the business of your online store. Allowing a 3PL to manage this area frees up space and time to focus on growing your offerings.
Cross border E-Commerce Growth:
Opportunities for retailers to expand internationally
Challenges related to customer regulations, taxes and varying consumer preferences
The developing number of e-commerce locales and easy-to-understand VAT enlistment methods have enormously rearranged cross-border exchange. These, together with forecasts of new growing applications such as Greece, encourage entrepreneurs to take advantage of this opportunity to grow their businesses.
Cross-border e-commerce importance:
International Expansions:
Doing business overseas opens your brand up to bigger and better openings. Let's take Apple as a case. The company has an online store, Apple.com, where international consumers buy local products. By considering these newer requests, the company gains a competitive advantage and increases its profits.
All-Year Demand:
The centralization of business openings in one area can be disastrous, especially during seasons when demand for goods decreases. Cross-border e-commerce alleviates similar problems by allowing you to take advantage of different demand cycles around the world.
Vetements is a great example of a Swiss fashion brand that always uses cross-border e-commerce to sell products. For example, a company can sell its discontinued collection to global consumers even when Switzerland is enjoying summer – and vice versa. Therefore, if one area experiences a decline, the company can focus on areas that exceed business peaks.
Brand Awareness:
Brand visibility is one of the driving corridors of business success. Handling a cross-border inquiry puts you in front of the consumer and makes you responsible for the inquiry. Especially if you offer unmatched products, building a global community of enthusiastic buyers is a direct possibility.
Find Markets Ideal for Your Products:
As exciting as global expansion can be, targeting e-commerce on a country-by-country basis is a great approach. Start by talking about outside inquiries that are very interested in your products. Also, be diligent and evaluate those with a favorable business environment, winning one market at a time.
Check if your products fall under restricted trade items:
Many foreign surveys have unique product limitations that affect online shopping. The government or other international bodies define these restrictive measures. Some examples of defined products for cross-border e-commerce include pharmaceuticals, foodstuffs, beverages, alcoholic beverages, disinfectants and many others. Therefore, make sure your products are not subject to these restrictions to help avoid bans for global requests.
Determine Prices and Taxes:
International payments can be complicated. Improve your chances of crossing the X-border limit in e-commerce by ensuring that your company meets the tax requirements of a foreign survey. You also need to know competitors' prices for similar products, as well as distribution and other costs.
Third-party Logistics Service Leverage:
Shipping overseas is a headache that e-commerce companies understand all too well! Partnering with a third-party logistics company is a great move to fulfill orders diligently and ensure customer satisfaction. The company takes full control of the entire supply and offers fresh services such as storage and distribution.
Conclusion:
Summary
Importance for companies to stay ahead with these emerging technologies while focusing on sustainability
Once your new delivery method is in place, make each group responsible for reporting how well the stipulated effects are coming to them. You should be ready to iterate when the time comes, but let the strategy work for a while so you have enough information to improve. It often takes some time to find a new approach. So once you have the basics to support your changes, be prepared to stick with it and make some changes as you go. When you control the shipping method, it becomes less of a "last step" in the customer sale and more like just another stop on the customer's shopping cycle journey.