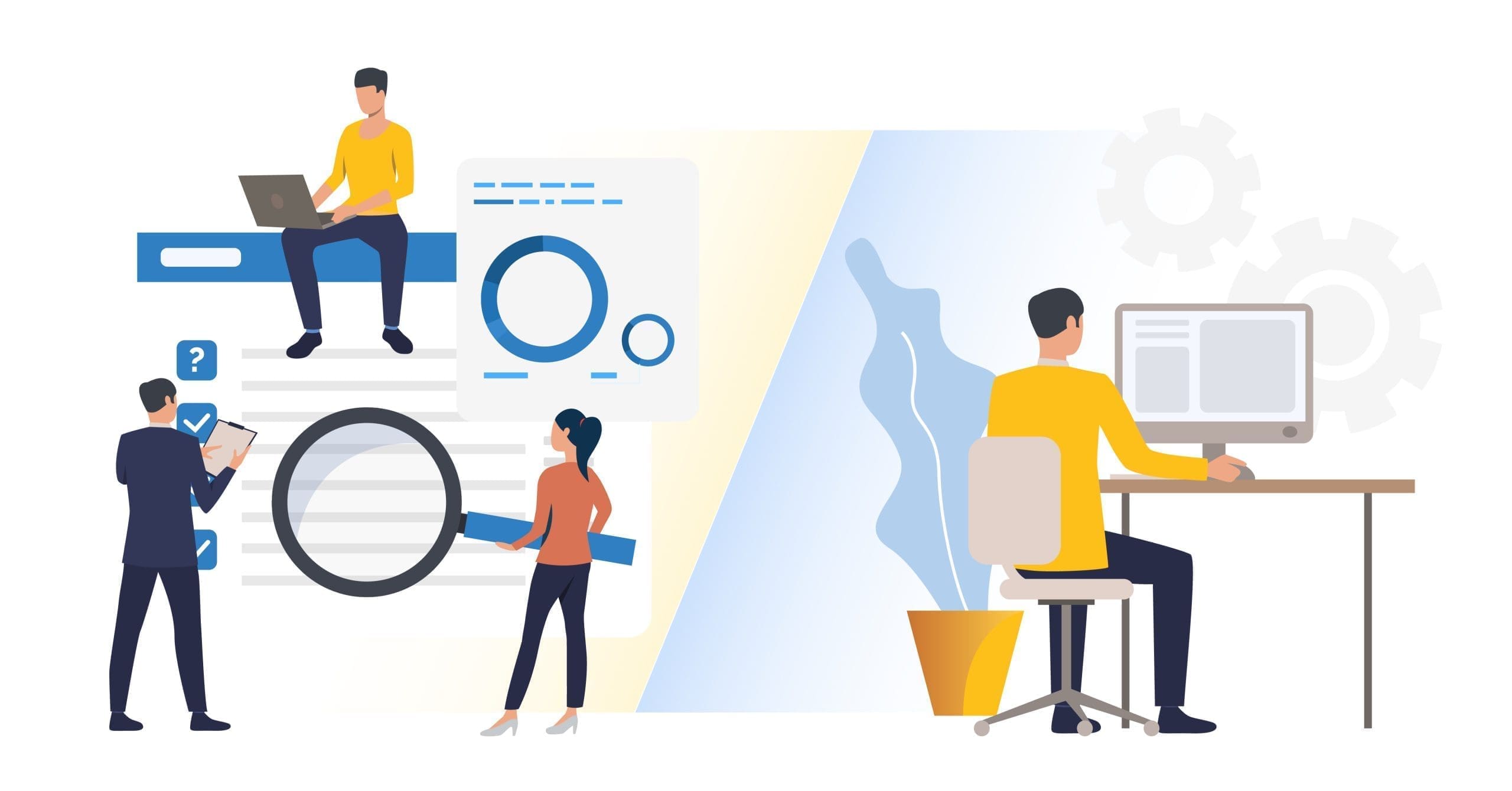 Definition of E-commerce Operations
Put, e-commerce operations refer to a culmination of all the business activities and processes that are required to sell products and services online. The optimal choice may differ depending on your organization's size and distribution channels. Nonetheless, some of the fundamental aspects of e-commerce operations include
Warehouse management
Inventory management
Shipping customer orders
Supply chain management and
Customer service, among others.
The more your business grows over the years, the more responsibilities get added to this list. Such includes inventory distribution, and multichannel retail planning, among others. Ensuring a seamless flow of all these various tasks can become quite challenging for certain businesses. This brings us to the most important question, should you outsource your operations in e-commerce or keep them in-house? Let's find out.
Outsource vs In-House: A Comparison
Before you decide to go for any of these above-mentioned options, you need to have a detailed understanding of both sides. To help you with the same, we have prepared a comprehensive list of comparisons between outsourcing and in-house.
Exemplary customer experience
If you outsource e-commerce operations, you give up all your control over the customer experience process. This includes managing the e-commerce platforms to deliver the products to your customer. The entire journey is managed by your chosen third party, which will ultimately be responsible for the brand experience you wish to create.
Contrary to this, if you decide to keep it in-house, you will have full authority over all the e-commerce tasks, including inventory management, promotion management, and order processing.
Smoother return processing
According to a recent study, as much as 92% of customers have stated that they are likely to purchase again if the return process is easier. Going by this data, it can be safe to say that the return process is quite an integral part of e-commerce operations.
Offering a quick and hassle-free return process can be a great way to differentiate your business in this highly competitive market. However, when you decide to outsource e-commerce operations, it can sometimes become quite complicated. One of the main reasons is the addition of multiple steps in the process. Important feedback can get lost when a product gets returned to your 3PL partner. This further prevents you from taking the necessary steps to create an optimum customer experience.
Flexibility in demand reaction
Outsourcing your e-commerce operations only sometimes offers as much flexibility when it comes to demand reaction. These kinds of tasks call for immediate attention, which can take a lot of work for businesses to manage. For example, when a top-selling item goes out of stock, you need to constantly touch your service provider to restock the same.
Opting for in-house grants, you complete transparency over the supply chain process. This means that you will know exactly which products are selling out fast so that you can restock them accordingly, to provide the optimum experience for your customers.
Business scalability
Lastly, when outsourcing your e-commerce tasks, the business scalability depends on numerous factors. These include your service provider, distributor, and global reach. However, scaling your business is also possible in-house with the help of your existing resources and assets and by using the necessary technology.
Reasons to Outsource or Manage In-House
Here is a detailed guide to some of the most important aspects of both outsourcing and insourcing e-commerce operations.
Customer Experience
Benefits of outsourcing fulfillment services
Order fulfillment is considered to be one of the most difficult and time-consuming tasks of e-commerce. Outsourcing the same can provide a huge number of game-changing benefits for your benefits. Wondering what those are? Let's find out.
Focus on the other aspects
Managing your order fulfillment service in-house can still be manageable when you have a small business. But as you scale, it becomes increasingly difficult and resource-intensive. Hiring a third-party logistics partner can be a good idea in such scenarios. You can entrust them with all the heavy lifting work so that you can focus on the other important tasks of your business, such as sales, design, and marketing.
Lower shipping costs
Yet another classic advantage of outsourcing fulfillment is that it saves you a lot of resources in different parts of your business, such as shipping. Most fulfillment partners have warehouses distributed all across the country and sometimes even overseas. Balancing your inventory across all these locations ensures that the ordered goods are always closer to your customers. In this manner, you can reduce shipping costs by as much as 25%.
Increased shipping speed
Multiple warehouses across different parts of the country enable you to deliver faster delivery to your customers. According to a recent study, as much as 67% of US consumers have stated that they expect their products to be delivered within two days or less. To deal with such high customer expectations, outsourcing your order fulfillment is the only way out.
Benefits of managing In-house
One of the biggest benefits of managing your order fulfillment in-house is keeping 100% of your logistics under control. This, in turn, helps you to meet customer expectations more efficiently, as you no longer have to rely on third parties. Furthermore, it also increases understanding of your customers' needs and demands, as you are always in direct contact with them. This way, you can identify their pain points and improve your products and services accordingly.
House Fulfillment Considerations
Below are a few critical factors that come into play when opting for in-house fulfillment.
Overhead costs and incremental growth
One of the most common misconceptions about in-house fulfillment management is that it saves a lot of money in the long run. However, that is, in fact, quite the opposite of reality. As more and more orders start to roll in, you will feel the need to establish an order fulfillment service, to keep up with all of them on time.
If you choose to replicate the entire fulfillment infrastructure of e-commerce giants such as Amazon, it will significantly increase your shipping rates and lead to inaccuracies. That is why numerous companies opt to outsource their fulfillment operations, allowing them to fully leverage an established infrastructure and advanced technology without being overly concerned with the associated expenses.
Inventory levels and management responsibility
A well-coordinated inventory management system is extremely important to keep your inventory organized and track the same effectively. If you are opting for in-house management, you have to continuously ensure that there is sufficient inventory to meet the demands of your customer base. Without any management system, this entire process can easily get disrupted, leading to serious consequences such as backorders and stockouts.
Core competency and training needs
Lastly, professionals in logistics operations are always equipped with all the required knowledge and expertise to help companies of all sizes. When you decide to manage in-house, you can learn a few things from the entire process. But the more your business grows, the more time you have to spend on the product or business development, thus ultimately reducing the time spent on logistics.
Although you can always hire individuals who can handle logistics, it also comes with extra costs. Furthermore, you also have to give them the necessary training before they can finally be ready to handle all the tasks. All these require the expenditure of a lot of resources. This is one of the many reasons why many companies hire third-party logistics, who are already trained and highly skilled in this field.
Fulfillment Provider Considerations
If you are opting for outsourcing your order fulfillment, here are a few points that need to be considered.
Shipping costs and rates comparison
One of the many factors that need to be considered when outsourcing your order fulfillment services is how they bill their clients. Always try to avoid large monthly or annual retainers. This is because even if your sales do not cross the specified threshold that you agreed upon with your service provider, you will still have to pay. Instead, always go for a low, flat-pricing structure. In this manner, even if you increase your shipment, the price will not surge.
You should also look for hidden or added fees that might be written in the contract. For example, are you going to incur an extra charge for packing slips? Or is there an extra charge for dunnage? Although these might seem trivial at first glance, the more your business scales, these costs will add up. Therefore, it is always advisable to know upfront if they exist.
Shipping times and label creation efficiency
Shipping speed is another important criterion to consider when evaluating fulfillment options. Many service providers can take time to fill orders, from one day to even one week. This lead time keeps your customers waiting; when combined with the time to ship the products, it increases more. Therefore, always go for providers that provide speedy delivery to your customers. In this way, you can keep them satisfied and happy.
Almost every single item that you order online is bound to have a barcode attached to it somewhere. Consider it as the language of the whole supply chain process. Barcode is important because it enables computer systems to manage inventory levels easily, among other benefits. While choosing the right fulfillment provider, ensure that this labeling process is done in an error-free manner. Some companies can also charge you an extra cost for printing and applying labels.
Customer satisfaction & expectations metrics
The whole shipping process can get extremely complex at times because so many steps are involved. It also leaves room for error, such as the items breaking or being delivered to the wrong address. Although, in most cases, there is no single person to blame for such mistakes, the customers ultimately suffer. Therefore, your preferred fulfillment company has excellent customer service. In that way, even if you have to take returns or go to the bottom of the complex issue, you will have someone to call.
Fulfillment Operation Considerations
Finding the right fulfillment partner for your business
While selecting the right fulfillment partner for your business, a few characteristics must be considered. Your fulfillment company must have seasoned industry experience and the ability to implement automation such as robotics and other technological solutions. It should also offer various services while maintaining expertise in its core solutions.
Evaluating existing fulfillment solutions
The benefits of outsourcing order fulfillment are undeniably numerous. However, that said, it only sometimes means that it is the right decision for your business. To ensure this, you need to evaluate your existing fulfillment solutions. If your fulfillment and logistic resources are scarce, you should opt for outsourcing. However, if they are somewhere in the middle, you can go for a hybrid solution for your order fulfillment.
Analyzing the entire fulfillment process cost analysis of different options
There are varied costs involved in the entire fulfillment process. These include,
Warehouse Receiving – The costs related to receiving new inventory
Managing Inventory -The costs related to shelves, bins, and pallets used to store the goods.
Packaging – This includes the costs associated with standard packaging or brand packaging.
Return Processing – The costs related to restocking or disposing of the returned items.
Understanding requirements for fulfillment software
Here are some of the most common requirements for e-commerce fulfillment software.
It must integrate seamlessly with other popular e-commerce platforms.
It should be able to automate the entire process of importing new orders.
It should provide you with the ability to view your invoices.
It must be able to manage your inventory efficiently.
It must be able to verify and process returns.
Pros & Cons of Outsourcing vs Manage In-House
Let's first start with the advantages of outsourcing your e-commerce tasks.
Cost-effectiveness
Yet another advantage of outsourcing is that it can save your company a lot of money. You no longer have to spend loads of money after maintaining the office equipment or investing in system integration and web development.All these can be outsourced easily and require far less capital investment.
Enhances productivity
Lastly, when you rely only on a small in-house team to handle all your e-commerce tasks, you are likely to experience less productivity. With the help of third parties, you get to work with a larger team. They take care of all the crucial tasks and help your business grow by achieving all its stated goals and objectives. Lastly, outsourcing also helps a company stay on par with the competition without hiring more employees.
Advantages of insourcing
Reduced risk
Managing all your business operations in-house helps you safeguard all the company data in a much better and more regulated manner. This includes trade secrets, confidential documents, and sensitive passwords, among others.
Better control
Yet another potential advantage of insourcing is that you can manage your team from one location. For example, you can assess the performance of your team members, manage employee development, and assign individuals to different projects, all from the same location. This, in turn, leads to a stronger employee relationship and, ultimately, better employee retention.
Disadvantages of outsourcing
In order to make a well-informed decision for your business, you need to have a clear understanding of both sides of a coin. On that note, here are some of the disadvantages of outsourcing e-commerce.
Loss of control
One of the biggest disadvantages of outsourcing is losing control over e-commerce tasks. This means that you might not be able to monitor minutely how an activity is being carried out or whether it is in sync with the business ethos.
Confidentiality risk
Yet another potential problem that comes with outsourcing is the risk of a data breach. When hiring third parties to manage your e-commerce operations, you automatically give them access to your business data. To prevent any unwarranted consequences, it is always best to set a written agreement between the parties that will highlight all the terms and conditions related to data protection and confidentiality responsibilities.
Disadvantages of Insourcing
Increased costs
When you decide to manage all your e-commerce operations in-house, the hiring and labor costs automatically soar. This includes hiring new employees, paying them monthly salaries, as well as paying for benefits such as sick leaves, new work equipment, and other such things of similar nature.
Reduced workload flexibility
Workload flexibility is extremely important, as it helps employees manage their workload according to various factors, such as project deadlines and deliverables. While managing the same is quite easy when you opt for e-commerce outsourcing, keeping it in-house can significantly reduce this flexibility. Your existing team might not always be flexible enough to take on new projects, as they are already equipped with the old ones. This will ultimately lead to employee dissatisfaction, as they will feel burdened and unmotivated.
How can you leverage technology for your in-house e-commerce management?
By harnessing the power of the right technology, you can manage all your e-commerce operations more seamlessly. For example, by implementing a Software-as-a-service technology platform in your business, you can enjoy extensive benefits ranging from complete visibility to speedy fulfillment. Here are a few ways by which you can leverage technology for all your in-house e-commerce management.
Supply chain visibility and order accuracy
With the help of an inventory management system, you can now gain complete visibility of the whole supply chain process. In this way, you will also be able to control your order flow across multiple channels much more efficiently.
Yet another advantage of leveraging the power of technology for your e-commerce operations is that it ensures full-order accuracy. With the help of a centralized platform, you can gather insightful data to identify your top-selling and bottom-performing products. This will allow you to perform crucial tasks, such as product organization, more seamlessly.
Pricing discounts and promotions
By implementing a SaaS platform, you can now run various promotions and offers on your low-selling products. Furthermore, it also enables you to monitor them and learn their effectiveness closely. All this ultimately makes the whole business process much simpler and more efficient, as you no longer need to manage different services for these tasks when all can be done on one single platform.
Speedy fulfillment
Every customer wants fast delivery. You must have the resources for speedy fulfillment to provide your customers with the same. This is where an OMS (Order Management System) comes into play. You can fast-track the entire fulfillment process by integrating your multichannel inventory system with an OMS. However, the benefits are not just limited to this alone. When combined with a Warehouse Management System, an OMS can also keep track of the stock levels across varied locations.
Cost-effective scaling
As your business grows, the cost to maintain the same increases simultaneously. However, with the help of the right technology, you can significantly cut down on this cost while scaling your business simultaneously. Wondering how? Well, a centralized platform that allows multiple integrations can effectively help you manage huge amounts of orders without any extra cost. Furthermore, it will also help you to automate and streamline your warehouse processes.
Conclusion
Wrapping up, both insourcing and outsourcing are beneficial sourcing options. While the former can help you to build a strong and long-lasting bond with your team members, the latter can cut down on extra costs and save up huge amounts of resources for your business. However, both of them come alongside their own set of limitations. Choosing between these two bestows is on your shoulders as a business owner. The ultimate objective should be to develop a seamless brand experience for your customers, which will distinguish your business from the competition.
FAQ's
What is the difference between outsourcing and in-house development of website e-commerce?
In-house web development means when a business hires new candidates or employees who are designated with the task of maintaining their official e-commerce website. On the other hand, outsourcing web development refers to hiring external IT companies, consisting of a team of IT professionals who will help create and maintain the company's website.
What are the key advantages of in-house development over outsourcing?
A few of the many advantages of in-house development include
Direct Communication – In-house developers usually work directly at the company's headquarters, making it quite easy to contact them. This leads to a smooth and hassle-free flow of communication, which might have yet to be possible with outsourcing.
Full Control – When opting for insourcing, you must train your employees from scratch. This means you will know exactly what kinds of tools are used for the business process. Furthermore, in-house developers are also aware of the company's needs and demands, enabling them to adapt more efficiently.
What are the benefits of outsourcing e-commerce websites?
Some of the major benefits of outsourcing e-commerce are as follows
Improved Efficiency – When you decide to outsource your e-commerce operations, you get to save up on a lot of time and money. You can use these resources to fulfill the other requirements of the company, thus increasing its overall efficiency. In this manner, you get to streamline the entire process in a seamless manner.
Cost-effective – Lastly, outsourcing significantly cuts down on any additional costs, such as hiring new employees and giving them the required training.
What are the advantages of having a full outsourcing model for your e-commerce?
Having a full outsourcing model for your e-commerce business helps you dedicate your focus and time to your other pressing needs. It also allows your team members to concentrate on their main tasks and plan effective future strategies. Furthermore, it also gives you access to new technologies and valuable resources, which is otherwise impossible due to their high cost.
What are the disadvantages of outsourcing e-commerce?
Apart from the huge number of benefits that it brings to the table, outsourcing e-commerce too has its own set of shortcomings. Some of them include,
Service Delivery – The quality might not always be up to the mark.
Lack of Flexibility – Contracts might not always be flexible enough to accommodate any kind of changes.
Confidentiality – There is a potential chance of breach of privacy, as you give access to all confidential information and sensitive information to external parties.
Management Difficulties – Any kind of change, such as the addition of a new staff member, can cause friction.