Reading Time:
9
minutes
By now, most online customers know the drill: you download your favorite app for online shopping (or visit your favorite e-commerce website), create an account, download a mobile version of the app, and you're ready to go online shopping.
In case you need customer services or inquire about any other concerns, your favorite online marketplace usually has a built-in chat feature, that, although limited, serves its purpose.
However, current trends show that online shopping using messaging applications, be it Facebook Messenger, WhatsApp, Talk, and WeChat, among others, is gaining momentum.
Selling and buying through these messaging apps has given rise to what is now known as "conversational commerce," a relatively new term (it was coined in 2015) and an emerging trend that is foreseen to impact e-commerce as we know it.
Conversational commerce encompasses the whole process of consumers chatting with company representatives, getting much-needed customer support, getting personalized recommendations and suggestions, readings reviews, and finally clicking to make a purchase all from within your favorite messaging apps.
What conversational commerce does is extend further the convenience of online shopping, such as there is now no need to shift from one app to another just to make that final sale.
The big marketplaces (such as Lazada, Shopee, Zalora, etc.) already have some sort of chat services and chatbots, but conversational commerce goes beyond the usual chat.
With conversational commerce, the consumer engages in this interaction with a human representative, chatbot, or a mix of both.
Conversational commerce: A brief review
"Conversational commerce" is mostly attributed to Chris Messina in 2015. Messina, popularly known as the technology wunderkind who invented the "hashtag," predicted that a new paradigm will be used for e-commerce. In an article, Messina refers to "conversational commerce" as "the intersection of messaging apps and shopping."

Messina predicted that business interactions will be done mostly on messaging platforms and chat apps. He also predicted the extensive use of voice technology, which elevates conversational commerce.
In a nutshell, customers can chat with company representatives and place queries, get customer support and recommendations, read reviews, and "click" to buy products using only the messaging apps.
Conversational commerce has gone beyond person-to-person chat, with more and more companies using a human representative and chatbot, or a mix of both, to interact with customers.
Trends in conversational commerce
Market data will show that many consumers are now relying on messaging apps for all forms of communication, including personal, business, or commerce.
There is also a marked increase in the use of chats to find products and services online and, more recently, to complete payment processes. In e-commerce, it seems that the added steps of calling, sending an e-mail, or visiting a website have steadily declined over the years.
Here are some noteworthy trends in messaging:
Globally, online messaging apps have been used by more than 2.5 billion people as of 2020.
Recent research reports show that customers are more ready and willing than ever to shop online with chatbots.
The most popular messaging applications include Facebook Messenger, WhatsApp, WeChat, and Viber, although other social media platforms such as Facebook, Twitter, Instagram, and LinkedIn, are still very popular messaging platforms.
Worldwide, five billion people own a cell phone, and almost 3 billion are using 'text' and not the Internet.
As of 2019, more than 75 percent of millennials prefer sending texts because of convenience.
In the US, Americans look at their phones more than 95 times a day or once every 10 minutes, and more than 2 billion text messages were sent in the United States about 3 years ago.
Globally, there were more than 2 trillion text messages exchanged, or an increase of 52 billion messages since 2019.
More than 94 trillion digital messages were sent way back in 2015, and this figure is now much higher.
As far back as 2015, messaging apps were the preferred means of communication for most people, with 1.4 billion consumers using messaging apps in that year only. Again, the number would now be exponentially higher.
We see here that texting and online messaging dominate the way people communicate:
Enter chatbots
It is always nice to talk to a person via chat or telephone, but using chatbots offers never-before-seen advantages, especially for businesses.
Chatbots offer 24×7 services. A few years ago, chatbots were very limited, and could only offer simple services such as question-and-answer services. Depending on how complex the programming of a chatbot is, there is only a limited amount of information that can be exchanged between chatbots and human customers.
Chatbots are software programs designed to simulate with human customers to complete service.
Fast-forward to today, chatbots, with more complex artificial intelligence-type programming, can offer the whole gamut of customer services, and in many cases can offer a "personalized" or "individualized" shopping experience for customers.
Artificial Intelligence (AI)-powered chatbots can engage customers via mobile phones and through Facebook or directly through online stores.
E-commerce companies now use chatbots to offer automated customer service messages to enable customers to buy from e-commerce companies using only a messaging platform.
More and more companies are now able to send order confirmations, shipping, and delivery details, among many others, using chatbots on a single platform. Chatbots can also be used to resolve customer-centric service concerns.
On the marketing side, chatbots can provide product recommendations, suggest "wish lists," and provide interaction with buyers 24×7, and in real-time.
Human interactions and the way people chat or communicate via messaging can be very varied, but chatbots with AI, now have the complexity to go beyond simple queries.
Let's cite a few real-life examples.
In the beauty industry, many companies use chatbots to provide personalized products for customers. The added value of chatbots in the beauty industry is that they can "simulate" or virtually apply beauty products to the user's picture.
Chatbots, using information from customers, can thus provide very accurate virtual representations of a customer using a specific product. The guesswork is minimized considerably.
Another example is clothing companies. With the customer's consent, the chatbot asks about personal preferences (preferred color, shirt, pants, jackets, etc.). The chatbot then makes suggestions or creates a "fashion" profile for the customer. To complete the process, the chatbot then directs the customer to the actual products based on her or his fashion profile.
While there can never be a substitute (at least for now) for an actual person assisting you when you're shopping, complex and more intelligent chatbots are very close to giving the attention customer might get from a sales associate in an actual store.



How do chatbots work?
As mentioned, chatbots are computer programs designed to simulate conversations. There are a few different types of chatbots currently being used. Chatbots also range in complexity, depending on how these chatbots are programmed or constructed. Let's take a look at some of these chatbots.
The rule-based chatbots
These chatbots are generally less complex and are somewhat limited. Generally, these chatbots work based on a set of rules. Thus, they can only respond to certain specific commands and are quite restrictive. These chatbots are "basic" and will not be able to interpret a customer's language. They can only answer specific questions with specific answers.
These chatbots are still very useful, though, particularly if an e-commerce business only needs to answer basic queries.
Artificial intelligence chatbots
At the other end of the spectrum are artificial intelligence or AI-powered, more complex chatbots. AI chatbots are intelligent enough to provide or emulate actual conversations. These bots use machine learning to handle complex questions and can interpret a customer's language. 
One real-life example is AI-powered chatbots being used in the health and medical industry. These chatbots are intelligent enough to interpret customers' descriptions of their health conditions and relay the information to doctors or medical experts. In e-commerce, AI chatbots can handle a wide range of complex queries and comments from users.
It is a no-brainer that today's e-commerce companies mostly use AI-powered chatbots, although basic chatbots are still being utilized. It is a matter of what the demands of e-commerce companies are, or what type of business an e-commerce business is into.
So the next question now is how do you build your chatbots? Fortunately, there are quite a few tools that will allow you to build your own chatbots and integrate these bots into your e-commerce business. However, if you need more complex chatbots, then using a professional programmer is the best option for your business.
How are chatbots improving the shopping experience?
It seems that all indications and trends point to a shifting paradigm when it comes to e-commerce. Here are a few more trends that show the impact of chatbots on e-commerce:
People are accepting brand-based chatbots.
More than 46 percent of people are open to buying through a chatbot and more than 70 percent are willing to receive customer service through a messaging app.
Globally, customers on average spend more than $50 through chatbot purchases.
Industry experts say the global chatbot market will reach more than $1.2 billion in 2025 with a yearly growth rate of more than 24 percent.
Around 80 percent of businesses today are already using chatbots or plan to use them soon.
Chatbots are becoming very important when it comes to an e-commerce company's customer engagement strategy. An important insight here is that around 2.4 billion customers have chosen chatbots over human interactions. The reason is that complex, more intelligent chatbots are said to be capable of answering up to 80 percent of standard questions with a high degree of accuracy.
Why does an e-commerce company need chatbots?
Let's revisit some of the major reasons. AI chatbots offer personalized experiences and are capable of handling one-to-one conversations. Thes highly-customized services prove to be very attractive to customers.
Chatbots improve sales team efficiency and lightens the burden of actual human staff, particularly during peak seasons when customer queries tend to become repetitive.
Chatbots will have no problem dealing with repetitive queries while still being able to provide the optimal answers to customer questions. This gives the human staff the chance to focus more on issues or concerns that may need more person-to-person interactions.
Chatbots can provide real-time (instant) and relevant responses to queries, which also result in better customer satisfaction. Chatbots are now fashionably called "virtual assistants," giving undivided attention to customers and resolving queries without any delay.
Speaking of responses, chatbots also improve customers' access to product information in a simpler, more direct way.
In closing, chatbots definitely improve the online shopping experience, and all indications seem to point out that chatbots are here to stay.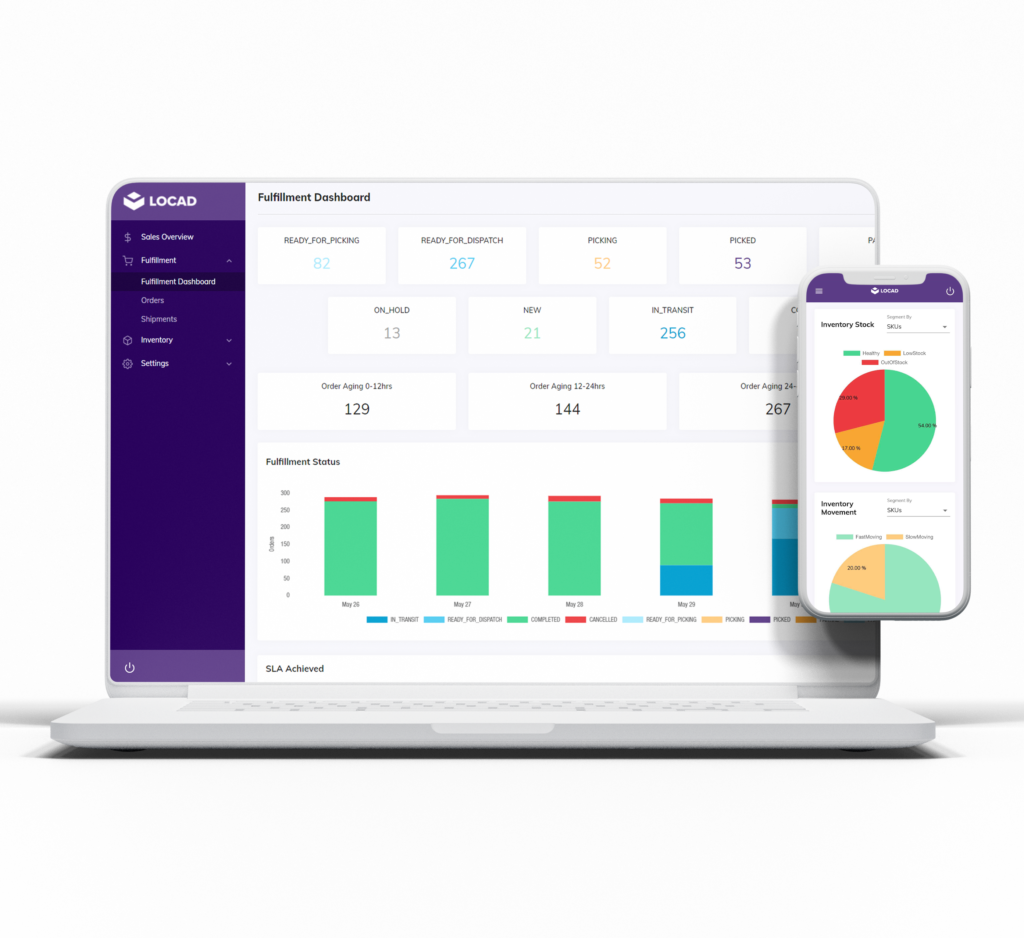 Experience fulfillment by LOCAD
Grow your business through LOCAD's simplified and automated fulfillment solution
Unlimited and scaleable warehousing
Pay only for what you store
No hidden fees or lock-in periods
Zero inbound costs
Wide integration with marketplaces
Automated logistics and delivery