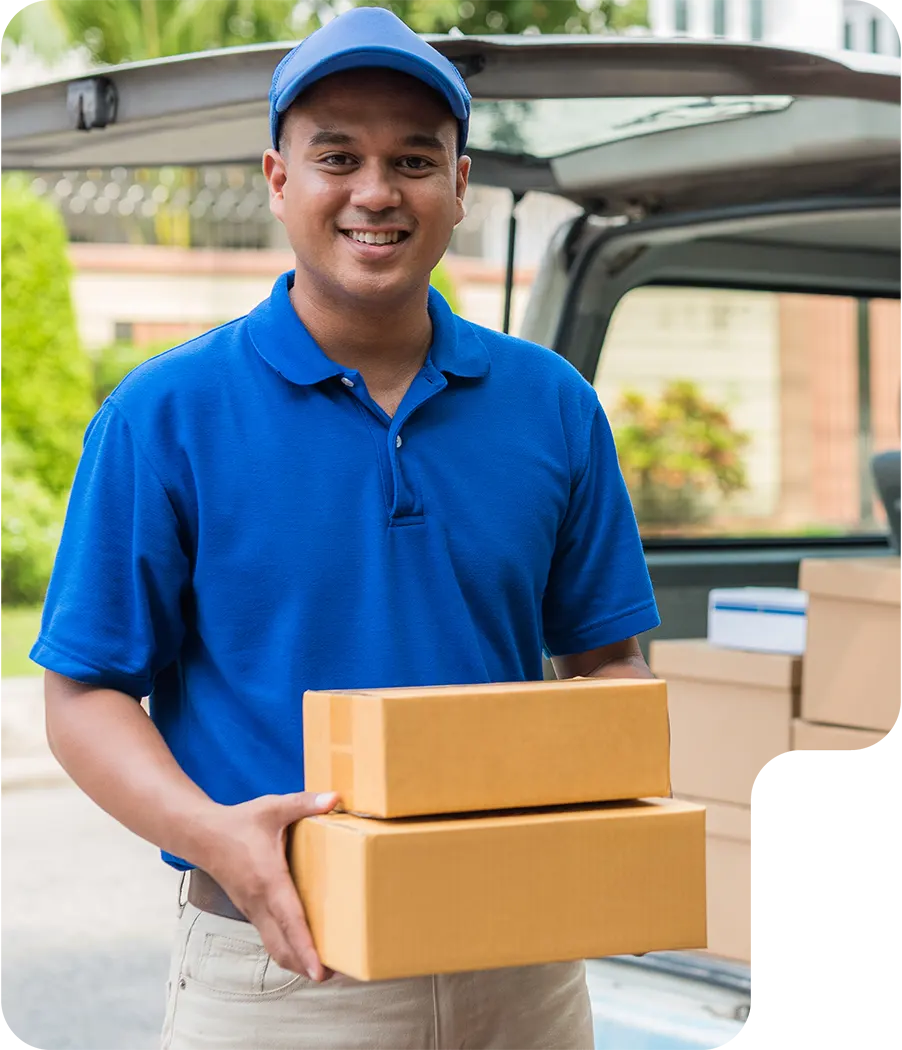 Top 3PL Logistics Companies in the Philippines To Expand Your E-commerce Brand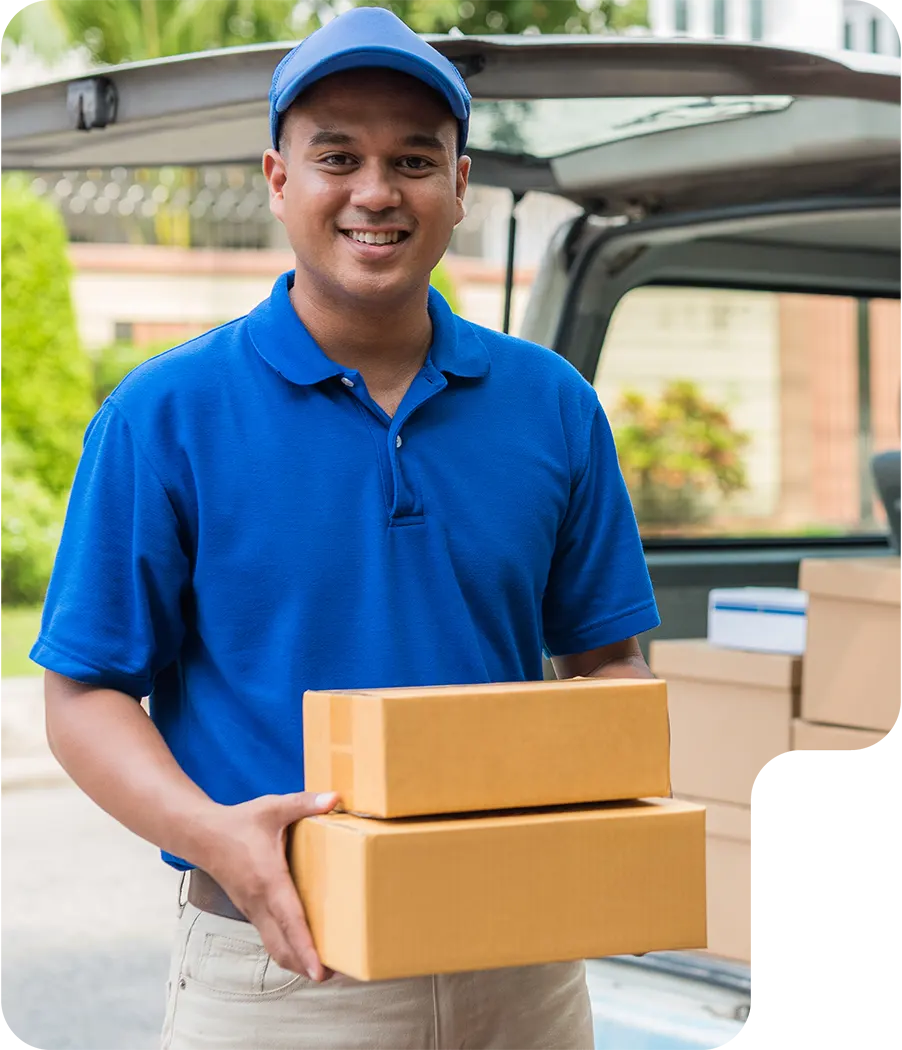 Are you an e-commerce business in the Philippines finding it hard to scale up your brand? Growing your e-commerce company to greater heights can pose challenges while managing all your logistics needs.
The growing e-commerce market in the Philippines is forecasted to reach $24 billion by 2025. As the competition to stay on top intensifies, relying on a trusted 3PL service provider in the Philippines ensures full support as you grow.
The best way to focus on your clients is to hand over your company to the best 3PL service provider. This way, your products stay with trusted hands, and you can shift focus to making customers always feel on top of the world.
Here are some benefits to partnering with a trusted third-party logistics provider in the Philippines
Cut down expenses – A 3PL company can help you avoid overhead costs because they often have their warehouses and a shipping network.
Manage risks effectively – You won't have to worry about unforeseen risks when shipping. Instead, rely on a professional 3PL company to ensure all packages are delivered safely and on time
Better your customer experience – With a reputed 3PL partner, customer satisfaction will be improved because you can excel in three crucial areas: on-time delivery, increased volume control, and a better proposition.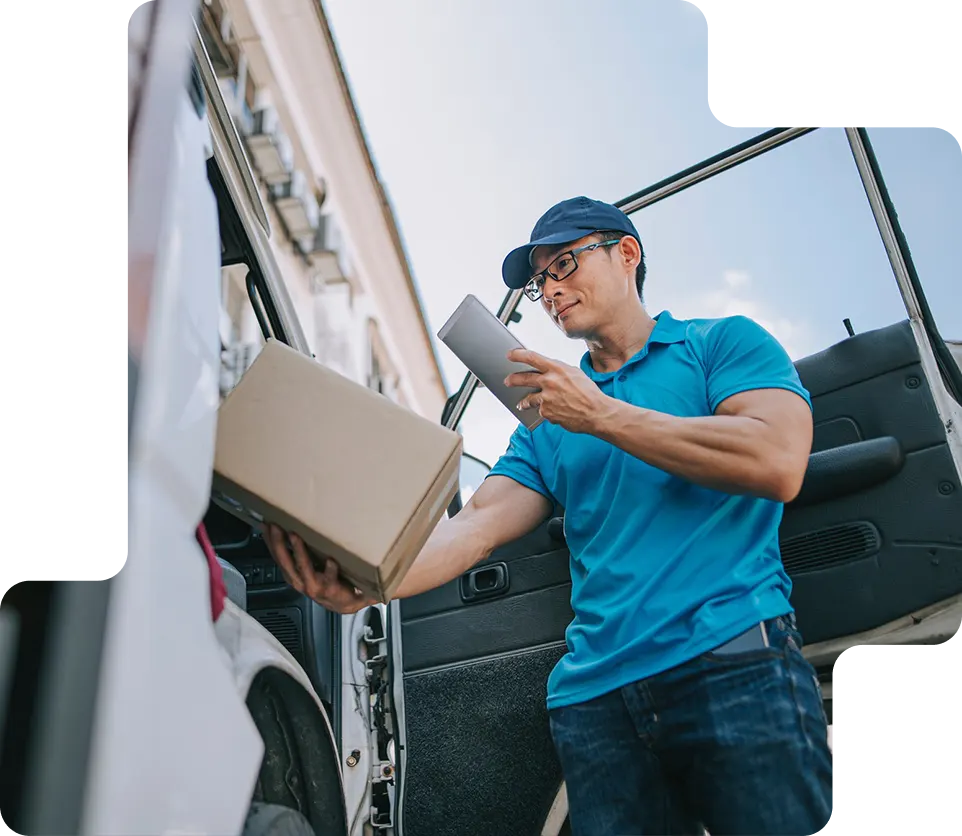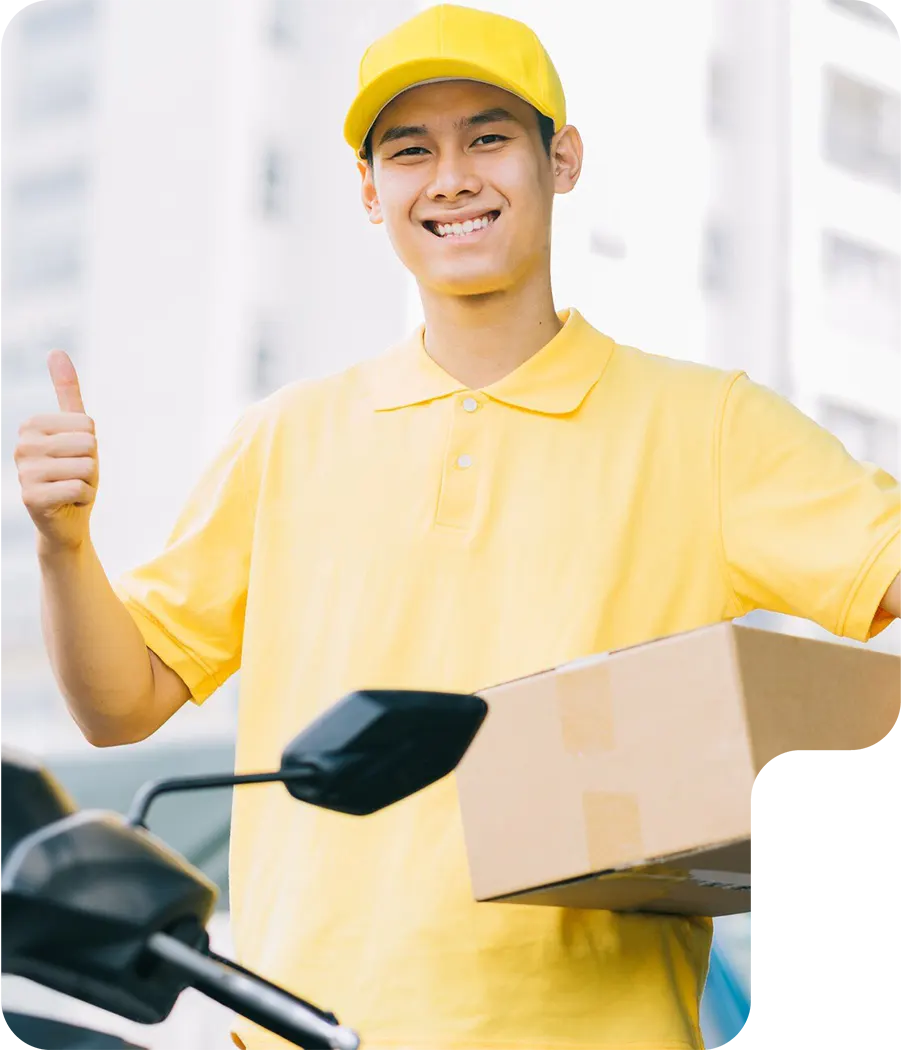 Meet Locad, the top 3PL service in the Philippines
Locad is the best 3PL company in the Philippines with warehouses in Metro Manila, Cebu, and Davao that handles fulfillment and logistics needs for your e-commerce business. Whether it's managing the supply chain processes, monitoring warehousing services, or even receiving, picking, packing, and shipping your goods, Locad has got you covered!
Locad brings excellent industry experience and an extensive network of local providers. Our promise of prime fulfillment across a distributed network sets us apart.
Look no further, for Locad is going to be your perfect third-party logistics provider in the Philippines
Here is why Locad is the best 3PL company in the Philippines
If you are thinking about how you can deliver goods to customers across the Philippines in the best way, let's stop you from thinking further.
Locad holds the top spot on the list of third-party logistics companies in the Philippines. Here's why:
Trusted 3PL provider by businesses in the Philippines, across Asia-Pacific, and more.
Storage, fulfillment, and shipping rates tailored to fit every budget
Efficient warehouse and fulfillment centers with quick and perfectly designed workflows
Presence in prime spots across the Philippines, ensuring the fastest delivery always
E-commerce adoption has grown exponentially to over 80% in the Philippines. Business owners like you are bound to keep scaling up and with a trusted 3PL partner, growing to heights will be as simple as enjoying a cup of coffee.
Locad promises exceptional warehousing facilities, cutting-edge technology, and a system of efficient end-to-end fulfillment that gives your e-commerce business the proper steps to stay on top.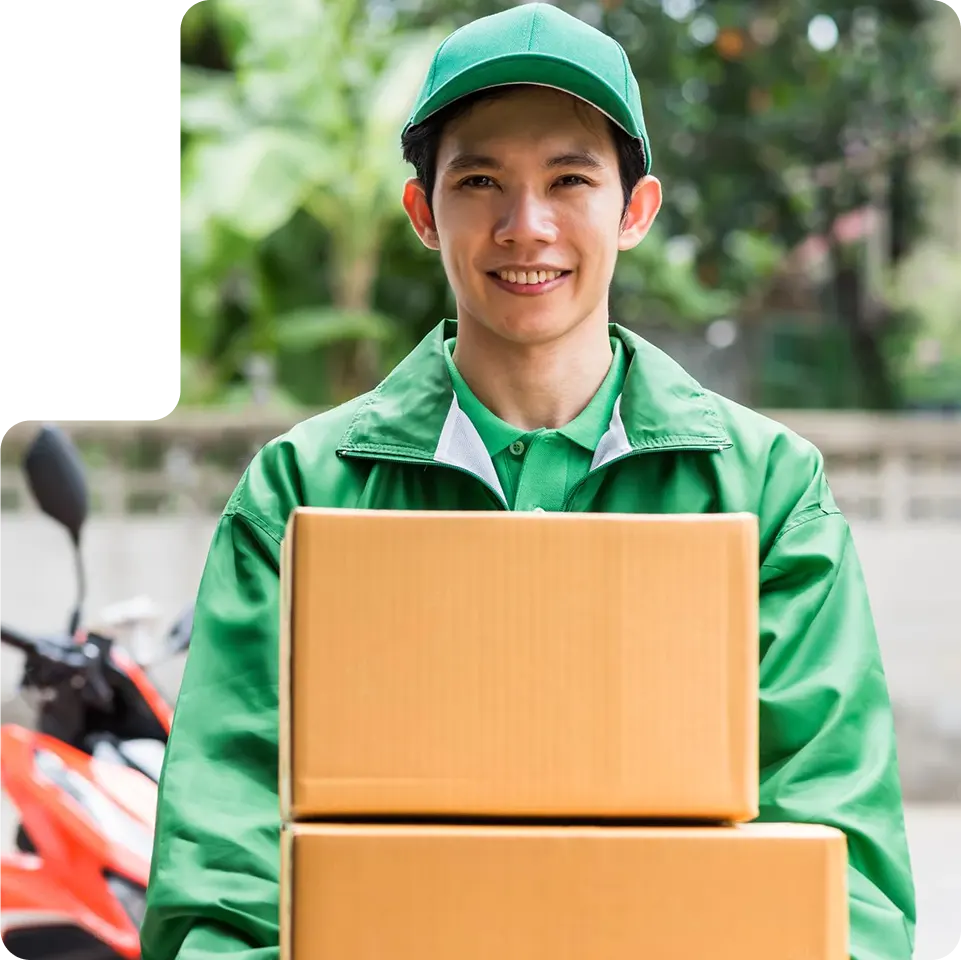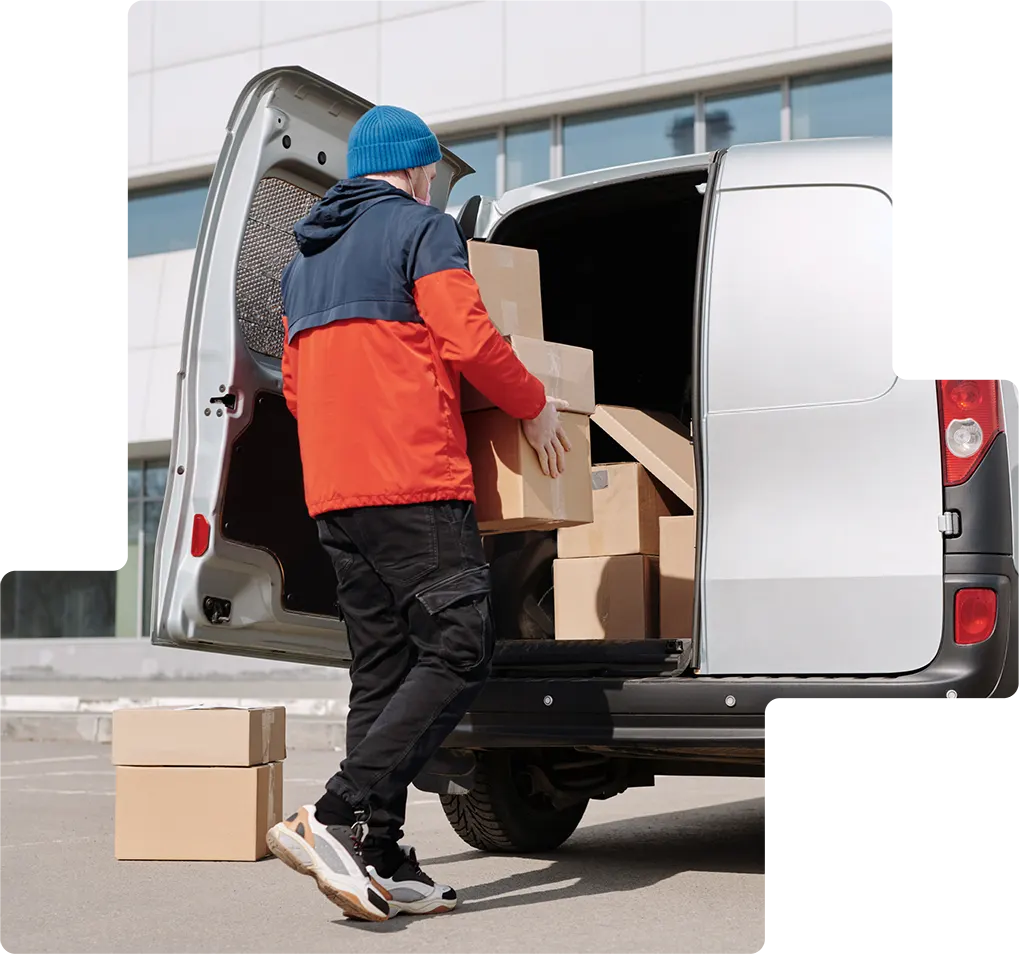 Understanding the need for 3PL companies in the Philippines
An increasing number of countries and international organizations are investing in e-commerce. Offline retail is declining and online sales are skyrocketing. This trend will continue to benefit those supplying the goods and the consumers who buy them with a click of a button.
The Philippines is the second most populous country in Southeast Asia, with a rapidly developing e-commerce market of 67 million digital users interacting daily with local and international market players.
Demand has been on the rise for 3PL logistics. The Philippines has been seeing an increase in the need for faster delivery due to thegrowth of E-commerce.
Leave the logistics to Locad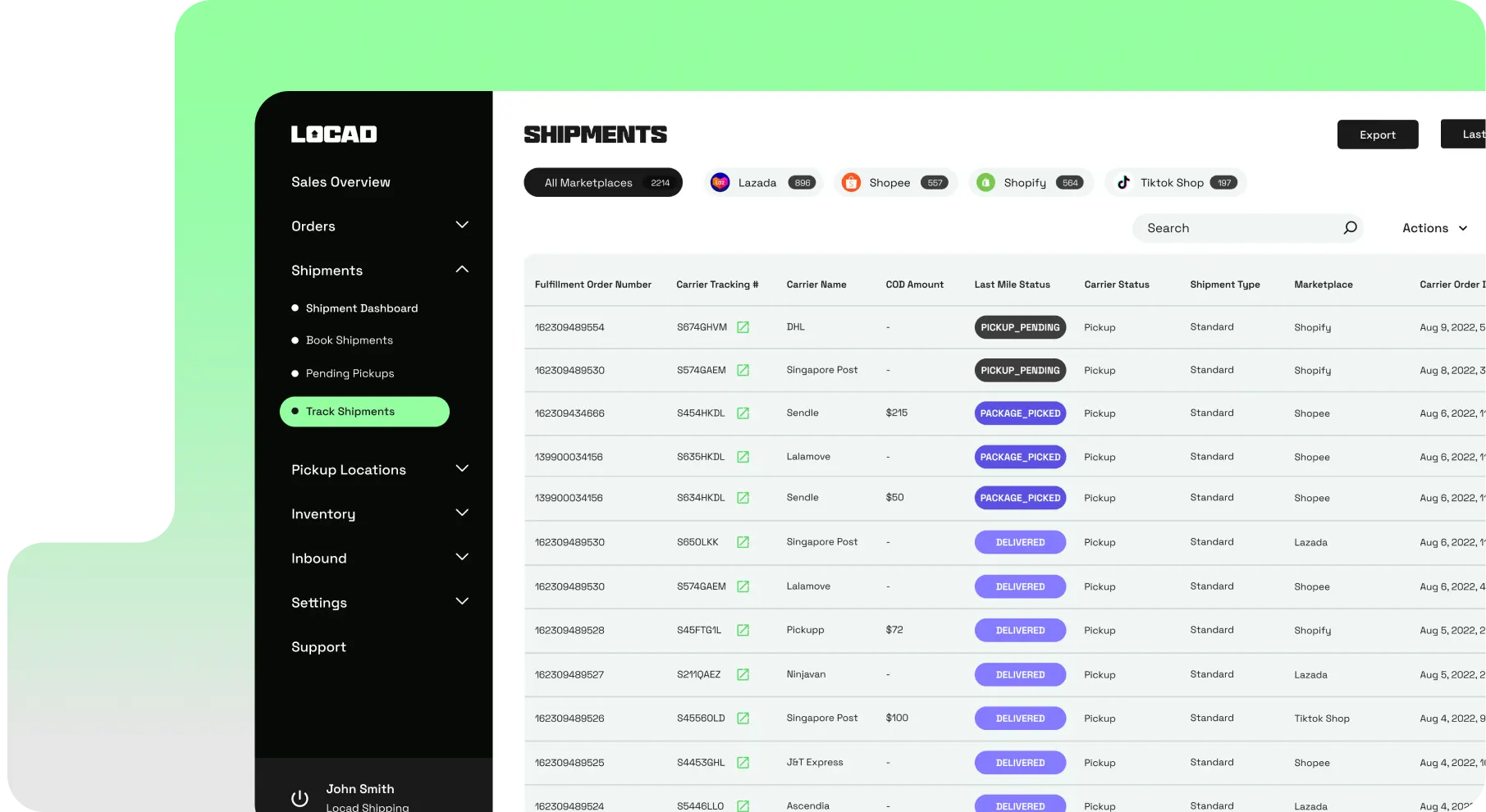 Expecting delivery of online purchases in an instant has become a new standard post the Covid-19 pandemic. Joining hands with the right 3PL service provider in the Philippines gives your business an edge over the ever-changing e-commerce market. Sign up for Locad's third-party logistics services in the Philippines and we will handle all aspects of your supply chain management. That will free up time to focus on the things that matter most in your business, like expanding your reach and perfecting your brand.
Locad - Your end-to-end 3PL partner
Locad is Asia Pacific's first cloud logistics network. As the best third-party logistics provider in the Philippines, we are a fulfillment service that is fast, flexible, and affordable with top-of-the-line customer service that will give your e-commerce business the competitive advantage it needs.
3PL logistics in the Philippines with dynamic inventory management
Locad's robust WMS in the Philipinnes connects seamlessly with the Locad Control Tower. This gives you complete visibility and control over your inventory and lets you observe how your products move through the fulfillment process. Locad's WMS helps you with:
Real-time tracking of inventory and stock levels
Insightful numbers on stock movement enable data-driven decisions.
Your items and SKUs will always be accounted for and are easy to pick, pack, and ship from our fulfillment center.
Get an in-depth overview of every product's fulfillment journey.
Locad's control tower empowers your business to grow with insights into every step of your product's fulfillment journey.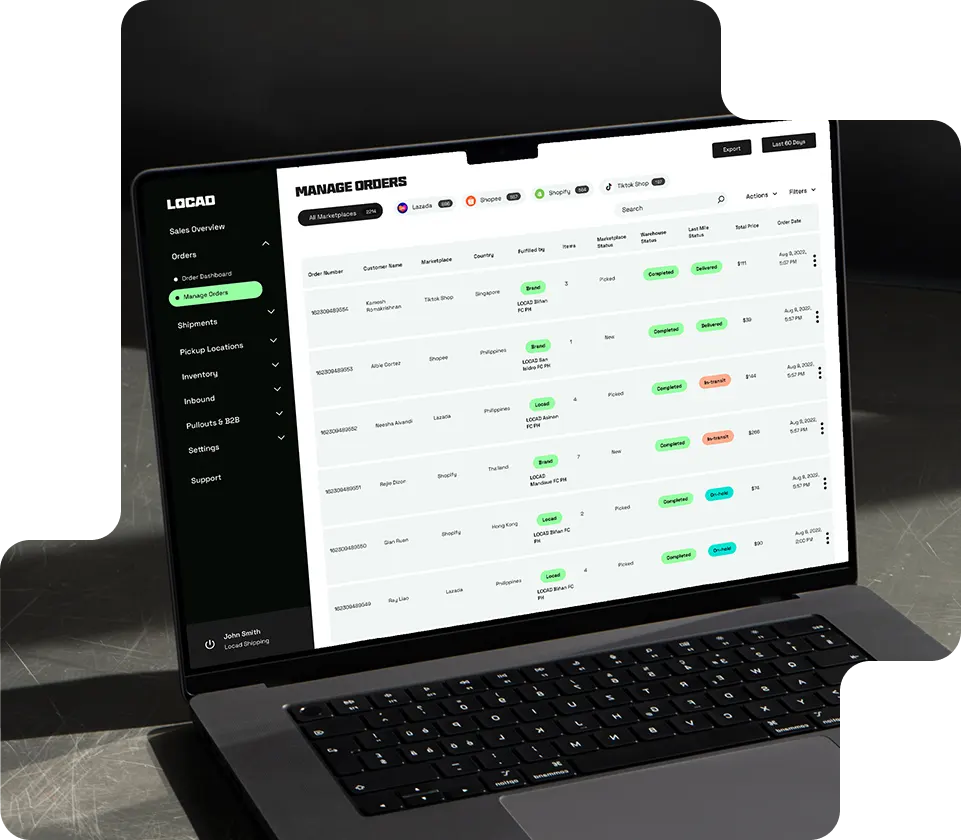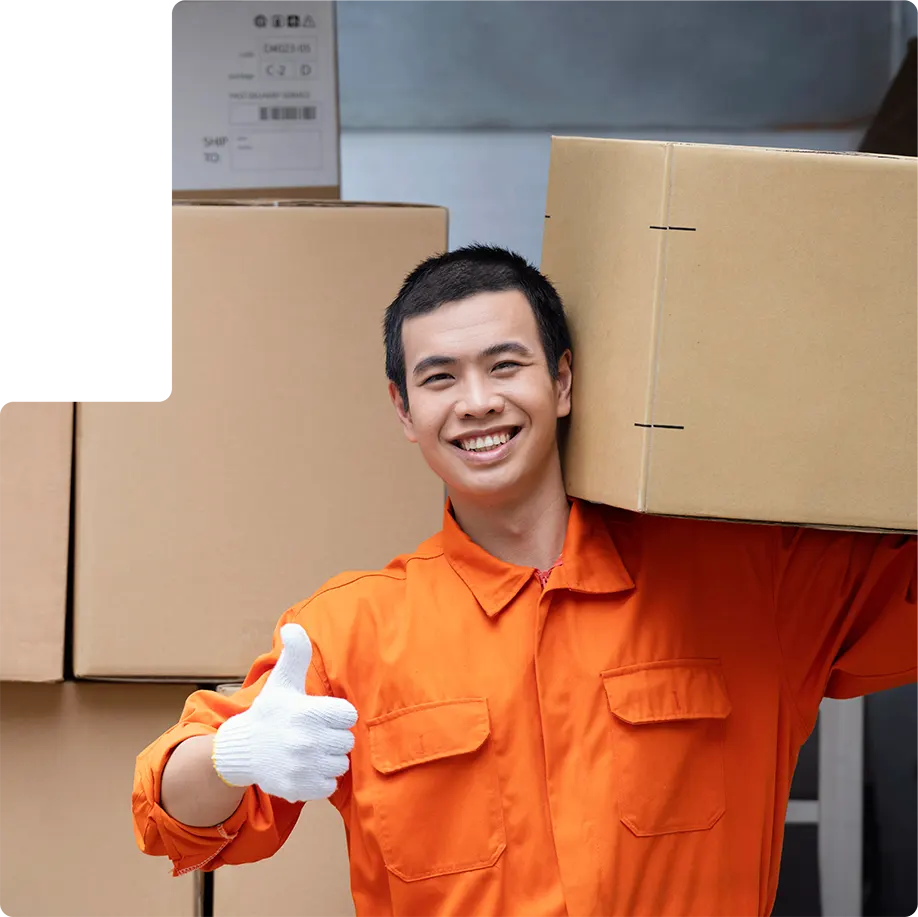 High-tech pick-and-pack solution with your 3PL service provider in the Philippines
Locad's ultimate goal as your partner for 3PL in the Philippines is to make your life easy. Whether you have multiple product lines or retailing across channels, we will automate the picking, packing, and shipping of your daily orders. How do we do it?
Here's how:
An advanced warehouse management system with a complete overview of stock status and location
Live dashboard to monitor picked and packed orders.
Well-trained fulfillment professionals who handle your goods with utmost care
Tailored and customized packaging is available on request
We understand that you probably have a jotted down list of 3PL partners in the Philipines, but we are confident that Locad's services are a step above. We ensure top-of-the-class service, from professional packaging to safe delivery at your customer's doorstep.
Speed up deliveries with the best 3PL provider in the Philippines
Faster deliveries? You need not say further! Locad takes care of your warehouse's inventory while still providing safe, secure practices and smart facilities. We utilize speedy delivery from trusted shipping partners like DHL, LBC, Lalamove, Entrego, Ninjavan, and more so you can grow your business with next-day or same-day delivery.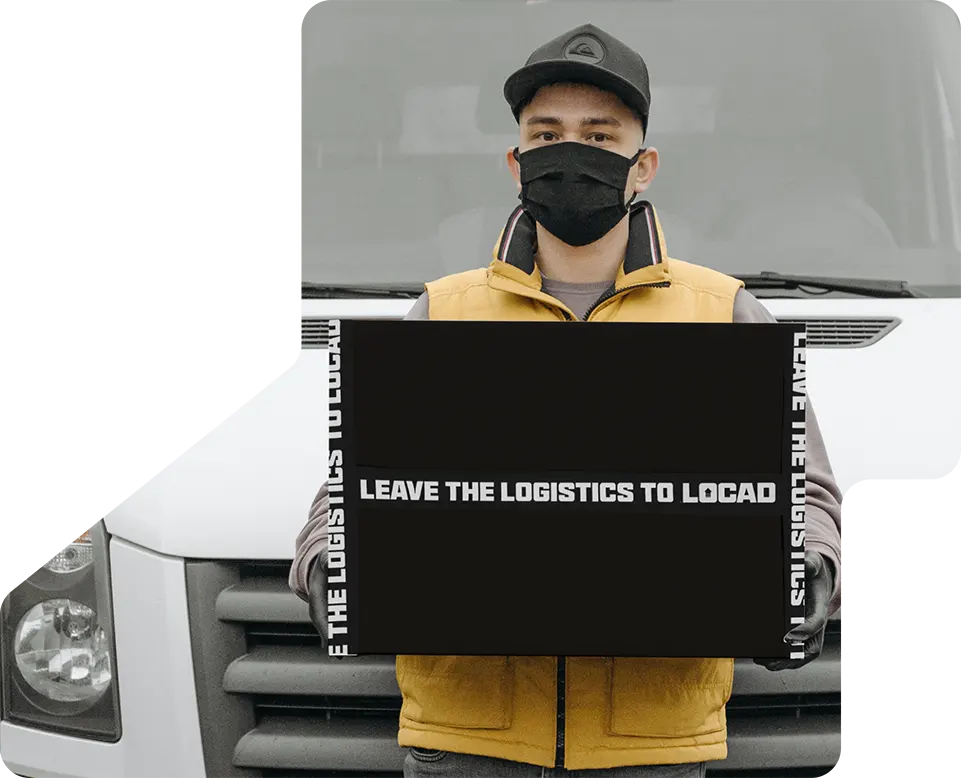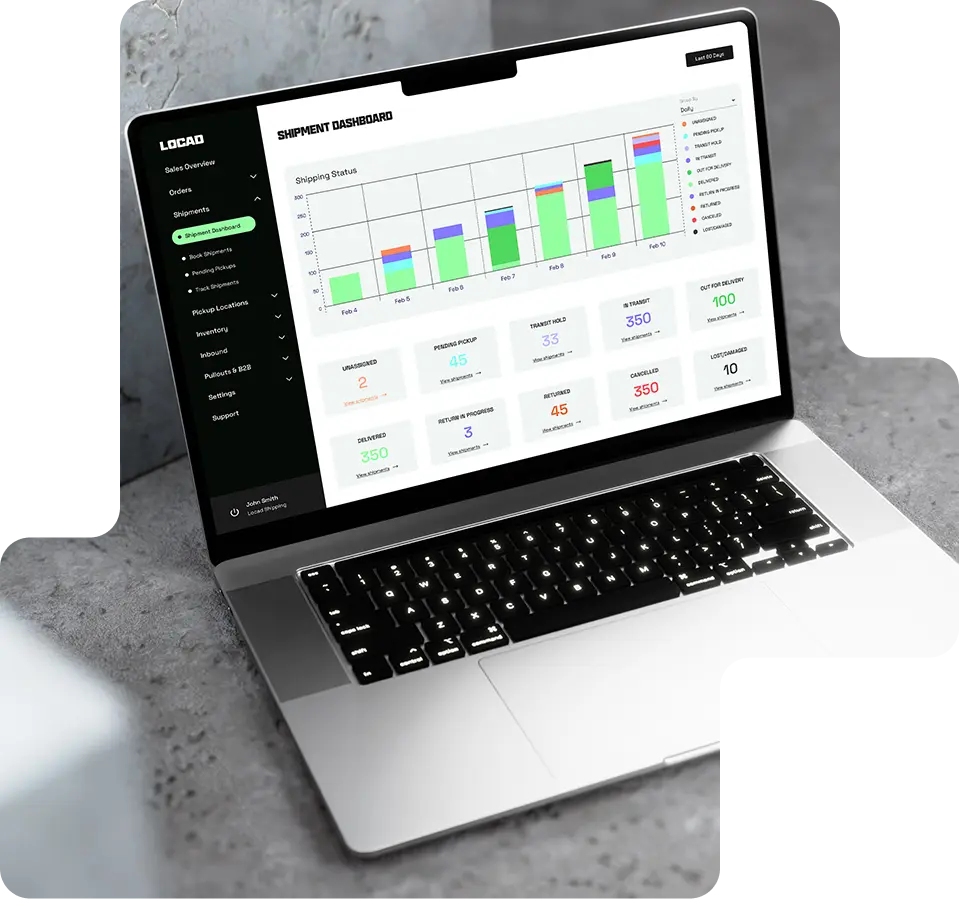 Connect your 3PL company to a preferred online marketplace
Locad's enhanced 3PL service in the Philippines seamlessly connects with many online marketplaces. To name a few, there is Shopee, WooCommerce, Shopify, Lazada, and more. Locad's 3PL Philippines service ensures all data from your online marketplace is consolidated into an enhanced and efficient view in Locad's Control Towel, enabling you to make better and more structured business decisions
Shipping made 4x Faster
24 order dispatch and faster shipping
Contributed positive increase in customer happiness
Full view of the fulfillment journey through the Locad Control Tower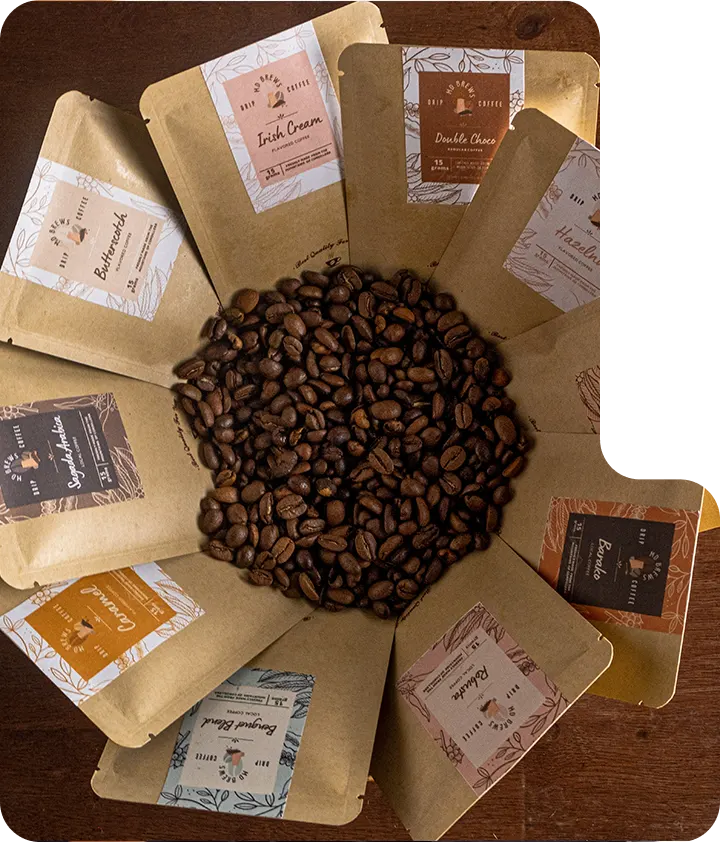 With Locad, our fulfillment and shipping timeline was reduced to 1-2 days resulting in positive customer feedback and loyalty
Now with Locad, we are able to dispatch orders within 24 hours and deliver super fast shipping to our customers.
Christine Brunermer,
E-commerce Lead, Havaianas
Check out Locad's 3PL benefits for Singapore businesses
No lock-in contract
Choosing our business partnerships is easy. You get to decide how long you'd like to commit.
Favorable shipping costs
All of your couriers are in one place! Locad has the best prices and fast delivery at no additional cost.
Locad is all set to help you take your e-commerce business to the next level.
We know there are many third-party logistics companies in the Philippines but are confident that Locad has the technology, services, and competitive edge your business needs today.
Sign up and let's become partners to make your e-commerce business one that customers can't forget
Let's get you a quote?
| | |
| --- | --- |
| Can Locad handle fulfillment and shipping only for specific SKU's in my marketplace? | |
| Does Locad fulfill perishables? | |
| Does Locad support Cold Storage for my products? | |
| Can I ship my products internationally with Locad | |
| Does Locad fulfill items of all sizes? | |
| Does Locad offer custom packaging options | |
| Does Locad support Shopify, WooCommerce, Lazada, Shopee, Zalora and Tiktok ? | |
| Can Locad handle pre-orders for Shopify? | |
| Does Locad conduct stock takes/cycle counts? | |
| Can I visit Locad's 3PL warehouse to check my products? | |
| Does Locad fulfill both retail store and e-commerce deliveries? | |
| Does Locad have returns/reverse logistics services? | |
| Does Locad have Bubble Wrap packaging? | |
| Does Locad provide standard packaging materials for free? | |
| Does the Locad perform address verification? | |
| Does Locad integrate with Return-Key for e-commerce | |
| Can I recall or change the address on a package that shipped? | |
| Does Locad allow seperate packaging of SKU's? | |
| Can Locad help me manage inventory across multiple channels? | |
| Will Locad carriers provide tracking information? | |
| Does Locad resolve a Stock/Inventory mismatch? | |
| Can Locad help me with data on the sellable stock for a particular product available on various marketplaces? | |
| Can I set buffer stock on Locad for a particular product? | |
| Does Locad's system let me view just my recent orders? | |
| Does the Locad OMS fetch the order summary for "in-process" orders? | |
| Does Locad provide Tax related information for my orders? | |
| Can I generate an order airway bill in the Locad system? | |