In the fast-paced world of e-commerce, delivering outstanding customer experiences is crucial for businesses to succeed. With the increasing reliance on online shopping, customers expect smooth, tailored, and convenient interactions. To meet these expectations, e-commerce companies need to prioritize the enhancement of their platforms. This blog explores proven strategies that emphasize the importance of e-commerce web development services in elevating the customer experience. By implementing these tips, businesses can unlock the potential for heightened customer satisfaction, improved loyalty, and ultimately, a thriving e-commerce enterprise.
What is the e-commerce customer experience?
Your customers' experience in your e-commerce website, or CX, is how they feel during a period. Customer experience plays an important role in buying behavior: The more satisfied the customer is with your e-commerce shop, the more likely to visit again, reorder from other shops, recommend it to others, and be a loyal customer.
Pre-purchase e-commerce CX
The e-commerce customer experience starts long before an individual is ready to pay for it. The moment someone recognizes your brand, it's going to start. The customer experience shall be judged to include all things that happen with them and your brand. Either way, with a mouse click or screen tap you can see and access answers to all three of the questions in no time.
While it is essential to find the best approach for your audience, there are a variety of efficient ways in which this information can be delivered to prospective Internet users. You have achieved three key objectives in providing your prospect with a welcoming and informative pre-purchase experience:
Before asking them anything that might lead to their trusting your brand, you're proactively providing value.
And you prepare them to buy precisely what they want, which will give them the best chance of achieving their goals and thereby strengthen their trust in your brand.
You're setting the foundation for future success and growth, and you're putting the customer on the road to the goals they don't even know they have yet.
Post-purchase e-commerce CX
The post-purchase gap is a result of companies like yours losing control over the experience they offer their customers on delivery after parcels have been distributed via third parties, which don't share the same degree of commitment to providing an enjoyable and seamless delivery experience. This gap leads to the domino effect and can have a huge impact on your clients, leading to even more consequences.
How important is e-commerce CX?
The customer experience of online retailing is crucial because it allows the consumer to be able to have a good experience when they're interacting with companies over the internet. Repeat customers and positive word of mouth for the company can be produced by a good customer experience. Paying attention to your e-commerce customer experience may help your company become more competitive and customer-focused, resulting in increased sales and business success. And there's plenty of evidence to back it up.
Here are some of the main reasons why you should prioritize customer experience in your organization.
Modern brands are expected to deliver an excellent experience for their customers.
Your website's not just a shop on the Internet.
The experience of e-commerce has not ceased to be optional.
What makes a good e-commerce customer experience?
In a moment, we will go through my top suggestions for enhancing your client experience. However, let's first examine what qualities a great CX has in the first place.
An excellent CX may come in a wide variety of forms, including:
Contact details are readily available
A quick and helpful customer assistance
Options for free delivery
A straightforward return procedure, etc.
How to measure customer e-commerce experience?
E-commerce has been expanding quickly. It is getting harder for companies to attract customers since there is more competition. Additionally, a customer's interest is constantly influenced by how he felt when looking around your website. Because of this, every business is competing to offer a better client experience.
If you solely rely on technology, then let me warn you that some elements of your company, such as technology or the layout of your e-commerce website, might be imitated. How you handle your clients is one thing that your rivals won't be able to imitate. The consumer will return if you give them a unique customer experience.
What are the challenges in e-commerce CX?
The competition is being driven by direct-to-consumer brands.
An e-commerce website may be easily launched using systems like Shopify and Magento. With the trend to SaaS (software as a service), even those with little resources and little experience may access breakthrough software.
Direct-to-consumer (DTC) brands are proliferating thanks to these simple solutions. The most popular DTC companies are recognized for eliminating intermediaries to provide quality at a lower cost.
Additionally, these firms don't only save money by selling directly to consumers. Additionally, they can communicate directly with their clients and their data. They can then take charge of the client journey and truly understand their consumer's thanks to this.
DTC companies can offer top-notch consumer experiences as a consequence. They can pay attention to, interact with, and respond to the requirements of their clients. They are establishing a new bar for personalization, efficiency, and ease. Brands will need to swiftly adjust to this new situation.
The expense of digital advertising is growing
For a variety of factors, the price of digital advertising is growing. As we previously discussed, new e-commerce companies are launching daily. The cost is increasing as a result of these new DTC businesses' significant advertising spending, which is nearly entirely on digital media.
But it goes beyond that. Traditional, international merchants changed their advertising spending online as a result of the epidemic.
Low conversion despite high traffic
Driving (and increasing) traffic to a website is a key business indicator when it comes to e-commerce operations. You can't sell your goods to anyone if there isn't any traffic. Many businesses focus their efforts on increasing website traffic, but they frequently ignore the most crucial aspect of that traffic: conversion.
For e-commerce websites, the average conversion rate is 2.86%. This indicates that many e-commerce companies are passing up on a lot of visitors (and potential sales).
It's getting harder to turn visitors into buyers as the range of e-commerce possibilities expands. That makes it even more crucial to focus more on the customer experience and develop a conversion that is centered on the needs of the consumer.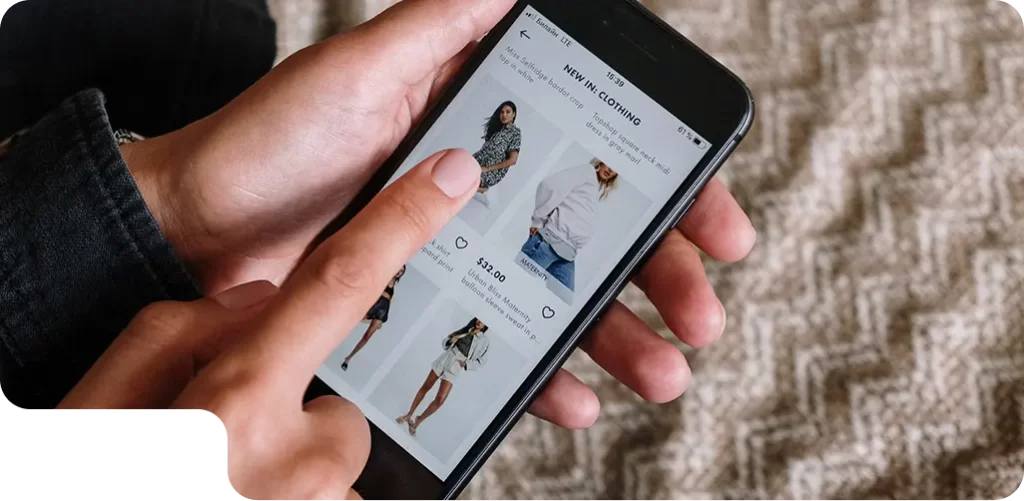 Examples of customer experiences in e-commerce
Here are some examples of engaging, effective e-commerce customer experiences that meet expectations:
Westelm.com
Despite being a physical-and-mortar company at first, West Elm still provides an exceptional e-commerce client experience, which is uncommon. These businesses typically take a bit longer to adjust. The experience focuses on a lot of the basic and crucial issues for internet shoppers. The website is very visually appealing, simple to use, and constantly updates its offerings to clients. They keep visitors interested and moving across the website to find items they enjoy, reducing bounce rate and increasing conversions by continually displaying fresh material and offers graphically and in intuitive locations.
Brooklinen.com
Through their site design, e-commerce Only brand Brooklinen has taken some simple bits of furniture and pillows and turned them into a personal and fun shopping experience on the Internet. Their website takes you through an individual purchase process for each of the products with a choice between different options, at all stages. At the same time, they're learning from Amazon and bringing in tons of social proof as part of their buying process.
Thelipbar.com
The Lip Bar is a relatively new cosmetics brand that began out online before expanding into physical stores as its e-commerce success propelled them to new heights. The business was initially a 'Shark Tank' flop, but it bounced back with a fury, armed with expertise in social commerce, branding, and e-commerce that they use to their online presence for success. Their website has a strong brand from the beginning and is a reflection of their social media platforms, which account for a large portion of their traffic and devoted clients. The user interface is clear, product photos are the main focus, and the checkout process is really simple. It works like scrolling through a social media feed since Lip Bar is familiar with its clientele. All through them, social evidence, reviews, and ratings are included.
Wayfair.com
Wayfair has drastically changed the way we buy furniture. They've used social media and its influence on the home business, as well as e-commerce SEO, to drive constant traffic to their online-only storefront, which converts exceptionally well. They've effectively established an Amazon-style home sector website. With so many things to show, their filtering and navigation are well-structured and simple. They explicitly provide ratings on every product preview, similar to Amazon, so shoppers may be more educated when exploring. Their "quick view" displays all of the required information to click "add to cart" as well as clear product photographs, allowing you to shop and continue browsing. Their product recommendations and combinations take precedence, allowing clients to explore the extensive range.
Zara.com
Despite huge brick-and-mortar success, Zara has been working hard to develop its online site to increase online sales. And it's worked: their internet sales have increased by more than 40% in the previous four years, accounting for an increasing part of overall income. They understand the need of competing with all-online quick fashion that is gaining traction on social media. Zara.com is just as well-designed as the store itself. It's quite visual, with video segments that simulate a social feed. Even for the browsing experience, the focus is on huge product photographs so clients can truly experience them. The product selection procedure is simple – two clicks and it's in your shopping basket. Furthermore, shoppers are greeted with two enormous photos "feeds" of recommended goods beneath each.
Sephora.com
Sephora, which had been successful in physical shops, brought the experience online to compete with online beauty businesses that were gaining clients through YouTube and Instagram. With a very simple shopping experience and easily available discounts, Sephora has made online purchasing a time and money-saving procedure. They are heavily personalized, including product recommendations depending on user activity. They are highly familiar with their consumers and add social evidence alongside the items exhibited in "looks" in the form of user-created content from genuine customers on social media and in fashion. To keep clients interested, they incorporate films relating to each product, riding the YouTube beauty trend.
How to Improve e-commerce Customer Experience?
Increasing the customer experience can substantially increase conversion rates. Here, we'll discuss the top 8 ways to improve the e-commerce customer experience.
Customize your online purchasing experience
Personalization is an important component of the online consumer experience. Personalization not only helps customers feel recognized, but it also enables online shops to enhance conversions by delivering customized discounts and product recommendations. Personalization is also one of the few reasons customers are ready to share their personal information with shops, with 65% of shoppers indicating they would disclose their information for value-added personalization.
Create a User-Friendly Website
First of all, it's important to mention that an e-commerce shop website is relevant. It could be your website that ruins your business or breaks it. And in every practice, culture has to be observed. Your e-commerce site is often a first point of contact or an initial impression to prospective customers. This is where you'll be directing both the sponsored as well as natural traffic. If you're driving potential customers to a poorly designed e-commerce website, they'll be less than impressed with your business. Their perceived influence has an impact on your brand's interaction.
A technological recommendation for improving your client experience is to build a customer-centric e-commerce website. You'll need to make using your online store easy. Make your links and buttons prominent and easy to find. You should select carefully the style, color, and background of your fonts. Your Web server should be running rapidly in the end. Your clients are frustrated by the slow speed of your website, which harms your search engine optimization.
Adhere to a Content Strategy
Making and distributing fascinating material on social media or your blog is an important strategy that your company should implement if it hasn't already. Apart from increasing sales conversions and client loyalty, it also aids in increasing traffic from organic searches. However, many companies overlook the need of posting regularly. If you want this method to succeed, you must post at least 5 to 20 times every month. In this manner, your clients won't lose interest and will stay up to speed on your brand's current developments.
Shipping should be free and quick
Everyone enjoys receiving freebies. As a result, online companies benefit from free shipping. Most buyers would prefer to buy a high-priced item with free delivery than a low-priced one with a high shipping fee. There is a reluctance to spend more for delivery than for the goods itself.
Furthermore, timely and effective distribution is critical for life. If your shipping and delivery service is subpar, your clients will look for an alternative. You should also provide your consumers with extra shipping alternatives. Shipping restrictions will not improve the problem. You should also have various delivery alternatives, especially if you intend to sell to a worldwide audience. Remember that 66% of potential clients are willing to switch to a rival that offers flexible delivery alternatives.
Consider the following delivery options:
Provide free delivery.
Allow for order splitting and shipping to numerous addresses.
Display the estimated delivery date (this is important because you both need to be on the same page).
Provide a reasonable shipping policy.
The importance of the "shipping policy" cannot be overstated. Furthermore, the goods must not deviate from what the consumer purchased.
Give product support
Because many customers buy your items online, they want online customer service as well. You may boost the likelihood of consumers getting their issues addressed by providing several channels for customer care, such as live chats, product support websites, forums, and so on. If you just provide one or two sorts of help and clients can't get their problems addressed fast, they may look for a rival with a more user-friendly website. People must be able to talk to a live person about product questions, just as they may ask a clerk for help at a brick-and-mortar retail shop, and many consumers prefer doing so through real-time chat.
Add customer reviews
In cases where customers need advice, these provide an authentic way to help them. Potential buyers will have the opportunity to find out if a product fulfills their needs, its quality, and whether others are satisfied with it. You can offer a review area on your website for customers to make comments and rates of purchase.
Hire enough seasonal staff
There are special occasions and holidays listed on the e-commerce calendar: Thanksgiving, Black Friday, Mother's Day, etc. In such times, the availability of sufficient personnel to handle sales during those periods as well as when an exchange or return may occur is essential. You do not lose sales or customer loyalty if you can cope with a busy period.
Improve your UX basics
User experience (UX) focuses on the experience consumers have when using your goods or services, whereas customer experience (CX) includes every touchpoint with your business. That is their experience as users. Although CX and UX overlap, UX is more technical and focused on the internet buying experience and making things easy for customers. It is, nonetheless, still an important component of e-commerce CX.
Just as people's basic needs like food and shelter need to be addressed before you can deliver a great UX, so do users' fundamental needs. The websites and applications that deliver a great user experience, in this order, need to be effective, reliable, efficient, or pleasurable. Let us begin by explaining the steps to establish a solid foundation for your website, then move on to make it easy for customers to use.
Conclusion
The smart e-commerce customer experience strategy is more important than any marketing strategy when it comes to growing your business. The competitive nature of each organization has driven the feature and price aspects of their products to saturation. The superior offering of products is not enough for customers anymore. It is a proven way to help you do this, by providing excellent customer experiences through your online store and other ways of doing business. Hopefully, you'll be able to apply these techniques to your company's e-commerce brand and enhance customer experience in e-commerce with us.